Choosing the right fittings and tubing is almost equally important as choosing any other component in a liquid cooling loop and usually quite confusing to beginners. First, you must decide what do you prefer because there are several sizes and types of fittings and tubing which make this subject quite broad. It's important that you know all the possible choices of fittings because they can have a big visual impact on the finished build.
1. How to read tube and fitting measurements?

Metric and imperial measurements of the fittings provide inner and outer diameter.
Metric measurements
The liquid cooling market provides three diameters of soft tubing that are the most common. Tubes are marked with ID and OD which stand for "Inner Diameter" and "Outer Diameter". There are two ways to mark the fittings, one is using metric millimeters (mm) and the other is using imperial inches ("). These three most common tubes are marked with numbers such as:
10/13mm or 3/8"-1/2″ ,
10/16mm or 3/8"-5/8",
12/16mm or 7/16"-5/8",
Some fittings on the market use only a number to mark the size without using the unit next to it. Since the imperial way of marking the fittings is getting less and less popular these days, its really easy to differentiate the fittings by using just 12, 14, and 16 as the size differentiators.
There might be some other tubing and fitting sizes available on the market, but we will not cover all of them. The most important thing is to pick parts from well-known manufacturers to avoid incompatibilities and unpleasant experiences with water cooling just because someone wanted to save a few bucks on the tubes on fittings. Water cooling components like fittings and tubing are best not bought from the flea market. The tubes you use must exactly match the ID and OD parameters of the fitting you are using,  because if leaks occur, your components may be harmed.
2. Select the fittings type
While in the early days we had simple barb fittings, nowadays the market has narrowed down to only compression type fittings. While barb fittings are still available for workstation purposes and applications where the aesthetics are not a key point, the market is dominated by compression type fittings. The compression fittings themselves are divide into two major categories which are, Soft Tubing Compression and Hard Tubing Compression fittings, or for short STC and HDC.
Soft Tubing Compression Fittings
These compression fittings are marked with two numbers that state the inner diameter (ID) and outer diameter (OD) of the tubing that is compatible with the fitting.  Both these number markings of the tubing must match with the fitting. As for the old-school barb fittings, there is only one number present, the OD of the barb, which has to match with the ID of the tubing that will be used. Thankfully, both the tubing and fitting types are standardized, so you are able to choose from 10/13, 10/16, and 12/16 sizes of soft tubing compression fittings.
A soft tubing compression fitting (STC) consists of two parts, the main part is the base and it's very similar to the standard barb fitting, but it has an additional thread. The other part is the locking ring which screws on to the base of the fitting and it prevents the tubing from slipping off the barb. There is a point where the locking ring compresses and grips the tube, making an airtight seal, hence the name "compression fitting".
Unlike the barbed fitting, where the tube just goes over it, the locking ring big and visible part of the compression fitting, leaving a lot of room for manufacturers to play around with the aesthetics. The locking ring can be formed and painted in many exciting ways and that is why builders are favoring them for their water cooling systems.

Compression fittings require a bit more access because the user must tighten the locking ring to ensure a leak-free connection. A simple fitting tightening can be a time-consuming process, especially if mATX or mITX cases are used and you just can't get a good grip on the locking ring. For reasons like this, it is recommended to combine quality and compatibility-tested tubing and fittings, because even a few microns of misalignment in the thickness of the tubing can make the tightening of the locking ring hard or even impossible.
Hard Tubing Compression Fittings
Fittings for hard tubing are marked with only one number, which stands for the OD (Outer Diameter) of the tube it can accommodate. A hard tubing compression fitting (HDC) consists of more parts, but the two most important are the base and the locking ring. The hard tubing compression fitting usually also has two more o-rings. One is nested inside the base of the fitting, while the other one sits between the base and the locking ring. The most common sizes for hard tubing compression fittings are for 12mm, 14mm and 16mm tubes.
When the tubing is installed, the locking ring is pushing down on the additional o-ring and it prevents the tubing from slipping out of the base. There is a point where the locking ring compresses the o-ring which grips the tube, making an airtight seal, and this is why these are also "compression fittings".
Some manufacturers use more than one o-ring in the base of the fitting or use a single special-shaped o-ring to grip the tubing, but in the end, they all serve the same purpose. To compress an o-ring which prevents the tube from popping out of the base of the fitting.
Hard Tubing Push-In Fittings
Fittings for hard tubing can also be a simple push-in type. Hard tubing push-in (HDP) fittings have two fixed o-rings inside – you just have to push the tube into the fitting and airtight seal is made. These are engineered mainly for captive tubing, as they are intended to be used between two GPU water blocks, or from a GPU to the distro plate or similar cases where the tubing is not able to move.
3. Select the tubing type
It is crucial that you match the desired tubing dimensions with the fitting dimensions and this requires some planning ahead. Usually, users first choose the type and size of fittings and then pick the matching tubing or vice versa –  the less common way, they chose the tubing first and then the fittings.

We separate tubing types into two main branches, just like the fittings. Soft tubing and hard tubing. These two types of tubes use entirely different types of fittings which are not cross-compatible. We will also go over the basics of the tubing because it will be easier for you to distinguish them when you will be choosing between the two.
Soft tubing
Soft tubing is often made out of neoprene, rubber, silicone, PVC, or other special compounds that are specifically made to be compatible with PC liquid cooling. You can choose see-through – clear tubing, colored – non-transparent tubing, and UV reactive tubing. You cannot choose any tubing from the local market for water cooling. Well, ideally, you can, but no one can guarantee if some manufacturing residues will impact the coolant stability, or you will spring a leak because of size tolerance issues.

Lately, colored tubing is not popular and the majority of the users are choosing transparent tubing to be able to display the coolant color, or just go for all black tubing. Here we can mention two market-proven options that are the EK-DuraClear transparent and EK-Tube ZMT soft tubing which are both available in multiple dimensions.

Tubing for water cooling is specially made to withstand long periods of time without any discoloration, deformation, or degradation. If aesthetics is one of your main goals with liquid cooling, and you plan to use colored coolants, make sure that you choose a quality tubing that will stay crystal clear as long as it can. Low-grade cheap tubing can lose its transparency in a matter of days and it often becomes yellow.

Liquid cooling tubes need to be soft enough to allow tight bends inside of the computer case and hard enough to withstand collapsing – kinking. Soft tubing with thicker walls like the 10/16 will be more resistant to kinks under tight bends.
Hard tubing
Moving onto the other type of tubing, called hard tubing. Unlike the soft tubing, that is made of some sort of synthetic rubber or plastic, hard tubes can be made from a broad spectrum of materials. The most common hard tubes for liquid cooling are acrylic (plexiglass) or PETG (polyethylene terephthalate). They are cheap, easy to come by, and can be shaped and bent in every household. There are tools available which can make acrylic and PETG bending really easy, but we will not elaborate on that subject now, we will leave that for another article as hard tube bending is considered to be a more advanced loop building method.

The other, less common hard tubes can be made out of copper, brass, borosilicate glass and nowadays even carbon tubes are coming into fashion. The potential problem with these materials is that bending them is not possible or bending requires special tools. We say the "potential problem" because skilled and more advanced users actually prefer these luxurious materials because the loop can still be connected just by using more adapter fittings and more joints.
Hard tubing can offer a few things soft one can never do, and that's the luxury and exclusivity we have just mentioned. Hard tubes offer a clean and well-organized look. Brass and copper tubes can be nickel-plated to achieve a more sophisticated and aesthetically pleasing look.
The existence of pre-bent tubes and rising popularity distro plates, building with hard tubes have never been easier. As a matter of fact, a lot of the newcomers to custom loop liquid cooling have built their first loop using distro plates and hard tubing. We are more than happy to give you a hot tip that EK is working on bringing pre-bent tubes to the product portfolio.  We also promise that we will cover distro plates in more detail with one of our upcoming blog posts.
What is G1/4″?
Regarding the fittings, there is one more detail you need to know. Almost all of the fittings nowadays use the G1/4" thread (12.9mm wide) and this is the industry standard for all mainstream custom loop liquid cooling manufacturers. In case you are tumbling through server solutions or some older water cooling gear, you might stumble upon  G1/8" (9mm wide) or G3/8" (16.5mm wide) threads. But like we said, the G1/4" is the norm and the other sizes have become very rare. So the G1/4″ label is just the thread size label, which makes sure that your liquid cooling products are compatible with each other.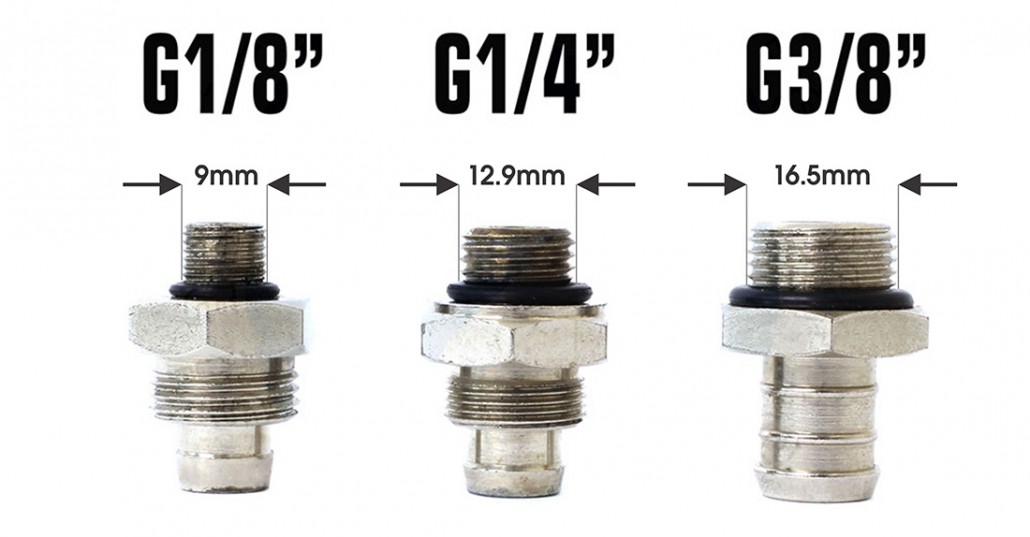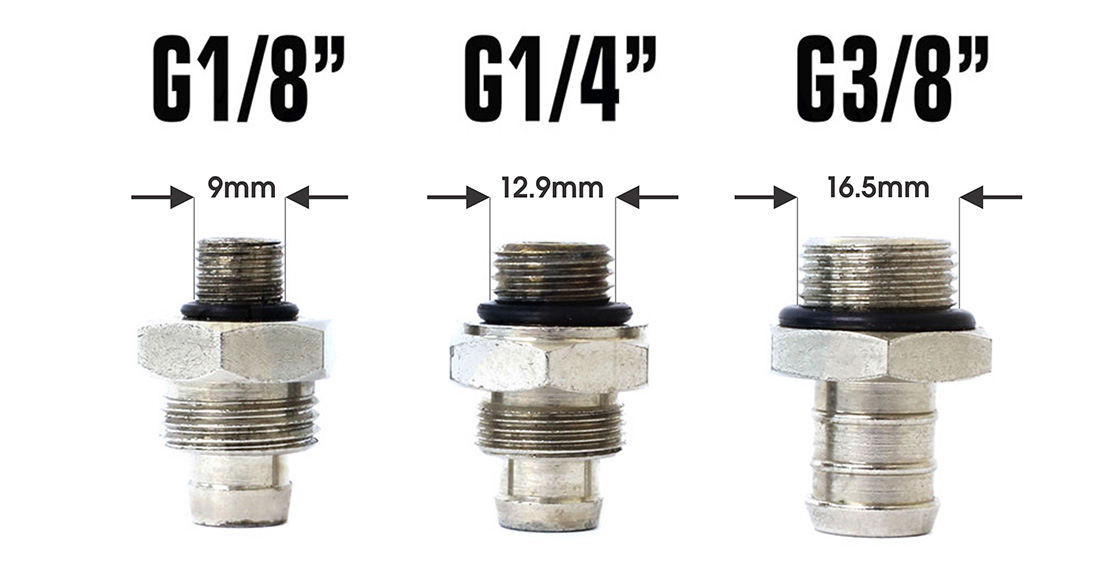 It is very important to know that choosing thicker tubes and bigger fittings will not result in greater flow. As we said, the great majority of the fittings and connections on water cooling parts use the G1/4" thread. The cross-section of the flow is limited by the outer dimension of the fitting, and the inner diameter of the fitting with a G1/4" thread usually cannot exceed 9-10mm.

Meaning, even if you choose thicker tubes, at the end of the tube the fitting will narrow the flow diameter down to 9-10mm. Water blocks and other parts can be restrictive also, so by using the thicker tube, before and after the water block, you will have no benefits in flow rate. If a greater flow rate is required, a more powerful pump is to be chosen.
Conclusion
We would wrap up this article at this moment, although we are certain that we didn't cover all the small details. As we said at the start, this subject is very broad, there are many choices, but we hope that we managed to cover the basics. In one of the future articles, we will cover the subject of angled adapters and other special connectors, such as T-Splitters and Ball Valves!
We would most certainly like to invite you to comment on this article, whether you see it on the EK blog page or on the EK Water Blocks Facebook page. Feel free to fill us in if you feel that we left out some details.
Until next time, stay cool!