Torpedoes In The Water With EK-Mana LiteBlock for MSI MAG Z690 Torpedo
EK®, the premium liquid cooling gear manufacturer, is releasing the EK-Mana LiteBlock MAG Torpedo Z690 D-RGB – Plexi, an Intel® LGA1700 socket-based LiteBlock that is engineered specifically for the MAG Z690 Torpedo motherboard from MSI®. This kit of specially designed VRM heatsinks and the LiteBlock can upgrade the MAG Z690 Torpedo to a liquid-cooled motherboard, just like the EK X version of this product.  The addressable D-RGB LED in the monoblock is compatible with MSI Mystic Lights RGB control and offers a full lighting customization experience for every single diode at any given time. This Mana LiteBlock is EK-Matrix7 compatible.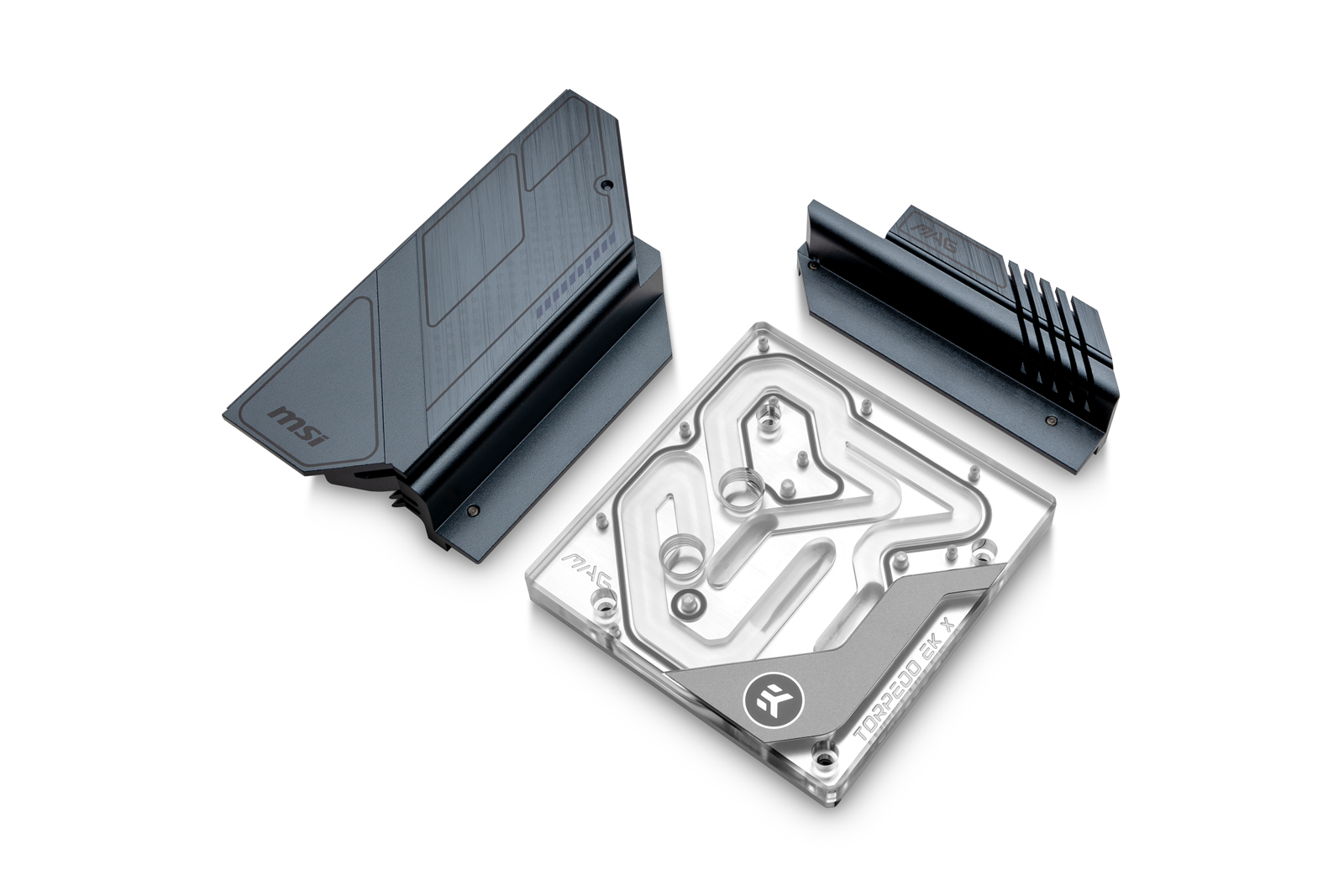 EK-Mana LiteBlock MAG Torpedo Z690 D-RGB – Plexi
This is a complete, all-in-one (CPU and motherboard) liquid cooling solution for Intel® 12th gen Core series processors and is compatible with the LGA 1700 socketed MSI MAG Z690 Torpedo motherboard.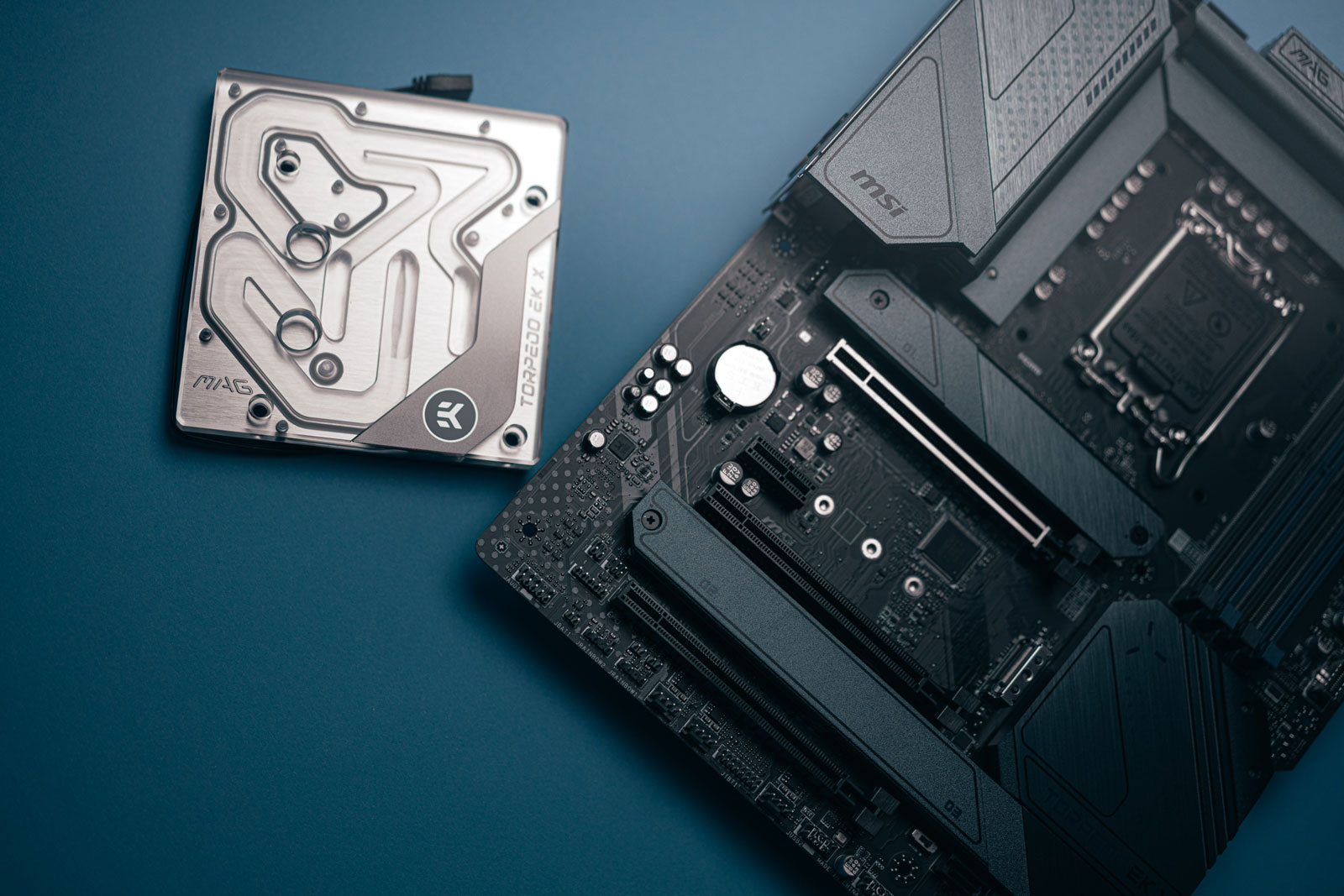 This LiteBlock uses the latest generation of EK Velocity² cooling engine to ensure the best possible CPU cooling without reducing the flow to other components. This water block directly cools the Alder Lake CPU, the VRM heatsink, and, by proxy, the VRM components. The package includes two replacement heatsinks with thermal pads, replacing the factory-mounted VRM heatsink.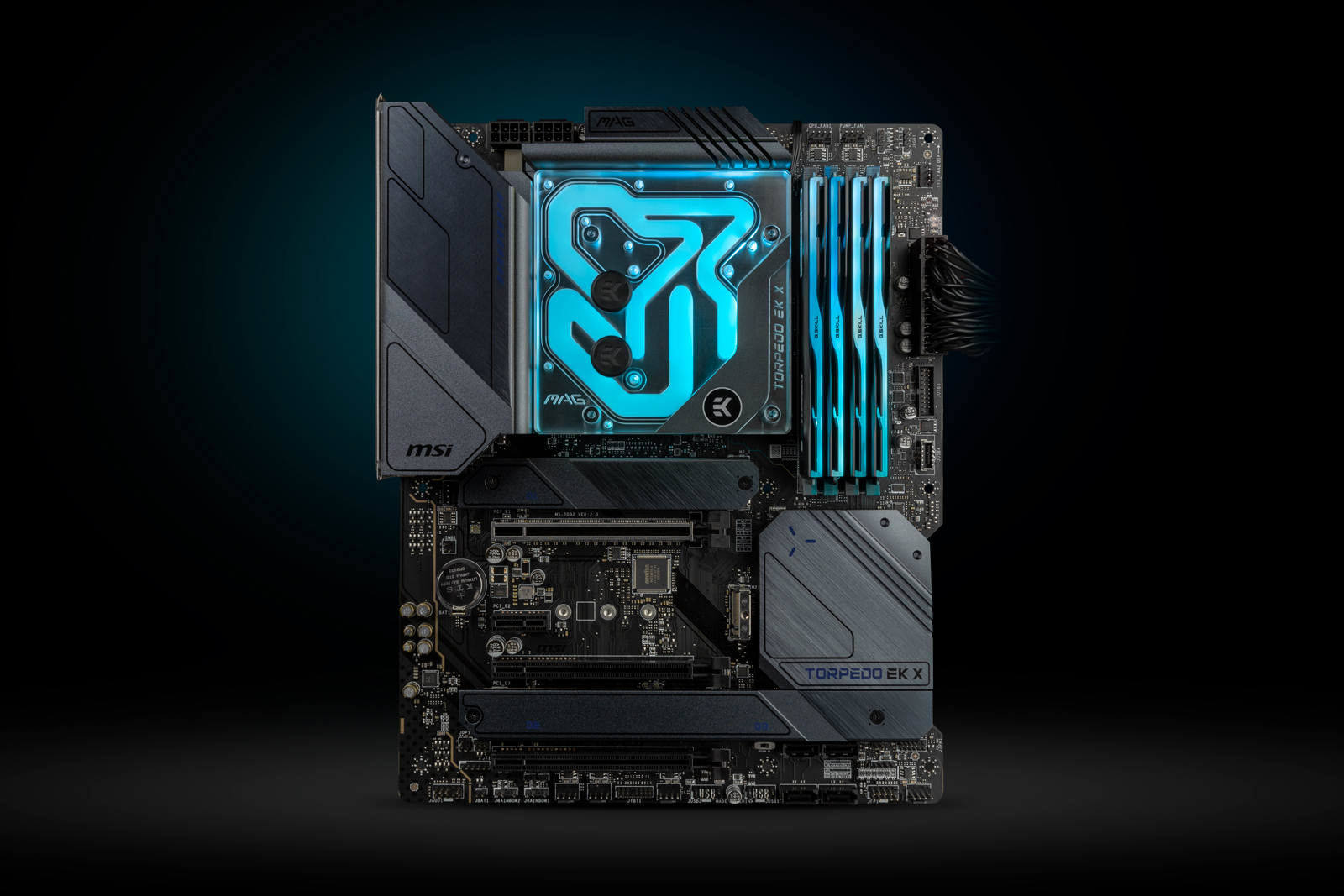 The water block connects with the VRM heatsinks via thermal pads, cooling the heatsink rather than the VRM directly. Production costs have been optimized by eliminating parts from a standard monoblock design. Such a design provides sufficient active cooling to the VRM while staying a more budget-friendly alternative.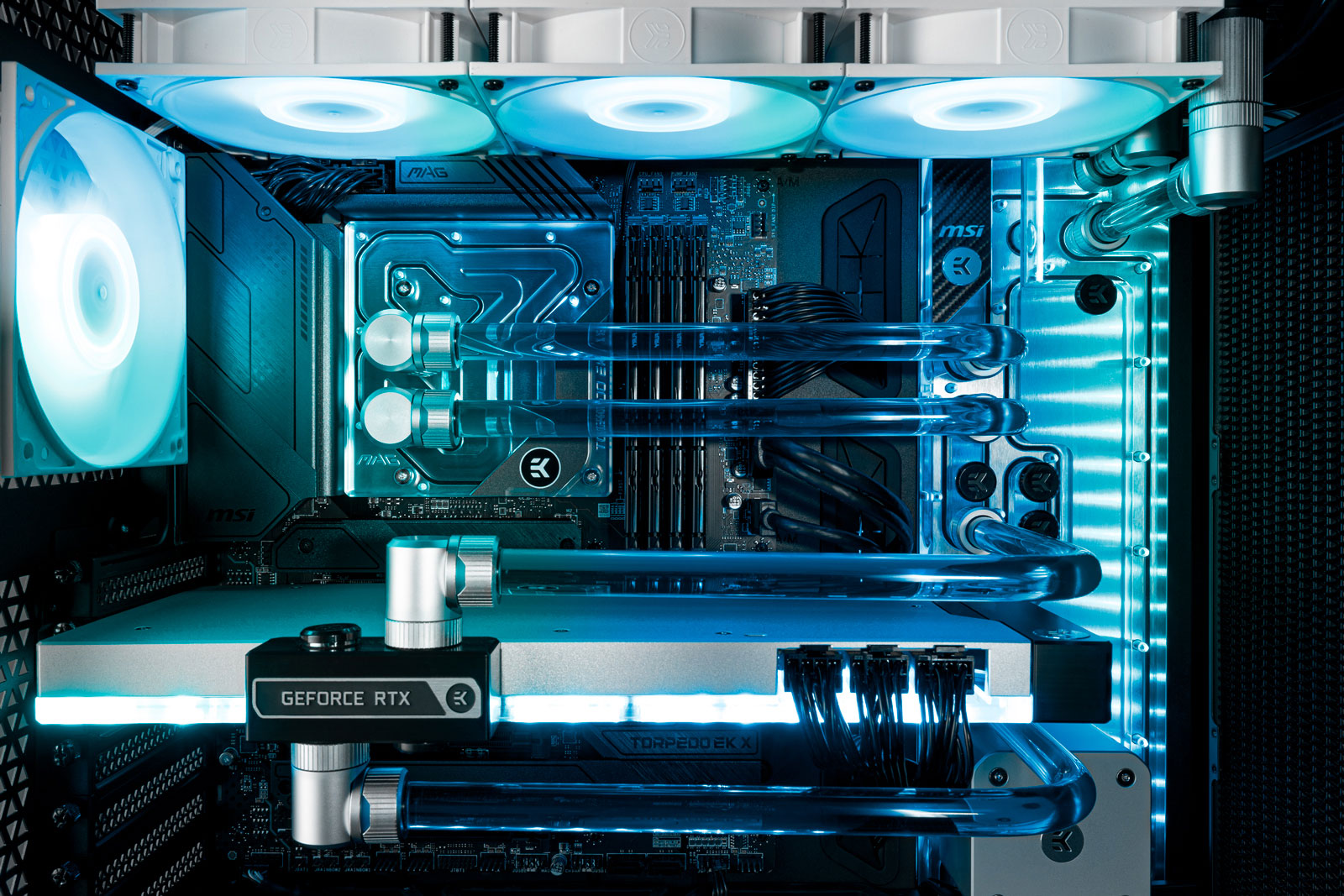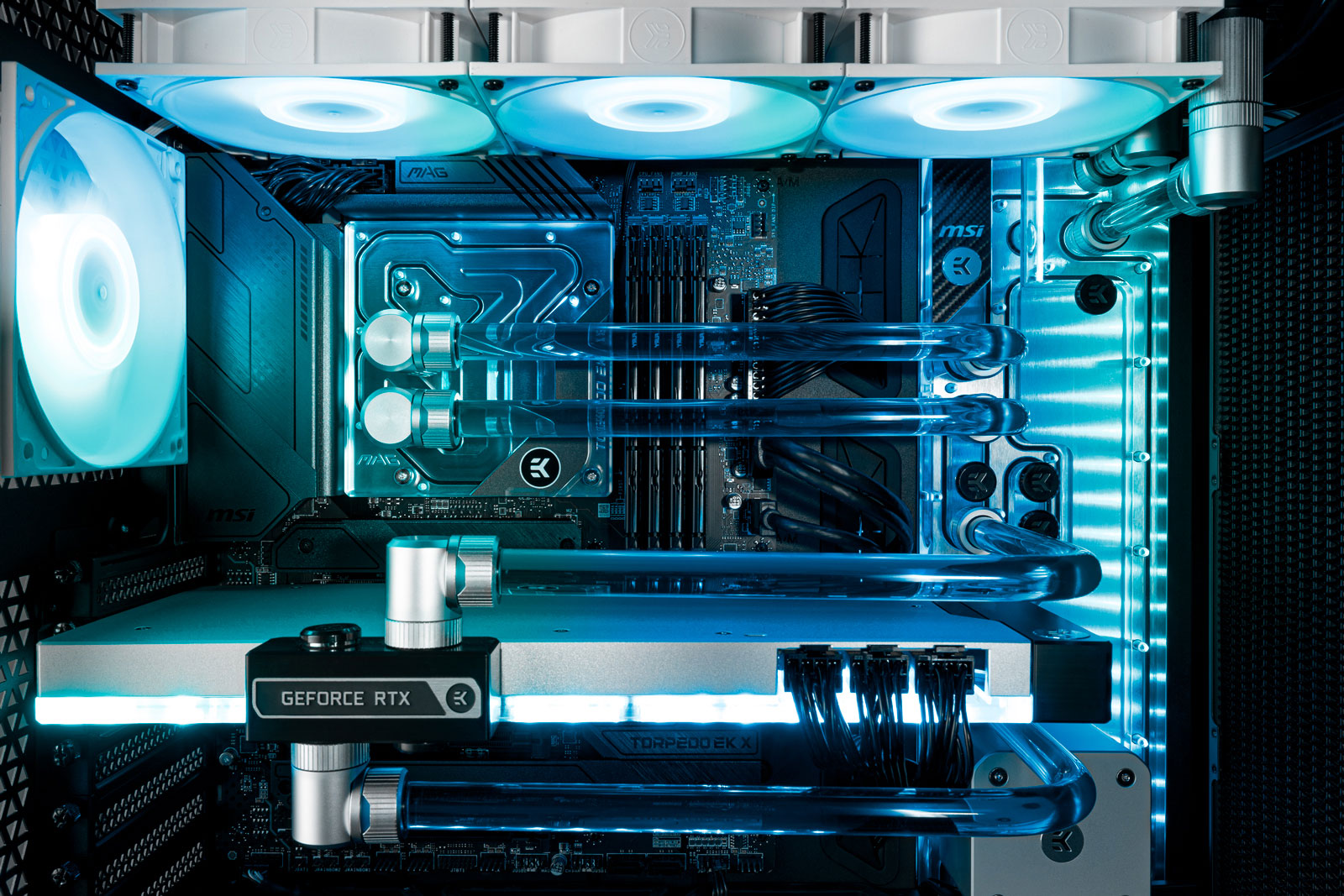 The base of the water block is made of nickel-plated electrolytic copper while its top is made of quality CNC-machined cast acrylic glass material. The nickel-plated brass screw-in standoffs are pre-installed and allow for easy installation.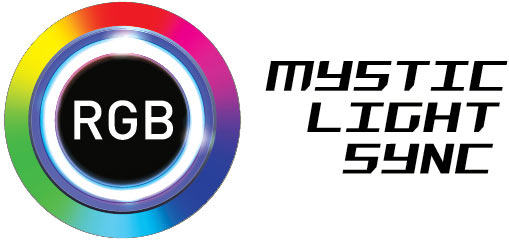 The block is equipped with a 3-pin 5V Addressable D-RGB LED strip compatible with the motherboard's 3-pin 5V Addressable D-RGB LED header. The arrow marking on the 3-pin LED connector is to be aligned with the +5V marking on the addressable D-RGB header.
You can always check for compatible water blocks by using the EK Cooling Configurator database, where compatible graphics cards and motherboards are being added to the list on a daily basis: 
Availability and Pricing
EK-Mana LiteBlock MAG Torpedo Z690 D-RGB – Plexi monoblock is made in Slovenia, Europe, and is readily available for order through the EK Webshop and Partner Reseller Network. The table below shows the manufacturer's suggested retail price (MSRP) with VAT included.