The Lian Li O11D Mini Case Gets Its EK-Quantum Reflection² Distro Plate
EK®, the premium water cooling gear manufacturer, is expanding the Reflection² distribution plate series with a new product specifically designed for the Lian Li O11D Mini case. The EK-Quantum Reflection² PC-O11D Mini D5 PWM D-RGB is a custom water cooling reservoir, routing, and pump solution that seamlessly fits into the front of the case and includes the enthusiast-favorite D5 pump. This product is EK-Matrix7 compatible and is easily implemented with other EK-Quantum products that are Matrix7 compatible, allowing for straight and easy tubing runs.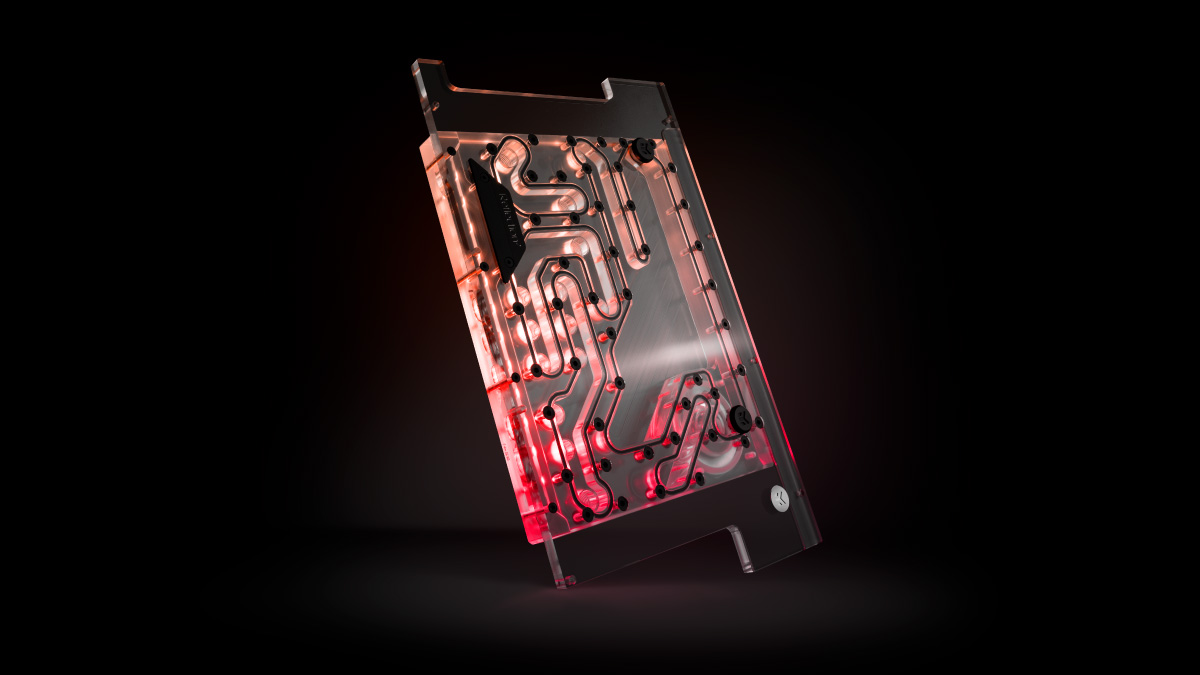 Designed to offer unique aesthetics and ease of use, this advanced all-in-one waterway solution comes with a pump, reservoir, simple mounting mechanism, and multiple industry-standard G1/4″ threaded inlets and outlets. The placement of these inlets and outlets is aligned to fit with other EK-Matrix7 compatible products to minimize the number of tube bends when you're creating the loop. It was engineered to support a maximum of five components.
Installing this distro plate in the front of the case allows for the following two radiator configuration variants based on your motherboard form factor:
ATX
Bottom: EK-Quantum Surface S360 Radiator
Top: None
Side: EK-Quantum Surface S240 Radiator
Mini-ITX/m-ATX
Bottom: EK-Quantum Surface S360 Radiator
Top: EK-Quantum Surface S360 Radiator
Side: EK-Quantum Surface S240 Radiator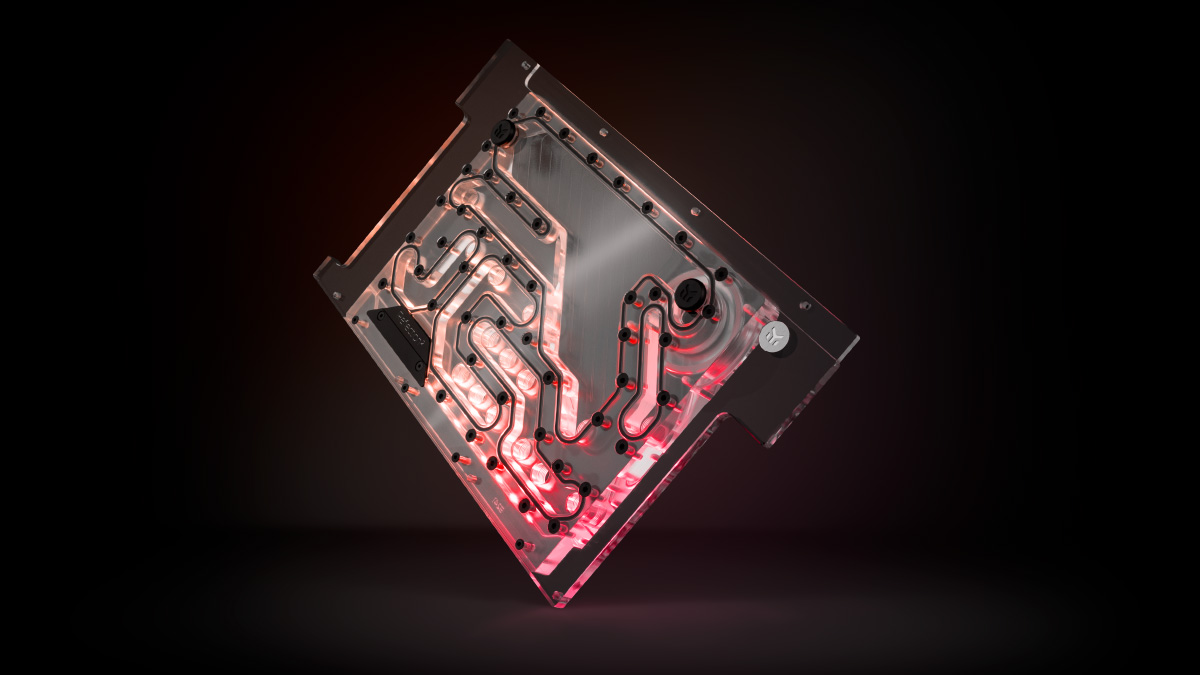 Engineered to be mounted on the front window of the case, the EK-Quantum Reflection² PC-O11D Mini D5 PWM D-RGB will elegantly fit the Lian Li O11D Mini chassis.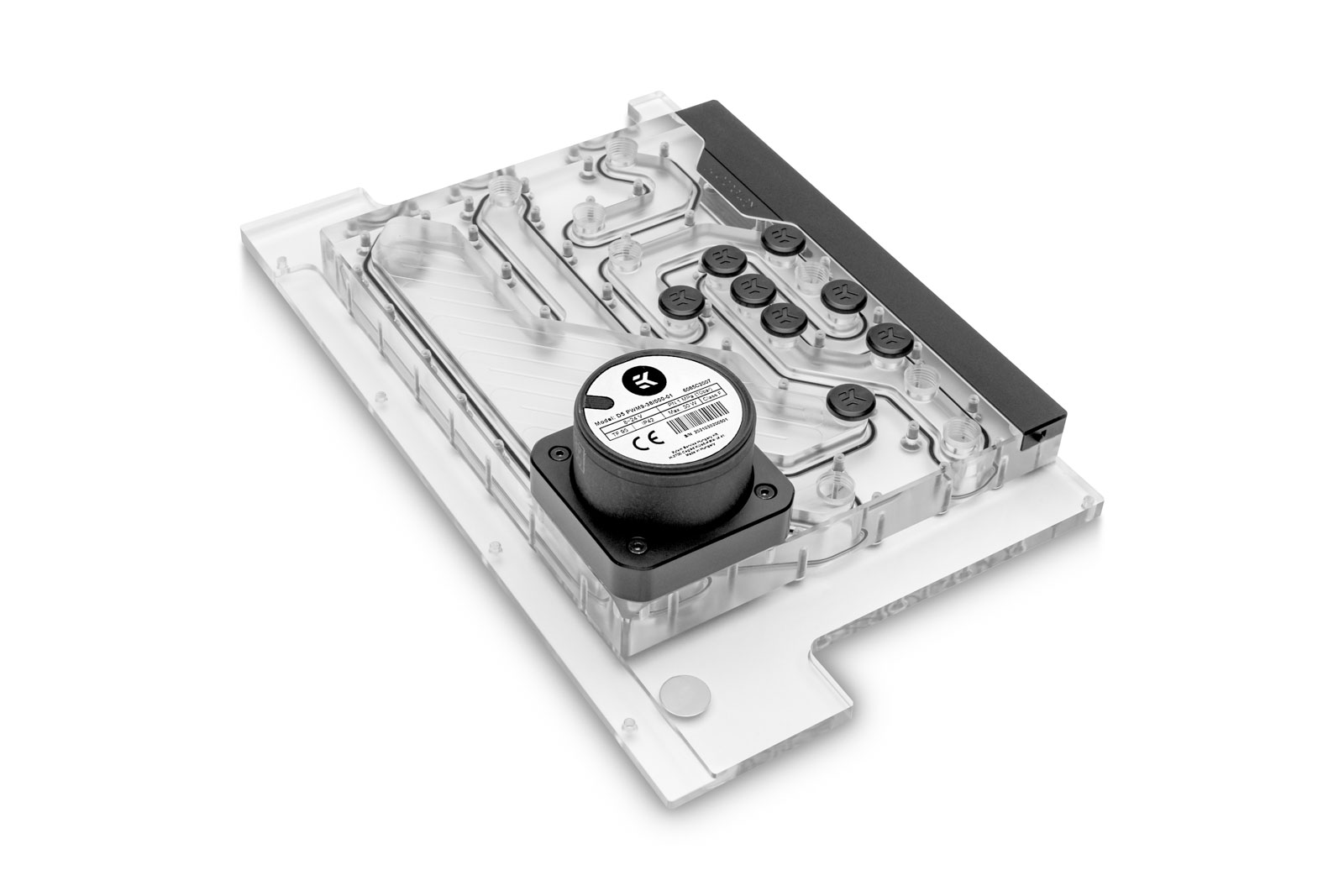 The addressable D-RGB LED strip runs down the unit's entire length while an anodized black aluminum cover hides the unwanted LED hotspots. The built-in addressable LED strip contains 12 digital LEDs and connects to the motherboard's 5V headers. It is also compatible with MSI® MYSTIC LIGHT SYNC, ASROCK® POLYCHROME SYNC, ASUS® AURA SYNC, and GIGABYTE® RGB FUSION 2 software for a coordinated lighting effect.

This water distribution plate comes with a powerful yet silent, PWM-controlled D5 pump. The goal was to make a product that offers great reliability and outstanding performance with multiple blocks and radiators while keeping the noise down to a minimum.
Reservoir
– Dimensions with the attached pump (HxWxD): 296,4 x 206 x 76,3mm
– Reservoir volume: ~264 ml
– D-RGB LED count: 12
– D-RGB cable length: 500mm
– D-RGB connector: Standard 3-pin (+5V, Data, Blocked, Ground)
Pump Motor Technical Specifications
– Motor: Electronically commuted spherical motor
– Rated voltage: 12V DC
– Power consumption: 23W
– Maximum pressure head: 3.9m
– Maximum flow: 1500L/h
– Maximum system temperature: 60°C
– Materials: Stainless Steel, PPS-GF40, EPDM O-rings, Aluminum Oxide, Hard Coal
– Power connector: SATA power and 4-pin PWM FAN connector
Operational Regime
– PWM duty cycle: ~ 20-100%
– Default behavior: Runs at 100% duty cycle when no PWM feedback signal is present
Availability and Pricing
The EK-Quantum Reflection² PC-O11D Mini D5 PWM D-RGB distribution plate is available for pre-order through the EK Webshop and partner reseller network. This product is estimated to ship out in early August 2022. The table below shows the manufacturer's suggested retail price (MSRP), VAT included.