Release of EK coolants – EKoolants
EKWB launched new cooling liquid for best performing water cooling blocks, available in four different colours – UV BLUE, UV Lime GREEN, Blood RED and CLEAR.
This proven premixed formula is a step ahead in EKWB product research and offer. Coolant is suitable for mixed copper, brass, steel, nickel and aluminum cooling loops, providing best value/performance ratio.
Ekoolant is the result of latest vigorous experiments on performance and influence, and contains best components which offer optimal protection from corrosion, yet allowing maximum cooling performance.
It's pureness, proper viscousness and low chemical content makes it an excellent and best suitable coolant for any PC watercooling system.
The highly automated and advanced bottle filling equipment guarantees you exact volume according to the European Directive 76/211/EEC.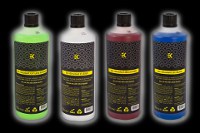 Characteristics:
– low electrical conductivity
– extra pure distilled/deonized water of electrical conductivity of 1µS/cm used for the coolant
– includes additives against algae and corrosion
– high quality concentrated pigments lead to intense, vivid and saturated colors
– not aggressive towards acrylic, acetal, rubber or other gasket materials
– ecologically friendly (85% degredable in 30 days)
– ROHS compliant
– 2 year shelf time
EKoolants are readily available for purchase from our webshop.