Notice: Users running FB ASUS Crosshair V
Some of our customers have reported trouble running their computer after installing EK-FB ASUS Crosshair V waterblock and also their workaround for this issue.
It appears that the issue – which has not occured during extensive EK internal testing – is caused when the waterblock copper base slighty touches the SMD elements on the organic packaging of the AMD 990FX northbridge chip. The symptoms are the board fails to boot and hangs at CPU_INIT post diagnostic LED.
SOLUTION: If this issue occurs it can be bypassed by placing a single layer of scotch tape over the SMD elements around the 990FX die.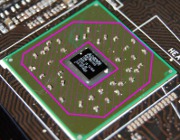 We're apologizing for the inconvienience.
– Your EK Team