New revision od XFX 7970 cards brings compatibility issues
It has come to our attention that XFX has changed the PCB design of their FX-797A-TDBC graphics card thus making it incompatible with our EK-FC7970 series water blocks. FX-797A-TDFC may also be affected!
This card used to be manufactured around AMD's reference design PCB 109-C38637-00 but manufacturer apparently switched to their own PCB design VPEAC3861PS8 as shown on the photograph below:
As a result our EK-FC7970 series water block (original and newer CSQ version) are being incompatible with this new PCB design. Force-installing our EK-FC7970 series water block on this type of graphics card may result in permanent damage to your graphics card.
The easiest way for customers to indentify which revision of FX-797A-TDBC graphics card they are purchasing is to check the number of DVI-I outputs the card have. The original card, compatible with EK-FC7970, has a single DVI output while the newer revision appears to have two (please note the photograph above). With this method the (r)etailer salesperson will be able to identify the card for you even over the email or telephone. Picture below shows the original revision of FX-797A-TDBC graphics card with single DVI output: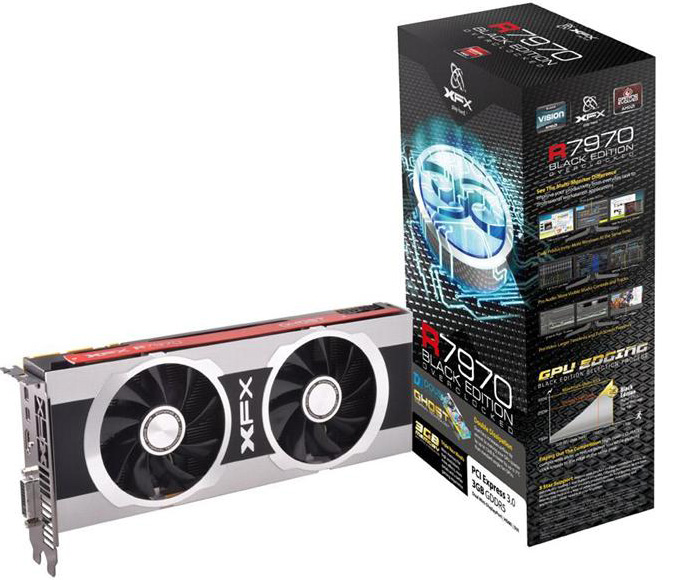 More precise method involves reading the AMD PCB reference number, printed near the PCI-express connector. When you or the salesperson can clearly see the AMD logo and PCB number "109-C38637-00" this is the indication you are looking at the EK-FC7970 compatible card. EK has added additional warning on Cooling Configurator website to ensure these problems do not repeat.
EK wishes to ask it's customers to pass on the word through the community regarding this hardware change introduced by XFX without any notice.
Niko Tivadar for EK Team
July 2nd 2012