Evolve Your Game With The EK-Quantum MSI MPG Z690 CARBON EK X D-RGB
EK®, the premium liquid cooling gear manufacturer, and MSI®, a world-leading gaming brand, have partnered up once again to launch the next-gen MSI CARBON motherboard and EK-Quantum monoblock combo. The brand new EK-Quantum MSI MPG Z690 CARBON EK X D-RGB is based on the latest Z690 chipset and supports Intel® 12th gen Alder Lake CPUs, this motherboard offers unparalleled cooling for the CPU, VRM section, and the first slot M.2 SSD thanks to the purpose-designed monoblock.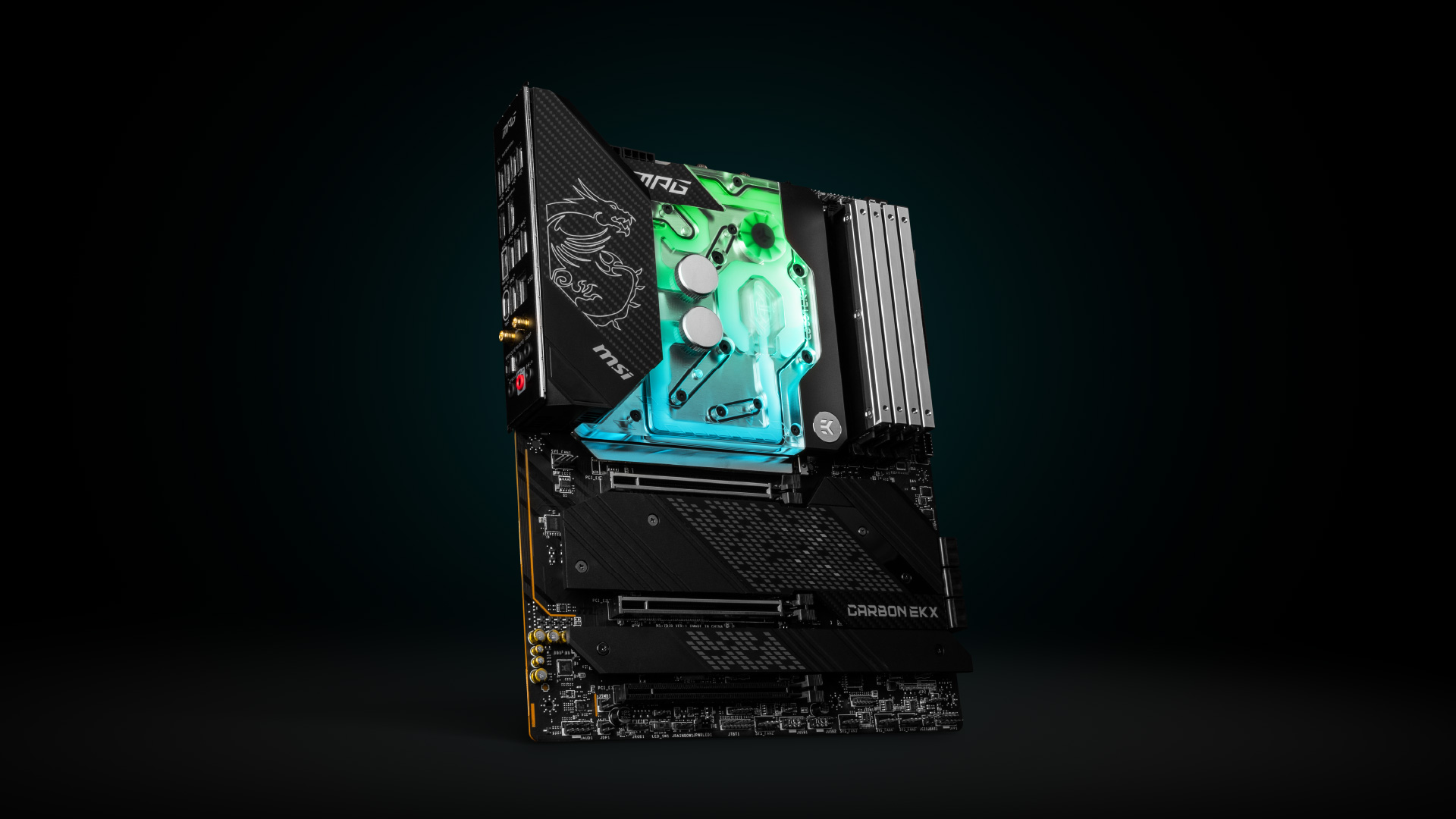 MSI's world-class engineering team and EK's industry-leading thermal engineers worked together to improve the previous-gen solution and bring even more benefits to the newest Intel Alder Lake platform. The MPG Z690 Carbon EK X allows maximum performance without the noisy environment, providing you with countless hours of uninterrupted gameplay while monitoring the flow in your loop via the integrated flow indicator. And to make sure your first assembly goes without a hitch, an EK-Leak Tester was included in the package.
EK-Quantum MSI MPG Z690 CARBON EK X D-RGB
What sets this motherboard apart is its unique design combined with a monoblock that aesthetically blends in with it. The carbon fiber pattern is there to remind all hardcore gamers that pushing the limits is what gaming is all about. A powerful 18+1+1 Power delivery system provides stable power to the CPU with 18 of the 75A smart power stages supplying the CPU core, the integrated GPU, and the System Agent. The absolutely massive power delivery system allows for incredible overclocks and, by proxy, a great boost in performance, for which the only downside is increased heat generation. This is where the EK monoblock kicks in – to cool down not just the CPU but the power delivery system as well.
The monoblock features an integrated flow indicator that will allow you to monitor your flow visually and adjust the pump speed if required. It will also let you know if the flow is hindered in any way. Making sure that everything is as cool as possible and operating under peak conditions, the monoblock also cools the main M.2 SSD drive allowing maximum read/write speeds even under sustained loads.
Great Value
In one box, you get a high-end gaming motherboard, a monoblock cooling solution, and an EK Leak Tester (otherwise retailing for $39.99). The cooling solution is engineered specifically for the MPG Z690 CARBON EK X and takes out all the guesswork from finding the right monoblock for your motherboard. The included Leak Tester will ensure you make no mistakes during the assembly of the cooling loop, even if you've never dealt with custom loop liquid cooling before!
All MSI MPG Z690 CARBON EK X owners are entitled to the premium customer service that EK provides for its customers worldwide. If you have any questions, problems, or just want to get in touch, reach out to us through our dedicated support channel. Even if you are just getting into custom loop liquid cooling, our kind customer support will gladly help if there are any uncertainties.
EK-M.2 Active Contact Cooling
The massive copper cold plate is in direct contact with the first front-mounted M.2 SSD, providing active cooling to unlock your SSD's full potential.
The cooling solution is integrated into the monoblock design, hence it does not require additional fittings or an intricate tube routing.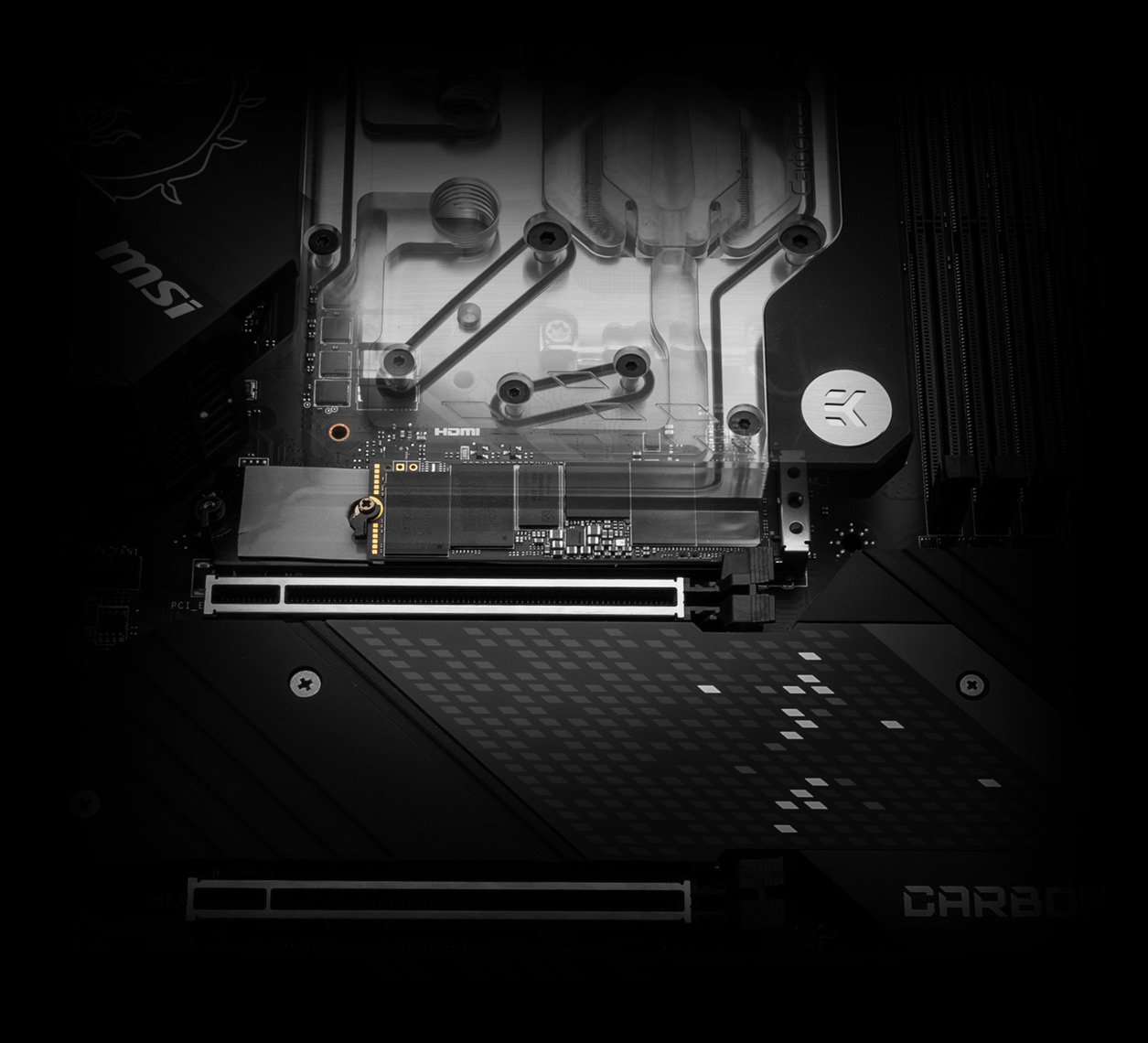 The base of the monoblock is made of nickel-plated electrolytic copper while its top is made of quality CNC-machined cast acrylic glass material, partially covered with a carbon fiber style pattern. The nickel-plated brass screw-in standoffs are pre-installed and allow for easy installation.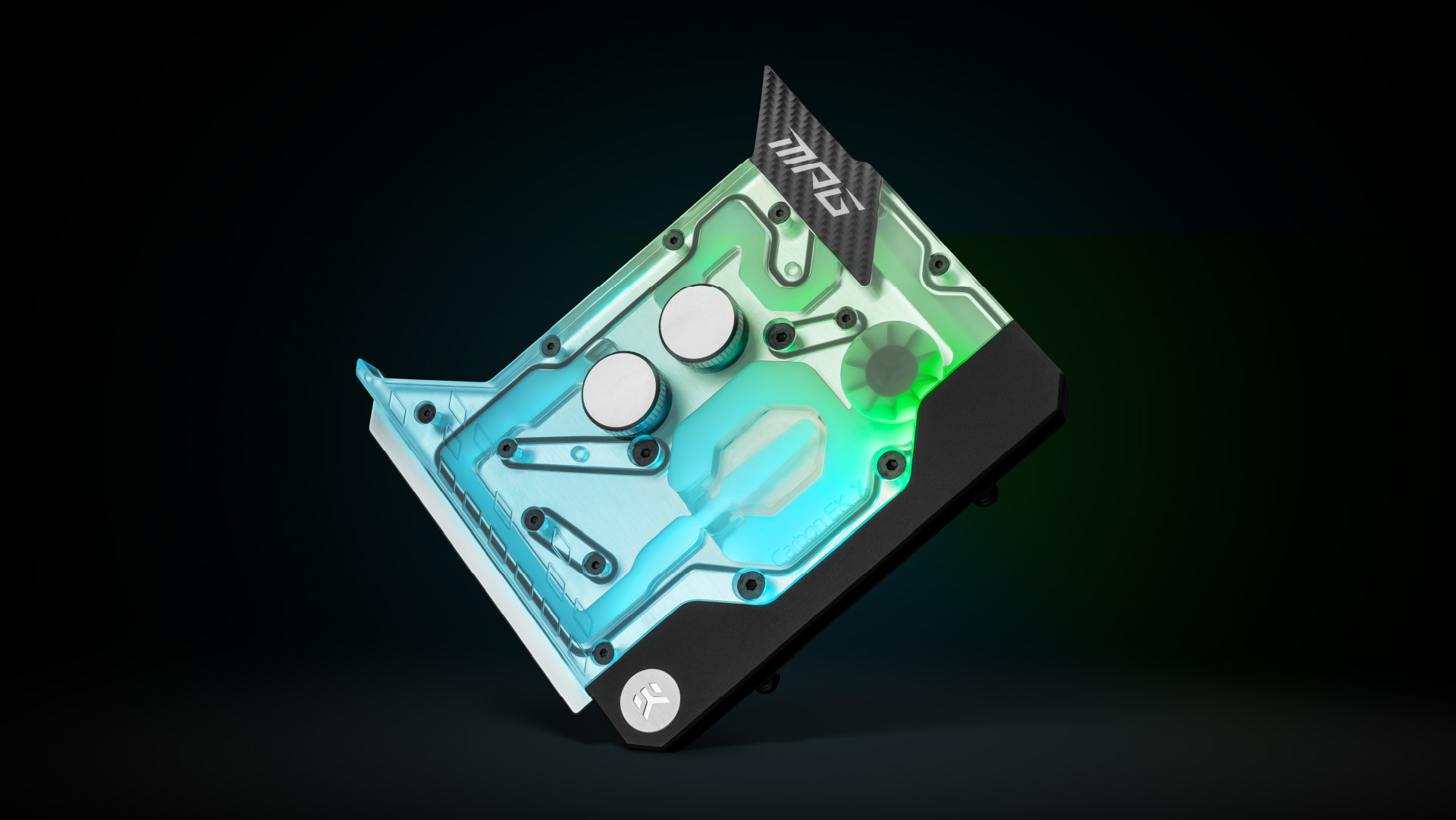 A black POM piece covers the lighting solution, removing unwanted hotspots and providing a more uniform lighting experience. The block is equipped with 3-pin 5V Addressable D-RGB LED strips compatible with the motherboard's 3-pin 5V Addressable D-RGB LED header. The arrow marking on the 3-pin LED connector is to be aligned with the +5V marking on the addressable D-RGB header.
Specifications
Supports 12th Gen Intel® Core™ / Pentium® Celeron® processors for LGA 1700 socket.
DDR5 Support: Allows even faster data transfer speeds.
Native PCI-e gen 4.0 offers twice the bandwidth of PCI-e gen 3.0 and ensures your GPU and storage run at maximum speed without bottlenecks.
Enhanced Power Design: 18+1+1 smart power stage system, dual 8-pin CPU power connectors, Core Boost, DDR5 Boost.
MYSTIC LIGHT: 16.8 million colors / 29 effects controlled in one click. MYSTIC LIGHT EXTENSION supports both RGB and RAINBOW LED strips.
M.2 Shield Frozr: Both M.2 slots with Shield Frozr are built for high-performance systems and a non-stop gaming experience.
Lightning USB 20G: Built-in USB 3.2 Gen 2×2 port offers 20Gb/s transmission speed, which is 4 times faster than USB 3.2 Gen 1.
AUDIO BOOST 5: High-quality audio processor for the most immersive audio experience with direct stream digital audio support.
2.5G LAN with LAN Manager and Intel Wi-Fi 6E AX210 Solution: Upgraded network solution for professional and multimedia use delivers a secure, stable, and fast network connection.
Pre-installed I/O Shielding: Better EMI protection and more convenience for installation.
Lightning gen 5: With up to 128GB/s bandwidth speeds.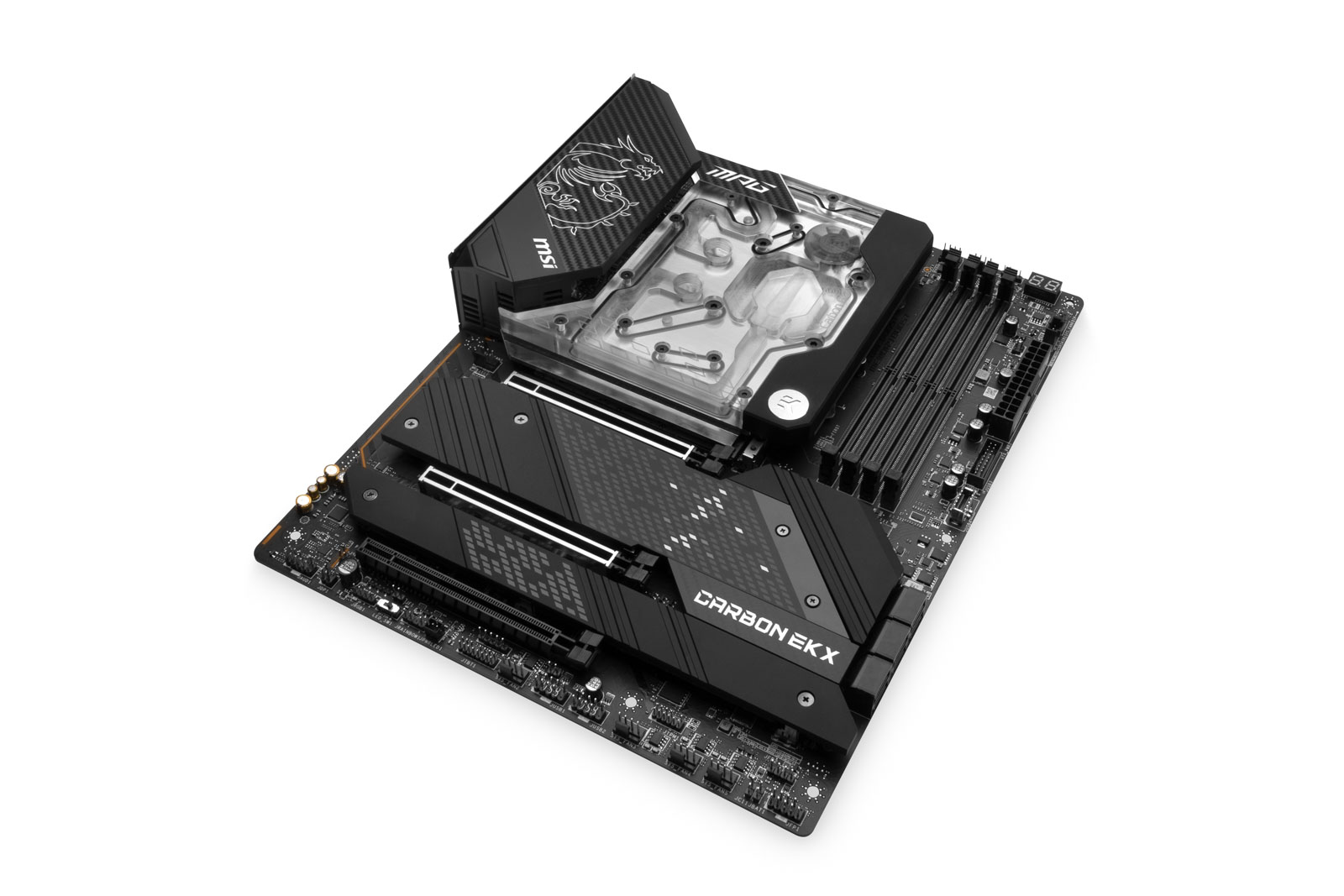 Availability and Pricing
The EK-Quantum MSI MPG Z690 Carbon EK X motherboard+monoblock combo will be available for pre-order soon through the EK Webshop and MSI's worldwide retailer network. This product is expected to start shipping out in December 2021.