EK Water Blocks Announces "CPU Capped 3DMark – The old and the new" Contest

LJUBLJANA, Slovenia, February 4, 2013 — Ljubljana based premium computer water cooling gear provider announced today to organize "CPU Capped 3DMark – The old and the new" OC Competition with HWBOT, the top organization hosting the world's only 24/7 overclocking competition which brings together 35,000 participants and feature competition in thousands of categories.
The purpose of this competition is to celebrate the official release of EK-VGA Supremacy HWBOT Edition, the first fruit of the collaboration between EK Water Blocks and HWBOT. The participants will be competing for highest 3DMark2001SE and 3DMark11 – Performance scores which is submitted to HWBOT.org with some rules enforced limitation to make this competition more appealing to the tweaking crowd. The competition consists of two main stages (3DMark2001SE and 3DMark11 Performance) and a bonus stage – 3DMark2001SE run with Intel Core2 architecture CPU. Each stage (including bonus stage) is limited to a single GPU. For detailed limitation list please see each stage description.
This competition is open to everyone. You can participate by making a submission during the competition. This is an online event. Participants can compete from all around the world, and make submissions online. Each stage is awarded points. The winner is the competitor who gain most points.
Prizes
The contest, which is sponsored by EK Water Blocks as well as Intel and Fractal Design, starts on February 4th and runs until March 3rd, and is open to all overclockers. Besides the awards for the top three contestants there will be lucky draw for Intel Core i5 2550K CPU among users who will be overclocking with EK Water Blocks water cooling solution (CPU, VGA, RAM or motherboard water blocks count; photograph required).

1st place: Fractal Design Arc Midi Tower Chassis + high-end custom EK water cooling kit
2nd place: EK-Supremacy – Full Copper
3rd place: EK-VGA Supremacy HWBOT Edition
Random draw between submissions using EK Water Blocks cooling gear: Intel Core i5 2550K CPU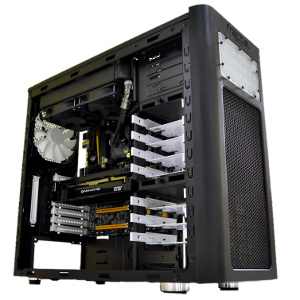 About HWBOT
HWBOT, main office located in Belgium, is a dynamic team of international hardware fanatics as well as internationally recognized overclockers, dedicated to gathering specifications and benchmark performance results of computer hardware as well as serving a non-stop overclocking competition platform for amateur and die-hard overclockers. One can use HWBOT to compare processor or graphics card specifications, to compare the performance of different products using the HWBOT Hardware comparator which gives people a more balanced view on the overclocking capabilities as well as the performance of hardware in comparison to one-man based reviews.