EK-Vector Series Water Blocks for AMD Radeon VII Graphics Cards
EK® Water Blocks, the leading premium computer liquid cooling gear manufacturer, is releasing EK-Vector Radeon VII water blocks that are compatible with reference design AMD® Radeon® VII graphics cards. This kind of efficient cooling will allow your high-end graphics card to reach higher boost clocks, thus providing more overclocking headroom and more performance during gaming or other GPU intense tasks.
EK-Vector Radeon VII
This water block directly cools the GPU, 16GB of HBM2 memory, and VRM (voltage regulation module) as cooling liquid is channeled directly over these critical areas. These newly developed water blocks feature a redesigned cooling engine that has a larger footprint compared to the previous generation of EK® Full Cover water blocks. This results in a larger surface area for heat transfer which increases the thermal performance of these water blocks.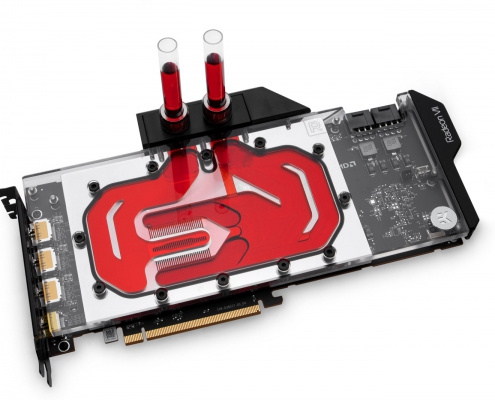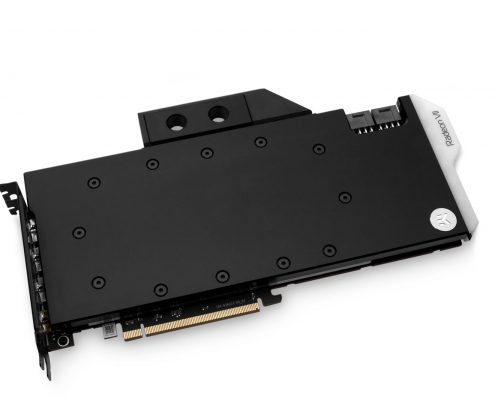 EK-Vector Radeon VII RGB – Nickel + Plexi (left) and EK-Vector Radeon VII RGB – Nickel + Acetal (right)
The base of the block is made of high-grade copper or nickel-plated electrolytic copper while the top is made of high-quality acrylic material or POM Acetal material (depending on the variant). The front aesthetic corner piece is lit up with LED strip (in RGB variants). The top material does not affect the block performance in any way. The block also features a special plastic cover over the block Terminal. This add-on is designed to reveal the graphics card model, visible from the side. Sealing is ensured by high-quality EPDM O-Rings. The brass standoffs are already pre-installed and allow for a safe and easy installation procedure.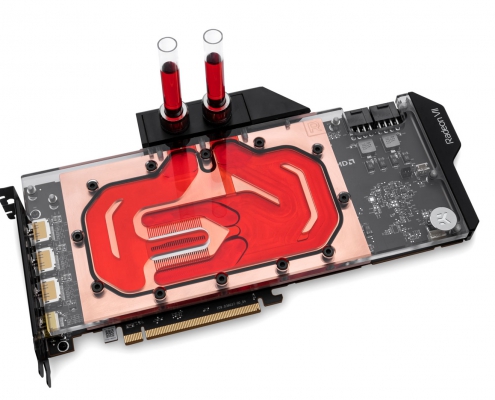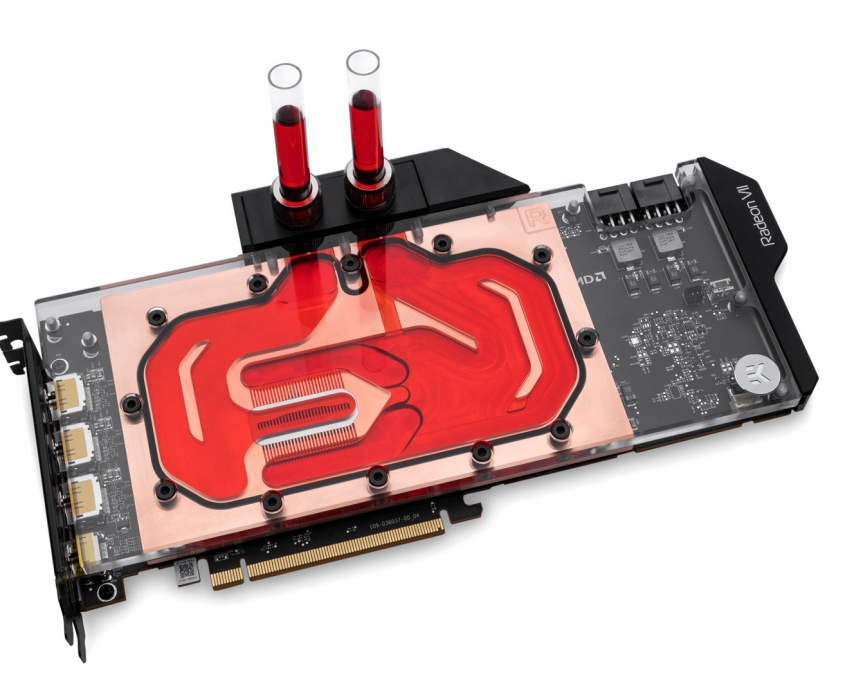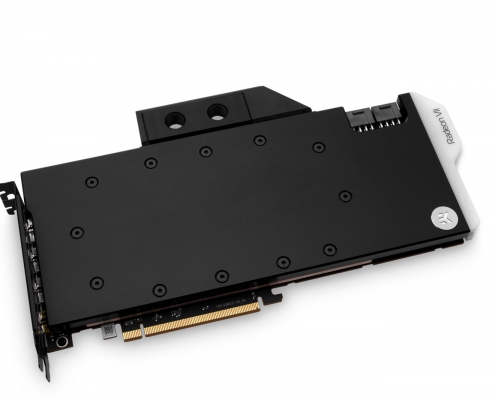 EK-Vector Radeon VII – Copper + Plexi (left) and EK-Vector Radeon VII – Copper + Acetal (right)
EK also encloses a single-slot I/O bracket which replaces the original two-slot in order to make installation of multiple graphics cards easier and also transforms the GPU into a gorgeous single slot solution.

The EK-Vector Radeon VII water blocks are compatible with popular RGB sync technologies from all major motherboard manufacturers since it features a classic 4-pin 12V RGB LED strip.

Compatibility
The EK-Vector Radeon VII water blocks are compatible with the reference design Radeon VII graphics cards. In order to simplify the search for suitable and compatible water blocks, EK is adding newly released graphics cards and motherboards from various manufacturers to the EK Cooling Configurator database. Compatible graphics cards are being added to the list on a daily basis:

Overclocking
Liquid cooling your Radeon VII GPU will allow you to overclock it to the maximum clock allowed by the card and reach 10-20% better results depending on workload or game you're playing. Even while overclocked your card will reach far lower temperatures and less noise than factory clocked with air cooling ensuring an even longer lifespan of the card.
Availability and pricing
The EK-Vector Radeon VII water blocks and backplates are made in Slovenia, Europe and are available for pre-order through the EK Webshop or EK Partner Reseller Network. EK-Vector Radeon VII water blocks and backplates will start shipping Monday, 1st of April 2019! In the table below you can see manufacturer suggested retail price (MSRP) with VAT included.