EK-Thermosphere, a new universal GPU water block
EK Water Blocks, Ljubljana-based premium water cooling gear manufacturer, is proud to introduce a new high performance universal GPU water block – EK-Thermosphere.
EK-Thermosphere is a high performance universal GPU water block built off EK-Supremacy cooling engine, designed specifically for the use with EK-FC Terminal interconnects in multiple graphics card system. Other heat generating components (such as RAM and VRM integrated circuit) need alternative cooling method (fan and/or self adhesive heatsinks).

"We're pleased to introduce our new conceptually new universal GPU water block," said Niko Tivadar, EK-Thermosphere main designer and Product Manager of EKWB. "EK-Thermosphere is a new addition to our Clean CSQ industrial design line and features very slim construction, thanks to completely new architecture. Unmatched thermal performance and even more straight-forward installation procedure than before are key features of this product. Hooking up liquid cooling to four GPUs has never been easier."
The Thermosphere cooling engine uses similar, yet refined as per needs of modern microprocessors, fin design as its ancestor. The cooling liquid accelerates through jet plate's nozzle and turbulently continues its path through numerous very thin channels which provide extreme cooling surface area. EK-Thermosphere can also work flawlessly with reversed water flow which does not affect the cooling performance.
Base is made of electrolytic copper, backbone is made from laser cut brushed stainless steel plate while the top is made of quality POM Acetal material. Screw-in brass standoffs are pre-installed in each exchangeable mounting plate and allow for safe, painless installation procedure. Up to four EK-Thermosphere water blocks can be used on a single ATX form factor motherboard by using EK-FC Terminal (DUAL, TRIPLE or QUAD type) system or other means of interconnectivity. Additionaly, plexi top variants also features two pre-drilled slots for use of 3mm LED diodes.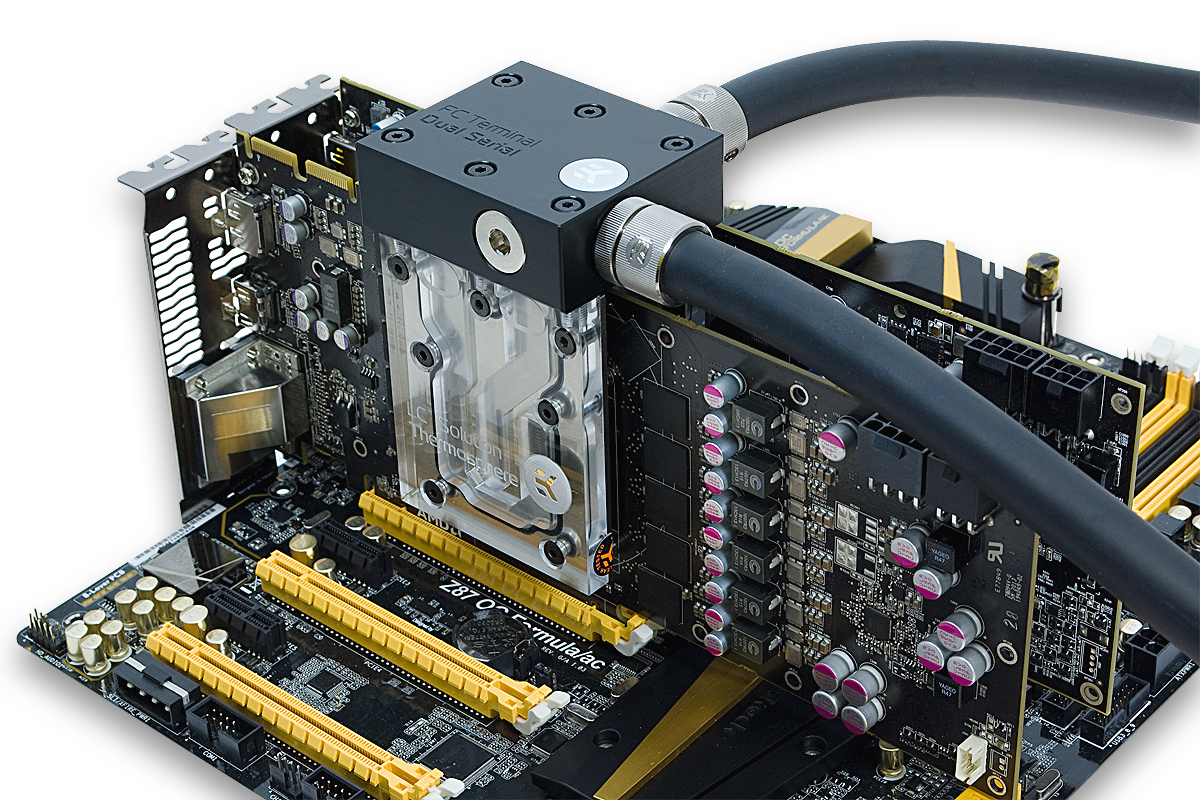 GPU compatibility:
EK-Thermosphere series waterblocks supports majority of modern NVIDIA® and AMD® high-end graphics cards via exchangeable mounting plates. The product however comes factory pre-fitted with mounting plate G80 (mounting pattern 58x58mm) and ready for use on modern NVIDIA® GeForce® GTX 500, -600 and -700 series graphics cards only. Please check compatibility at EK's CoolingConfigurator.

To use this product on AMD and other nVidia graphics cards it is mandatory to purchase additional mounting plates:
– G92: 53x53mm
– R600: 54x54mm
– GF560: 51x61mm
– G200: 61x61mm
Enclosed in the box:
– EK-Thermosphere series water block /w pre-installed G80 mounting plate
– mounting mechanism
– thermal grease (TIM) EK-Ectotherm (1g)
Made in Slovenia – Europe!
EK-Thermosphere water blocks are available in several different variants and are readily available for purchase through EK Webshop and Partner Reseller Network.
SKU




Interconnectivity method




MSRP

(incl. VAT)



EK-Thermosphere
FC Terminal / HD Tube
64,95€
EK-Thermosphere – Acetal
FC Terminal / HD Tube
64,95€
EK-Thermosphere – Nickel
FC Terminal / HD Tube
67,95€
EK-Thermosphere – Acetal+Nickel
FC Terminal / HD Tube
67,95€
EK-Thermosphere Mounting Plate R600
–
6,95€
EK-Thermosphere Mounting Plate G92
–
6,95€
EK-Thermosphere Mounting Plate GF560
–
6,95€
EK-Thermosphere Mounting Plate G200
–
6,95€