EK-SF3D Triple Point EVO: UNI Adapter plate released; new revision inbound!
EK Water Blocks, Ljubljana based premium water cooling gear manufacturer, is proud to introduce the newest addition to EK-SF3D line of liquid nitrogen evaporation coolers for extreme overclocking.
EK-SF3D Triple Point EVO – UNI Adapter is a universal adapter plate that allows the installation of various cooling solutions to your Triple Point Module Adapters. Used in conjunction with up to four Module Adapters this unit allows extreme overclocking of virtually any (DDR-)SDRAM memory module (of any generation).
Pre-testing is the key to success in the world of extreme overclocking. With this adapter you can utilise your favorite phase change cooling unit, an old LN2 evaporator or your even a water cooled TEC (as shown on photo below) to bin your memory, as long as your cooler supports AMD S939/754 mouting hole pattern: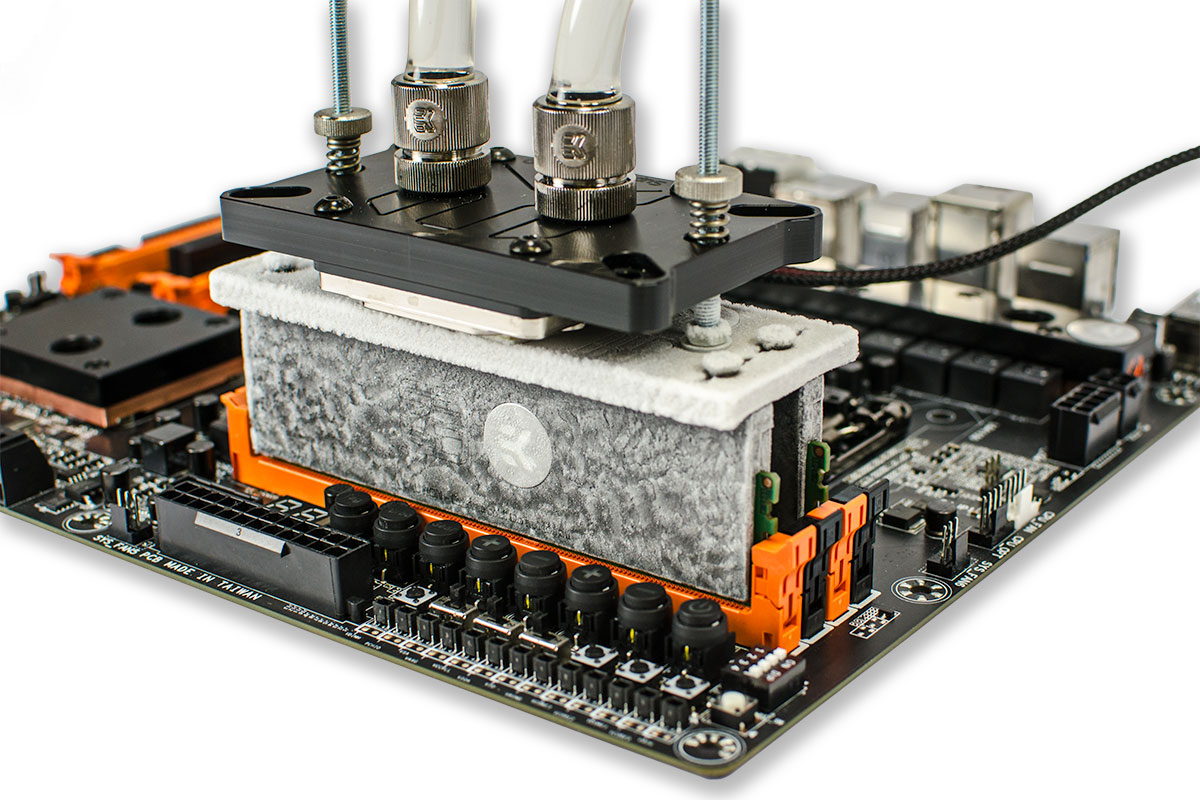 Features:
– pure electrolytic copper core with nickel plated finish
– standard AMD S754/939/940 mounting hole pattern (89mm)
– complete mounting mechanism with extra long 80mm M4 screws
– supports up to four EK-SF3D Triple Point EVO Module Adapters
– also compatible with EK-RAM Monarch Module Adapters
Enclosed:
– EK-SF3D Triple Point EVO – UNI Adapter
– mounting mechanism
Made in Slovenia – EU!
EK-SF3D Triple Point EVO – UNI Adapter is readily available for purchase (MSRP 20.95€ incl. VAT) through EK Webshop and and Partner Reseller Network. Be sure to check out other products from EK Extreme line of products.
New revision of EK-SF3D Triple Point EVO:
Working closely with extreme overclocking community EK Water Blocks will also be releasing a revised variant of EK-SF3D Triple Point EVO high performance system memory (RAM) liquid nitrogen evaporation cooler for competitive overclockers. This new revision will feature aluminium top extension (as opposed to POM Acetal used in current version) to allow the use of high-power heat guns and flame torches, used by overclockers for warming up of the unit thus eliminating the concern expressed by some users. The new aluminium top will also offer 30% more internal volume while keeping the same footprint allowing even faster initial pull-down ramp rate.
The unit's aluminium top extension will feature a black anodized finish and will visually mimic it's POM predecessor.
Customers of the current revision of EK-SF3D Triple Point EVO will be able to get the new, revised aluminium extension free of charge (shipping and customs fees apply). The revised version will be available for purchase on July 15th 2013.