EK is releasing all new X series FC Terminals for multiple GPU connectivity
EK Water Blocks, a market leader in high-end liquid cooling for PC products, is releasing all new terminals for multiple Full-Cover GPU water blocks connectivity. The new design is even more minimalistic than the previous ones with the terminal itself having only an engraved EK logo on it. The X series terminals are redesigned in terms of connectivity and all the ports are flush with the body of the terminal – no more recessed ports which means no additional extender fittings required! Another key feature of the new terminals is their compatibility with the newly implemented aesthetic terminal covers on EK-FC series GPU water blocks.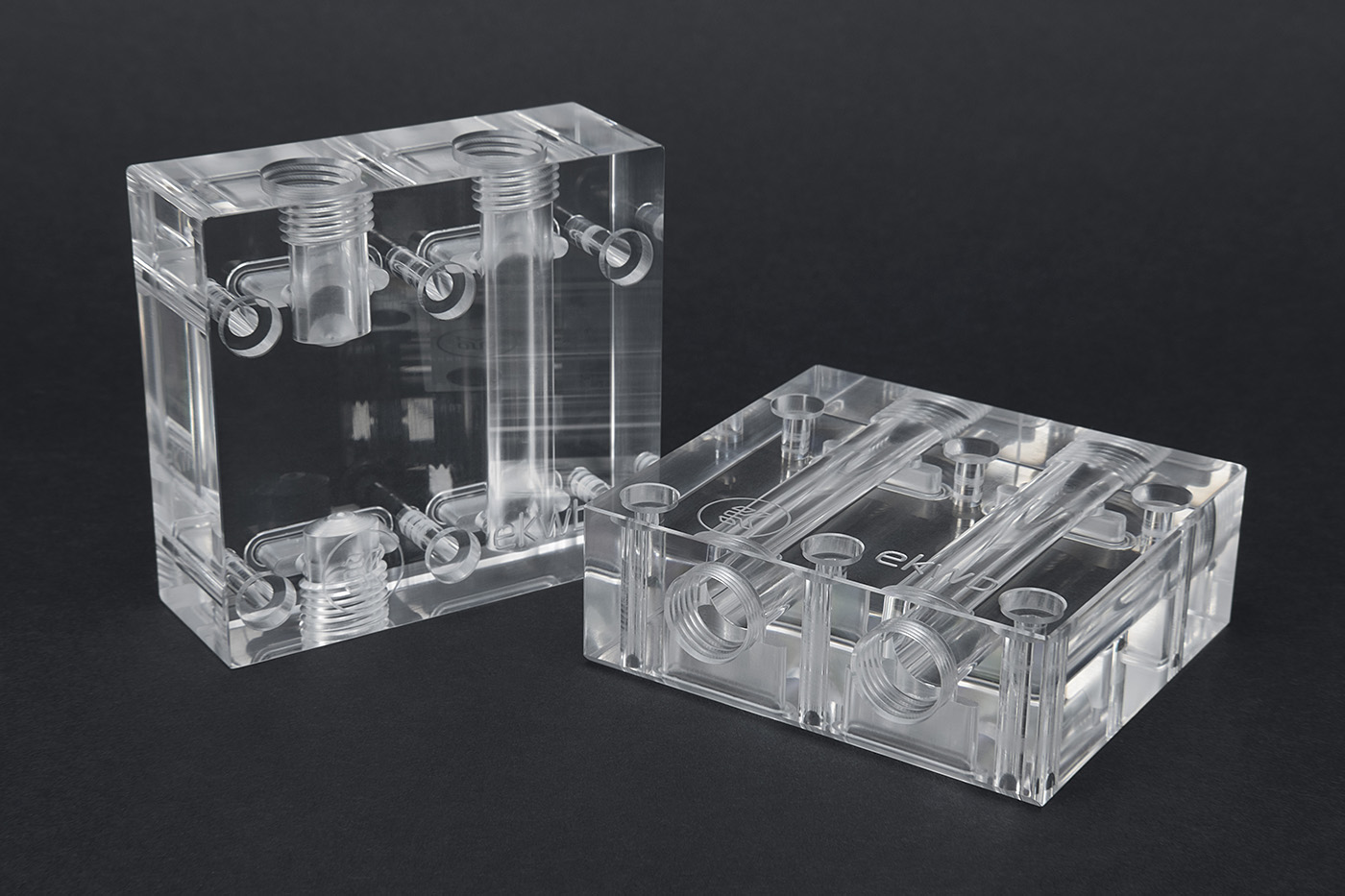 The new X series terminals can do everything as the old ones, we have just redesigned some of the unnecessary quirks. The design is simplified so that each terminal has a minimalistic look with a small subtle engraved EK logo. The users can still choose either a Parallel or a Serial terminal (you can recognize Serial terminals by the "S" label) for connecting their EK Full-Cover GPU water blocks with the new Terminal X line-up. X-number labeling is intended to indicate the number of GPU water blocks that a certain terminal can connect. For example, EK-FC Terminal X2 S can connect two GPU water blocks and comes in Serial configuration.
As a part of our regular offer, both Acetal and Plexi versions of the terminals are available providing the user with a broad choice to cover their specific need. The black terminals are CNC machined from solid piece of high-quality POM Acetal material, while the Plexi version uses cast acrylic and the externals are machine-polished to a high-gloss glass-like finish.
The X series terminals offer more connectivity options over the old Legacy Terminals. The new Parallel X series terminals offer two inlet holes on both sides enable the user to pick the Inlet / Outlet scenario that suits him best. In addition, both Parallel and Serial Terminals feature G1/4″ threaded ports that are flush with the body of the terminal. This means that fittings can be applied directly to the terminal, providing a clean and symmetric look. In the end, if someone dislikes the new aesthetic terminal covers on EK-FC series GPU water blocks, you can just remove them, and use the terminals in the same manner.
Availability and Pricing
New EK-Terminals X are designed and engineered in Slovenia, Europe. Already available for purchase through EK Webshop and Partner Reseller Network. In the table below you can see manufacturer suggested retail price (MSRP) with VAT included. Please note that additional terminal models will become available in the following weeks.