EK outs ultra-compact 120mm CoolStream SE radiator
EK Water Blocks, Ljubljana based premium water cooling gear manufacturer, is excited to introduce EK-CoolStream SE, a new compact high-performance computer liquid cooling radiator.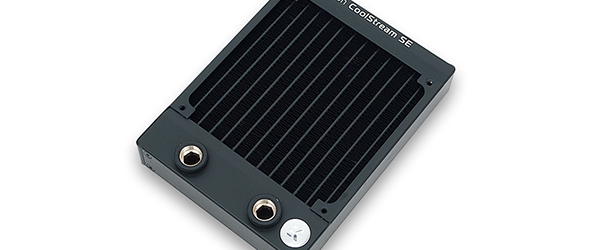 EK-CoolStream SE family radiators combine EK's unique CSQ design with latest radiator core engine. Built for EK-Vardar 120mm high static pressure fans, these radiators are optimized for maximum heat dissipation across an entire fan operational range, thus delivering exceptional performance at both low- and high airflow operation.
EK assured quality level, optimal price-performance ratio and unique minimalist design make these EK-CoolStream SE series radiators a perfect choice for any computer liquid cooled system. Overall compact measurement of the SE series radiator allow for utilization even in the tiniest computer chassis.
The radiator offers best cooling capacity in the ~25mm thick 120mm radiator class. Single stack copper fins provide massive surface area while the parallel flow cooling chambers reduce hydraulic flow resistance to a minimum. All radiators allow for push-pull fan installation to even further increase the cooling performance.
"This radiator was specifically designed to be utilized in computer chassis where space constrains limit the use of other types of radiators", said Niko Tivadar, EK's Chief of R&D. "Such design also allows for building of the high performance 3U form factor liquid cooled HPC and workstation computers".
This product features two recessed G1/4 threaded ports with two pre-installed extenders from the front side to allow any G1/4 threaded fitting to be used.
All new radiators are readily available for purchase through EK Webshop and Partner Reseller Network. Bellow are the MSRP with VAT included:
| | |
| --- | --- |
| Name | MSRP (incl. VAT) |
| EK-CoolStream SE 120 (Slim Single) | 39,95€ |
| EK-CoolStream SE 240 (Slim Dual) | 54,95€ |
| EK-CoolStream SE 360 (Slim Triple) | 65,95€ |
| EK-CoolStream SE 480 (Slim Quad) | 79,95€ |