EK Launches Mystic Fog – New CryoFuel Coolant for Vivid D-RGB Effects
EK®, the leading computer cooling solutions provider, has launched a brand new RGB-focused coolant based on the latest formula with long-lasting stability and vivid addressable D-RGB reactivity. The coolant is specially developed to bring the best possible light dispersion to various PC liquid cooling products, and it's named EK-CryoFuel Mystic Fog. The coolant is already available in Limited Edition bottles.

EK-CryoFuel Mystic Fog
The new coolant contains everything a high-end liquid cooling system requires for efficient thermal performance and to provide the necessary protection for water blocks. It carries the essential synergistic corrosion inhibitors and biological inhibitors, promoting high thermal efficiency, and long and safe operational life for liquid cooling products.

With countless hours of in-house and third-party real-life scenario testing, EK-CryoFuel Mystic Fog is one of the most chemically stable coolants that provides enthusiasts with the best possible level of performance and thermal efficiency. The key feature of the new coolant formula is the perfect ratio of suspended particles versus the clear coolant basis, which gives the coolant its unique ability to disperse light. This will provide the best possible foundation for vivid addressable D-RGB effects inside any liquid cooling system.
The Mystic Fog coolant will not sediment after long hours of inactivity of the cooling loop. Designed specifically for computer liquid cooling systems, the EK-CryoFuel offers a 2-year shelf life from the date of bottling. For the best light dispersion effects of EK-CryoFuel Mystic Fog, it's recommended to replace the coolant every six months. 

Like all EK-CryoFuel coolants, it comes as a premix (1000ml) and a concentrate (250ml). Mystic Fog carries the production date and the batch code, which is printed on the top side of the cap for more precise shelf-life tracking. It is also biodegradable (90% in 10 days), and will not remain in the environment or bioaccumulate.

EK-CryoFuel contains synergistic corrosion inhibitors to protect metals commonly found in computer liquid cooling systems. It has been tested in accordance with the BS5117 (ASTM D1384) standard and found to meet corrosion standards for copper, brass, and stainless steel. It also contains scale and biological inhibitors to prevent fouling, thus promoting long operational life and high thermal efficiency for the best value/performance ratio.

Limited Edition EK-Cryofuel Mystic Fog Giveaway
EK's limited edition "unicorn coolant" also brings a magical Giveaway in the form of 50 EK-Quantum Flow Indicators. To enter this giveaway, a person has to order their Limited Edition bottle of EK-CryoFuel Mystic Fog coolant and, once it arrives, create a public post on their personal Facebook, Twitter, or Instagram account with the hashtag #EKMysticFog. The post needs to include a photo or video of the Limited Edition EK-CryoFuel Mystic Fog bottle. In the case of Facebook, giveaway participants should also link their Facebook posts in the comments section of the designated EK post. Only those entries that were following these instructions will be considered for the prize draw.

The giveaway will last one month, from September 24 through October 24, 2020, with winner announcements happening on October 28, 2020. It is open to all EK Instagram, Facebook, and Twitter followers aged 15 or over who purchase the Limited Edition EK-CryoFuel Mystic Fog. The complete Terms and Conditions of this promotion can be found here.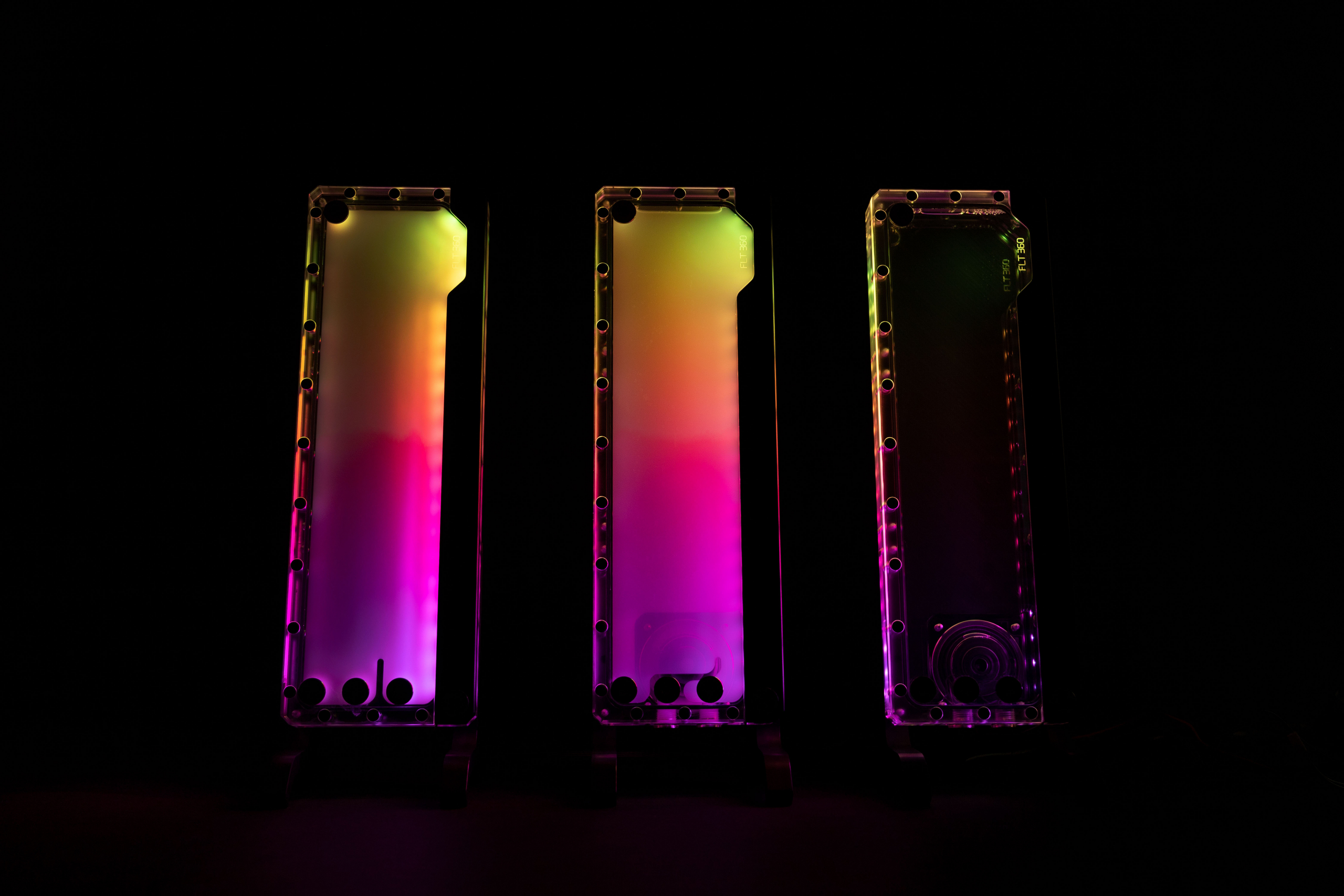 An example of EK-CryoFuel Solid White (far left), EK-CryoFuel Mystic Fog (in the center) and EK-CryoFuel Clear (far right)
Availability and Pricing
EK-CryoFuel Mystic Fog coolant is made in Slovenia, Europe, and is readily available for order through the EK Webshop and Partner Reseller Network.