EK Launches New EK-Pro Line GPU Water Blocks for H100 PCIe GPUs
EK®, the leading provider of cutting-edge computer cooling solutions, is introducing an enterprise-level GPU water block tailored for NVIDIA® H100 Tensor Core PCIe data center GPUs. The EK-Pro GPU WB H100 Rack – Ni + Inox is a high-performance water block meticulously engineered to achieve an ultra-compact design, allowing it to occupy just a single PCIe slot compared to the stock 2-slot cooling system. This premium water block features a rack-style terminal, significantly reducing assembly height and enhancing compatibility with various chassis types. By spanning the entire PCB, it efficiently cools the GPU, HBM VRAM, and the VRM (voltage regulation module), with cooling liquid channeled directly over these critical components.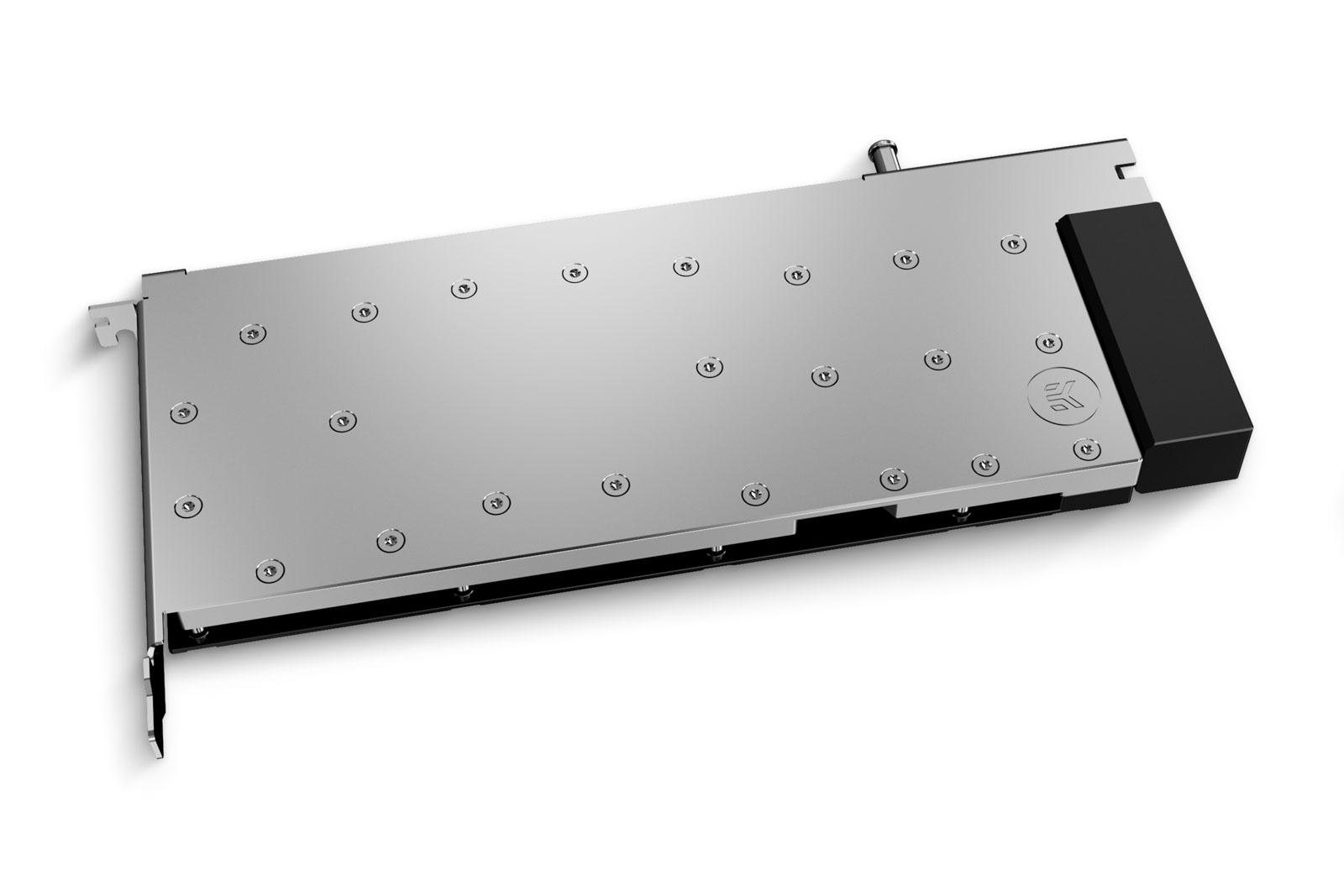 NVIDIA H100 Tensor Core GPUs provide a giant leap in computing power, perfect for accelerated computing. Its ground-breaking increase in performance offers up to 30X more performance in certain applications like large language models for AI and up to 7X performance boost in HPC workloads like genome sequencing, for example.
Server-Grade Reliability
The EK-Pro GPU WB H100 Rack – Ni + Inox is purpose-built to facilitate professional liquid cooling for NVIDIA H100 Tensor Core GPU PCIe graphics cards, making it the ideal choice for server rack installations. Designed to seamlessly integrate into standard Full Height Full Width (FHFW) server chassis form factors, these water blocks serve as convenient drop-in replacements for both active and passive dual-slot air coolers.
Dual-Pass Cooling Engine
The product features a Dual-pass cooling engine design. The coolant goes through one microfin stack, which cools the first half of the GPU die + HBM memory stacks on one side, then continues to the next microfin stack, which cools the other half. The focus was to maintain a high flow velocity through all microchannels (as opposed to a single-pass which would 'halve' the effective flow rate. The fin structure geometry has been optimized to ensure flow distribution with minimal losses even in reversed water flow scenarios.
Space-Efficient Design
To enhance graphics card stability and protection, the water block's top includes the I/O plate, replacing the stock I/O shield. This modification significantly boosts the assembly's overall rigidity and stability. Moreover, the integrated single-slot I/O plate offers vital advantages in compact workstations and server environments where the overall space and PCIe slot spacing are limited. With this design, the graphics card occupies just a single PCIe x16 slot, freeing up surrounding slots for additional add-in cards.
Machining Composition
The water block's base undergoes precision CNC machining and is made from nickel-plated electrolytic copper, while the top is laser-cut from industry-grade stainless steel. The top plate also incorporates a convenient screw-in PCIe power connector bracket, ensuring secure power connector placement upon assembly completion. High-quality EPDM O-rings guarantee dependable sealing, while pre-installed brass standoffs ensure a safe and straightforward installation process. 
Backplate (Included) and NVLink-Compatibility
An aesthetic retention backplate comes with the water block to improve your graphics card's visual appeal and structural rigidity while, at the same time, providing passive cooling to the backside of the PCB VRM area. The cutouts in the water block top and backplate enable the entire water block and GPU assembly to be fully compatible with the NVIDIA NVLink connector. 
The EK-Pro GPU WB H100 Rack – Ni + Inox water block is equipped with a POM-machined terminal block at the back, featuring two G1/4″ ports for effortless integration with EK-Pro QDC kits and manifolds, catering to high-compute-density applications.
For precise compatibility matching, we recommend utilizing the EK Cooling Configurator. The database undergoes regular updates, mitigating any potential compatibility issues.
Availability and Pricing
EK-Pro GPU WB H100 Rack – Nickel + Inox water block is manufactured and assembled in Slovenia, Europe. It is available for pre-order through the EK Webshop and Partner Reseller Network. The product is expected to start shipping in mid-November 2023. The table below shows the manufacturer-suggested retail price (MSRP), VAT included.