EK Launches a Momentum² Monoblock for ROG Crosshair X670E Hero
EK®, the premium liquid cooling gear manufacturer, is releasing a new AMD® AM5 socket-based monoblock, the EK-Quantum Momentum² ROG Crosshair X670E Hero D-RGB – Plexi. The monoblock is engineered specifically for the ROG Crosshair X670E HERO motherboard from ASUS®. It features addressable D-RGB LEDs compatible with ASUS Aura Sync RGB control and offers a full lighting customization experience for every single diode at any given time. This Quantum monoblock is EK-Matrix7 compliant and allows the use of the stock I/O shield with LED implementation.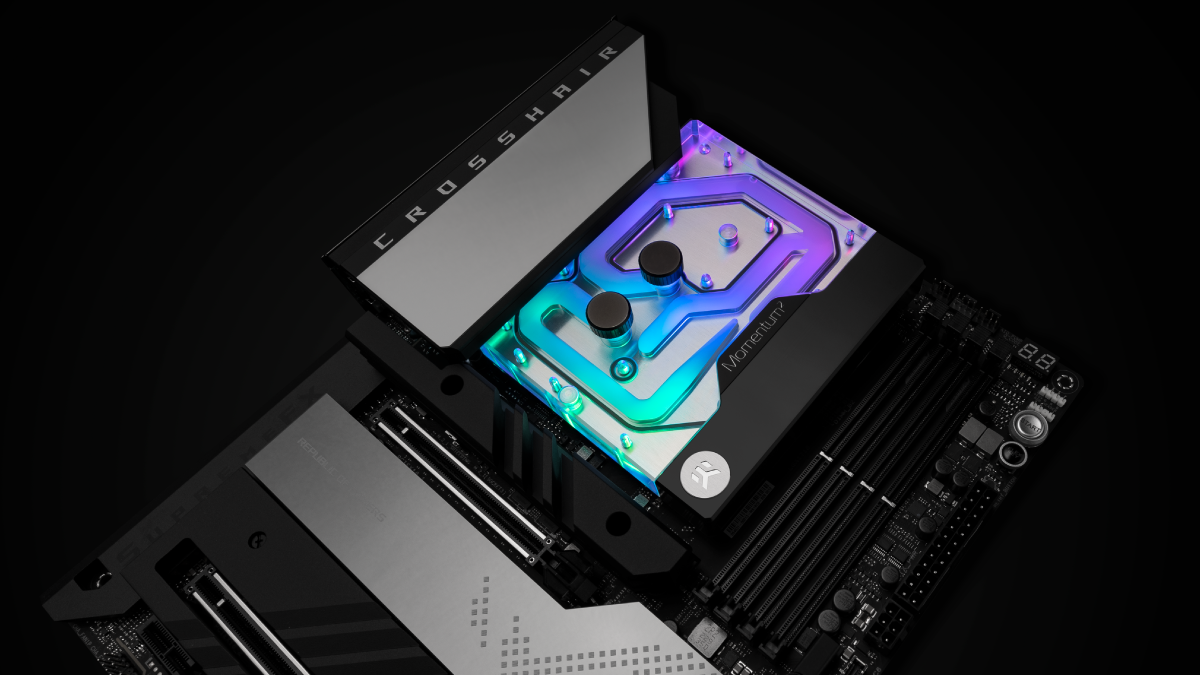 EK-Quantum Momentum² ROG Crosshair X670E Hero D-RGB
This is a complete, all-in-one (CPU and motherboard) liquid cooling solution for AMD's Ryzen 7000-series processors compatible with the AM5 socket on the ROG Crosshair X670E Hero motherboard.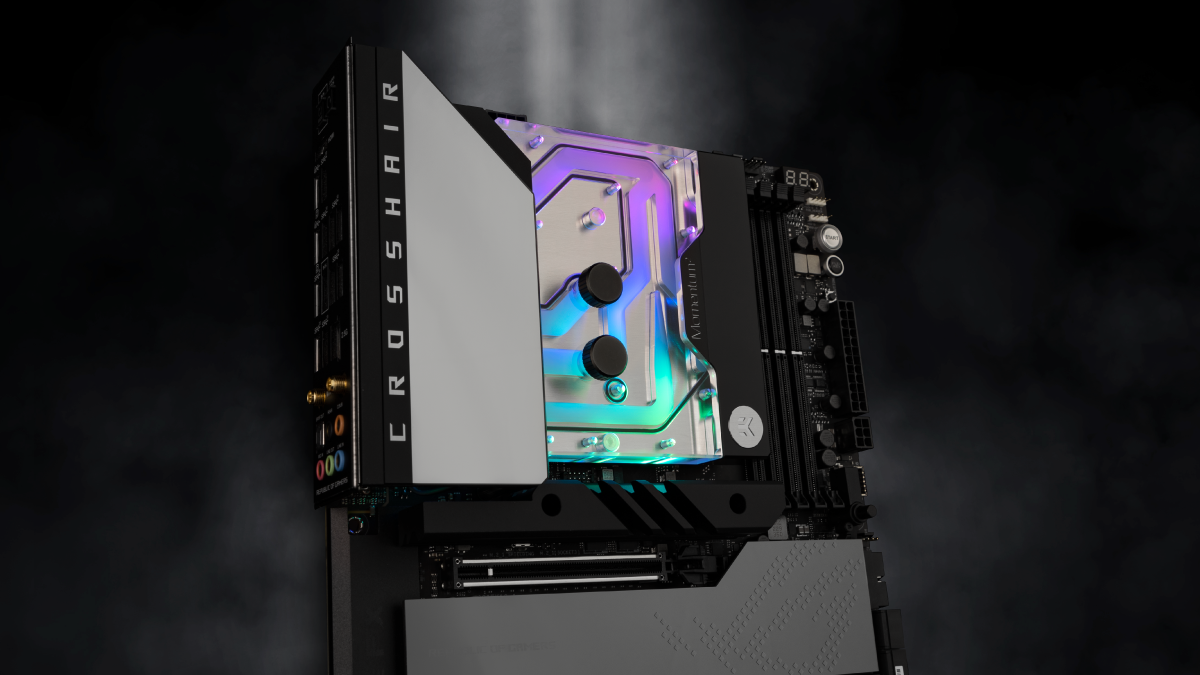 The monoblock packs the latest generation Velocity² cooling engine to ensure the best possible CPU cooling without reducing flow to other components. It directly cools the AMD Ryzen 7000-series CPU and VRM section.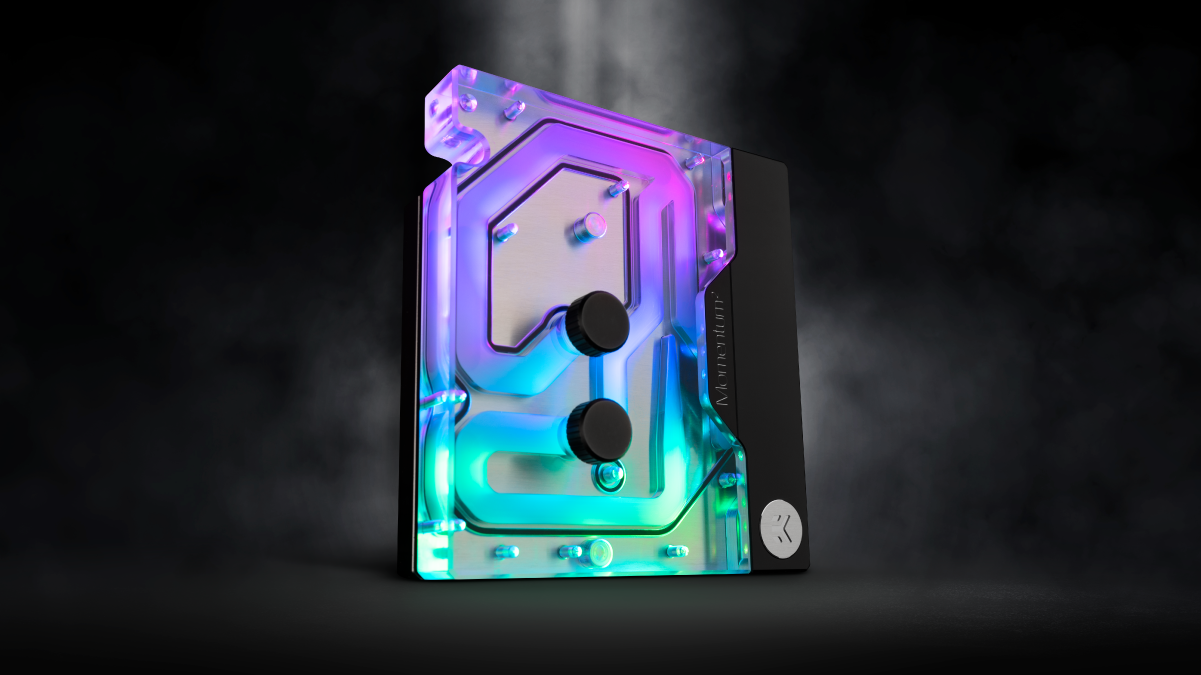 The cooling liquid flows directly over all critical areas, providing enthusiasts with an excellent solution for high and stable overclocks. Like other EK monoblocks, the EK-Quantum Momentum² ROG Crosshair X670E Hero D-RGB features a high-flow design and can be easily used with weaker water pumps or lower pump-speed settings. The cooling solution also comes with sophisticated D-RGB (addressable) lighting that connects to this ROG motherboard via the standard 3-pin 5V D-RGB addressable header named Aura Gen2.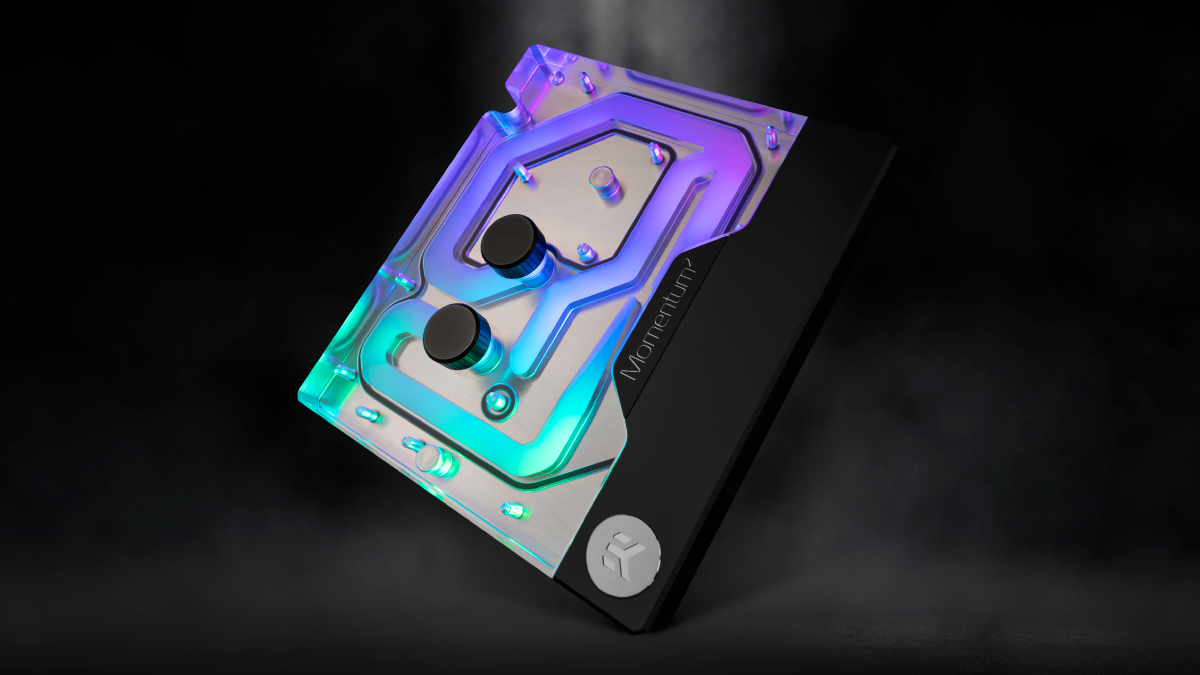 The base of the monoblock is made of nickel-plated electrolytic copper, while its top is made of quality cast acrylic material. The nickel-plated brass screw-in standoffs are pre-installed and allow for easy installation.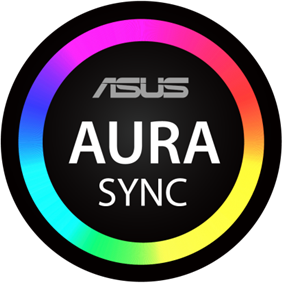 The monoblock has a 3-pin 5V D-RGB (addressable) LED strip that connects to the motherboard's 3-pin LED header or any other supported 5V 3-pin LED controller. This product is compatible with ASUS Aura Sync RGB control software. The arrow marking on the 3-pin D-RGB LED connector is to be aligned with the +5V marking on the AURA Addressable Gen2 header. 
You can always search EK's Custom Loop Configurator database for compatible water blocks. The list of graphics cards and motherboards is being updated daily. 
EK-Matrix7
Since liquid cooling for PCs became widely available, there was only one standard across the market: the G1/4″ thread. EK recognized the flaws and limitations of this concept and introduced a new liquid cooling standard called the EK-Matrix 7.  
The EK-Matrix 7 adds a new dimension where the height of the products and the distance between ports is managed in 7mm increments. You've probably played with toy bricks, but maybe you didn't think about how and why it works so well.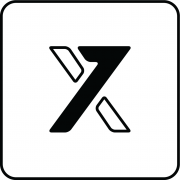 It's because toy bricks have strictly defined patterns in terms of brick height, width, and the distance between the blocks, with no "in-between" sizes. EK simply used this notion to make building water-cooling loops as easy as playing with toy bricks. 
For example:  
EK's radiators are 30 millimeters in height. The next one is 44mm, with 2x7mm added; the following is 58mm, with 14 millimeters added again.

 

EK's static extenders range from 7 and 14 to 28 millimeters in height. Again, all changes are multiplications of 7 millimeters.

 

EK's offset fittings are designed to offset 3, 7, 14, 21, and 28 millimeters.

 

The distance between the two ports on the EK-Quantum CPU and GPU water blocks is 28mm – which is 4x7mm.

 
All these design features enable users to have a single PC case with a single distro plate that is compatible with a wide variety of hardware. This allows them to quickly achieve a perfect build with parallel tubes through a process that doesn't require heat guns or special tools for tube bending. Before EK-Matrix7 existed, EK's GPU water blocks were designed to be as wide as the PCB. 
Matrix7 will make your loop-building experience smooth, easy, and fun. Even if you take it easy, you can assemble an entire PC and the liquid cooling loop in 6 hours. 
EK is inviting other vendors and modders to join this standard and produce compatible products to unify the liquid cooling market and make the water-cooling industry more accessible and products more user-friendly. This means that the guidelines for EK-Matrix7 products will be public. 
Availability and Pricing
EK-Quantum Momentum² ROG Crosshair X670E Hero D-RGB – Plexi monoblock is made in Slovenia, Europe, and is now available for pre-order through EK Webshop and Partner Reseller Network. This Quantum Line monoblock will start shipping in late February 2023. The table below shows the manufacturer-suggested retail price (MSRP), VAT included.