EK® is announcing the Annihilator EX/EP server grade CPU block for Square ILM
EK® Water Blocks, the Slovenia-based premium computer liquid cooling gear manufacturer is announcing a dedicated EK-Annihilator EX/EP Square water block that is specifically developed for LGA 3647 (Socket P) Intel® processors. The entire CPU block was designed from the ground up to fit the requirements of the new socket and to integrate multiple connectivity options for server rack requirements. With that said, the new server-grade CPU block is 1U chassis type compatible for use server and workstation type motherboards. After the release of the EK-Annihilator EX/EP for Narrow ILM mounting, EK® is releasing the EK-Annihilator EX/EP variant with Square ILM socket mounting.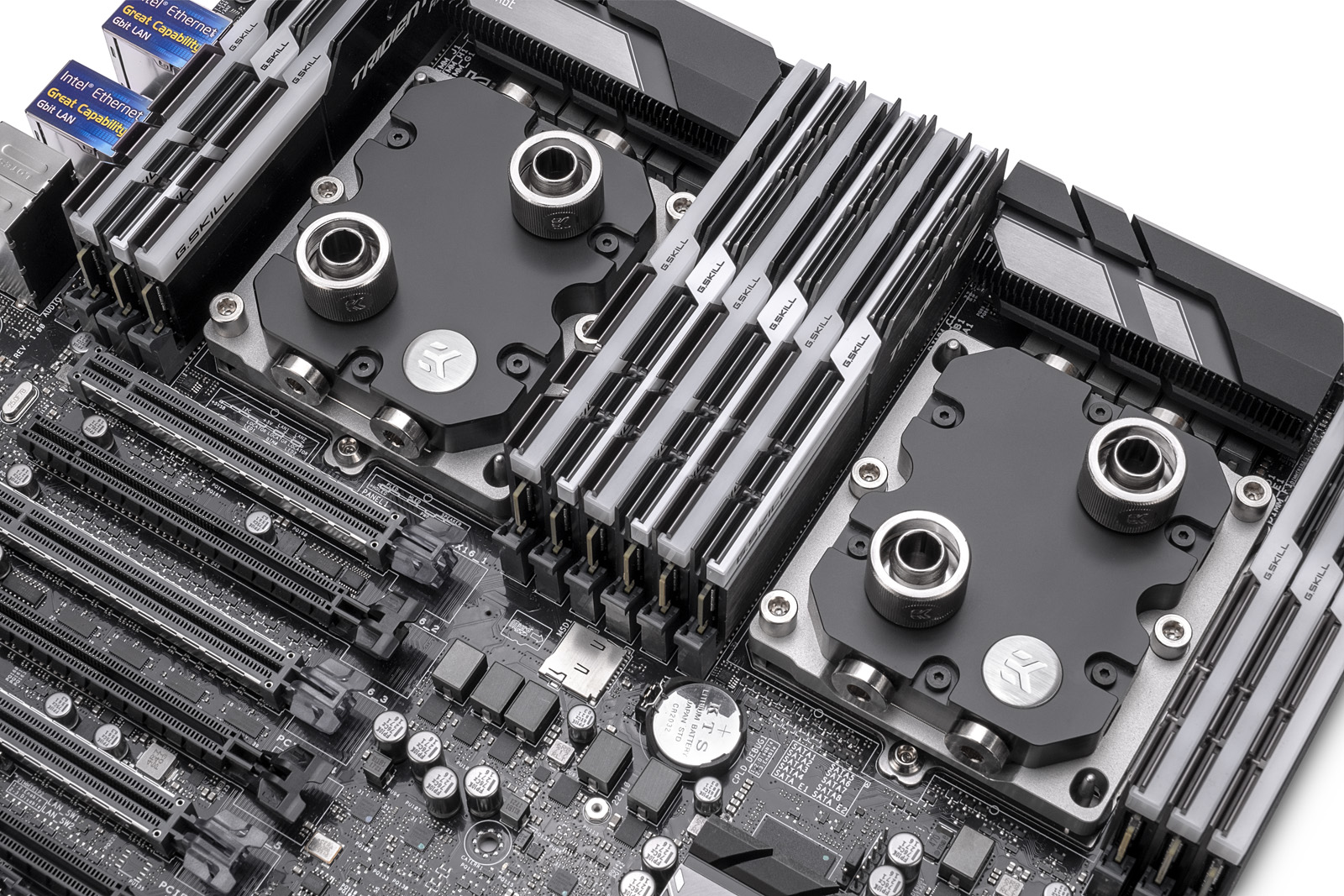 EK-Annihilator EX/EP Square
With Intel® releasing the new generation of Xeon® Scalable Family processors for a large LGA3647-0 socket (socket P0), came the need for a water block with a larger cold plate contact surface. The goal in designing of the new EK-Annihilator EX/EP CPU water block was to cover the entire IHS of Intel® processors. An additional task was to make the new CPU block server ready with multiple connectivity options. The EK-Annihilator EX/EP water block features a total of 6 ports, which allow for versatile connectivity options. Two top ports are standard G1/4″ threaded, while the side ports are G1/8″ threaded.
This enterprise solution is built for performance, reliability, serviceability and no compromises in mind. The EK-Annihilator EX/EP water block meets these demands with low hydraulic restriction and top thermal performance making it the perfect choice for liquid cooling high-density computing systems.
EK-Annihilator EX/EP water block features a precisely machined copper base (sometimes referred to as 'cold plate') which is made from purest copper available on the market and is treated with nickel electroplating. The top is made from CNC machined from durable black POM Acetal and the CPU square ILM hold-down bracket is CNC machined from a thick piece of aluminum.
You can always check for compatibility for the EK-Annihilator EX/EP Square CPU water block by using EK Cooling Configurator database where compatible motherboards are being added to the list on a daily basis:

Availability and pricing
EK-Annihilator EX/EP Square CPU water block is made in Slovenia and it is available for purchase through EK Webshop and Partner Reseller Network. In the table below you can see the manufacturer suggested retail price (MSRP) with VAT included.