EK introduces two additional EK-FC Titan waterblocks
EK Water Blocks, Ljubljana based premium water cooling gear manufacturer, is proud to officially introduce two additional EK-FC Titan water blocks to cater to the different needs and taste of members of the water cooling community. Looks and port configuration is the only thing that separate these two newcomers from the pack as the cooling engine remained the same. As a result these new products offer the very same excellent thermal- and hydraulic characteristics.
EK-FC Titan – Nickel (Original CSQ) offers the same original CSQ looks introduced in June 2012. It is therefore compatible with EK-FC Bridge & Link CSQ system multiple cards interconnect, which come in both satin finish Acrylic- as well as black POM Acetal version. The water block itself is compatible with EK-FC Titan Backplate but cannot be interconnected to other EK-FC Titan (using EK-FC Bridge & Link CSQ or EK-FC Terminal system) series water blocks apart from the Original CSQ version. This product comes with the MSRP of 99.95€ (incl. VAT) and is readily available for purcahse through EK Webshop as well as Partner Reseller Network.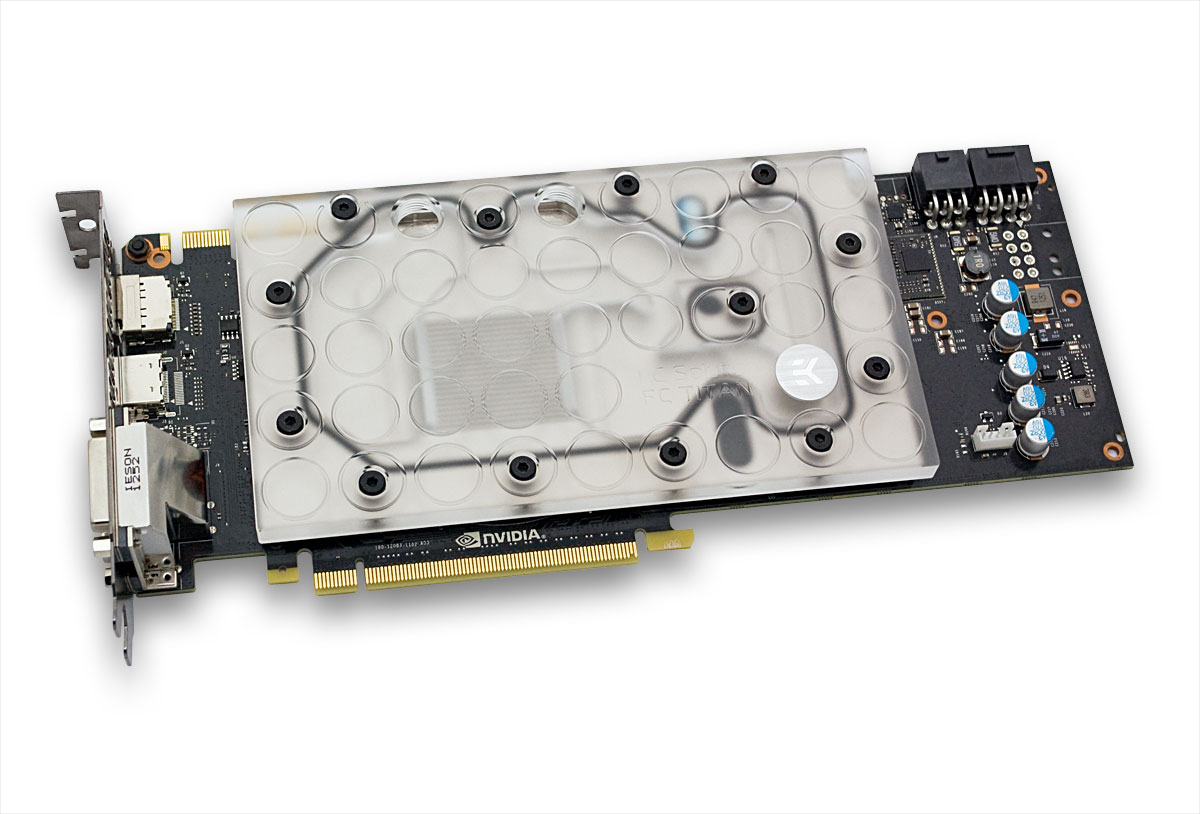 EK-FC Titan XXL Edition incl. Backplate is the extended variant of the original EK-FC Titan – Acetal+Nickel water block which covers the entire lenght of the GeForce GTX Titan circuit board. This product also comes bundled with it's own FC Backplate, very similiar to the EK-FC Titan Backplate – Black. This water block is compatible (G1/4 ports align) with original EK-FC Titan water blocks, multiple water blocks can be interconnected via EK-FC Terminal system or other, 3rd part provided means of interconnectivity. The XXL version comes with MSRP of 139.95€ (incl. VAT) and will be available for purchase by the end of the week through EK Webshop.