EK introduces Advanced Compression Fittings
EK Water Blocks, Ljubljana-based premium computer liquid cooling gear manufacturer, is proud to introduce the latest iteration of compression fittings – the EK-ACF or Advanced Compression Fittings, which succeeded the long standing EK-CSQ line of compression fittings.

EK-ACF Fitting (Advanced Compression Fitting) is a soft-tube compression fitting, designed for use with flexible soft tubing such as PVC, EPDM, Norprene, silicone or any other type of compatible flexible tube. It is a more secure variant of the tubing fitting connector as the locking ring prevents flexible tube to be pulled out of the fitting by compressing the tubing wall underneath the ring. Such fitting does not require any hose clamp or similiar substitute.
Unlike the older, CSQ variant Compression Fittings, the ACF Fittings sport low-profile design hence it is mandatory to secure the fitting barb using Allen key (8mm or 9mm – depending on the variant) to prevent skin damage to the finger tips – barb has no finger grip surface. The Allen key is not included but is available for separate purchase.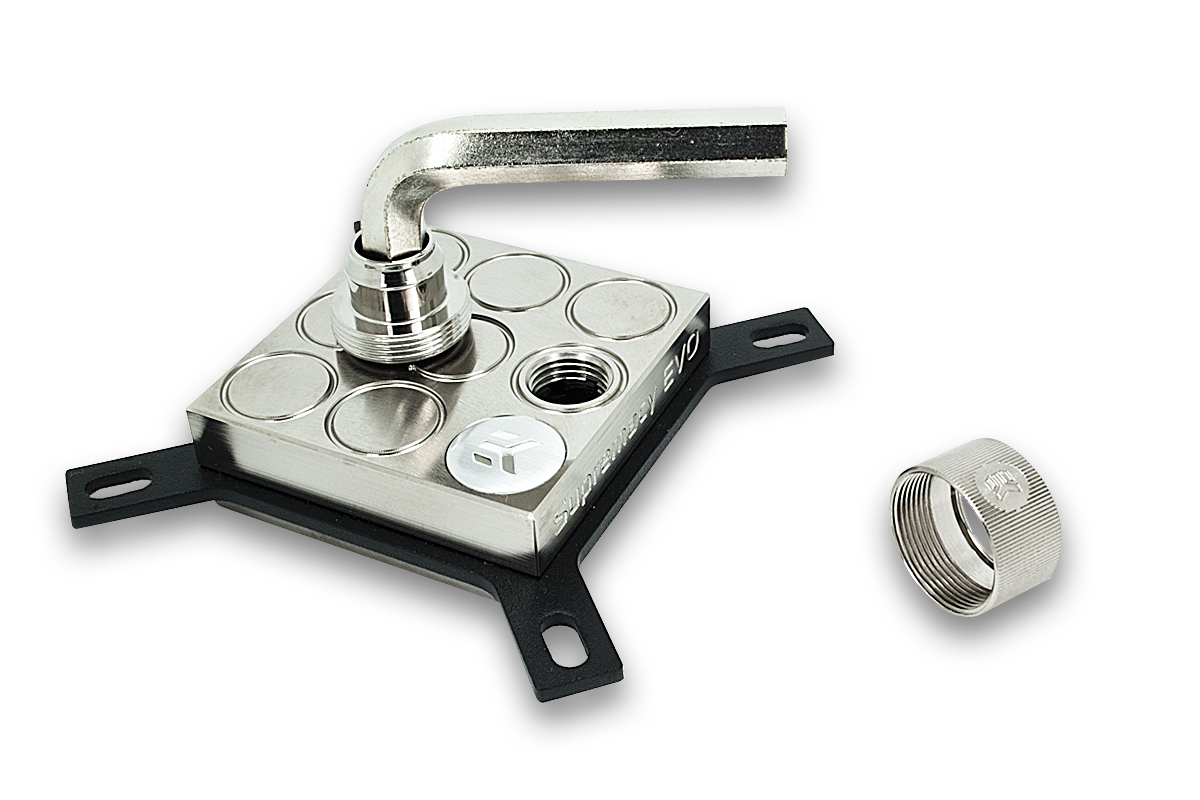 The barb of these two-piece fittings is made of nickel-plated CNC machined brass while the ring is made of either nickel-plated brass or anodized aluminum (depending on the variant). These fittings are fully compatible with EK-AF series (45°/90°) angled adapters.
EK-ACF Fittings are available in all popular sizes, including 10/13mm (3/8″ – 1/2″), 10/16mm (3/8″ – 5/8″), 12/16mm (7/16″ – 5/8″) and 13/19mm (1/2″ – 3/4″) and come in eight different colour options.
These fittings are Made in Slovenia – Europe, fully RoHS compatible and readily available for purchase through EK Webshop and Partner Reseller Network:
| | | |
| --- | --- | --- |
| SKU | Compatible Tubing (ID/OD) | MSRP (incl. VAT) |
| EK-ACF Fitting 10/13mm – Nickel | 10/13mm (3/8″ – 1/2″) | 4,49€ |
| EK-ACF Fitting 10/13mm – Black Nickel | 10/13mm (3/8″ – 1/2″) | 4,49€ |
| EK-ACF Fitting 10/13mm – Black | 10/13mm (3/8″ – 1/2″) | 4,49€ |
| EK-ACF Fitting 10/13mm – Red | 10/13mm (3/8″ – 1/2″) | 4,99€ |
| EK-ACF Fitting 10/13mm – Blue | 10/13mm (3/8″ – 1/2″) | 4,99€ |
| EK-ACF Fitting 10/13mm – Gold | 10/13mm (3/8″ – 1/2″) | 4,99€ |
| EK-ACF Fitting 10/13mm – Copper | 10/13mm (3/8″ – 1/2″) | 4,99€ |
| EK-ACF Fitting 10/13mm – White | 10/13mm (3/8″ – 1/2″) | 5,49€ |
| EK-ACF Fitting 10/16mm – Nickel | 10/16mm (3/8″ – 5/8″) | 4,99€ |
| EK-ACF Fitting 10/16mm – Black Nickel | 10/16mm (3/8″ – 5/8″) | 4,99€ |
| EK-ACF Fitting 10/16mm – Black | 10/16mm (3/8″ – 5/8″) | 4,99€ |
| EK-ACF Fitting 10/16mm – Red | 10/16mm (3/8″ – 5/8″) | 5,49€ |
| EK-ACF Fitting 10/16mm – Blue | 10/16mm (3/8″ – 5/8″) | 5,49€ |
| EK-ACF Fitting 10/16mm – Gold | 10/16mm (3/8″ – 5/8″) | 5,49€ |
| EK-ACF Fitting 10/16mm – Copper | 10/16mm (3/8″ – 5/8″) | 5,49€ |
| EK-ACF Fitting 10/16mm – White | 10/16mm (3/8″ – 5/8″) | 5,99€ |
| EK-ACF Fitting 12/16mm – Nickel | 12/16mm (7/16″ – 5/8″) | 4,99€ |
| EK-ACF Fitting 12/16mm – Black Nickel | 12/16mm (7/16″ – 5/8″) | 4,99€ |
| EK-ACF Fitting 12/16mm – Black | 12/16mm (7/16″ – 5/8″) | 4,99€ |
| EK-ACF Fitting 12/16mm – Red | 12/16mm (7/16″ – 5/8″) | 5,49€ |
| EK-ACF Fitting 12/16mm – Blue | 12/16mm (7/16″ – 5/8″) | 5,49€ |
| EK-ACF Fitting 12/16mm – Gold | 12/16mm (7/16″ – 5/8″) | 5,49€ |
| EK-ACF Fitting 12/16mm – Copper | 12/16mm (7/16″ – 5/8″) | 5,49€ |
| EK-ACF Fitting 12/16mm – White | 12/16mm (7/16″ – 5/8″) | 5,99€ |
| EK-ACF Fitting 13/19mm – Nickel | 13/19mm (1/2″ – 3/4″) | 5,99€ |
| EK-ACF Fitting 13/19mm – Black Nickel | 13/19mm (1/2″ – 3/4″) | 5,99€ |
| EK-ACF Fitting 13/19mm – Black | 13/19mm (1/2″ – 3/4″) | 5,99€ |
| EK-ACF Fitting 13/19mm – Red | 13/19mm (1/2″ – 3/4″) | 6,49€ |
| EK-ACF Fitting 13/19mm – Blue | 13/19mm (1/2″ – 3/4″) | 6,49€ |
| EK-ACF Fitting 13/19mm – Gold | 13/19mm (1/2″ – 3/4″) | 6,49€ |
| EK-ACF Fitting 13/19mm – Copper | 13/19mm (1/2″ – 3/4″) | 6,49€ |
| EK-ACF Fitting 13/19mm – White | 13/19mm (1/2″ – 3/4″) | 6,99€ |