EK introduces 16mm variant of EK-HDC compression fittings
EK Water Blocks, Ljubljana-based premium computer liquid cooling gear manufacturer, is proud to introduce the latest addition to EK-HDC solid-tubing Compression Fitting product line.
EK-HDC Fitting is a solid-tube compression fitting, designed for use with solid tubing such as Acrylic, Copper, Stainless Steel or any other type of compatible hard tube. EK-HDC Fitting is a more secure variant of the EK-HD Adapter fitting as it prevents solid tube to be pulled out of the fitting by compressing the rubber gasket underneath the ring.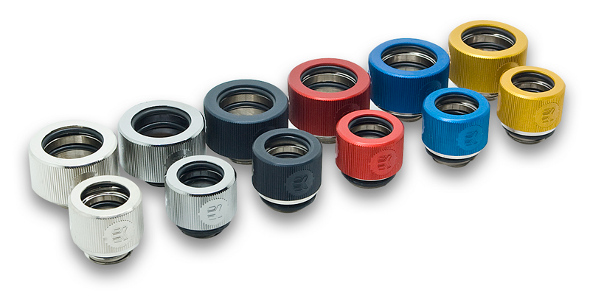 The barb is made of nickel-plated CNC machined brass while the ring is made of either nickel-plated brass or anodized aluminum (depending on the variant). These fittings are fully compatible with EK-CSQ series (45°/90°) angled adapters.
Best practice is to install these fittings using Allen Key 9mm (not included, available for separate purchase).
EK-HDC Fitting 16mm Technical data:
– thread: G1/4" BSP; 4.5mm male thread lenght
– supported tube: 16mm (OD)
– outer diameter of a fitting: 23.8mm
– installed height: 14.5mm
– compatible tubing: solid Acrylic-, Copper-, Brass- or Stainless Steel tube
ROHS Compliant. Made in Slovenia – Europe!
The new EK-HDC Fitings come in six different colours and are readily available for purchase through EK Webshop and Partner Reseller Network. Other product from the EK-HDC line include:
| | | |
| --- | --- | --- |
| SKU | Compatible Tubing (OD) | MSRP (incl. VAT) |
| EK-HDC Fitting 16mm G1/4 – Nickel | 16mm | 5,45€ |
| EK-HDC Fitting 16mm G1/4 – Black Nickel | 16mm | 5,95€ |
| EK-HDC Fitting 16mm G1/4 – Black | 16mm | 5,95€ |
| EK-HDC Fitting 16mm G1/4 – Gold | 16mm | 6,95€ |
| EK-HDC Fitting 16mm G1/4 – Red | 16mm | 6,95€ |
| EK-HDC Fitting 16mm G1/4 – Blue | 16mm | 6,95€ |
| EK-HDC Fitting 12mm G1/4 – Nickel | 12mm | 4,45€ |
| EK-HDC Fitting 12mm G1/4 – Black Nickel | 12mm | 4,95€ |
| EK-HDC Fitting 12mm G1/4 – Black | 12mm | 4,95€ |
| EK-HDC Fitting 12mm G1/4 – Gold | 12mm | 5,95€ |
| EK-HDC Fitting 12mm G1/4 – Red | 12mm | 5,95€ |
| EK-HDC Fitting 12mm G1/4 – Blue | 12mm | 5,95€ |