EK Goes Full Pressure With Brand New FPT 120, 140mm Fans
EK®, the premium liquid cooling solutions manufacturer, is launching its most advanced fan series to date – the EK-Loop FPT 120 and 140. These high-static pressure radiator cooling fans are designed to completely replace the existing Vardar series across the entire product line. The EK-Loop FPT fans improve upon many aspects while focusing on excellent radiator performance. These fans feature an optimized and balanced performance-to-noise ratio on the wide fan operational range.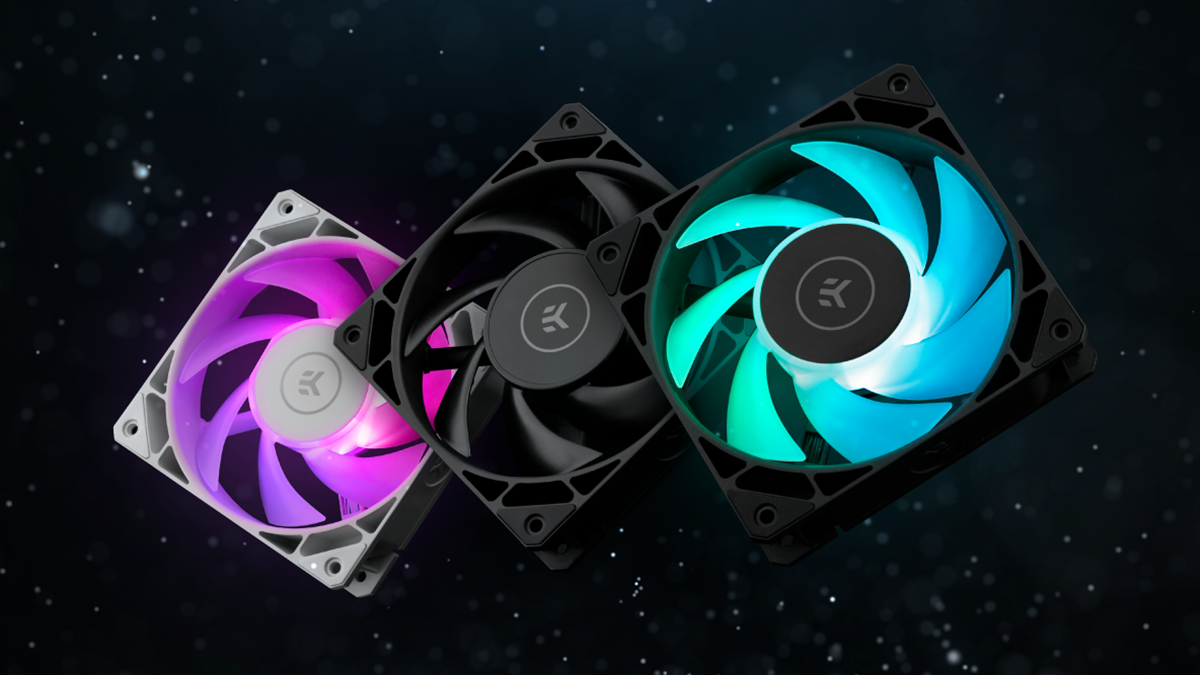 EK-Loop FPT 120 and 140mm Fans
New FPT fans feature a full-frame design that doesn't allow air to escape outside the frame, thus achieving better static pressure overall. The latest fan also allows daisy-chaining, ultimately reducing cable clutter and easing cable routing through the EK-OmniLink – an 8-pin Micro-Fit connector ecosystem. All the signal and power wiring for the PWM and D-RGB runs on a single cable and connector, which then utilizes a single cable to connect to the source.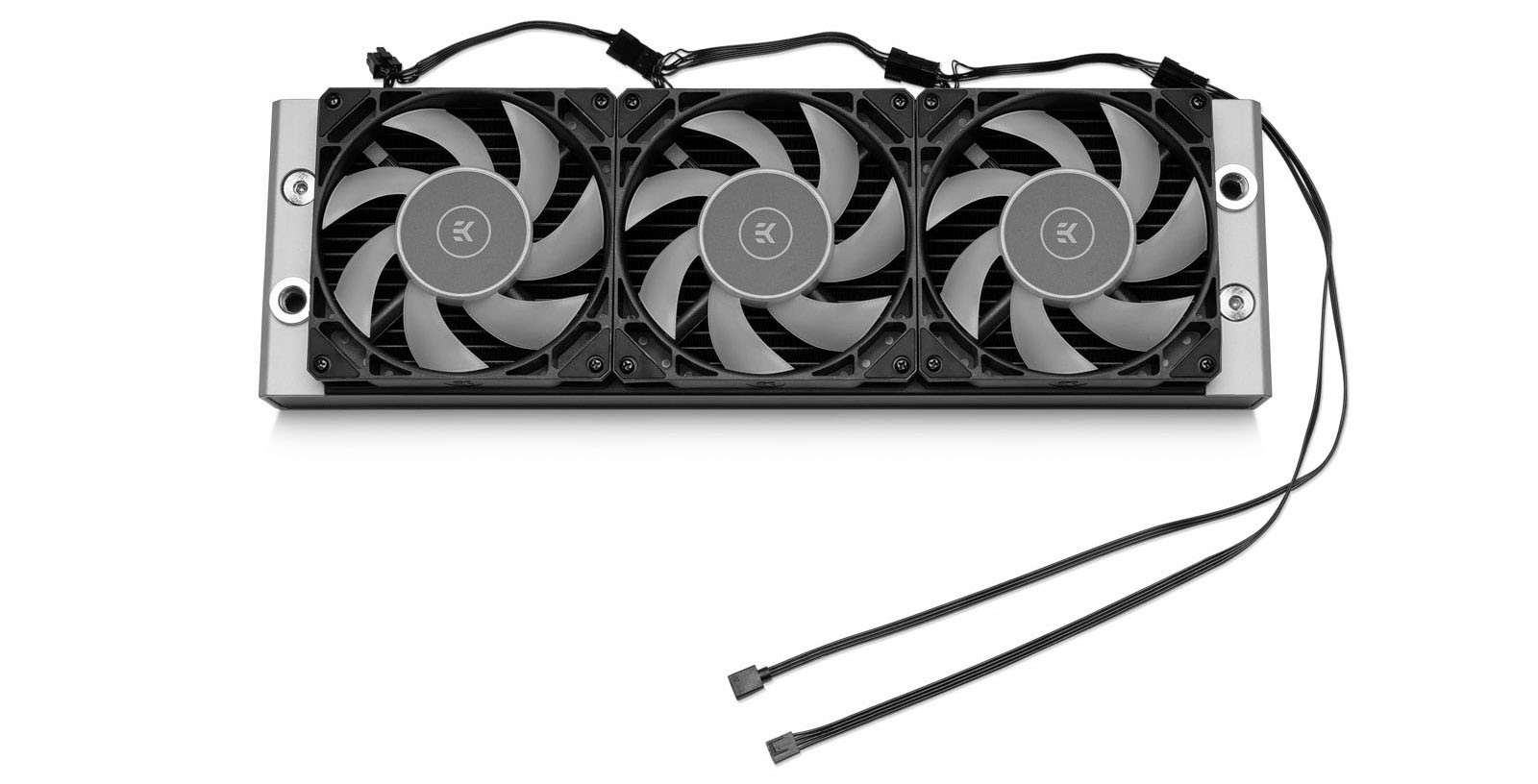 Most importantly, the EK-OmniLink ecosystem doesn't require any special controllers since the connection ends in the standard motherboard connectors – a 4-pin PWM for the fan power and a 3-pin 5V D-RGB for the connectors.
Wide Selection of Fan Variants
All-new FPT fans come in both 120mm and 140mm sizes.

EK-Loop FPT 120mm fans come in three different variants:
• Black frame with D-RGB
• Black frame with no RGB
• White frame with D-RGB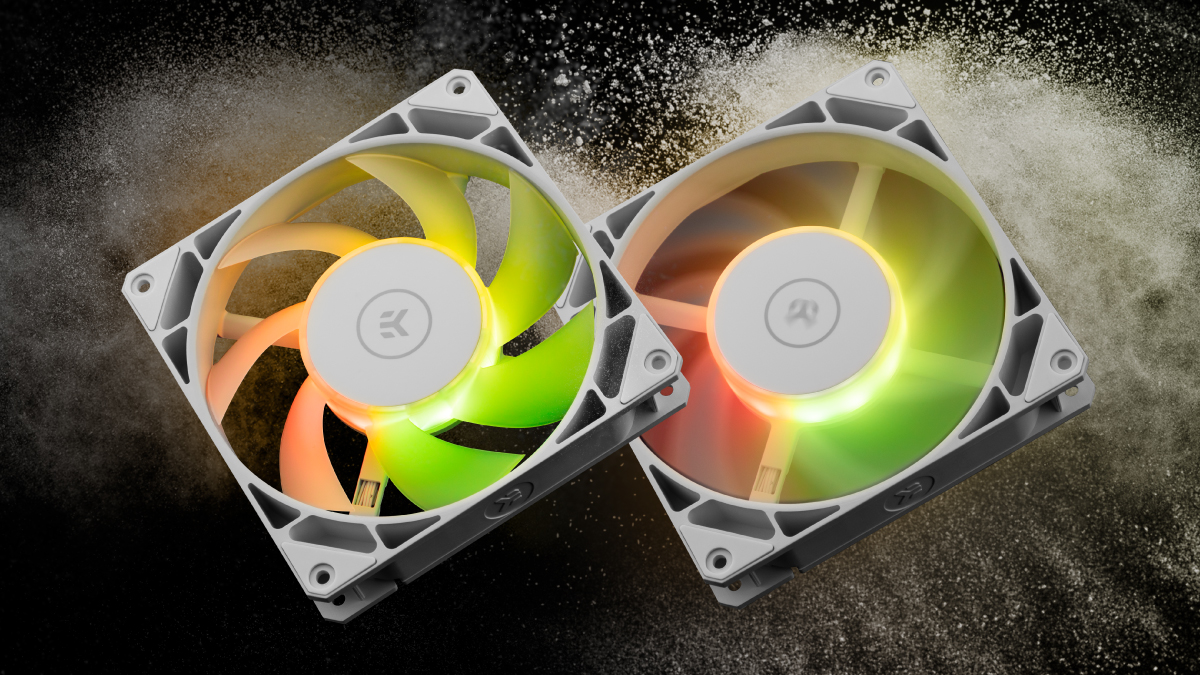 EK-Loop FPT 140mm fans also come in three different variants:
• White frame with D-RGB
• Black frame with no RGB
• Black frame with D-RGB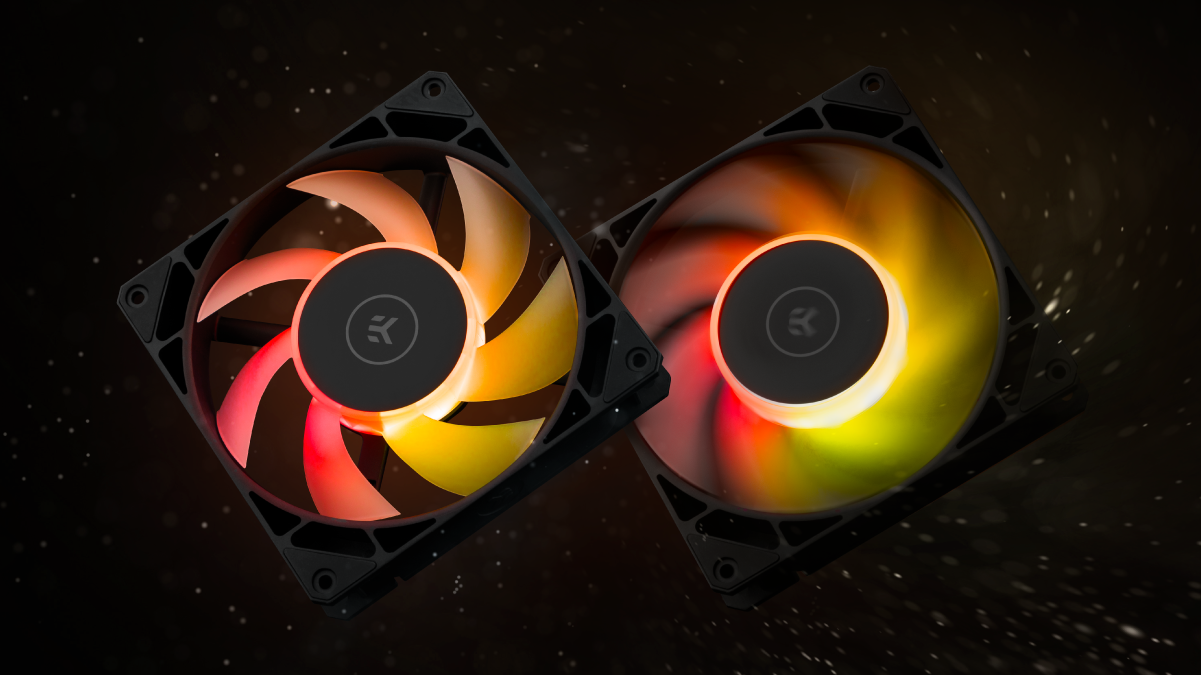 FPT – Full Pressure Technology Fan Frame
Full Pressure Technology (FPT) is a full-frame design that makes contact with the radiator, sealing it completely off and not allowing air to escape the frame and cause a loss of static air pressure.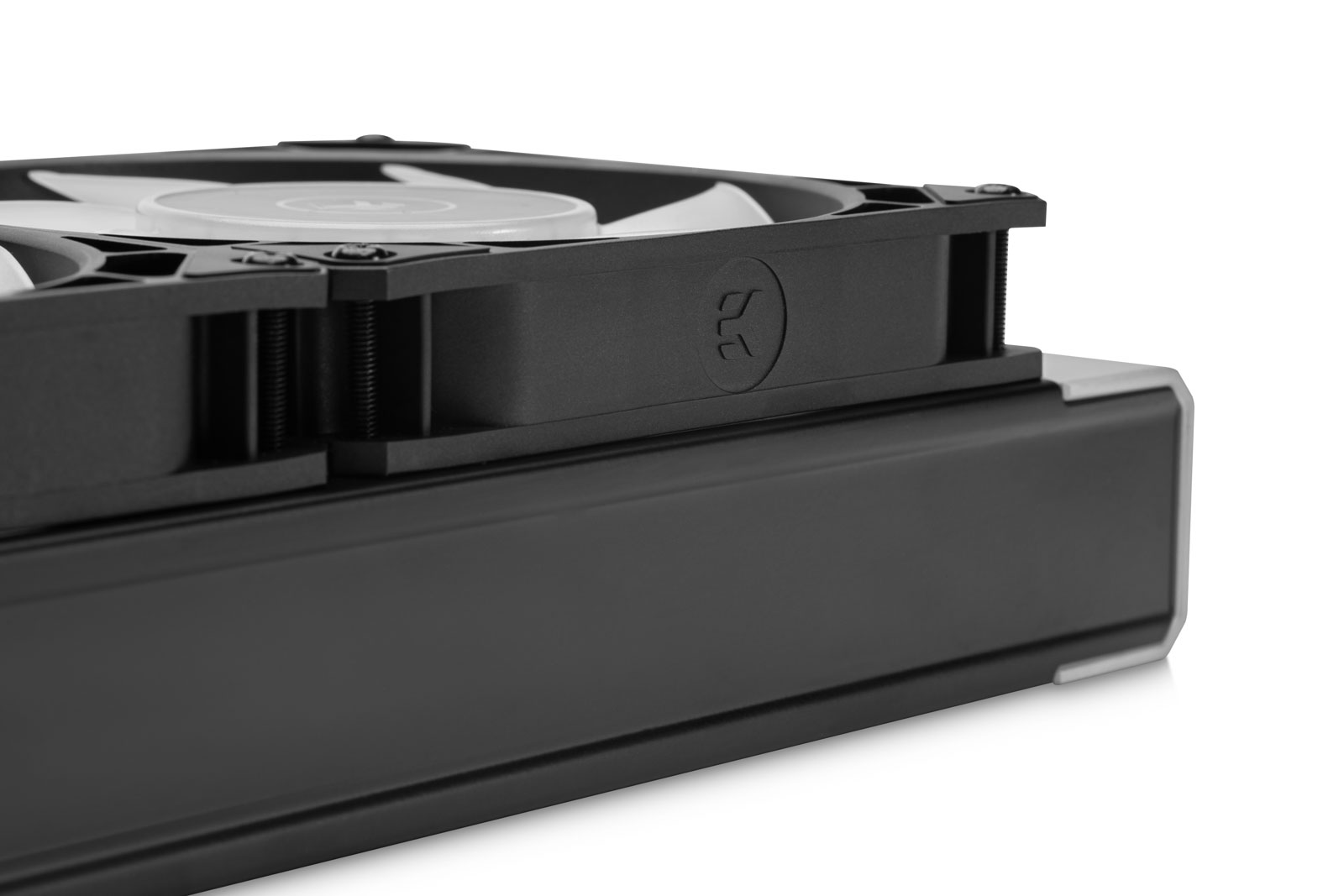 Rubber corners are implemented on both sides of the fan to reduce vibration transfer to the rest of the PC.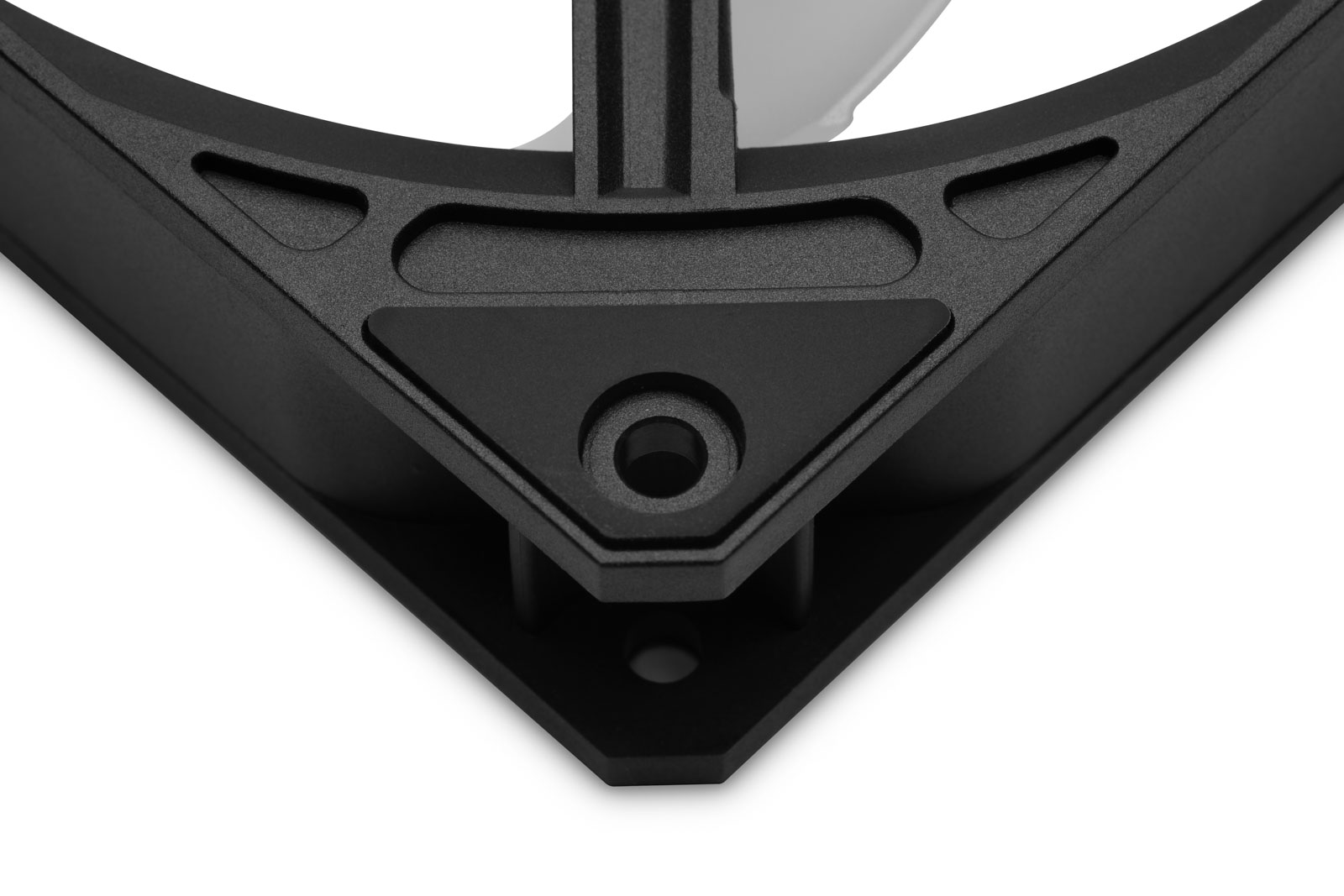 The EK badge on the frame is applied in two orientations, allowing users to achieve optimal logo orientation for aesthetic reasons.

The cable can be optionally moved over to the other side if it eases cable routing.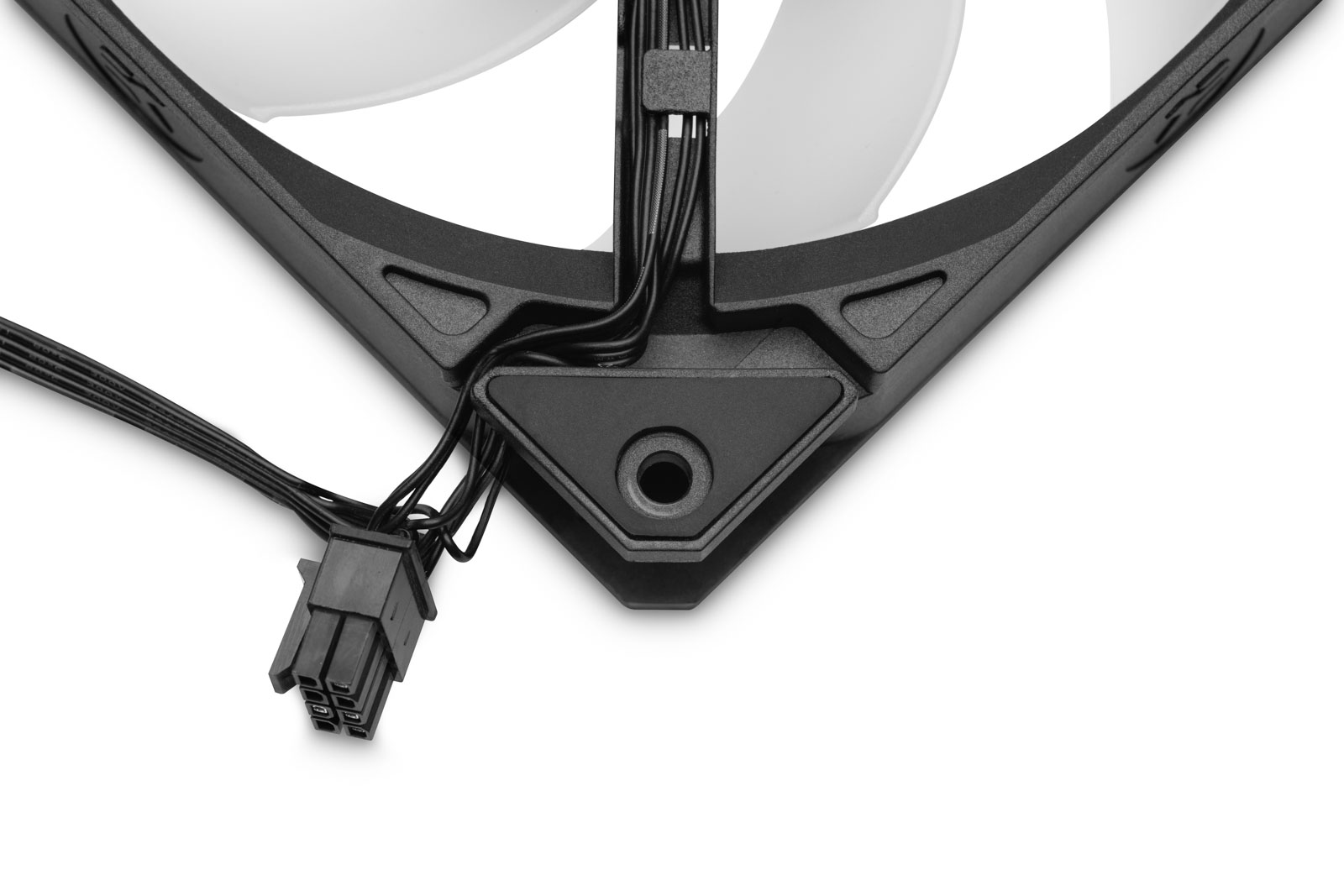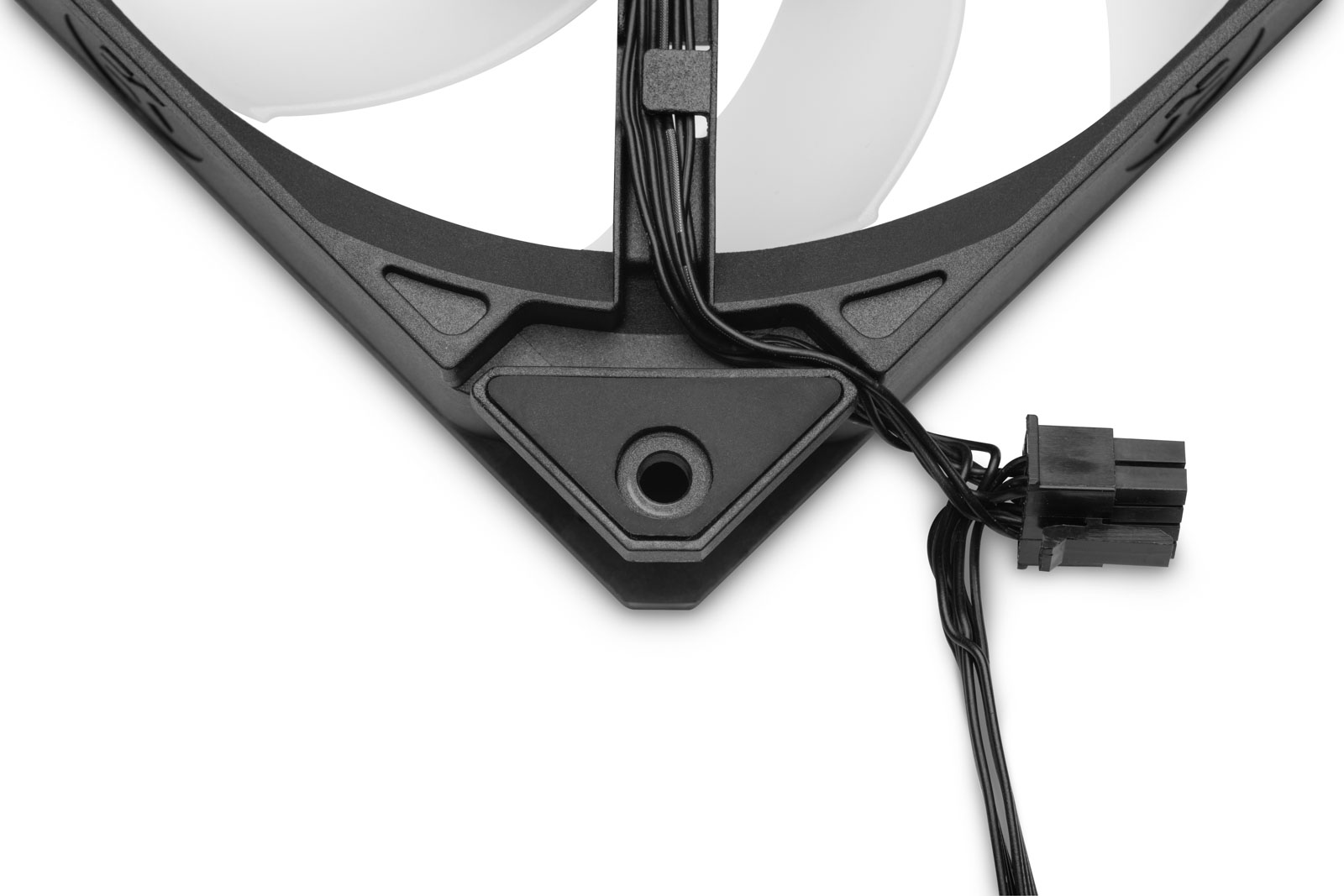 EK-OmniLink
EK-OmniLink solution allows daisy chaining of multiple fans, reducing cable clutter and greatly easing cable management. The Omni-Link interconnect ecosystem will be significantly expanded in the near future for additional benefits. It uses Micro-fit 8-pin connectors between products.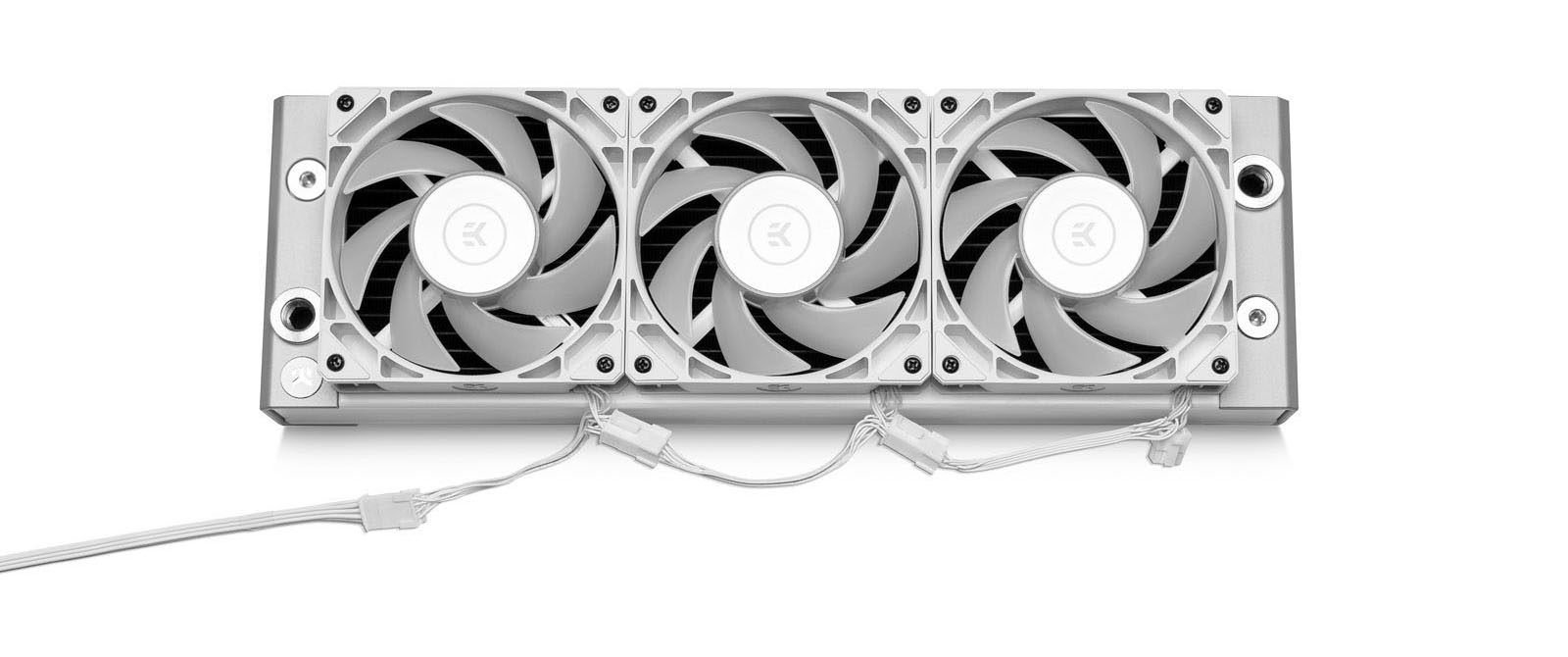 The EK-OmniLink design resolves the cable clutter issues of unifying the connection of multiple fans onto a single PWM and D-RGB header while maintaining complete flexibility if you want to remove a single fan from the chain. Other similar solutions on the market use interlocking mechanisms, which require the removal of the entire fan link when you need more room to tighten a fitting on a radiator.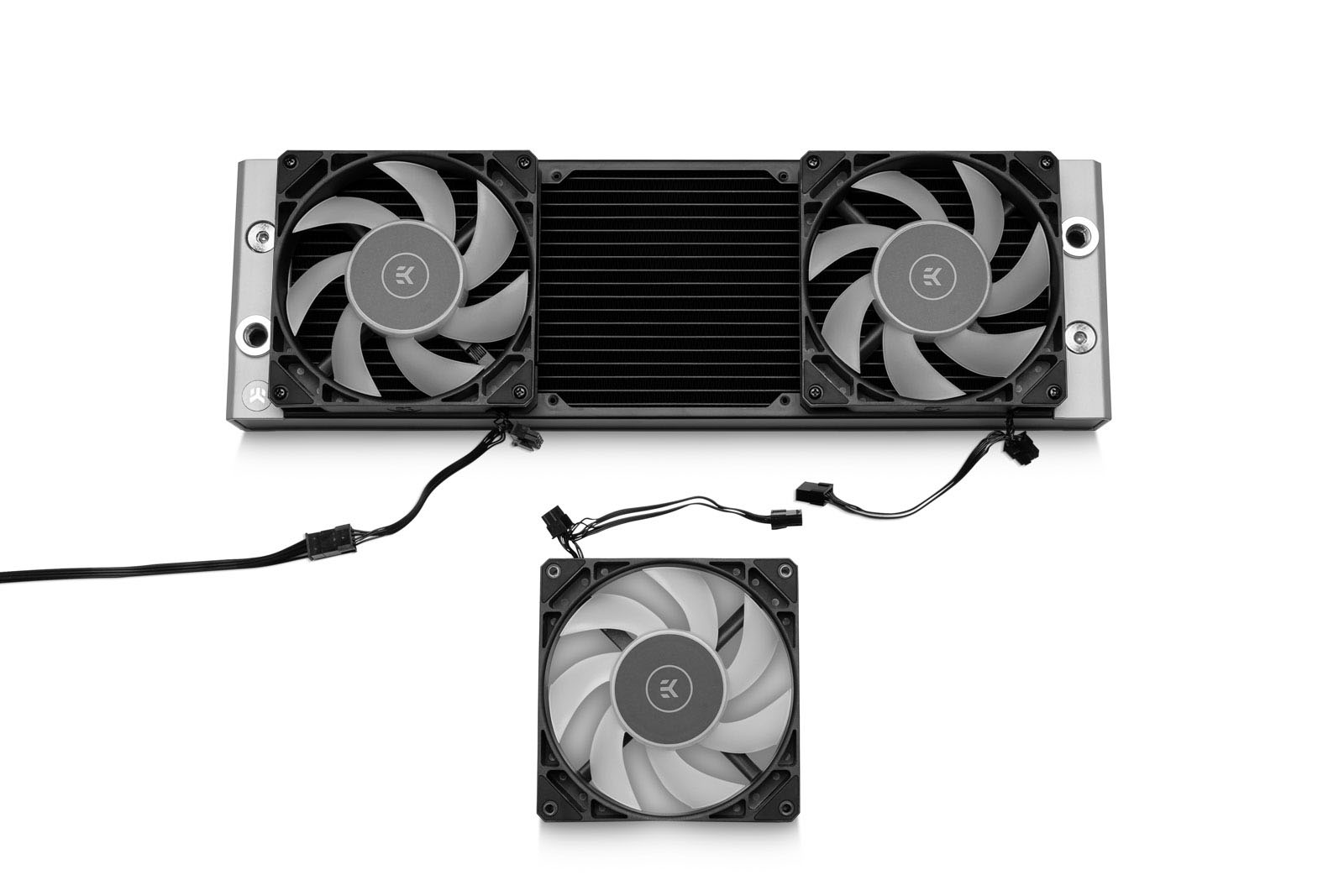 FDB – Fluid Dynamic Bearing
A new motor with a Fluid Dynamic Bearing will significantly reduce noise, especially during low RPM operation. Operational friction is kept at very low levels even after years of service, unlike the traditional ball-bearing fans, which get noisier with time.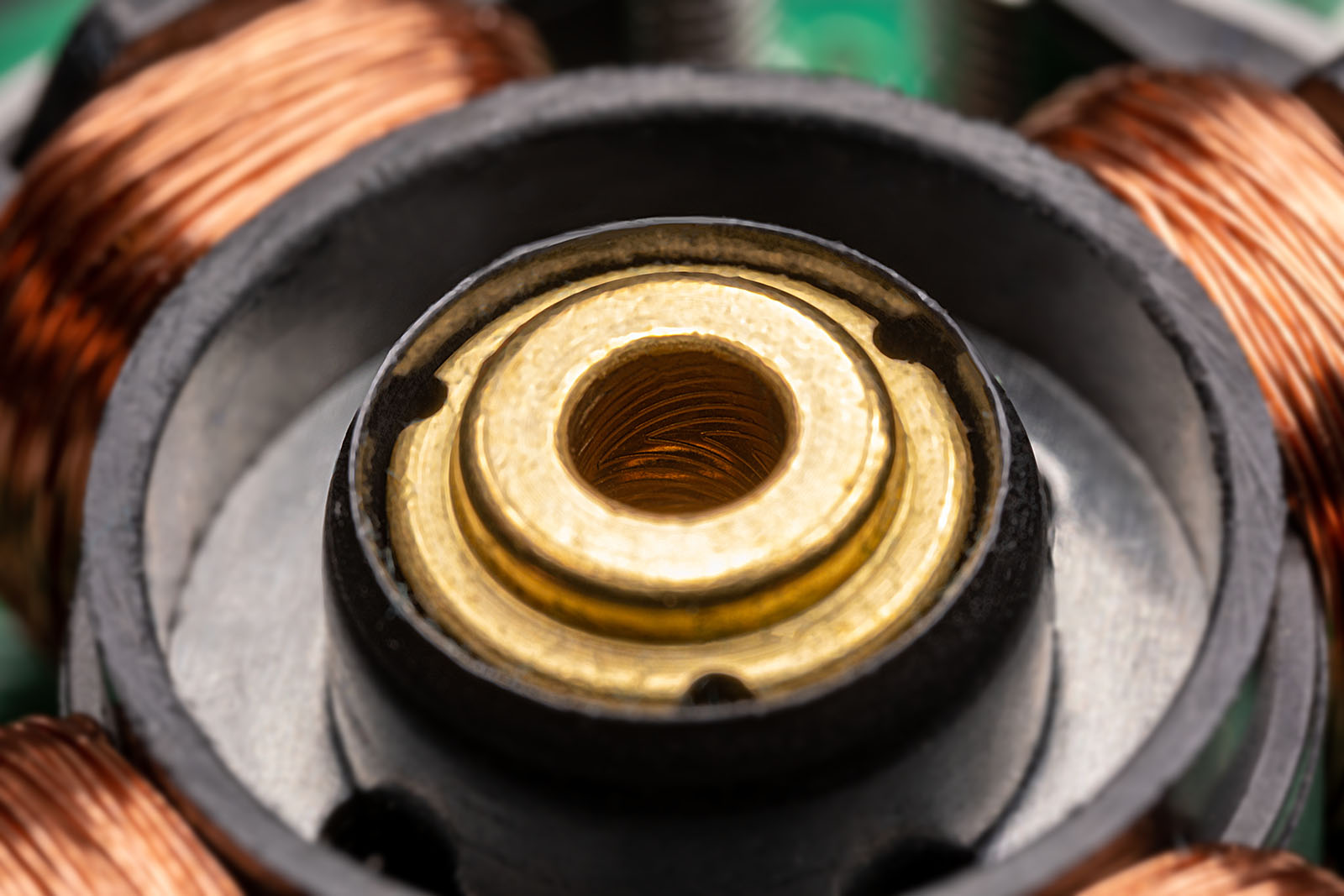 FDB fans can be mounted both horizontally and vertically without issues or reduced longevity, unlike traditional sleeve-bearing fans. Innovative herringbone grooves are applied to the fan bearing, recirculating and distributing oil naturally between the rotor shaft and bearing to maintain stable and silent operation at high speeds.
D-RGB LED Performance Fans
Four of six EK-Loop FPT fan versions have D-RGB LED lighting in the motor hub. A perfectly balanced milky-colored 7-blade impeller design is optimized for light dispersion and high static pressure operation while maintaining a low noise profile throughout the whole operational range of the fan.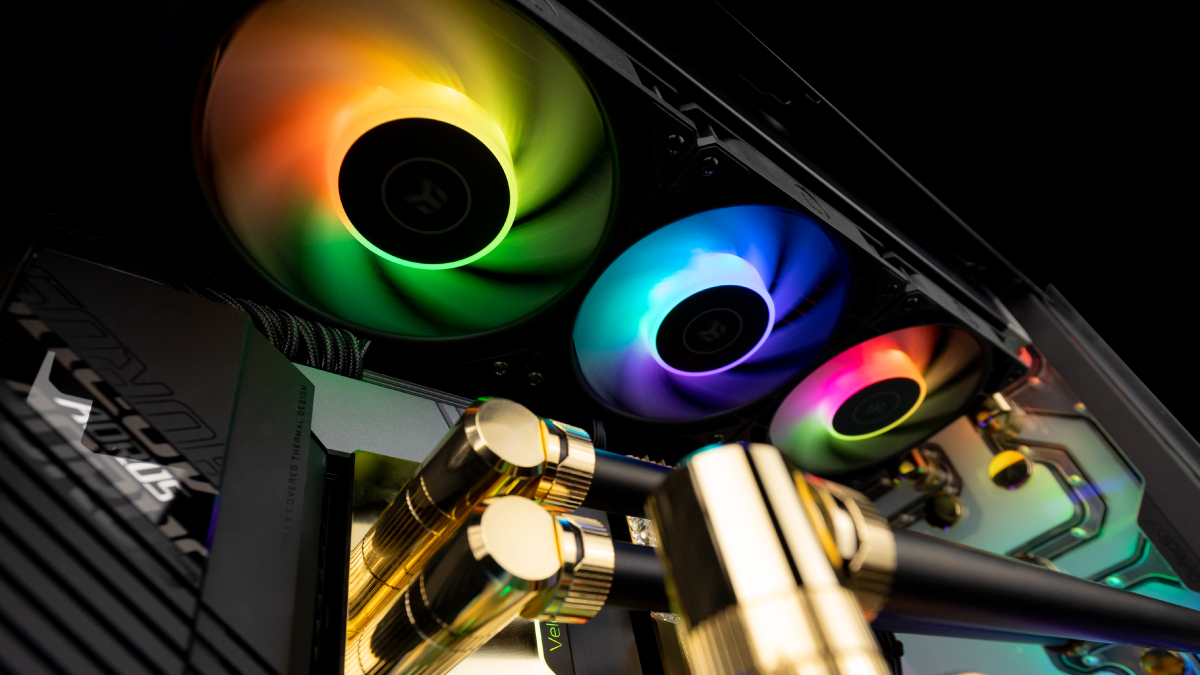 Having LEDs exclusively inside the rotor ensures the maximum possible length of the fan blades and, thus, better performance. Under the motor hub, there is a total of 9 upward-facing LEDs that provide optimal light diffusion in broad daylight as well.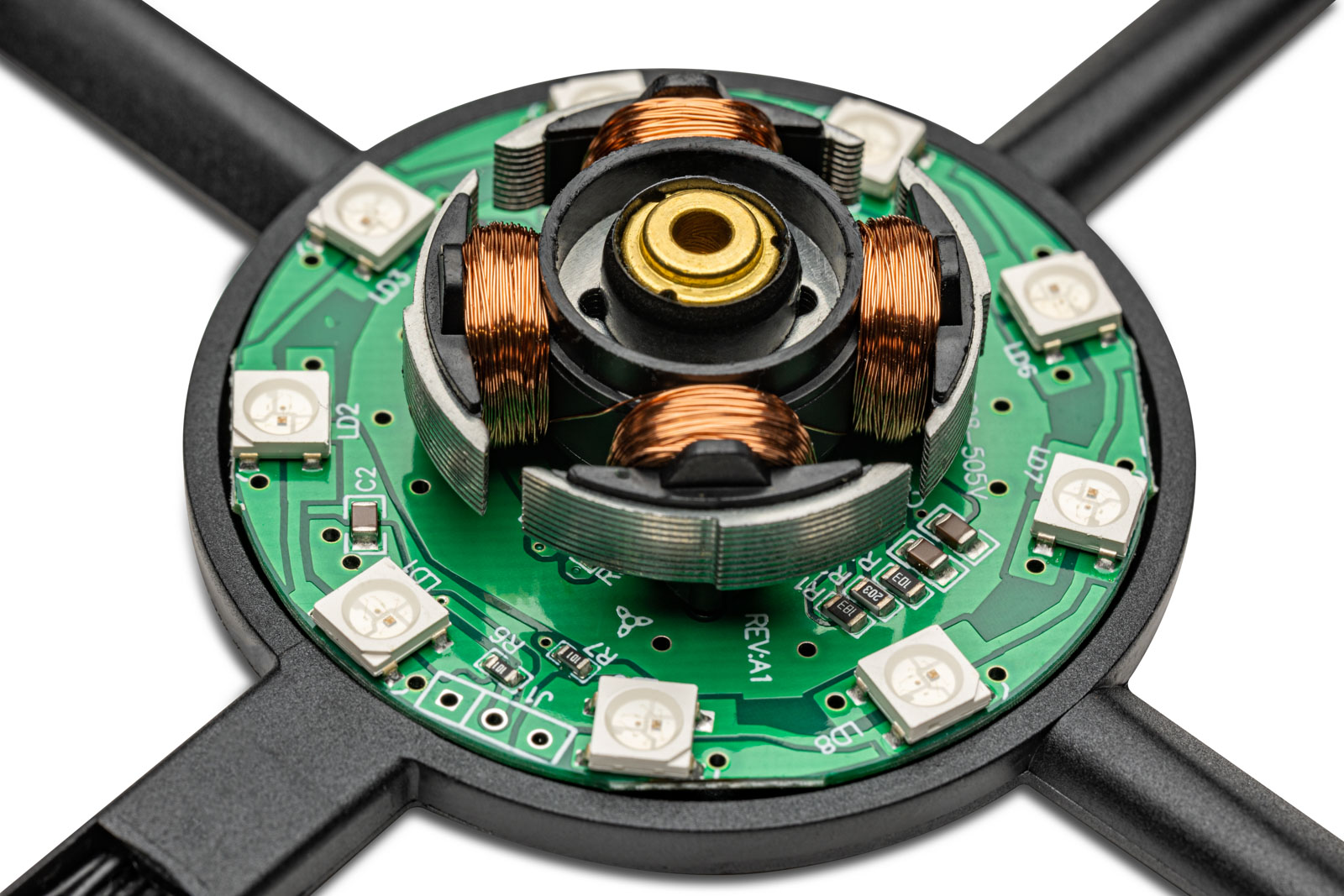 One of the key features of the new EK-Loop Fan FPT D-RGB fan is its simplicity – it uses the standard 3-pin 5V D-RGB connection, meaning you can use it with any standard 3-pin 5V addressable RGB controller or any of the popular RGB sync technologies from all major motherboard manufacturers. The arrow marking on the 3-pin LED connector is to be aligned with the +5V marking on the D-RGB (ARGB) header.

Matching White Shades
EK made sure that the white shade of FPT fans matches the shade of the most popular white cases on the market to promote color uniformity and make it easier for customers to match the new fans with their PC cases. The white models of the FPT fans come with white cables, connectors, and rubber dampers.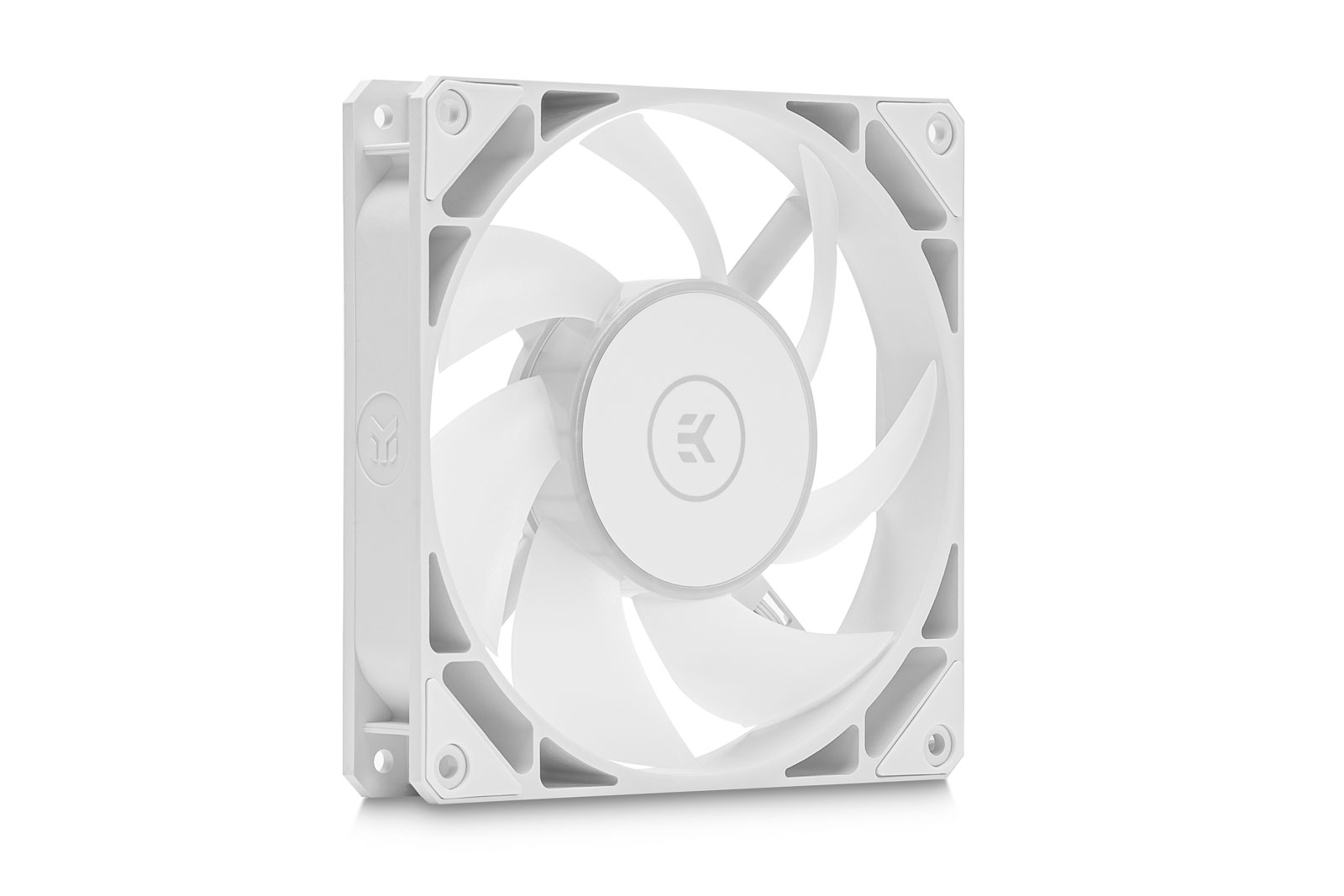 EK-Loop Fan FPT D-RGB Key Features
High-Static Pressure / Low Noise Profile
Unlike other general-purpose computer cooling fans, the EK-Loop Fan FPT 120 D-RGB fan is built specifically for computer liquid cooling systems, namely radiator cooling. Their design and construction are also highly suitable for high-performance air coolers or as case fans for restrictive cases with dust filters.
High-Quality Motor and Bearing Assembly
Fluid dynamic bearings ensure a long lifespan, while their wide RPM range enables silent operation in low-power idle scenarios and high performance during high-load peaks. Precise Pulse Width Modulation (PWM) for fan speed adjustment provides performance on demand.
Full Pressure Technology
The practical square shape of the fan frame provides optimal performance in either the pull or push regime without hydraulic losses, which ensures the optimal cooling capacity of your liquid cooling radiators.
Standard D-RGB Connectors
The EK-Loop FPT fan D-RGB lighting does not require any fancy or expensive additional controller for you to enjoy vibrant lighting effects. A simple 3-pin 5V addressable D-RGB connection for standard controllers or any popular D-RGB (ARGB) sync technology from major motherboard manufacturers is all you need.
OmniLink
The ability to daisy chain fan power, D-RGB, and even pump power across a single cable gives users the ultimate flexibility while reducing cable clutter. All the cables are flat ribbon style with no additional sleeving for an even better cable routing experience.
Availability and Pricing
The EK-Loop FPT 120 and 140 fans are available for purchase through the EK Webshop and Partner Reseller Network. In the table below, you can see the manufacturer-suggested retail price (MSRP), VAT included.