EK-FC7950 – Another great performer about to hit the shelves
We have completed internal testing of our newest EK-FC7950 water block, built specificaly for the AMD Radeon HD 7950 graphics cards based of AMD 109-C38137-00 PCB. Once again we have managed to manufacture the highest performance (both hydraulic and thermal wise) water cooling product.
The test has been conducted using the following water cooling components and measuring equipment:
– EK-FC7950 prototype (RTM) water block
– EK-RAD CoolStream XT 360
– 3x Yate Loon D12SH-12 120mm 2200rpm fans
– 2m 12mm ID tubing (1/2" ID)
– D5 Vario water pump + EK-D5 X-TOP V2
– EK-RES X2 Multioption 250 Advanced
– EK-12mm High Flow fittings
Measuring equipment:
– Greisinger GTH 175/Pt J-type thermometer, calibrated
– Voltcraft IR-800 20D IR thermometer
– Digmessa digital flow meter FKHU series
Furmark torture benchmark which stresses the graphics card to the maximum was ran for more than one hour. Graphics card Radeon HD 7950, running at factory set frequencies and voltage yielded the following results:
Tgpumax = 37°C
Th2omax = 29.8°C
—
dTmax = 7.2°C = ~ 7°C
Overclocking the graphics card from factory set 830/1250MHz to 1000/1375MHz (GPU/RAM respectively) – note that we were not able to raise Vgpu voltage via software therefore it remaind at factory set 1.090V – yielded similiar result:
Tgpumax = 38°C
Th2omax = 29.9°C
—
dTmax = 8.1°C = ~ 8°C
Where Tgpumax is the highest temperature of the GPU core, logged by software; Th2omax is the highest temperature of the coolant measured by thermometer; dTmax is the highest delta (difference) between the GPU core temperature and the coolant temperature – lower is better.
Please note that the smallest resolution for Tgpu probe is 1°C therefore a rounding error is present. Considering this fact we can see that dT does not increase more than a 1°C even at overclocked conditions. The VRM (voltage regulation module) also remains cool, the hottest measured temperature was ~ 45°C (behind the MOSFETs, on the back side of the PCB).
The EK-FC7950 water block's hydraulic curve resembles much the one of EK-FC7970. The design once again features extremely low flow resistance, again even lower than the CPU waterblock EK-Supreme HF. As a result any medium performance water pump will run four of these water blocks yet still offer enough flow for optimal system operation. Picture below shows the hydraulic curve: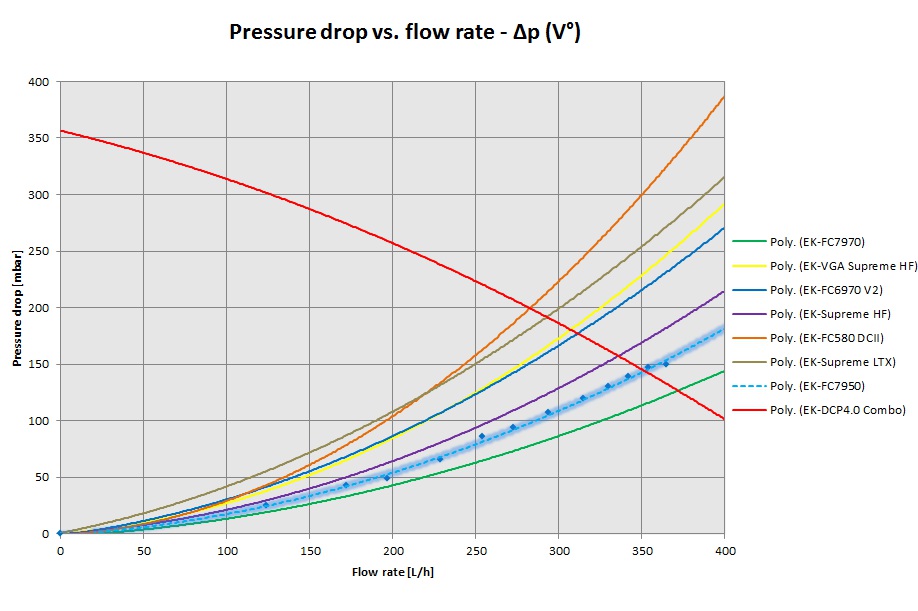 The EK-FC7950 water block – which will come in all four versions (Copper Plexi, Copper Acetal, EN Nickel Plexi, EN Nickel Acetal) – is already listed in the EK webshop and will be available for purchase on March 13th 2012. The matching FC Backplate is also in the works and will be available in the following weeks.
Niko Tivadar – tiborrr – for EK Team
February 29th 2012