EK-CryoFuel Dye Pack – Create Your Perfect Coolant
EK is releasing the EK-CryoFuel Dye Pack aimed at people who want to create their own perfect coolant color. The package consists of Red, Yellow and Blue dye bottles that you apply to your base coolant – either EK-CryoFuel Solid Cloud White or EK-CryoFuel Clear, depending on the preference for transparent or solid coolant.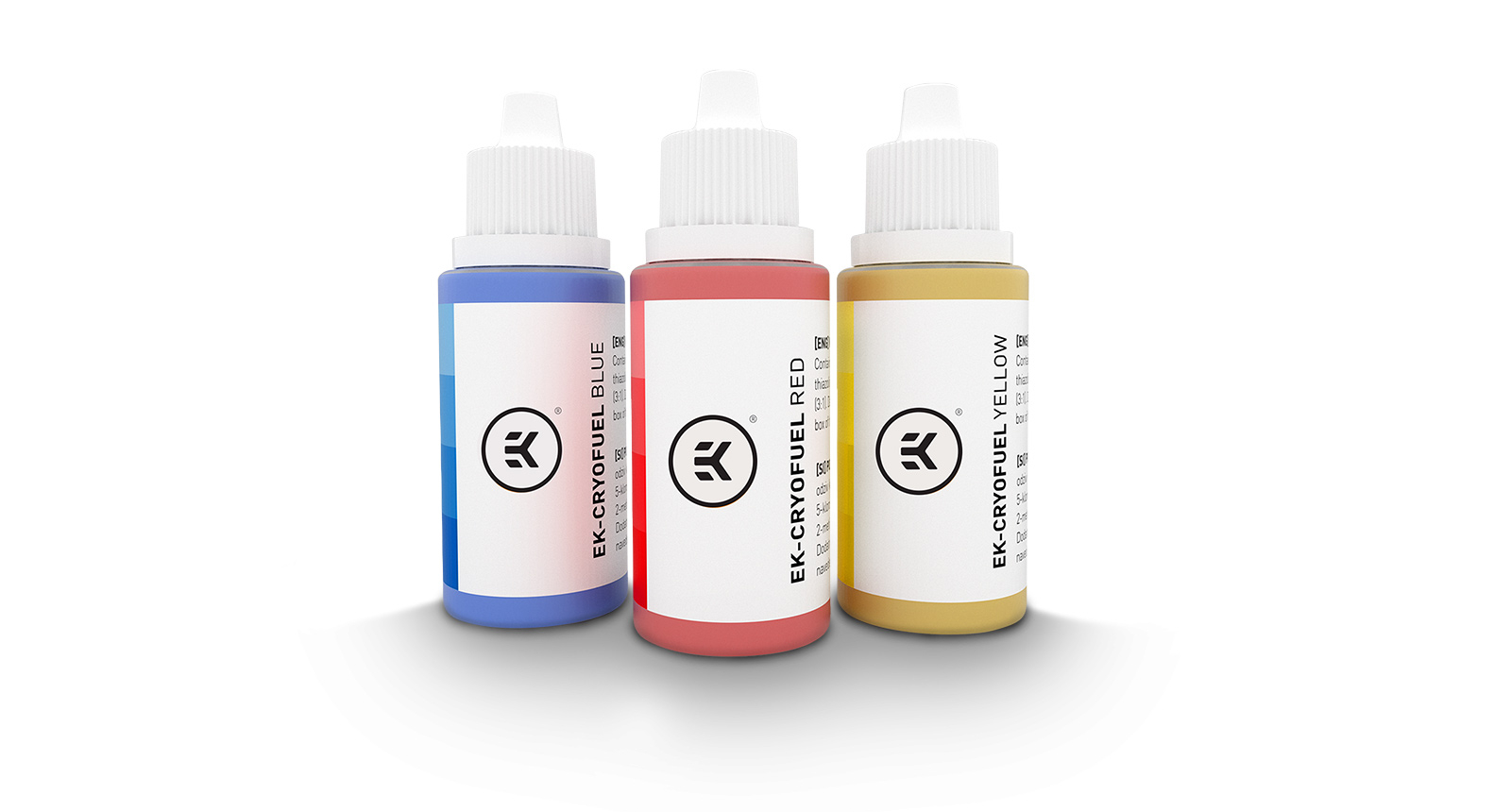 EK-CryoFuel
Coolant development is not an easy task. Every user can get to play the "little chemist" at home by adding whatever they desire to the liquid cooling loop, but they can also get a rough estimate of how challenging it is to produce a coolant that is chemically stable and has long lasting vivid colors.
The first time EK-CryoFuel coolants were introduced was more than two years ago and so far, they have made their way into many PCs around the world. They have proven themselves as stable coolants with colors that barely fade over time… in one word – effective!
The launch of the EK-CryoFuel Solid was preceded by rigorous and long-lasting in-house testing and also real-life beta testing. The test results yielded success, and so in October 2018, the EK-CryoFuel Solid coolant lineup became available to the public. It quenched the thirst of liquid cooling enthusiasts who were looking for nontransparent coolants that are chemically stable, have long-lasting vivid colors and most importantly, don't settle and clog up the liquid cooling system.
EK-CryoFuel Dye Pack
This small creativity pack will allow users to transform their clear or white EK-CryoFuel coolants into beautiful, personalized, one-off colors. Also backed up by rigorous testing, EK has made sure the EK-Dye Pack will follow the success path of EK-CryoFuel coolants.
EK made some color recipes as a basis, but in this case, the manual is more like a guideline. You can follow it, or not. Tastes differ, so why conform to a standard when you can create something to proudly call your own. Ultimately, it also allows you to swap the color of your coolant if you get bored with it after a while. There are two main roads – picking the EK-CryoFuel Solid Cloud White as a base to get the solid coolant or opting for the transparent variant by having the foundation in EK-CryoFuel Clear.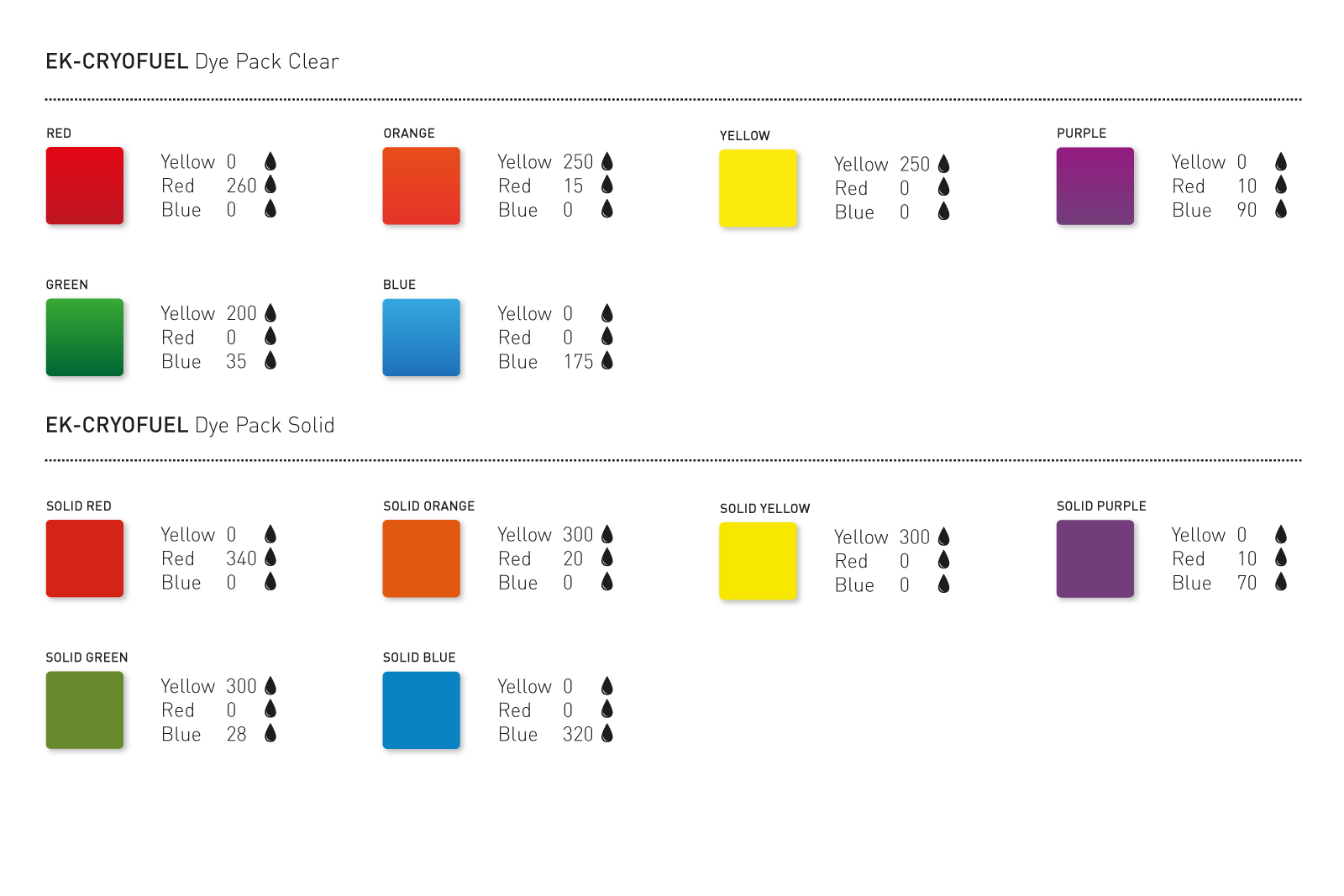 One bottle on average contains roughly 340 drops, but the number may also vary depending on the dosage. If you're aiming for a more intense shade, increase the dye quantity with appropriate mixing ratios.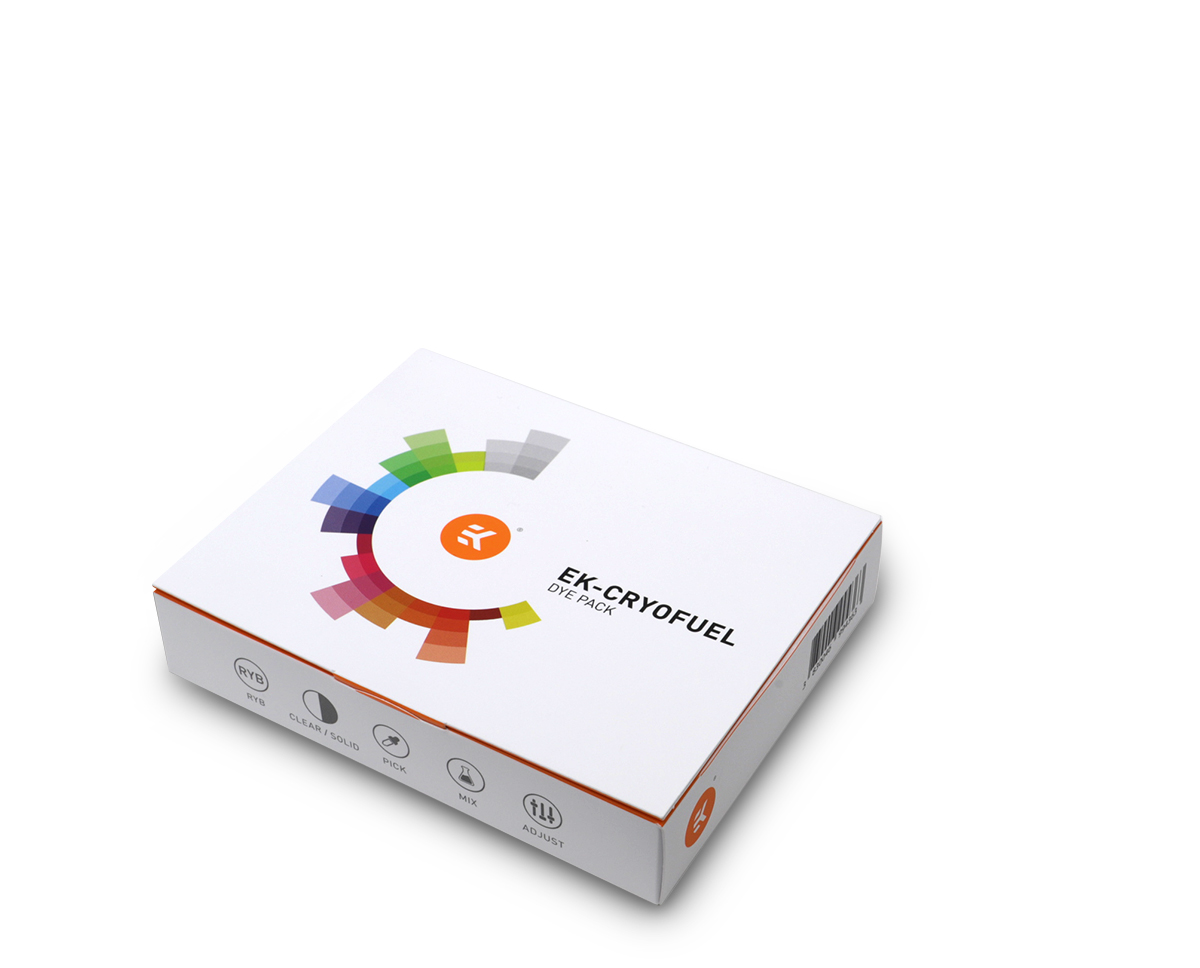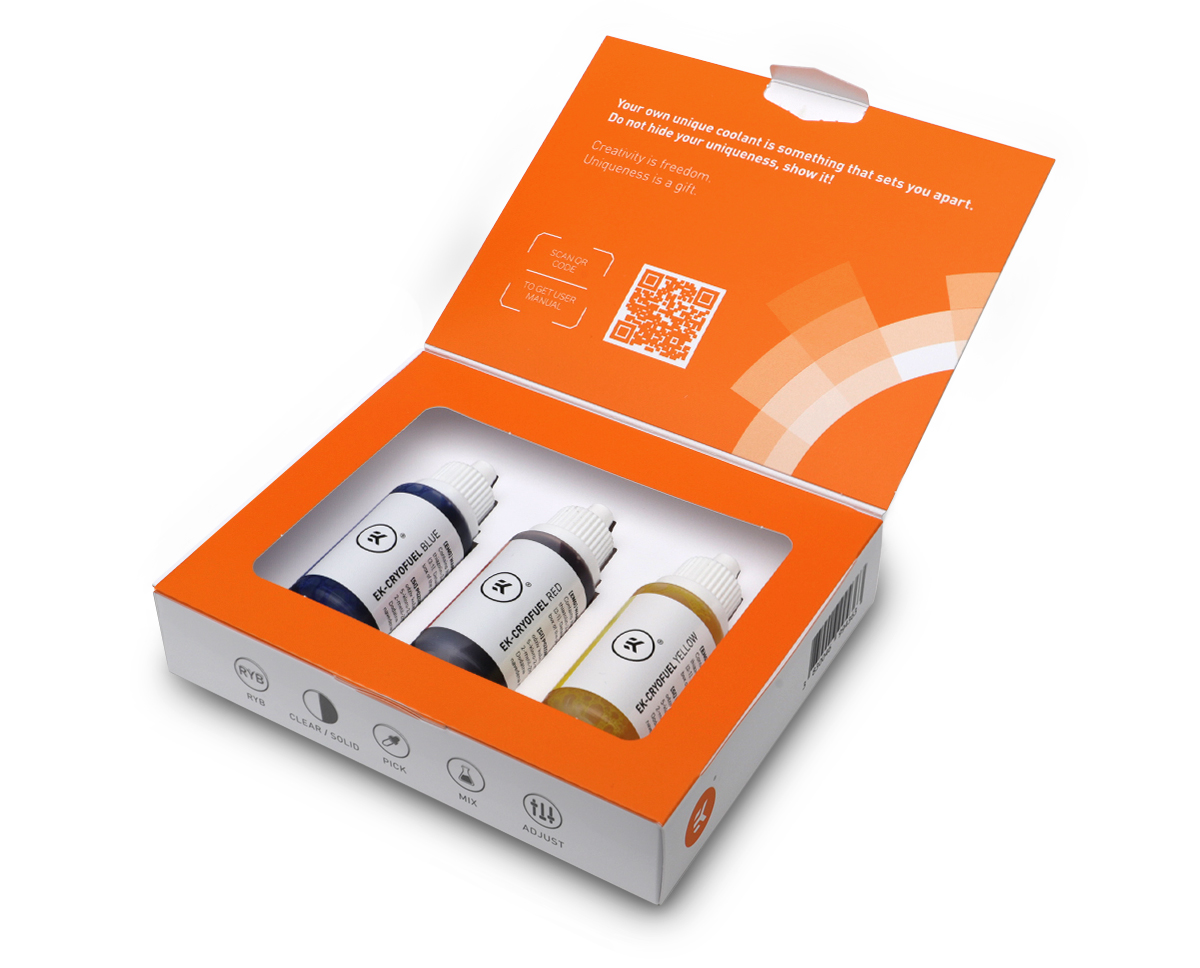 The mixing ratios in the tables are given as drops for one liter of coolant and are just informative. They are only guidelines for mixing your color and shade. The final tone can deviate from charted instructions. It is mandatory to use specifically engineered coolants as a base that contain corrosion, scale, and biological inhibitors in order to prevent damage to your nickel plated water block! In case of using EK-CryoFuel Clear and EK-CryoFuel Solid Cloud White concentrates, we suggest that you first prepare Premix and then start mixing the dyes.
Availability and pricing
The EK-CryoFuel Dye Pack is made in Slovenia, Europe, and is available to order through the EK Webshop and Partner Reseller Network.  In the table below you can see the manufacturer suggested retail price (MSRP) with VAT included.