Celebrating the Eggcellent EK Easter
This holiday season will probably be remembered as the unusual one since people who celebrate Easter won't be able to go all out for the Easter Dinner and entertain their friends and extended family. However, the current situation doesn't mean we can't enjoy our favorite traditional holidays at all!
You can still have a lovely Easter celebration surrounded by your immediate family, have fun coloring some eggs, and of course, updating your PC hardware. This is why we have decided that this Easter, you should be able to choose between two offers.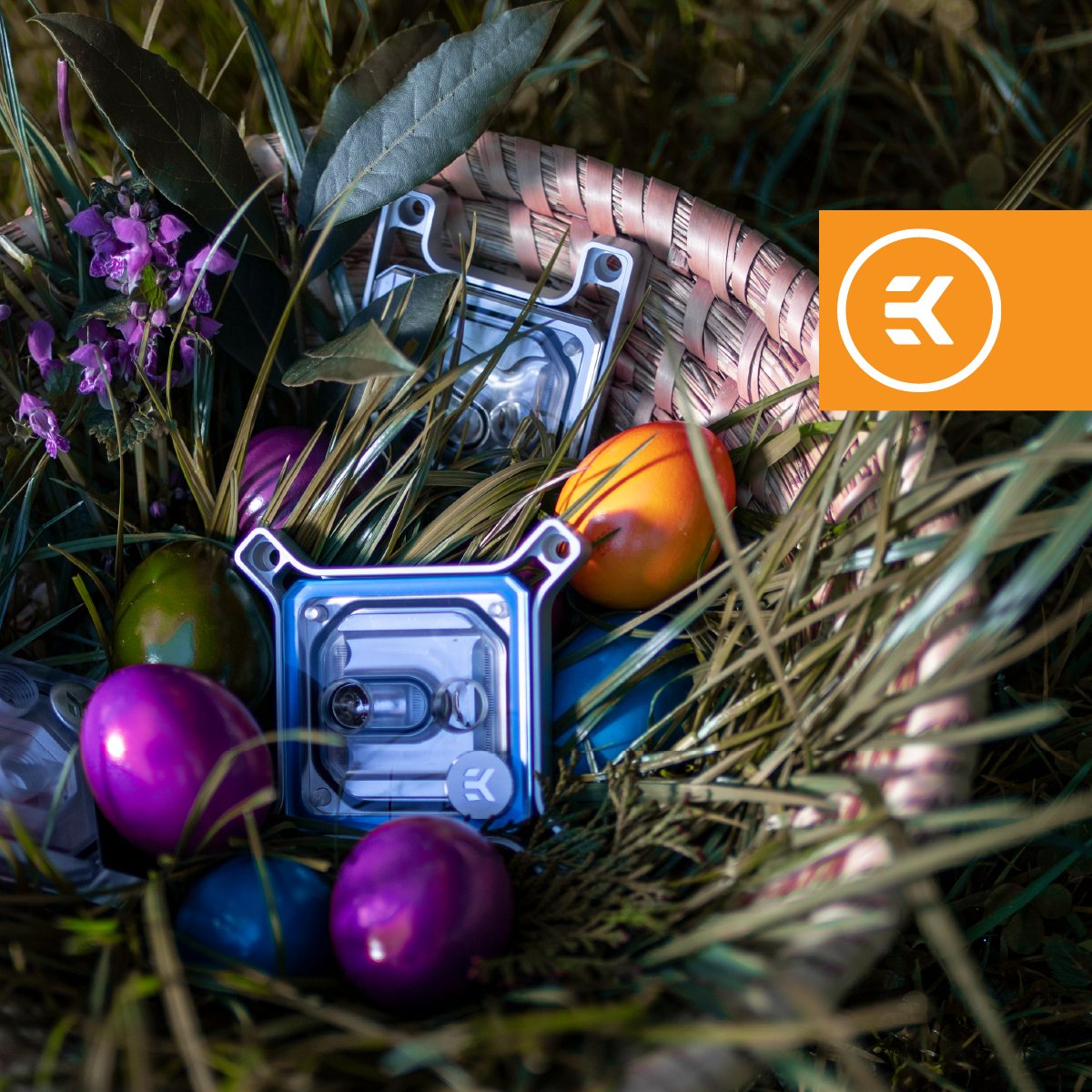 Since it's probably the only time when it's perfectly safe to put all your eggs in one basket, our Easter Bunny is presenting you the EK's Easter Basket! Just fill up your cart to reach $/€ 300, and EK will make your Easter Basket 5% lighter. In case you reach $/€ 600, we'll make your Basket 10% lighter, and if you have some really big plans for you loop this Easter, and your order reaches $/€ 1200, EK's Easter Bunny will make that Basket 20% lighter!
For those who have decided that this is the perfect time to build their first liquid-cooled PC, we have created the Classic Easter bundle. After all, Easter is all about the new beginnings! All you have to do is choose an EK-Classic Kit that perfectly suits your PC, and our Easter Bunny will throw in a free EK-Leak Tester! That way, you can be sure you have assembled your new loop just right.
For more detailed information on our Easter offers, you can check out Terms and Conditions.
EK wishes you and your loved ones Happy Easter!
Terms and Conditions
Promotional offers are only available to individual consumers for products purchased online in the EK webshop. Each promotional offer is available and valid for use only for the promotion duration time, starting with April 9, at 02:00 PM, and ending on April 14, 2020, at 08:00 AM (UTC +1). During this period, customers will have two offers to choose from – Easter Basket and Classic Easter.
The first offer, Easter Basket*, automatically applies at the checkout. Customers whose subtotal cart values reach 300 EUR/USD/AUD (Tax Excl.), are getting a 5% discount on their purchase.
If their subtotal cart value reaches 600 EUR/USD/AUD (Tax Excl.), customers will automatically get a 10% discount on their purchase at the checkout.
And in case their subtotal cart value reaches 1200 EUR/USD/AUD (Tax Excl.), customers are automatically getting a 20% discount on the purchase.