Blackout is Total With EK-Quantum Surface Black Edition Radiators
EK®, the premium liquid cooling gear manufacturer, is expanding the EK-Quantum Surface radiator portfolio. This radiator series has already garnered high praise, won multiple awards at reputable review-based websites, and is now being expanded with Black Editions. The EK-Quantum Surface radiators are built upon years of development and market research to provide the best possible product with mechanically rigid and top-performing finishes.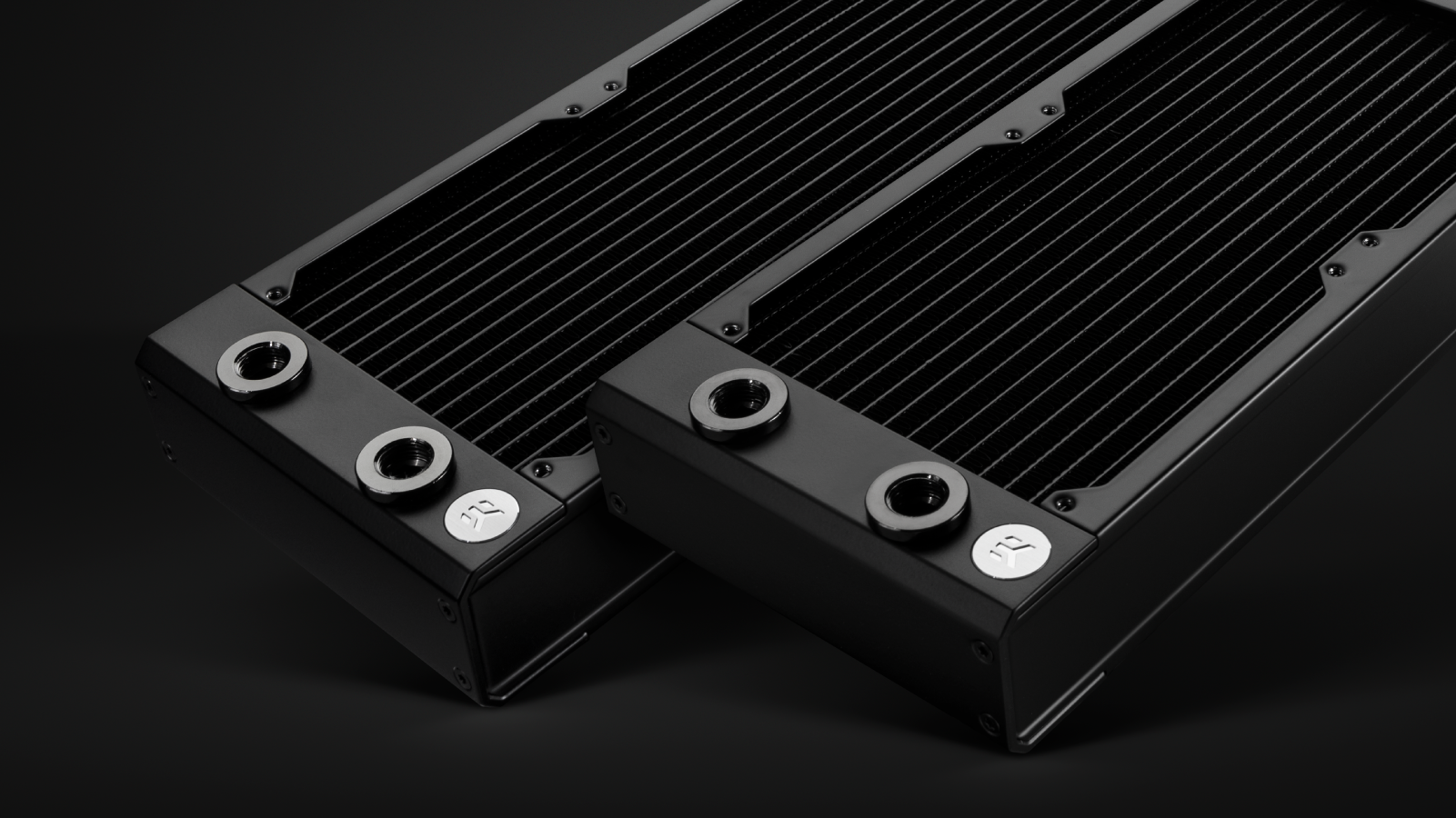 These radiators are EK-Matrix7 compatible, as EK focuses on bringing the Matrix7 standard into all aspects of water cooling and beyond, enabling users to create stunning and professional-looking builds in a much more user-friendly way.  
EK-Quantum Surface Radiators Black Edition
The new Black Edition EK-Quantum Surface P radiators come in two sizes – 240mm and 360mm. With a thickness of 44mm, the EK-Quantum P Series Surface radiators are the absolute all-rounders for low noise and high performance across the entire fan operational range.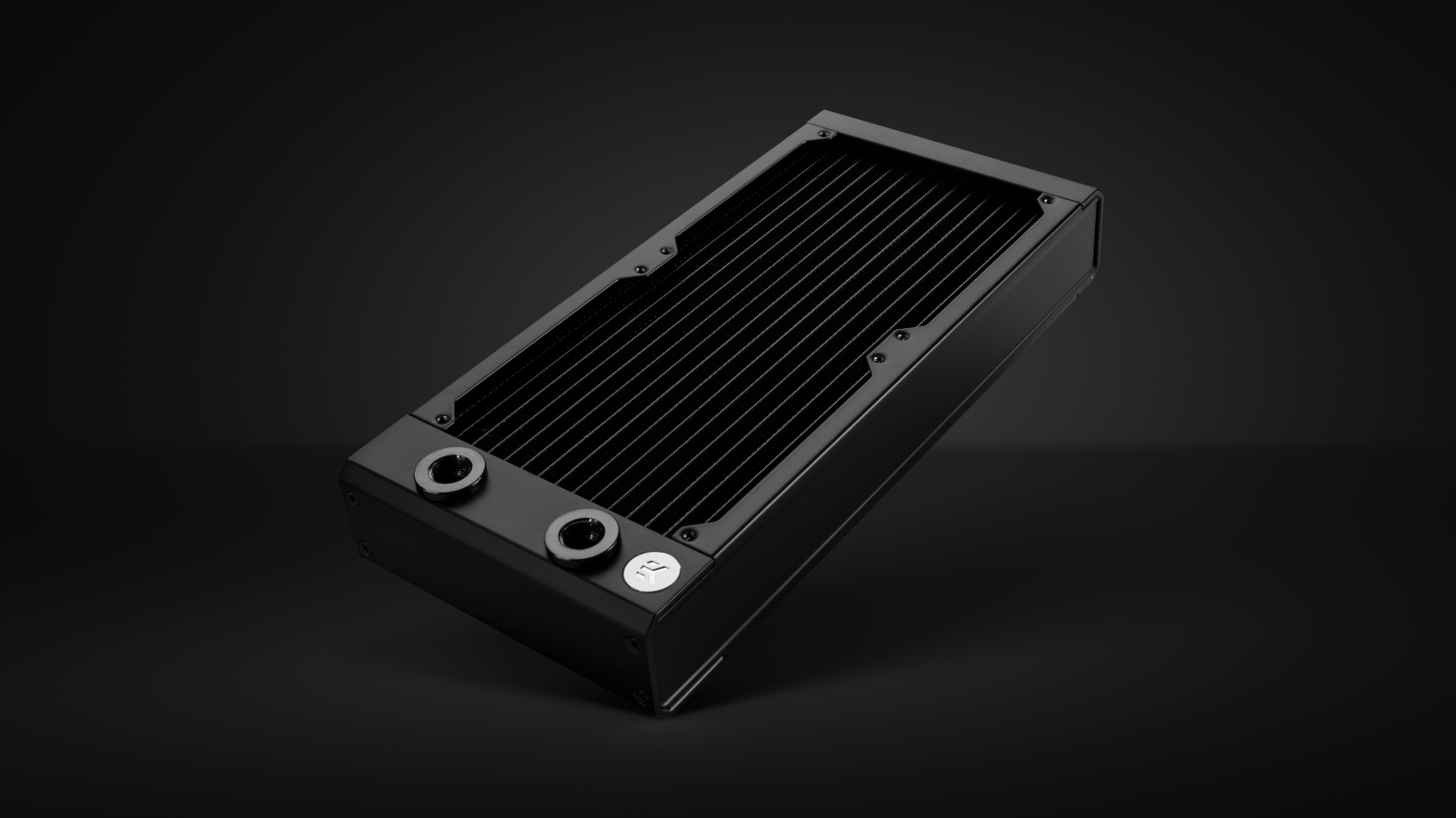 Black Edition Surface radiators are equipped with two G1/4″ threaded connection ports. The sixteen 2mm-wide copper tubes across the entire radiator length assure optimal coolant flow, putting no stress on your cooling loop. High-grade non-louvered copper fins with 18 FPI density provide the best balance between thermal transfer and air resistance, enabling optimal performance even at low-speed fan operation. To maximize cooling performance, a Push/Pull setup can be utilized on any P Series EK-Quantum Surface radiator. 
All radiator parts are entirely black, including the frame, end caps, port adapters, fins, and even the screws. The EK Quantum Surface Black Edition features exceptional build quality, advanced liquid cooling capabilities, and a user-friendly installation process. With its top-of-the-line materials and precision engineering, this product will provide long-lasting performance and reliability even for the most demanding PC users. Plus, the sleek and minimalist appearance is perfect for those who want a high-performance liquid cooling solution without sacrificing style.
The blacked-out design allows the product to blend seamlessly into any PC build, making it the perfect addition for those who aim for clean and minimalist aesthetics. With its bold and stylish look, the Black Edition of the EK Quantum Surface is sure to turn heads and elevate any PC setup to the next level.

Like all other Quantum Line products, EK's Surface radiators bring numerous performance improvements, including thermal performance, coolant flow restriction, and airflow restriction.
The internal structure design of the radiators was executed with low flow restriction in mind, providing no unnecessary stress on the rest of the cooling loop. This means you can add multiple radiators to your cooling loop using only a single pump (D5 or DDC). Being airflow-friendly and low-restriction, these radiators can achieve the same performance at lower fan speed operation. Low airflow restriction keeps the case well-ventilated and allows other radiators in the case to breathe properly. 
EK-Matrix7 Compatibility
Since any custom liquid-cooling loop is built from multiple EK products, the most valuable distinction in aesthetics and ease of use comes from the sum of all the parts. To address this, EK initiated Matrix7, a system that standardizes products' dimensions, port position, and spacing. In so doing, we are making the liquid cooling loop assembly more intuitive and allowing users to easily create a clean set of parallel tubing runs.  
All EK-Quantum Surface radiators are EK-Matrix7 compatible, which means they effortlessly integrate with Reflection², the second generation of Quantum distro plates. This enables the user to easily swap and upgrade between S, P, and X series Surface radiators within the same case (provided the case supports thicker radiators in the same position). 
Availability and Pricing
EK-Quantum Surface Black Edition radiators are designed and engineered in Slovenia (Europe) and made in China. They are readily available for order through the EK Webshop and Partner Reseller Network. The table below shows the manufacturer's suggested retail price (MSRP) with VAT included.