Attentions all LGA-2011 users using EK-Supreme HF
It has come to our attention that there is a production flaw with the new LGA-2011 mounting screw for EK-Supreme HF water block which results in less than optimal mounting pressure.
Although this mounting mechanism still achieves the minimum retention force as per Intel mechanical specification guide for socket LGA-2011 it is less than what EK designed it for. This unforseen difference in mounting pressure could yield up to 1.5°C higher CPU temperatures (according to our internal testing) thus not fully utilizing the cooling capabilites of the EK-Supreme HF series water block.
This issue concerns the following water block(s) only:
– EK-Supreme HF series
Luckily there is a quick fix for this issue. One needs to use 2.5mm POM standoff (which are enclosed in the EK-Backplate Universal ziptie bag) underneath each spring. There are four such standoffs in each EK-Supreme HF series water block bundle as shown on the photograph below:
Next photograph shows the 2.5mm POM standoffs installed underneath each spring and thumb nut. This is how you should install your EK-Supreme HF series waterblock on your LGA-2011 motherboard in order to achieve best possible temperatures:
Picture below shows the proper installation procedure for the LGA-2011 application. Marked with red are the required 2.5mm POM standoffs. All installation manuals for EK-Supreme HF series water blocks have been updated to the most recent version.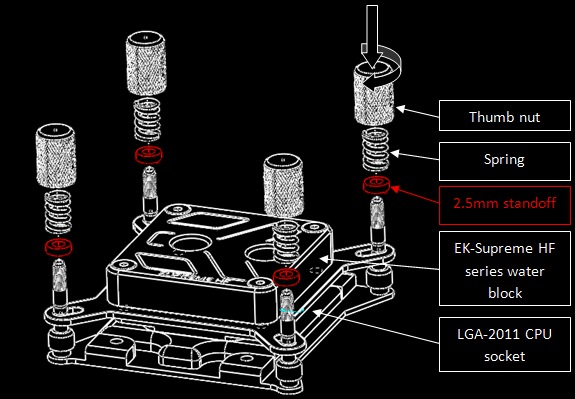 This quick fix has two major advantages:
– it increases the mounting pressure in order to achieve the best possible temperatures
– it prevents springs from damaging and/or chipping the paint on the water block's mounting plate
We would like to apologize to our customers for this hiccup. We will start shipping out new problem-free LGA-2011 screws as soon as possible. The new and improved screws will be clearly marked and recognizable. Image below shows the new screw featuring two horizontal grooves (marked red):

Your EK Team