Attention: FC480 GTX backplate UPDATE
We would like to inform all users and potential users that we have found a difference on a back side on most of the GeForce 480 GTX vga cards compared to refference design VGA card that we recieve from Nvidia.
Because of this, backplate hits marked chips (see the picture), disabling safe mount of backplate. The height dfference is only 0,25mm.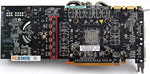 To enable safe mount we have already prepared a set of PVC washers to raise the backplate for 0,5mm enabling safe mount of backplate. If you are already owner of GF 480 GTX backplate, please contact your seller our support and we will send you the washers.
Thank you for the understanding.
EK Team