Shop the Loop - Dark Force
Stay on top of the game with this stunning PC that features a front distro plate, custom-made to fit the Lian Li O11 Dynamic XL case, while the three-radiator setup ensures you get the record numbers out of the latest PC hardware.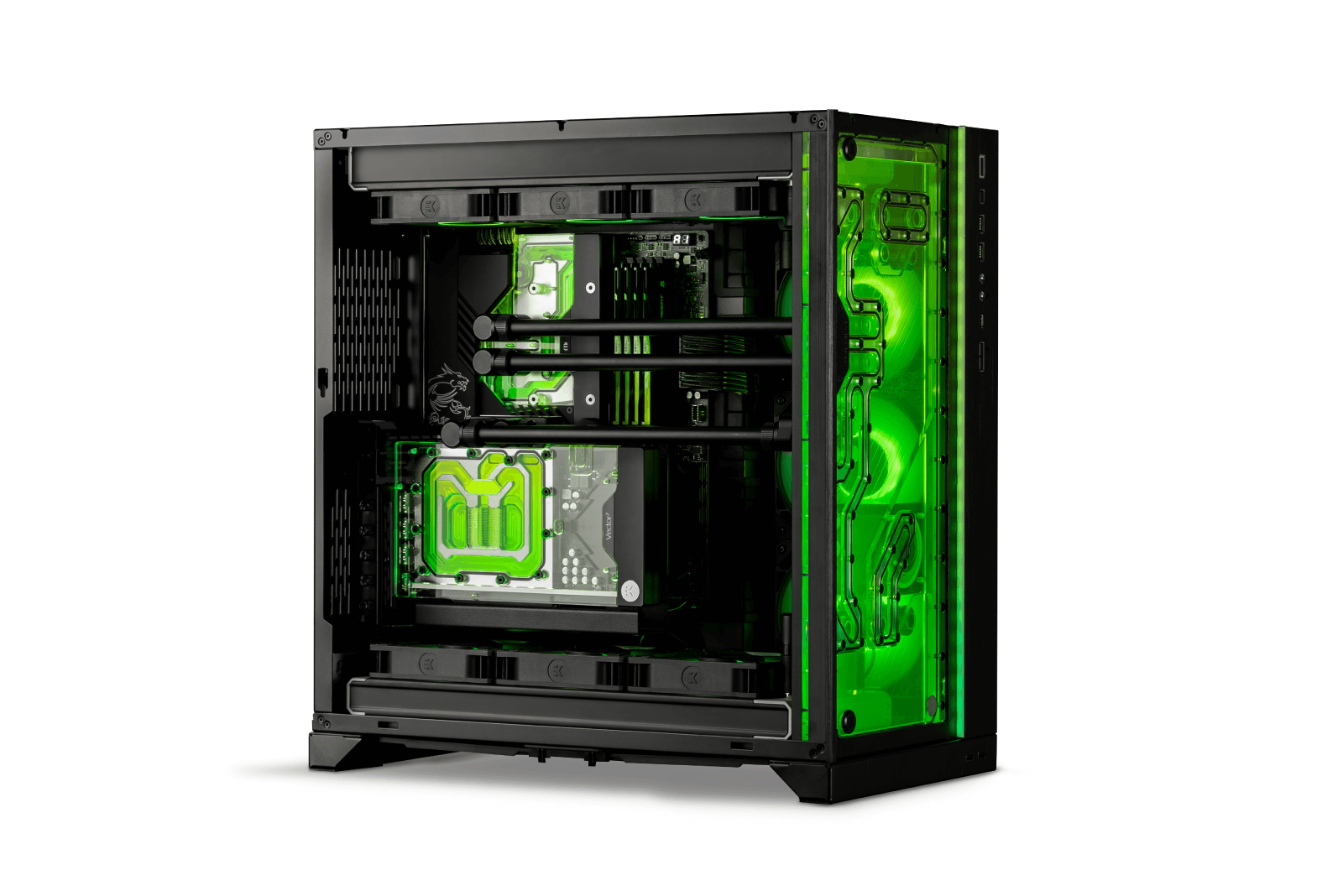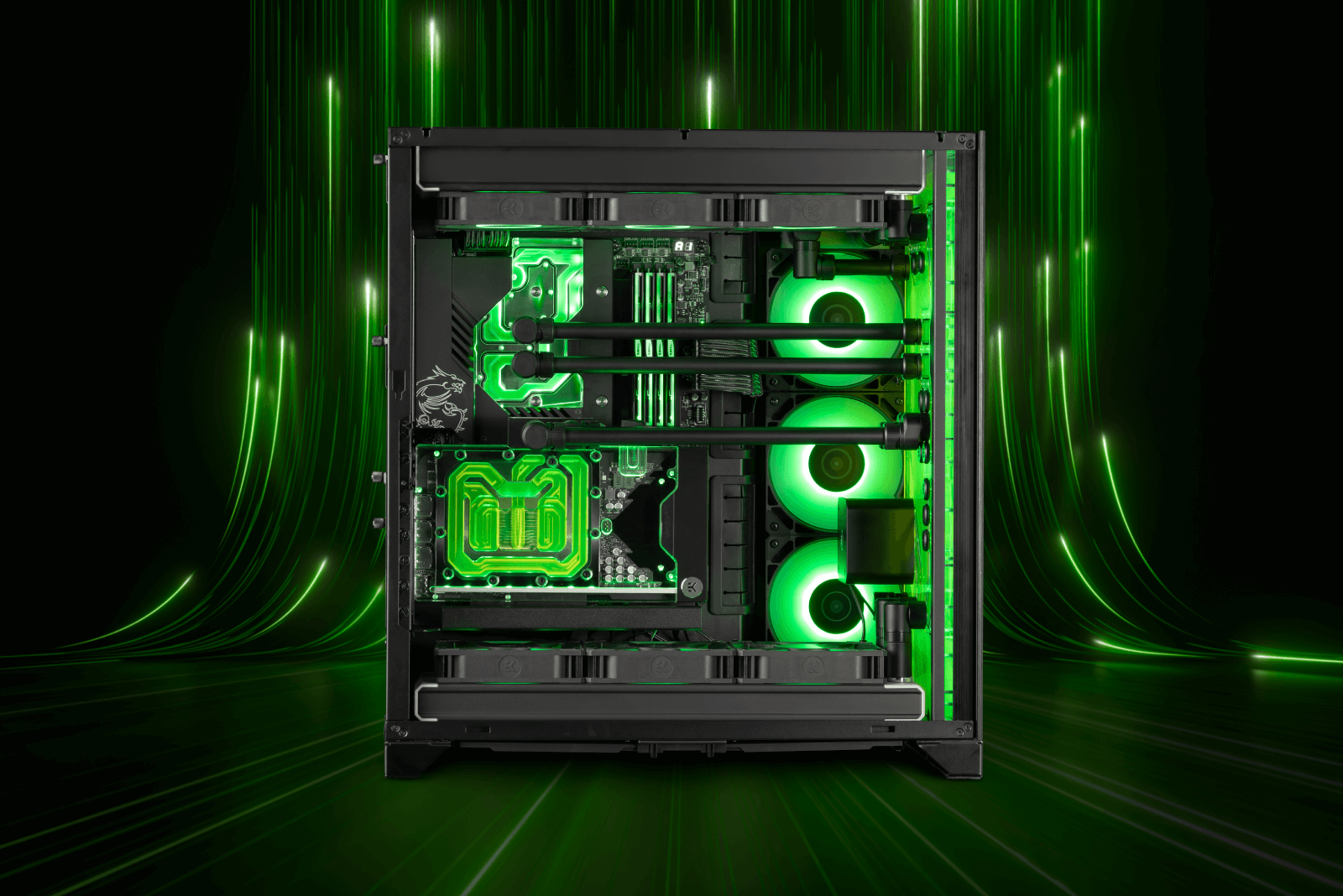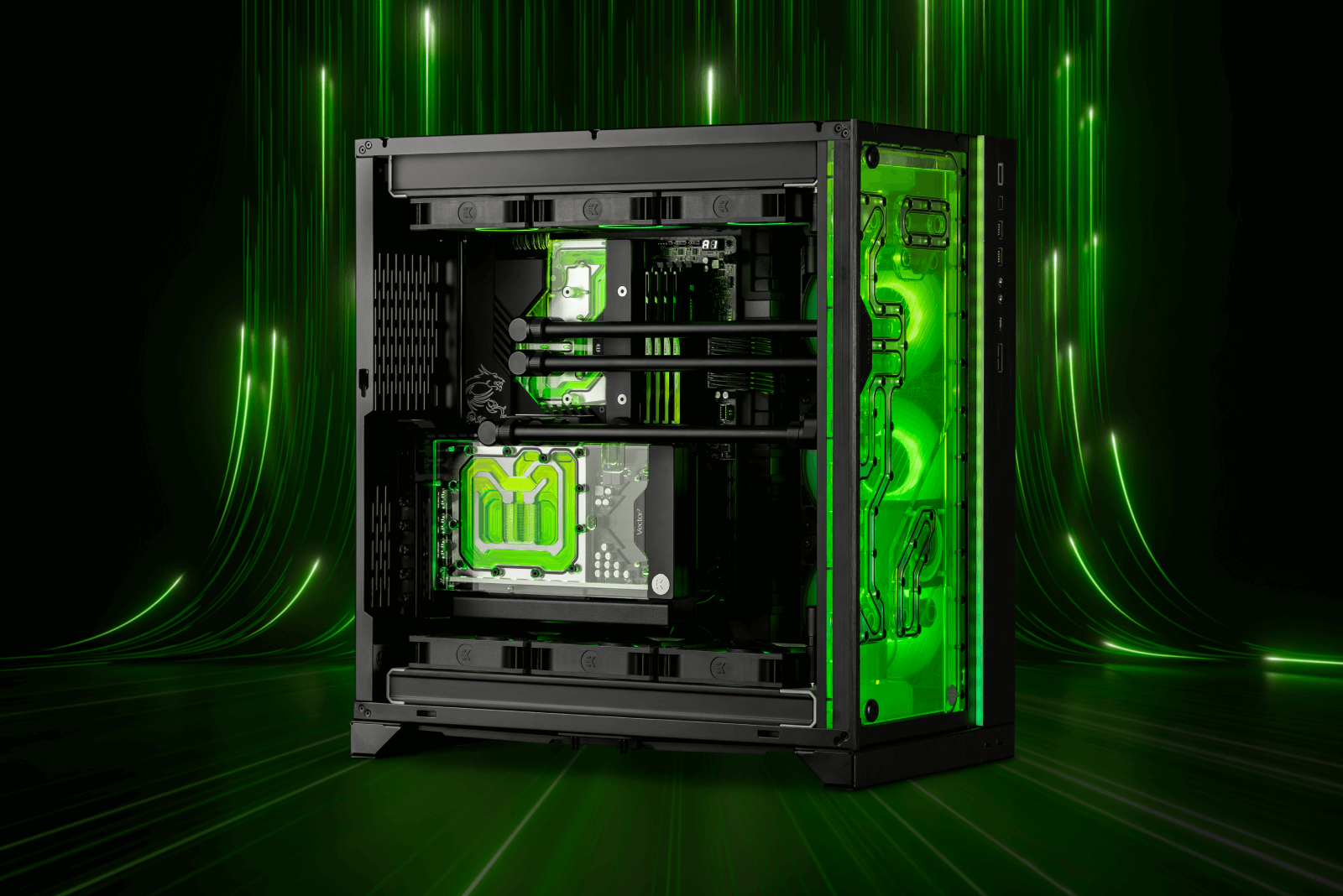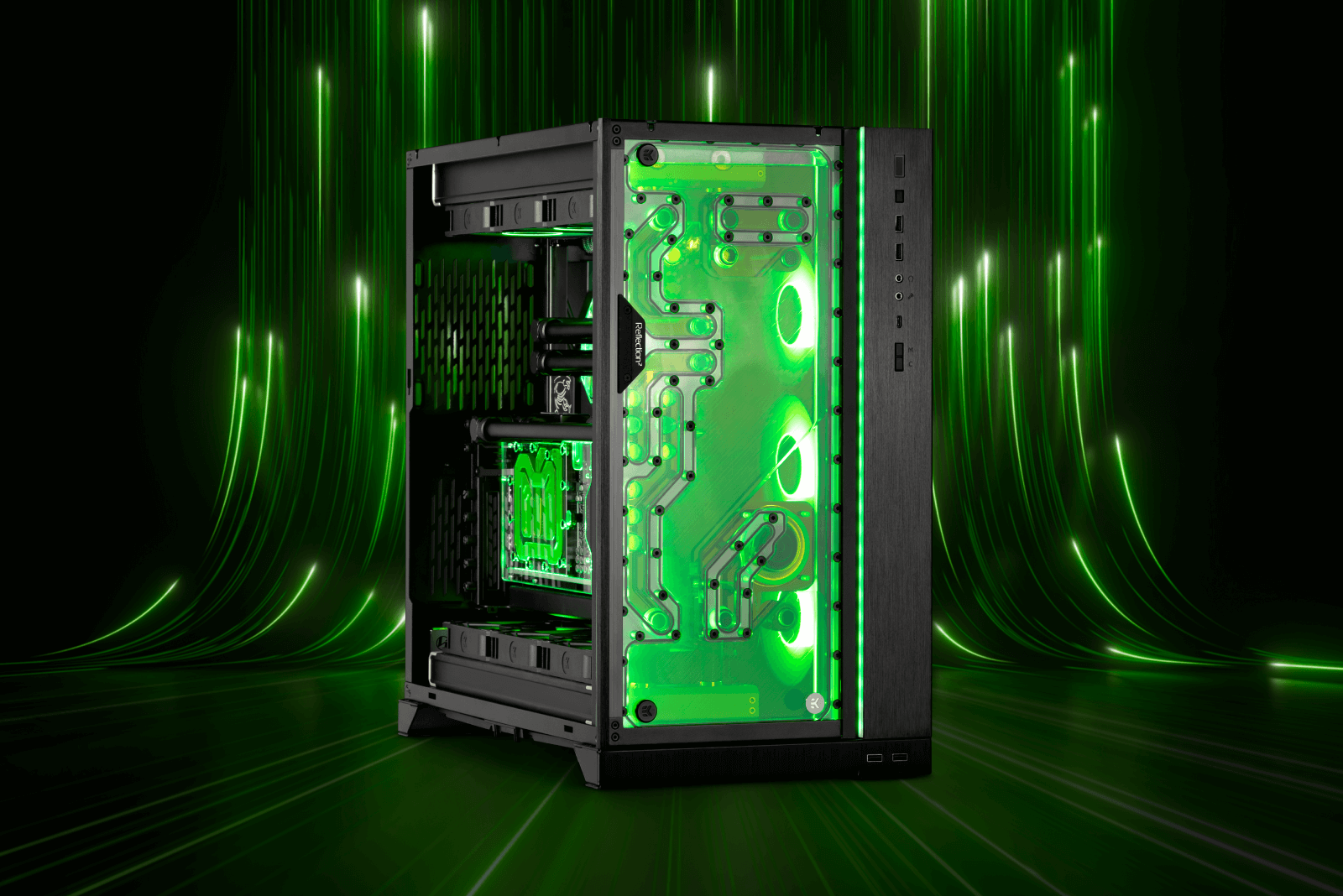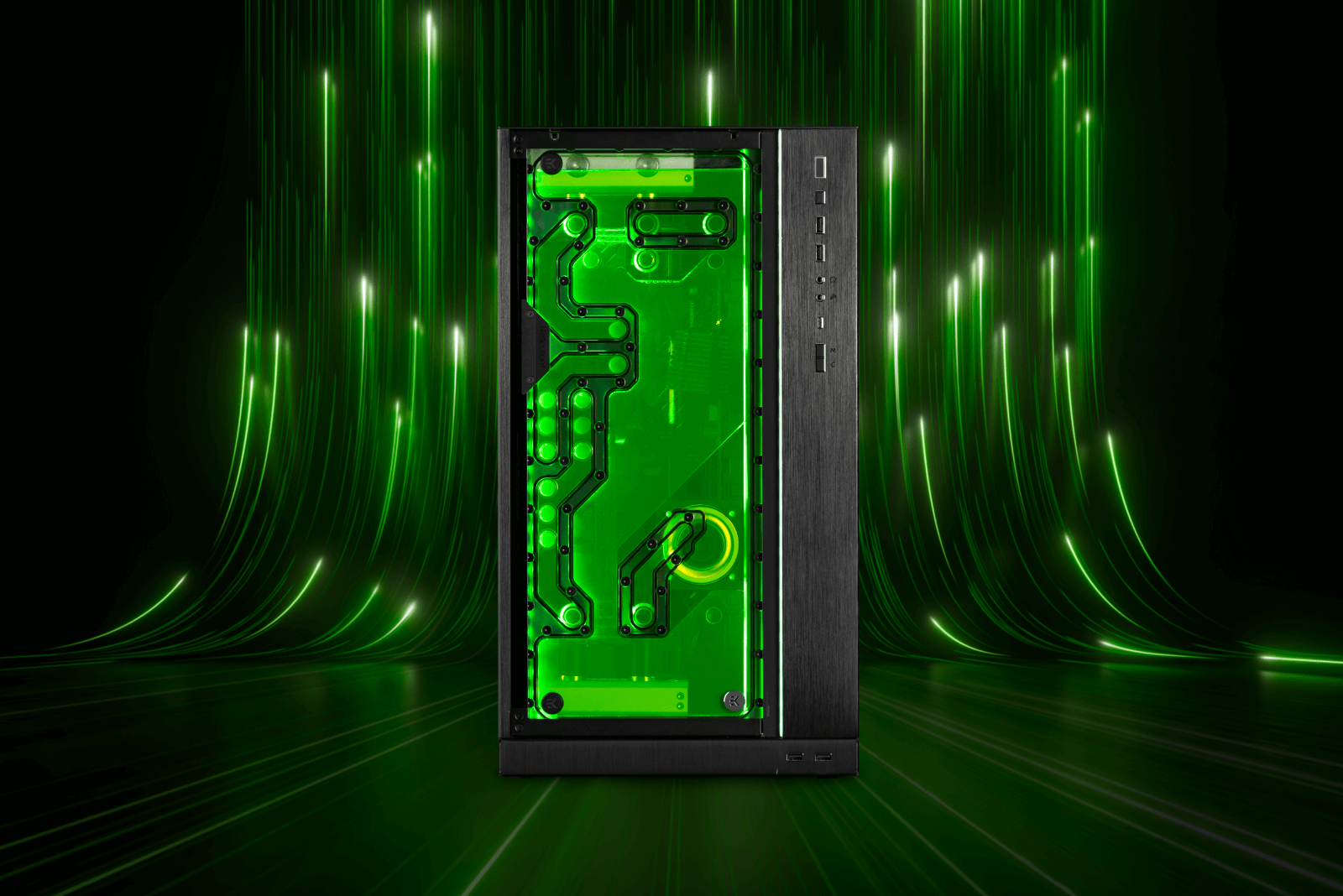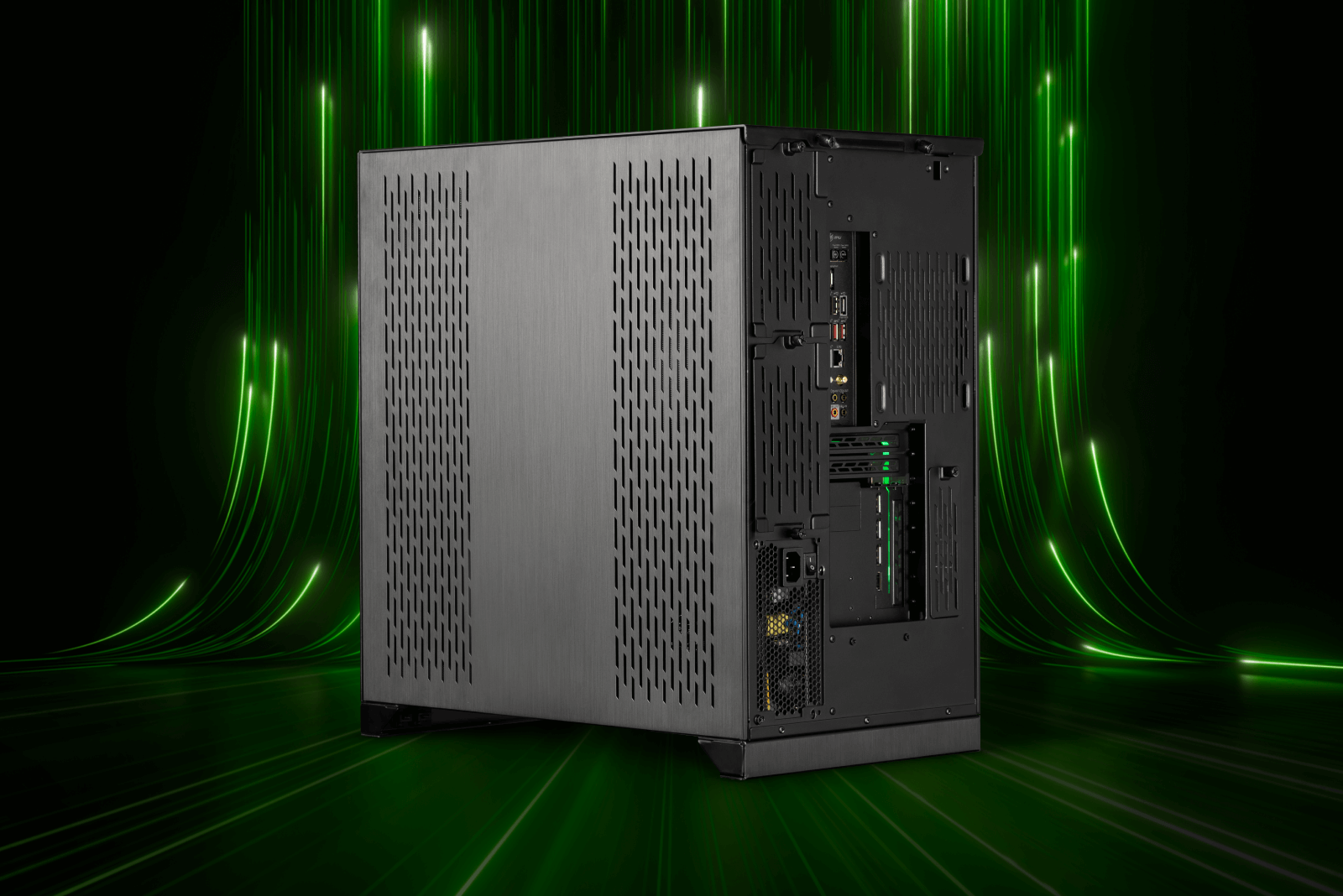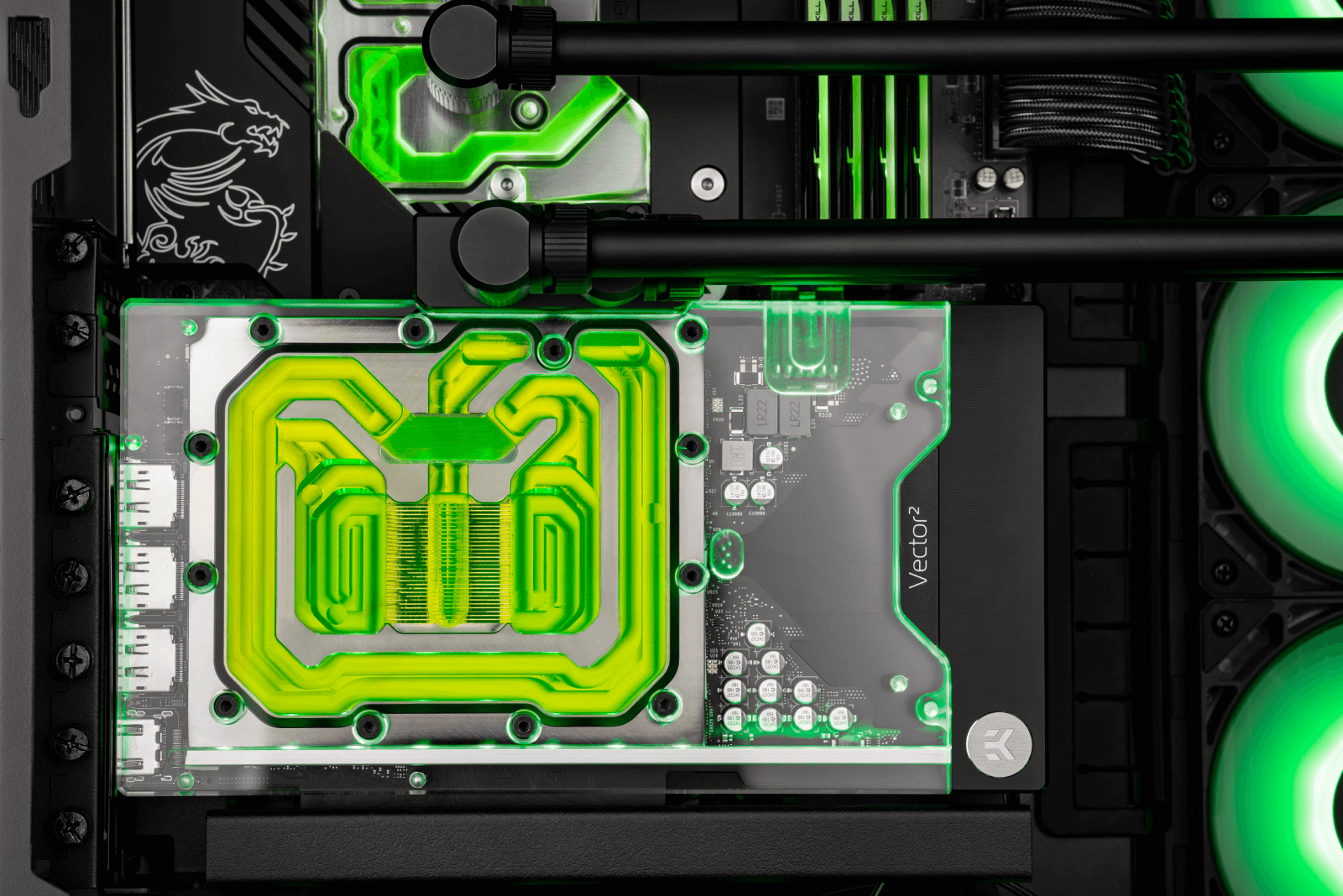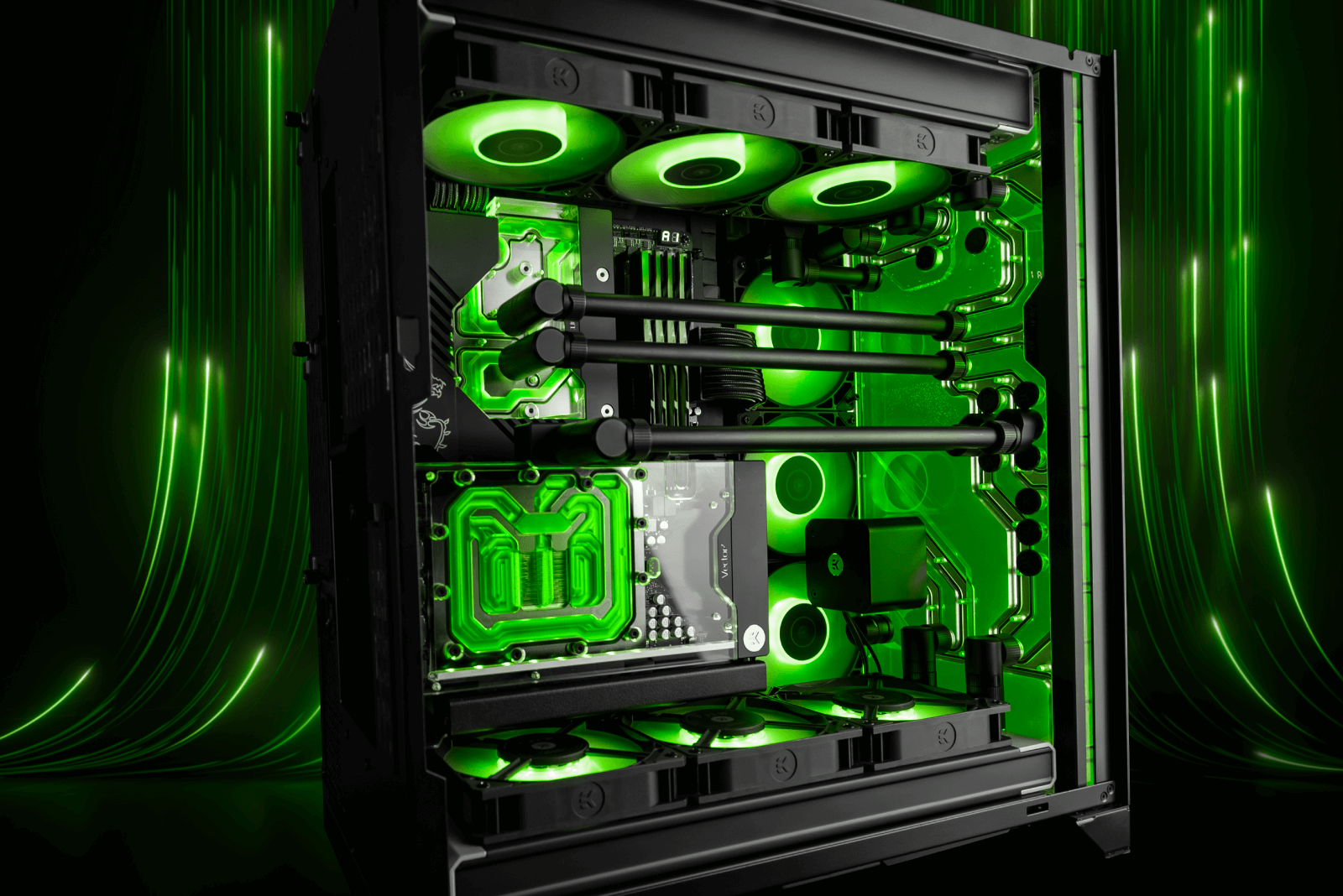 About the Build
Since we went for the best components currently available on the market, the easiest solution was to pack them all inside the O11D XL case, together with a distro plate that was made explicitly for the said case.
Dark Force build offers a setup of three radiators despite the GPU's vertical position, along with the latest EK water blocks. When it comes to the CPU, no expenses were spared – we went for the EK-Quantum MSI MPG X670E CARBON EK X motherboard and monoblock combo that offers some very neat features like an integrated temperature sensor and flow meter as part of the monoblock. And together with LEDs, it is all directly connected to the motherboard, allowing you to have precise checks on your loop status.
For more information on the motherboard and monoblock, please visit:
Distribution Plate
At the front of the case, an EK-Quantum Reflection² PC-O11D XL D5 PWM D-RGB distro plate is stealing the show. It is a custom water cooling reservoir, routing, and pump solution that seamlessly fits into the front of the O11D XL.
This waterway is also equipped with six innovative push-in ports with female G1/4″ threaded adapters. The idea is that users can assemble the whole radiator + fittings + tubing setup and then use these push-in adapters to simply slide it into the distro plate. And since this build has three radiators, that sure does come in handy and makes the assembly much easier.
As a bonus, an EK-Quantum Convection D5 black aesthetic cover was used for the D5 pump.
Radiators
The bottom radiator is screwed into the mounting bracket that comes included with the distribution plate. The bracket allows the radiator to slide left and right and connect to the distro plate with push-in fittings. It is then locked in place with a screw, and that is all there is to it.
But since we're positioning the GPU vertically, the bottom radiator has to be slim (the S360, to be exact). This allows for a lower GPU positioning – with it being quite wide, it would otherwise cover that gorgeous monoblock at the top. And with a Slim radiator at the bottom, we couldn't just use the 90° angled rotary with a push-in fitting. We needed to extend the ports to go a bit higher to connect to the distro plate directly. For this reason, a pair of 28mm extenders was required, but not much else, thanks to the EK-Matrix7 standard.
On the top side, only two 90° rotary adapters and another pair of push-in fittings are used to slide the top radiator into the distro plate. The last puzzle piece is the side radiator, which is also quite easy to connect. The port closer to the distro plate is occupied with a 28mm extender and a 90° rotary adapter, again with a push-in fitting. For the far side port, we needed to offset the line to reach the distro plate, so we went with a 28mm extender and a double 90° rotary adapter, finishing it off with a piece of tubing and a couple of fittings.
Fans
We opted for the EK's latest fans – black FPT 120mm D-RGB. High static pressure makes them a perfect match for those Surface radiators, while their cables allow daisy chain connections, with only two connectors at the end. With such an improved cable system, connecting all nine fans has never been easier.
GPU Water Block
With the latest GPU releases hitting the market, we were ready with our new portfolio of water blocks available for the 40 series NVIDIA® GeForce® RTX™ and AMD® Radeon™ RX 7000 graphics cards. In this example build, we use the EK-Quantum Vector² FE RTX 4090 D-RGB - Nickel + Plexi water block, but thanks to our Matrix7 standard, you can go with any of the latest GPUs and their accompanying water blocks. With some help from EK-Loop Vertical GPU Holder EVO - Gen4 Riser, all the latest Vector² water blocks can be connected with straight tubing, even if placed vertically. All we need in that case is a different set of fittings.
In this build, we use a pair of 90° rotary adapters on the GPU terminal, with one having an extra 28mm extender. This way, we get straight tube runs to the distro plate. On the distro plate itself, we're using a pair of 7mm offset fittings to get the tubing perfectly horizontal.
If you plan to use a different GPU and water block, feel free to reach out to our technical support so they can provide you with an exact list of fittings for your setup.
Monoblock
EK-Quantum MSI MPG X670E CARBON EK X is an X670E-based motherboard resulting from the partnership between EK and MSI®. It offers unparalleled cooling for the VRM section and Ryzen™ 7000 series CPUs and many other nifty features. Among those features are an integrated flow meter and temperature sensor that allow you to monitor your loop parameters at all times.
Your PCIe Gen5 drives haven't been forgotten either, with a unique heatsink that cools both PCIe 5.0 m.2 slots. Another neat feature of this monoblock is that it will always be perfectly aligned with distro ports. So, all we need is a pair of 28mm extenders to get over the RAMs and 90° rotary adapters. Then, we can use fittings and tubing in a straight horizontal line with no bending.
Hardware Specifications:
PC Case: Lian Li PC-O11 Dynamic XL
Motherboard: EK-Quantum MSI MPG X670E CARBON EK X D-RGB
Graphics Card: Nvidia GeForce RTX 4090 FE
RAM: G.SKILL Trident Z5
Processor: AMD Ryzen 7 7950X
Riser: EK-Loop Vertical GPU Holder EVO - Gen4 Riser
Cables: CableMod Black
CAUTION:
| | |
| --- | --- |
| | One of the products in this Kit, the EK-Loop Metal Tube 14mm 0.5m - Black, is out of stock and has been replaced with the EK-Loop Metal Tube 14mm 0.5m - Black Nickel. |
Dark Force Build Accessories