Shop the Loop - Code Orange
The daring silver and orange color combination is the focal point of this EK-Matrix7 build. The triple Quantum Surface P-size radiator setup is nestled in a Lian Li PC-011D XL case and coupled with second-generation EK-Quantum products. All this is tied together with a beautiful EK-Quantum Reflection² D-RGB Distribution plate for a true masterpiece of a build.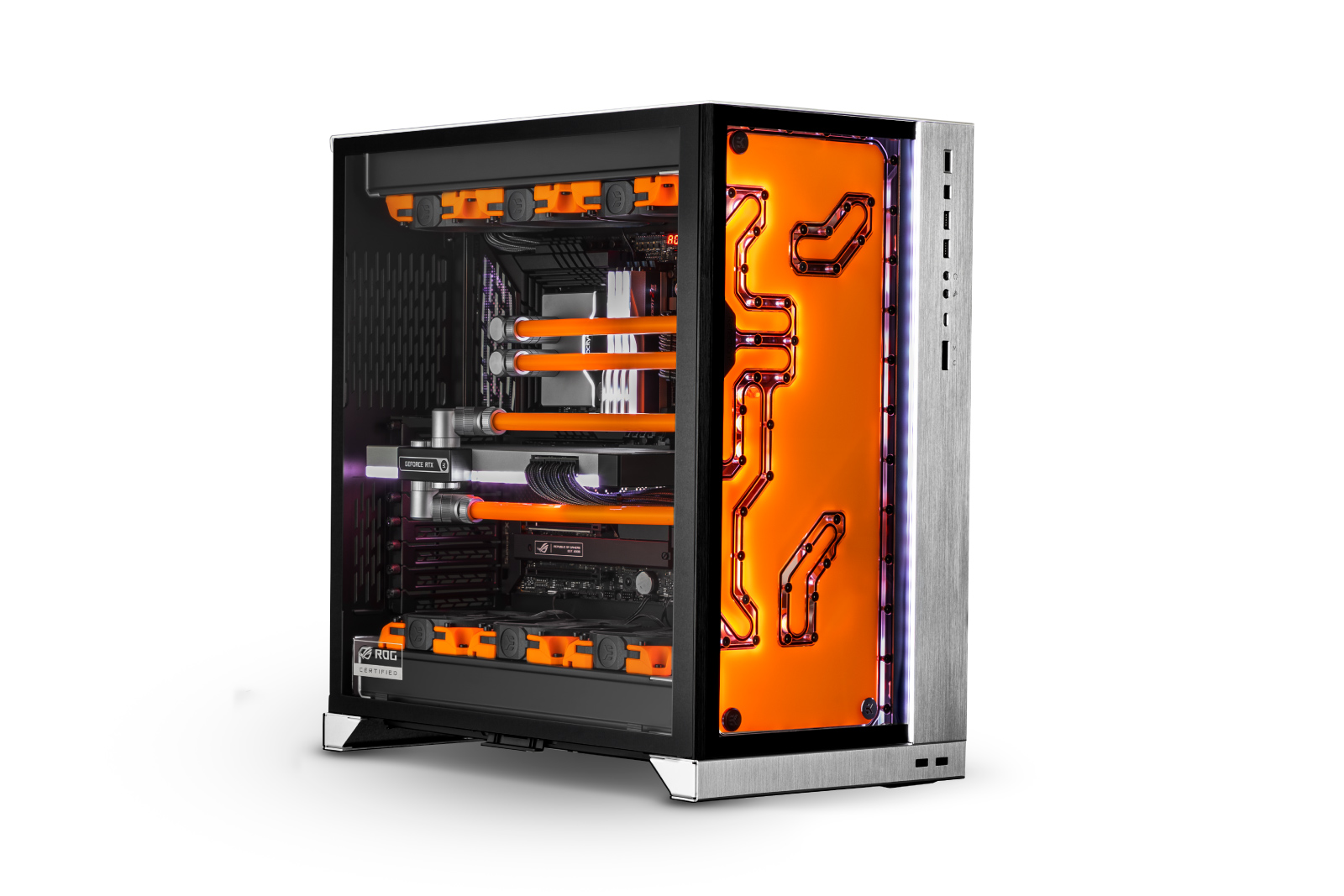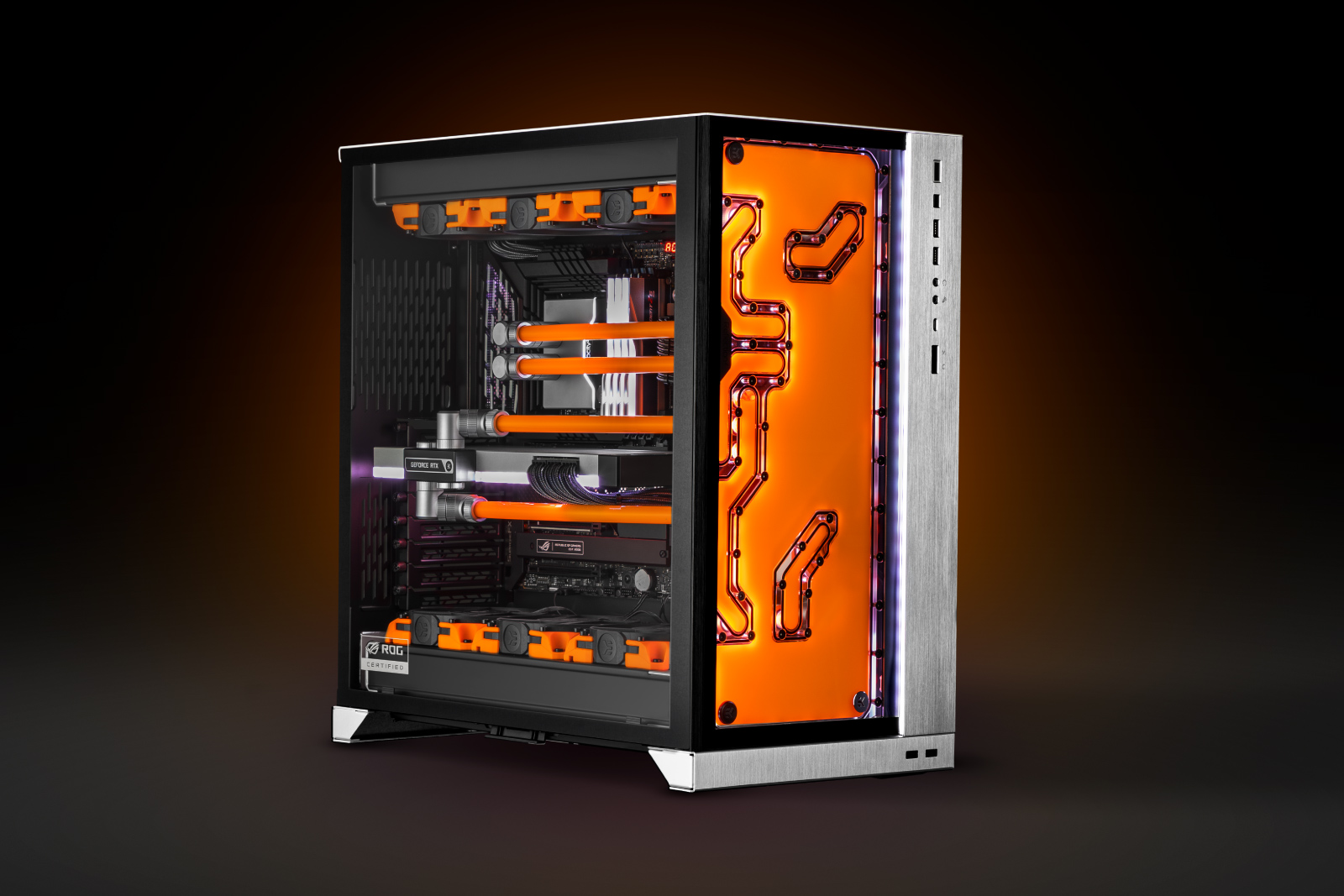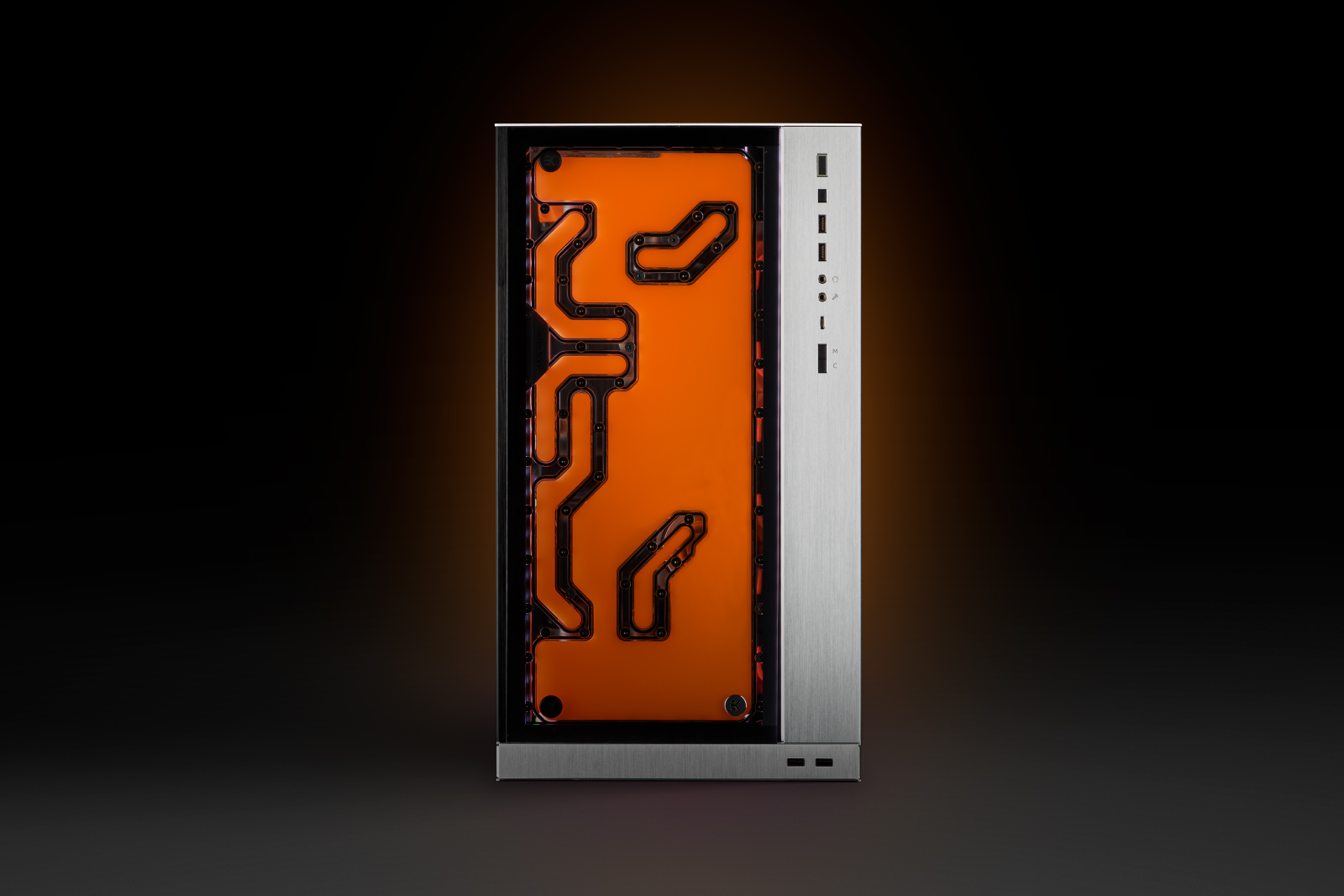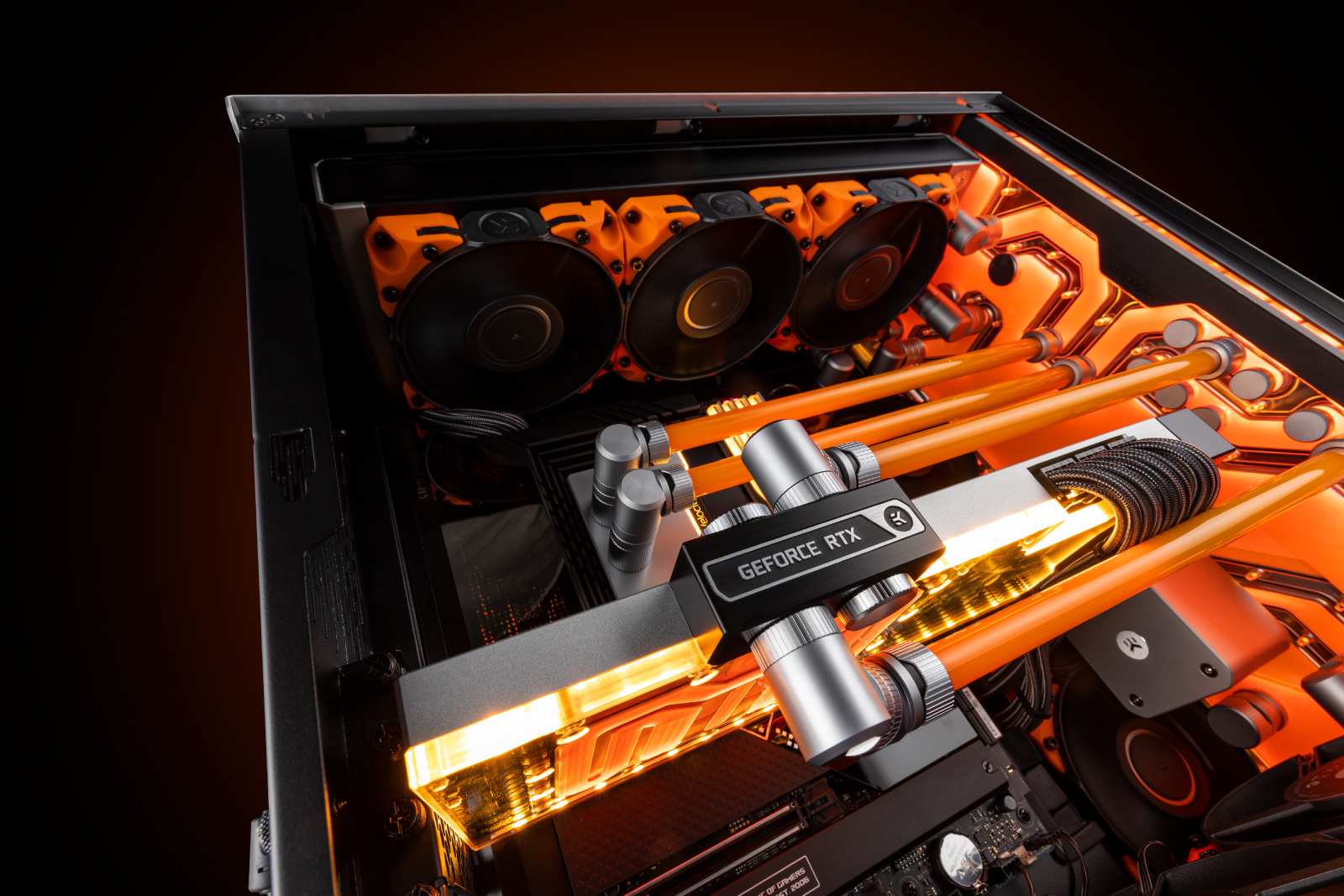 Understand the Build
This stunning and performance-driven build features an EK-Quantum Reflection PC-O11D XL Distribution plate (with integrated D5 pump) built specifically for the Lian Li PC-O11D XL case, a custom CNC-machined silver pump cover that also acts as a heatsink, and a triple Quantum Surface 360mm radiator set – so you know cooling is (and will stay for many years) truly top-tier.
All the liquid components are easily connected using straight tubing and fittings thanks to the EK-Matrix 7 design that places each product inside the PC case in a designated space. No matter which GPU or motherboard you plan to use, you will be able to achieve the same look and easy build – all due to our EK-Matrix7 standard.
The Radical Set of Rads
We did go over and beyond with a triple P-size radiator setup, and that is to give you the ultimate performance edge no matter the hardware demand. With a black finish and silver end cap covers, it really does sit well with this build.
The internal structure design of the radiators was executed with low flow restriction in mind, providing no unnecessary stress on the rest of the cooling loop. This means a triple-radiator setup in a single-pump cooling loop is no issue. The radiators are airflow-friendly and low-restriction, allowing lower fan speed operation to achieve the same performance. Low airflow restriction keeps the case well ventilated and allows other radiators in the case to breathe properly.
The GPU
The graphics card is encased in a second-generation EK-Quantum Vector² water block. If needed, an active backplate can be added to cool those high-performing memory modules at the back of an RTX 3090 GPU, if that is the GPU model you will go with.
Just make sure to pick the correct GPU block or ABP set for your GPU. This is quickly done through our Loop Configurator here. With EK-Matrix7, no matter which GPU block or ABP set you go with, it can be easily connected using proper fitting selection.
The CPU
Finally, the gem on the CPU is also our second-generation EK-Quantum Velocity² CPU block. Yes, you guessed it, it is also EK-Matrix7 compliant to ensure easy connection. As the CPU socket height is the only thing we cannot control, and is quite crucial to achieving straight tubing, we came up with a solution in the form of an offset fitting.
With those fittings, you can offset the ports on the distribution plate to match the exact height of the CPU block ports. The socket height on the example build's motherboard was not aligned by 3mm, so we used a 3mm offset with a 7mm extender on the CPU block ports, and the issue was elegantly solved.
Pro Tip: If you use a Momentum² monoblock, the ports will always be spot on with the distribution plate.
Tubing, Fittings, Extenders, Adapters
For the finish, we have 14mm hard tubing and a careful selection of fittings, extenders, and adapters in Satin Titanium finish for a perfect aesthetic match and easy connections. In the example build, we used five rotary male-to-male extenders to connect the radiators directly to the distribution plate. But now we have a new product, the EK-Quantum Torque Push-In Adapter, that replaces them and gives you an even easier build experience.
Hardware used in this example build:
PC Case: Lian Li O11 Dynamic XL Silver
Motherboard: ASUS® ROG MAXIMUS Z690 HERO
Graphics Card: Nvidia GeForce RTX 3080 Ti FTW3
RAM: G.SKILL Trident Z5 RGB
Processor: Intel® Core™ i9-12900K
Cables: CableMod Carbon
Code Orange Build Accessories