EK Rolls Out the Red Carpet for New Enthusiast-Class Graphics Cards
EK®, a leading computer cooling solutions provider, is proud to announce several Special Edition products that will mark the launch of the new AMD® Radeon™ RX 6800 Series and Radeon™ RX 6900 XT graphics cards. As an official launch partner, EK has prepared, in close coordination with AMD, a special GPU water block, a heavy-duty AIO GPU cooling unit, and an entire liquid cooling kit. With the recent launch of the highly anticipated AMD Ryzen™ 5000 Series desktop processors that bring incredible IPC gains, EK made a special AM4 socket CPU water block as well.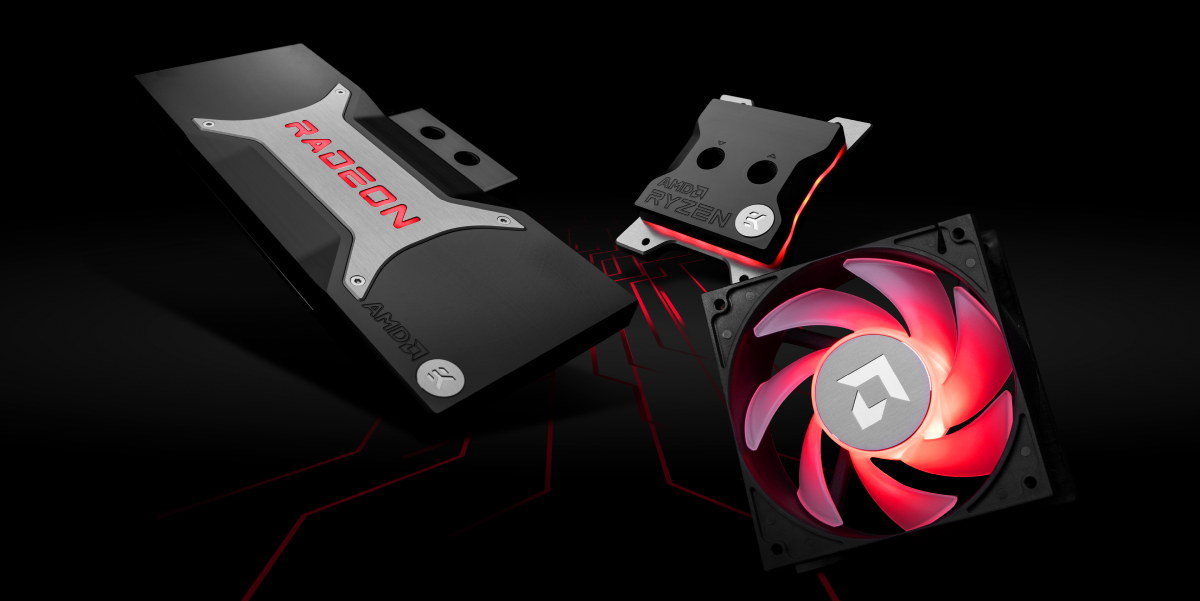 "EK and AMD have combined forces to provide gamers with the liquid-cooled performance they are looking for with the new AMD Radeon™ graphics cards," said Scott Herkelman, Corporate Vice President and General Manager, Graphics Business Unit at AMD. "EK's award-winning liquid cooling solutions are designed to offer a significant boost in thermal performance while staying silent, providing incredible gaming experiences for our customers."
EK-Quantum Vector RX 6800/6900 D-RGB – Special Edition
The star of the show is the EK-Quantum Vector RX 6800/6900 D-RGB – Special Edition high-performance full-cover water block designed for the latest generation of AMD Radeon™ graphics cards. The Special Edition block stands out thanks to the black acetal top with aesthetic side-slopes that mimic the new graphics cards' factory cooler. The top also features an ultra-clean, screwless design because the assembly is done from the backside of the block. The water block provides active cooling to the GPU core, VRAM, and all the VRM MOSFETs, and is also in contact with the inductors to suppress any possible coil whine. The water block will be delivered with a special gray anodized backplate that provides additional passive cooling to the backside of the GPU PCB. Bringing it all together is the central AMD Radeon™ logo backed up by a dense addressable D-RGB LED strip to create smooth color transitions.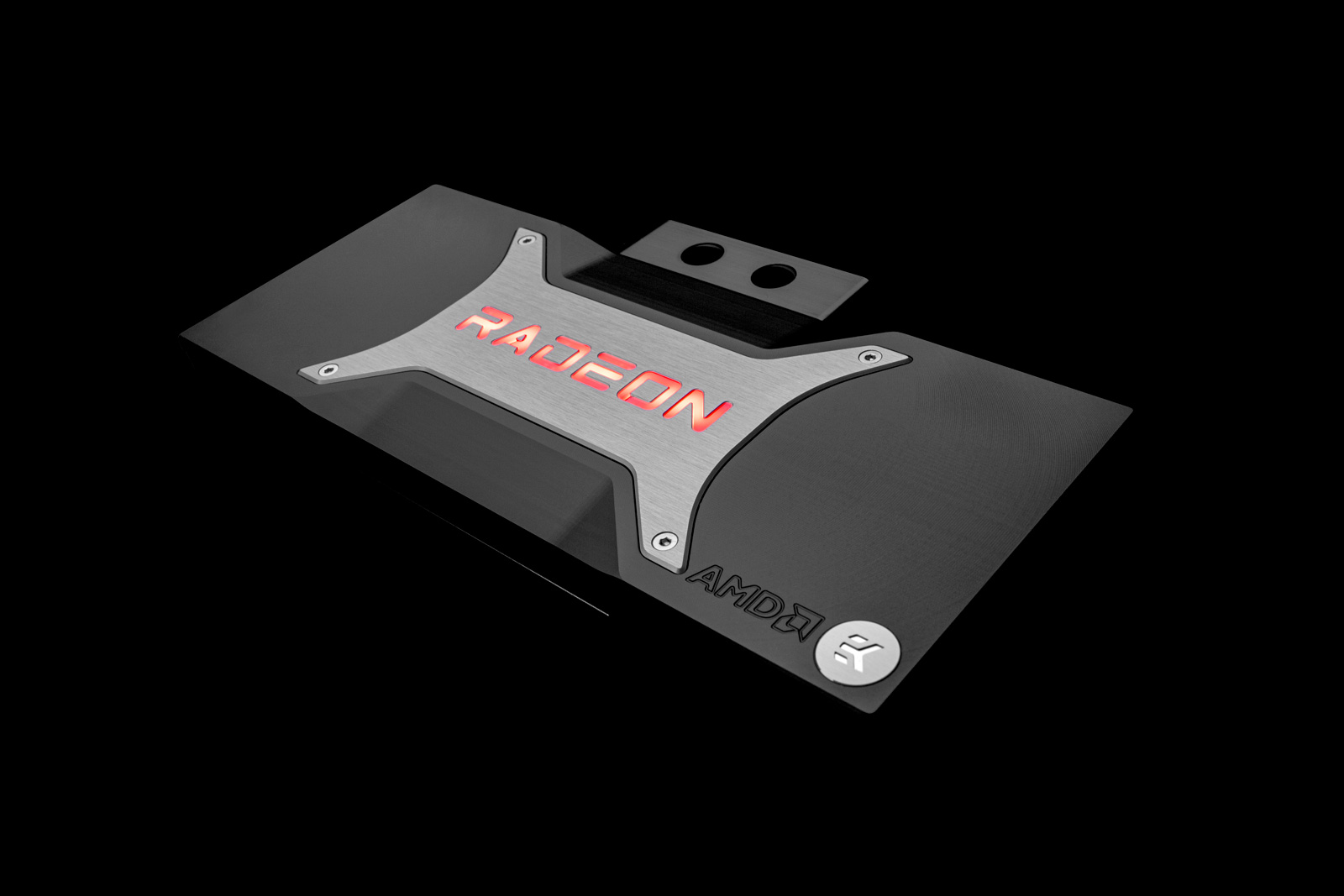 EK-Quantum Velocity D-RGB – Special Edition
The perfect gaming rig is not complete without the CPU, so EK also prepared a special AM4 socket CPU block. The EK-Quantum Velocity D-RGB – Special Edition uses a proven Velocity cooling engine optimized for the AMD Ryzen™ chiplet layout. A wider jet plate allows for more precise coolant channeling over the CPU die, while not affecting the efficient hydraulic flow characteristics of the Velocity. The water block boasts a 6mm thick aluminum mounting plate, combined with a subtle D-RGB side glow effect surrounding the entire water block top. The mounting screws are a special blend of black standoff screws and EK's Satin Titanium color thumb nuts.
"AMD challenged EK to create a cooling solution for the new AMD Radeon™ graphics cards that elevates the aesthetics and performance of the cards to new heights," says Edvard König, Founder of EK. "We stepped up to the challenge by pushing our teams to develop a top-line solution that provides performance and looks that any enthusiast or gamer will be proud of."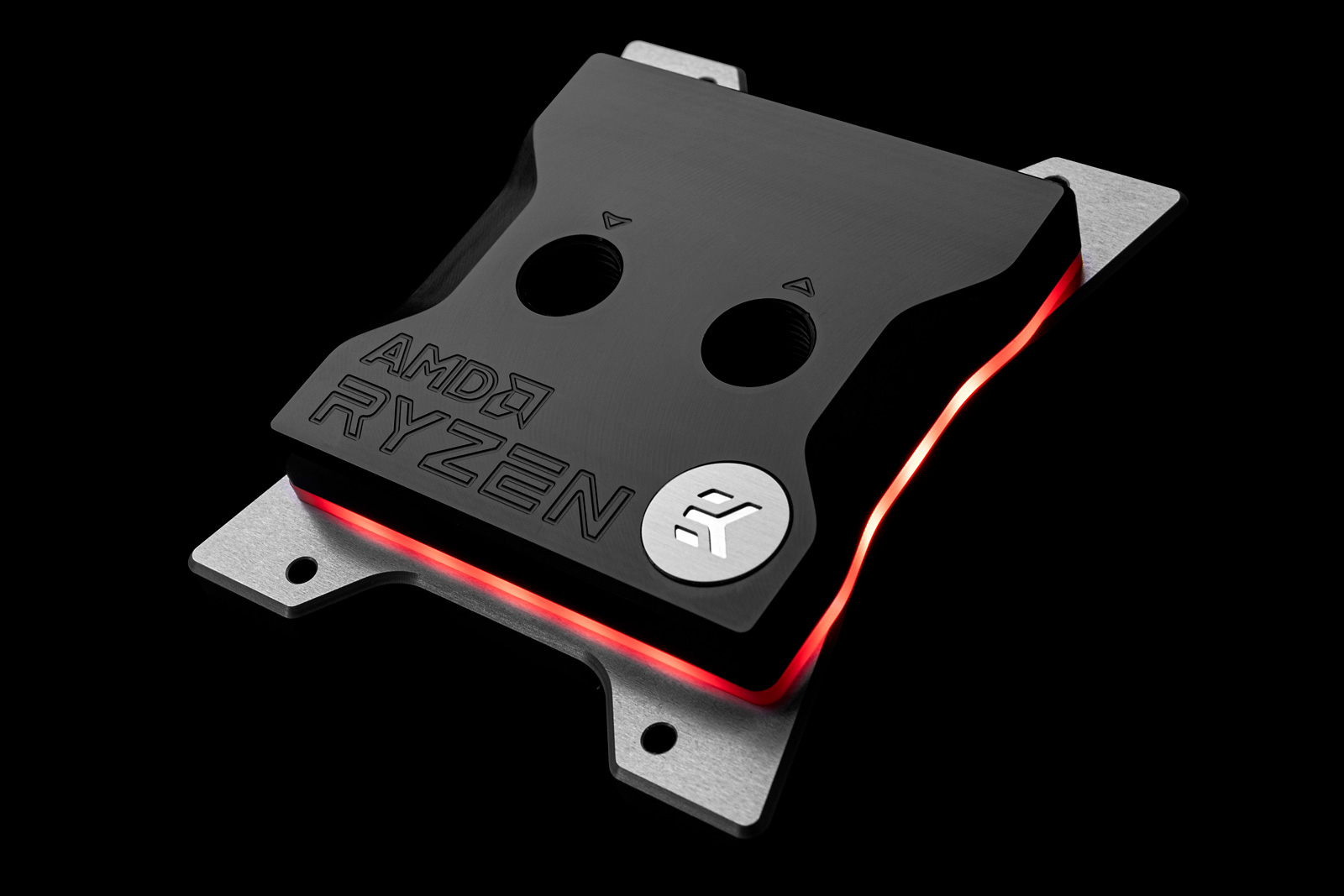 EK-Quantum Power Kit RX 6800/6900 D-RGB P360 – Special Edition
We also made the ultimate enthusiast liquid cooling gamer kit. This liquid cooling kit contains custom-made EK parts designed to amplify your AMD Radeon™ experience. The Velocity CPU and Vector GPU blocks are both included in the kit, together with custom-made Vardar fans, custom-assembled Torque fittings, and a custom-made FLT 120 D5 combo unit. The included EK-Quantum Kinetic FLT 120 D5 is using an all-black POM acetal backing plate, a gray anodized LED cover, and a custom engraved front acrylic cover. Also included are the radiator, angled adapter fittings, matte black ZMT tubing, a bottle of clear and red coolant concentrate, and everything else that ensures an epic loop building experience.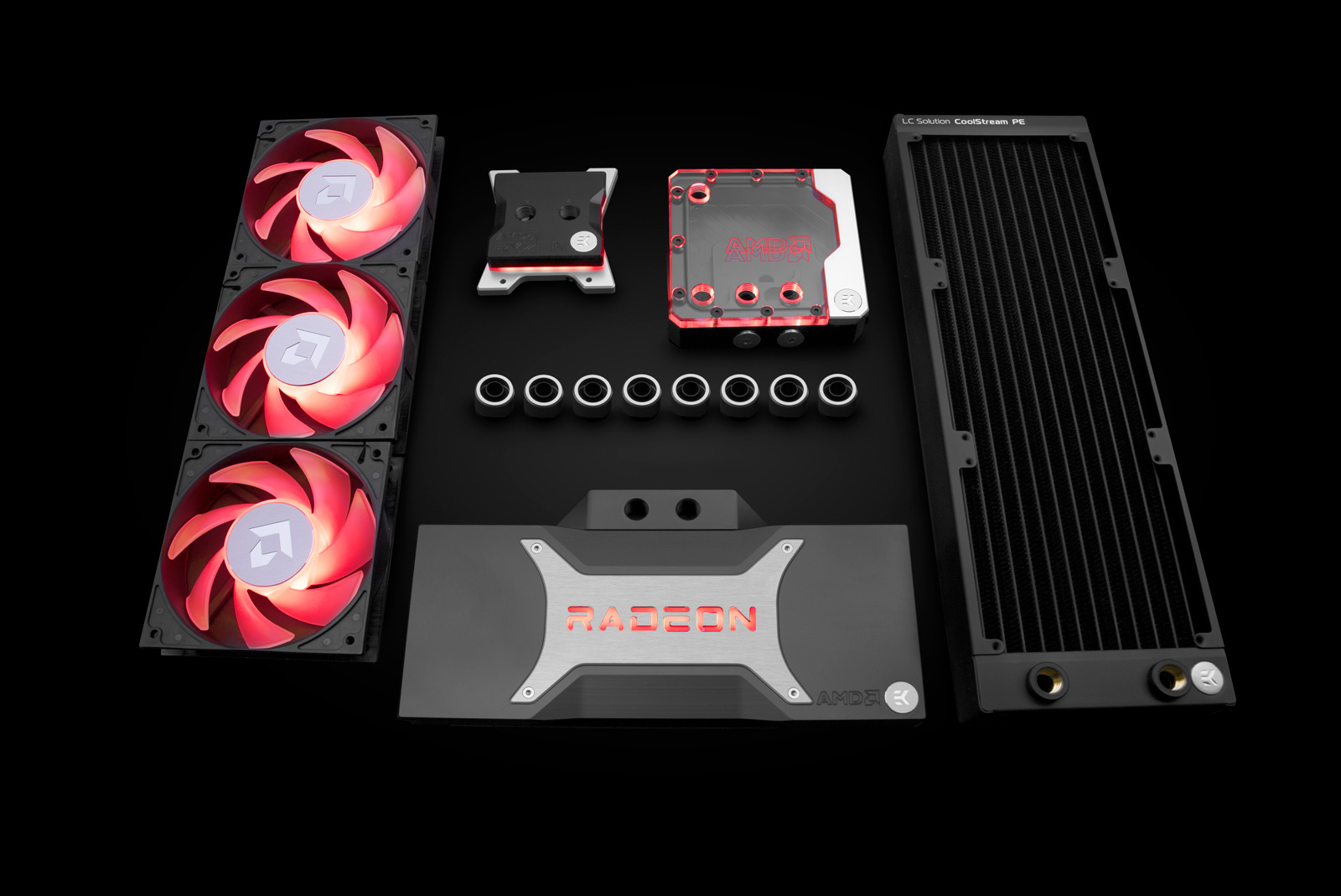 EK-Quantum Reaction AIO RX 6800/6900 D-RGB P240 – Special Edition
If you are a bit apprehensive about custom loop liquid cooling, we also created a custom made, heavy-duty, maintenance-free, All-In-One liquid cooler for your new Radeon™ RX 6800 Series and Radeon™ RX 6900 XT graphics cards. As with all of the other water blocks, this one includes custom-made Vardar fans, custom-assembled fittings, and the additional AMD branding on the side of the radiator core unit. The entire unit is assembled out of custom loop liquid cooling grade products, including the SPC-style pump that is housed in the radiator unit. With an AIO like this, all you have to do is install the water block to your GPU and crunch some FPS.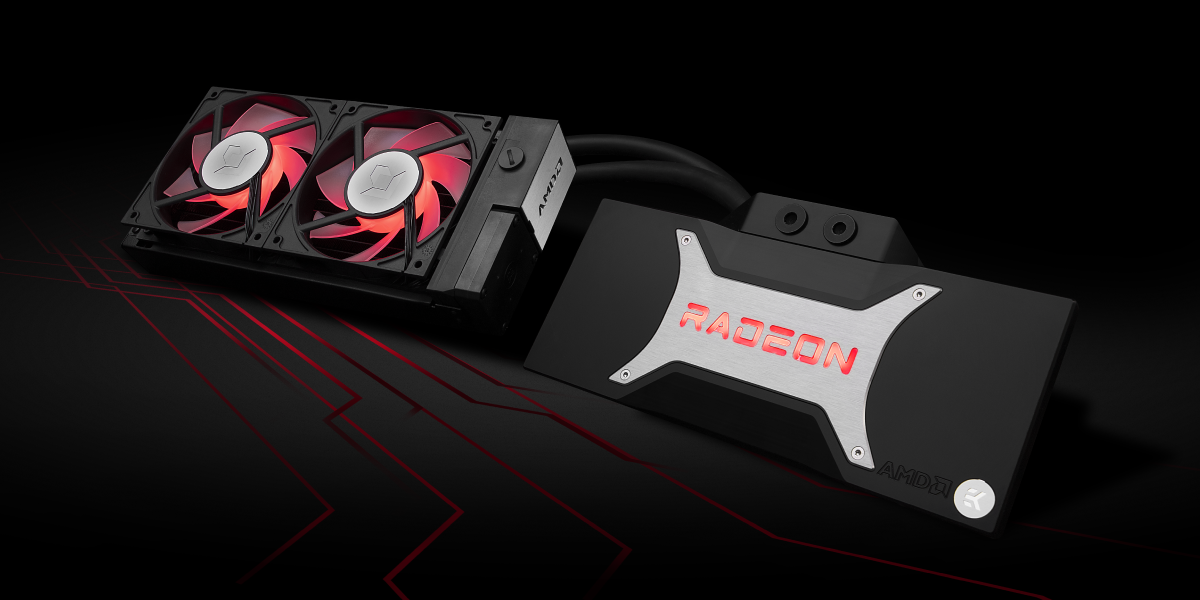 "Technology, innovation, and passion are the driving forces when bringing our partnerships to the next level," said Kat Silberstein CEO, Americas, EK. "Coming together to create a liquid cooling solution with a great partner like AMD showcases the best product performance, aesthetics, and the art of gaming."
EK-Quantum Vector RX 6800/6900
Last but not least, our 2nd generation EK-Quantum Vector water blocks are also getting four new family members. We're updating the Vector lineup with standard four water blocks in various material combinations, accompanied by standard black and nickel-plated backplates.
These water blocks implement an Open Split-Flow cooling engine design, which proved to be a superior solution for GPU water blocks. It is characterized by low hydraulic flow restriction, meaning it can be used with weaker water pumps or pumps running on low-speed settings, and still achieve top performance. The jet plate and fin structure geometry have been optimized to provide even flow distribution with minimal losses and optimal performance when used in any given coolant flow orientation, unlike some products that are currently available on the market.
The base of the block is CNC-machined out of nickel-plated electrolytic copper, while its top is CNC-machined either out of glass-like cast Acrylic or durable black POM acetal. To cater to the old-school liquid cooling enthusiasts, EK is still offering bare copper models of these water blocks, which are not equipped with any RGB effects whatsoever. The watertight sealing is ensured by high-quality EPDM O-rings, while brass standoffs are already pre-installed and allow for a safe and easy installation procedure.
The aesthetic end-piece is housing the addressable D-RGB LED strip. This water block has a total of 6 individually addressable RGB LEDs, and it is compatible with popular RGB sync technologies from all major motherboard manufacturers. The arrow marking on the 3-pin D-RGB LED connector should be aligned with the +5V marking on the D-RGB (addressable) header.
Availability and Pricing
All the listed products are made and assembled in Slovenia, Europe, and are available for pre-order through the EK Webshop and dedicated reseller network. In the table below, you can see the manufacturer suggested retail price (MSRP). EK-Quantum Velocity D-RGB – Special Edition is readily available for order through the EK Webshop.