Shop the Loop - Dragon Blood
This all-Matrix 7 build comes in the new Lian Li O11 Dynamic EVO case, providing top-performance levels and perfect lines with ease. It also hides a valuable bonus feature as it can work in both standard and reversed case mode.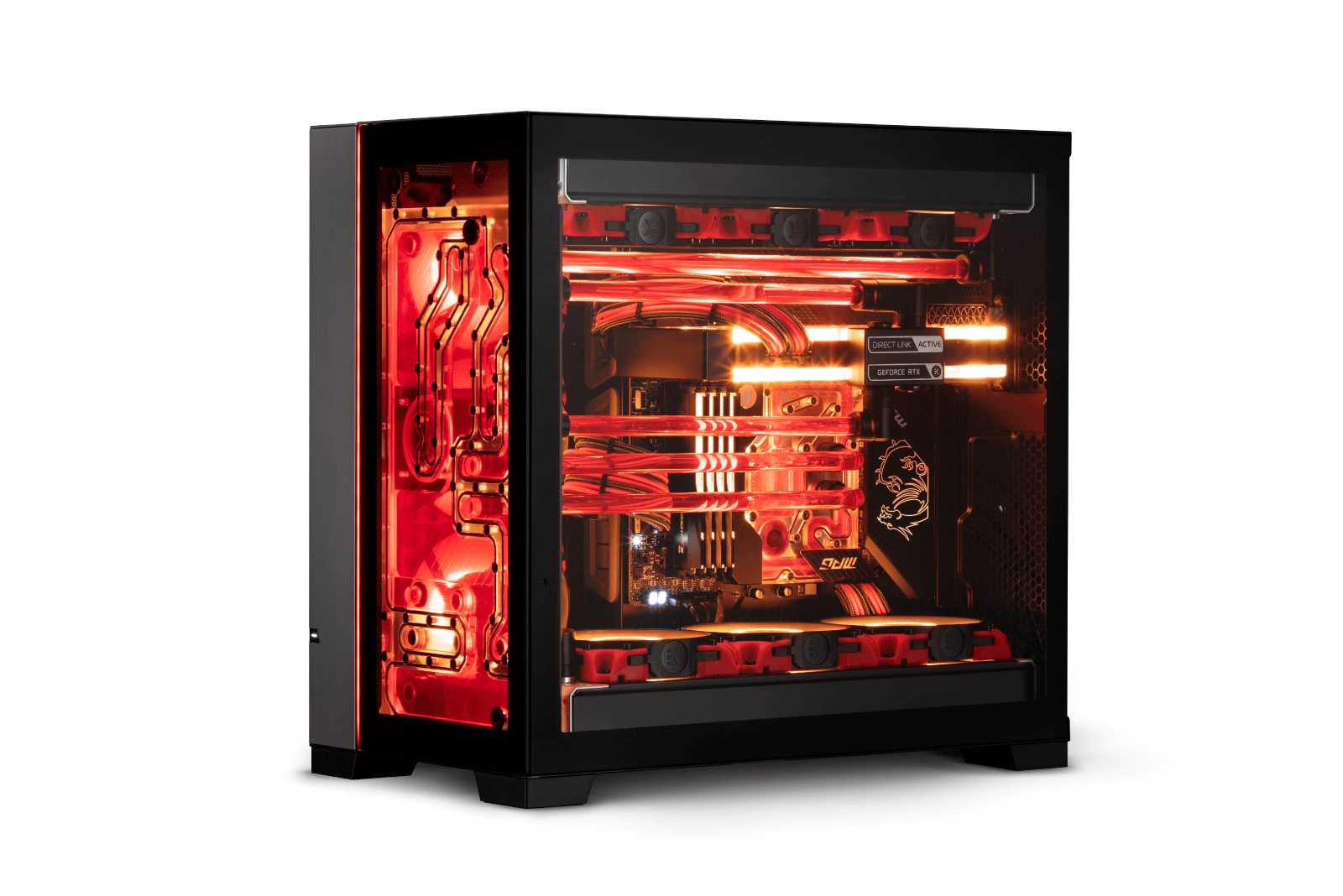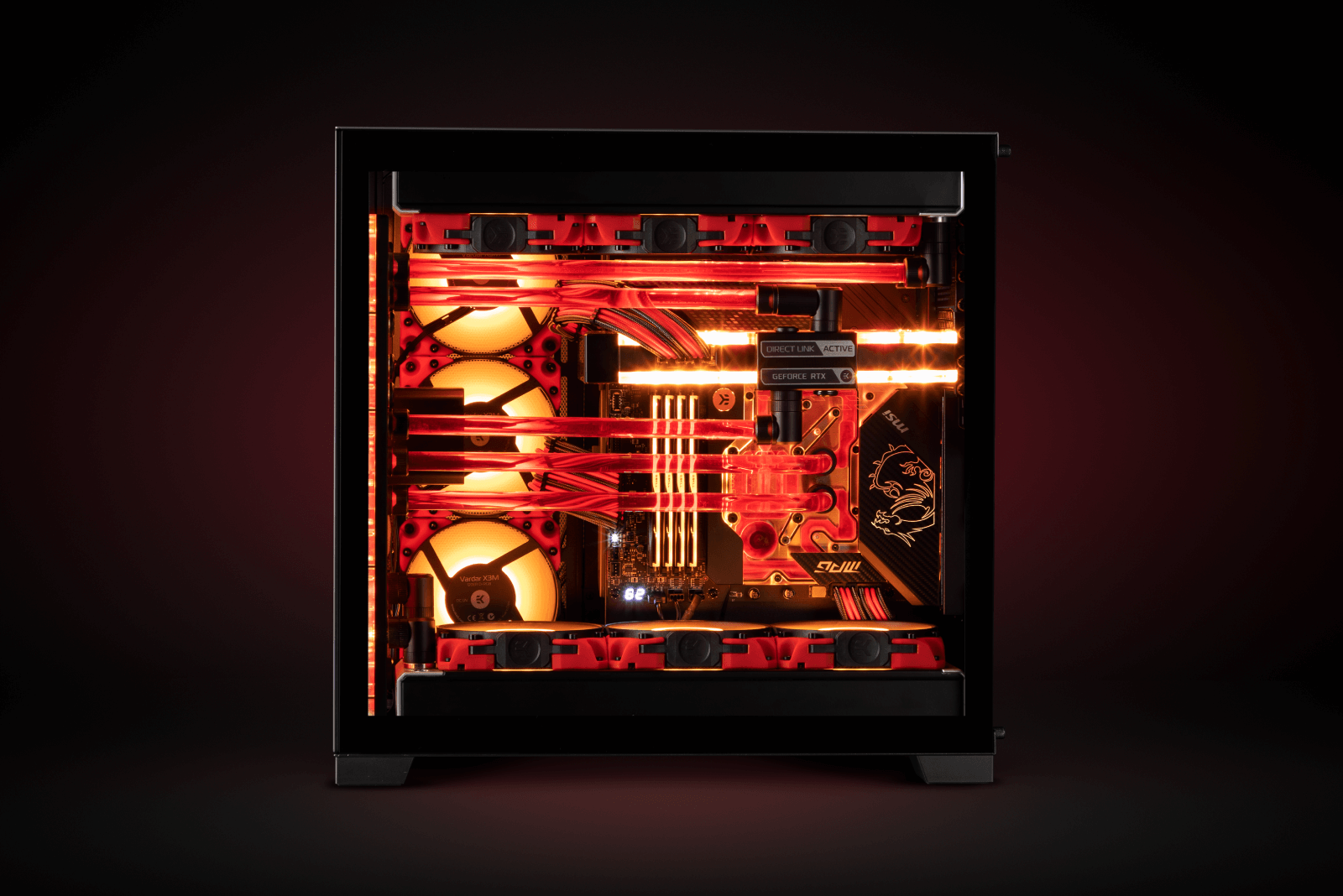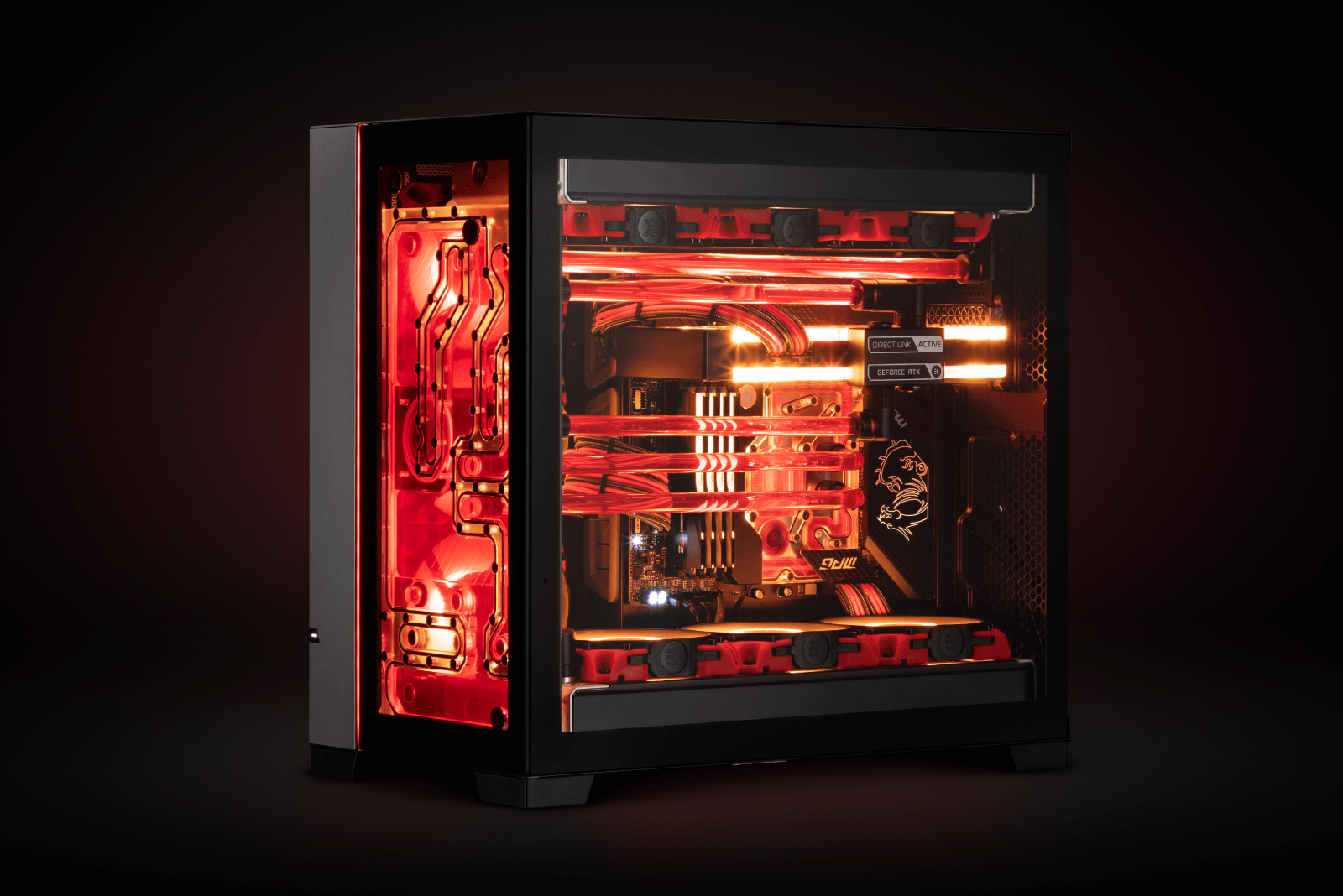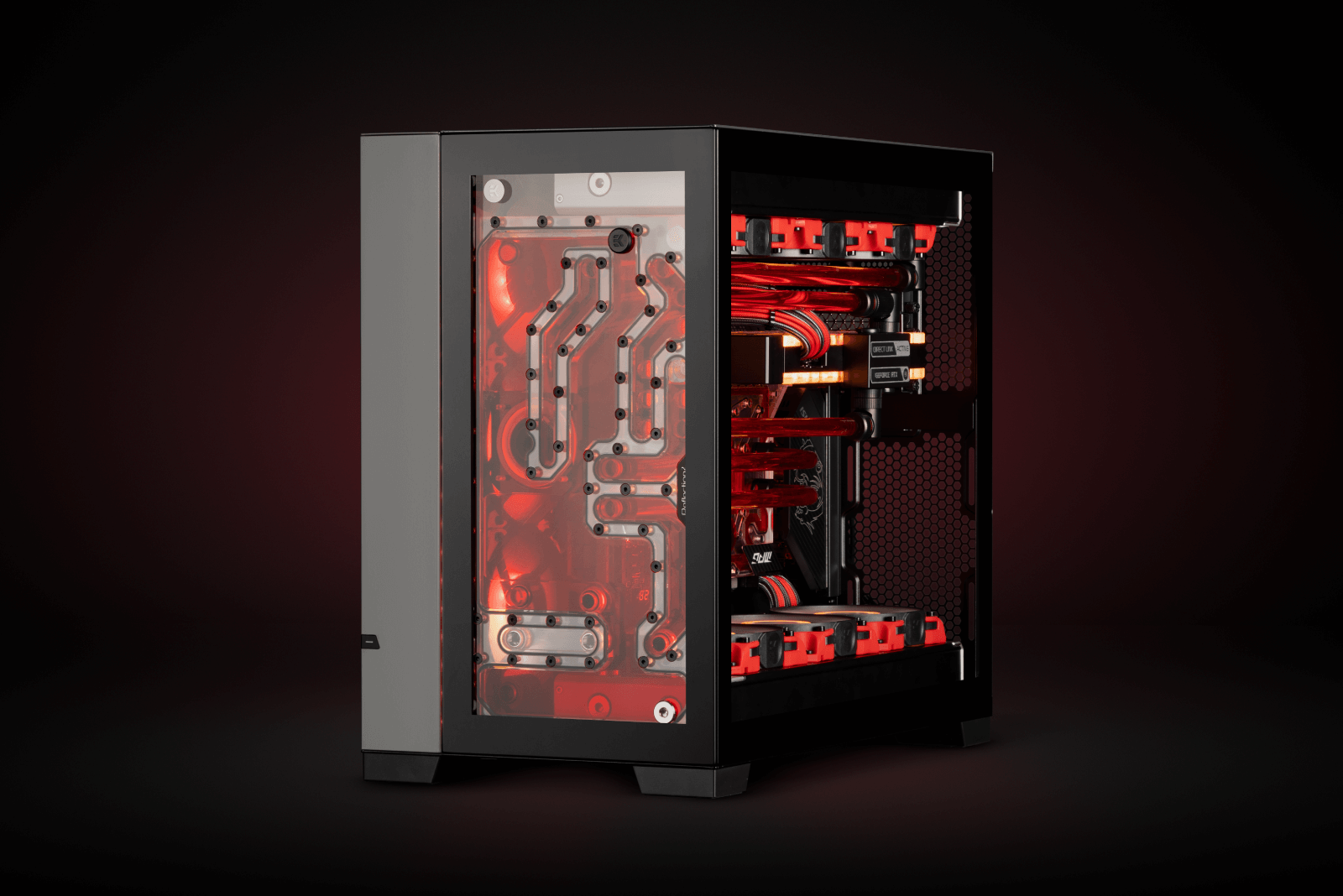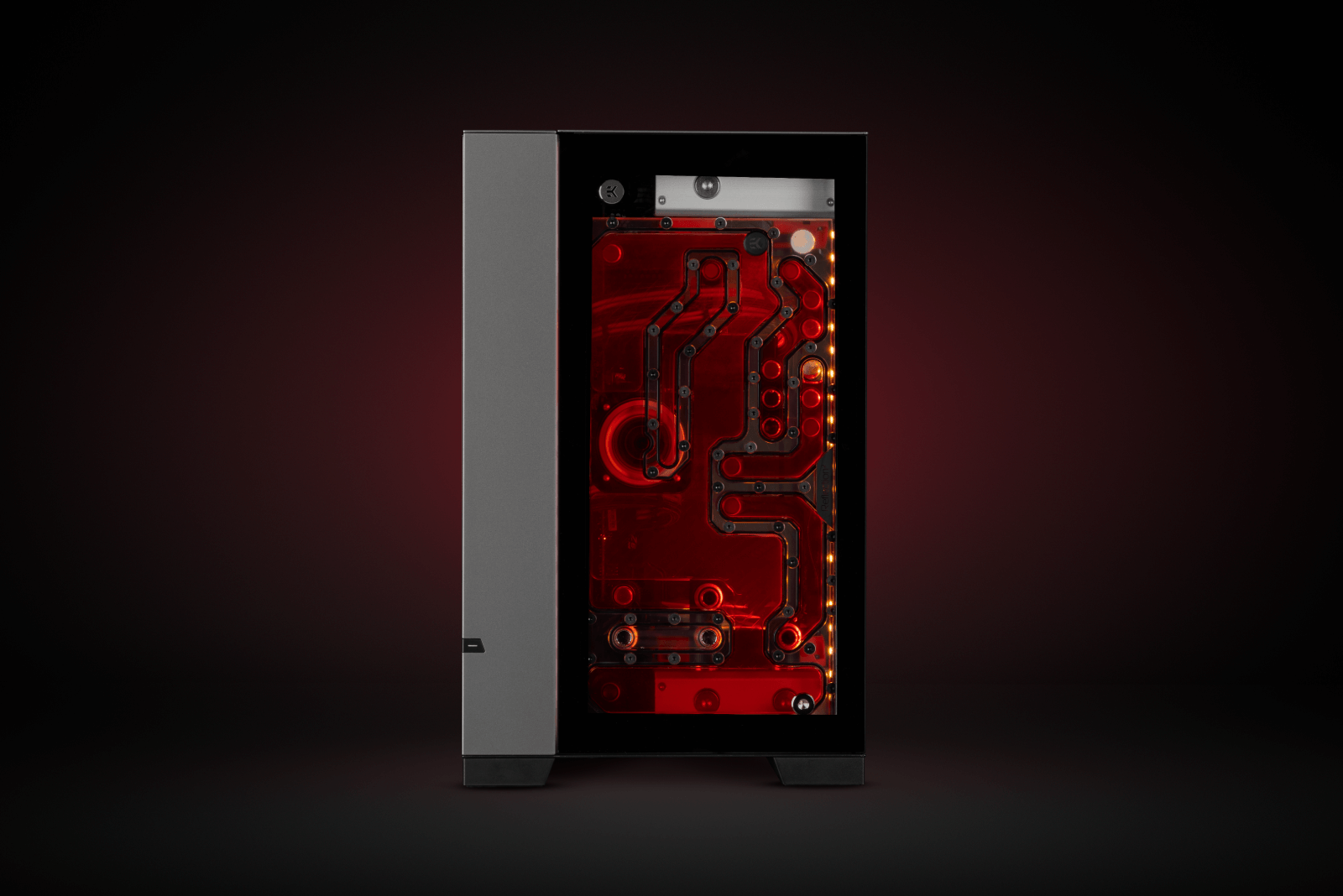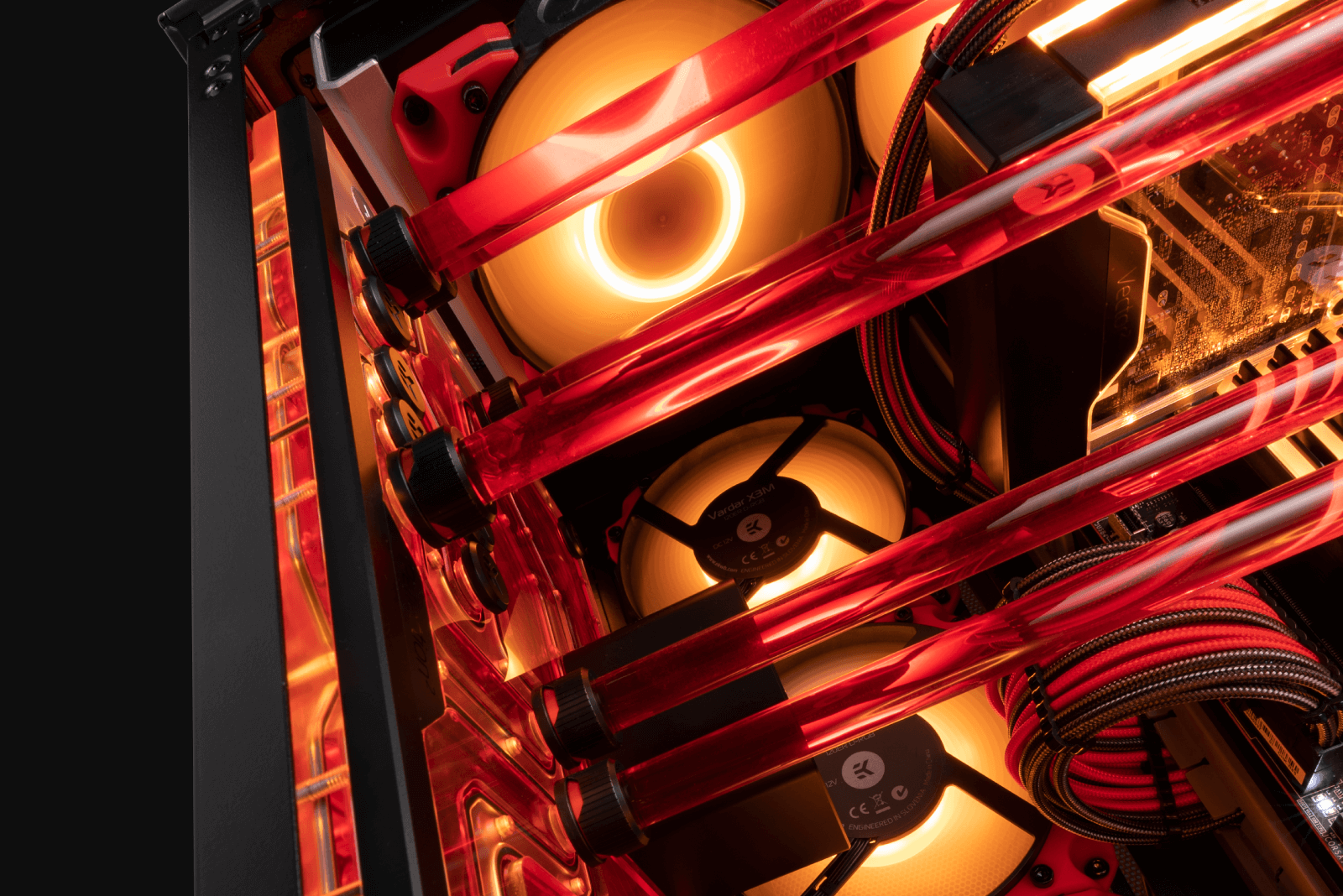 About the Build
All new EK-Quantum Reflection² PC-O11D EVO distribution plate is here to shake your perception of what is possible in water cooling. This technical and visual masterpiece is EK-Matrix7 compliant to provide you with the easiest loop assembly process currently available on the market. And the cherry-on-top feature is that it is engineered to work in both normal and reversed case mode. Two EK-Quantum Surface P360M radiators placed on top and at the bottom fit perfectly, without any need for tube bending, and provide enough cooling power to handle any type of workload. For those who seek hardcore Dragon Blood cooling, there is space and the connection ports on the distro plate available for an additional 280mm radiator that can be placed on the side. All that is needed are simple fittings and a straight tube.
The EK-Quantum Convection D5 cover doesn't only provide premium quality and aesthetics but also hides a genuine high-performance D5 water pump that provides strong flow, high reliability, and low noise.
The GPU is covered with the ultimate cooling Vector² set of blocks from the front and back. Vector² Set provides an easier and improved assembly process with step-by-step instructions. The connectivity is also taken to another level. Stunning looks and stunning cooling performance are unlocked with the "Direct Link" terminals that implement a conventional 4-port layout allowing serial and parallel connections from adjacent or opposing sides of the block.
The EK-Quantum MSI MPG Z690 CARBON EK X combo includes the MSI Z690-based motherboard and monoblock by combining top-of-the-line computer tech with top-of-the-line cooling innovations. The integrated flow indicator and active M.2 slot cooling are just icing on the cake in this masterpiece PC build. VRM and CPU are the main focal point, while the liquid-cooling solutions provided enable you to achieve some of the best overclocking capabilities available.
No fuss and no stress, just sheer fun and pure performance!
The 14mm Acrylic pre-bend tubing was used to provide a cleaner and unobstructed look. The bottom radiator is simply screwed in with 14mm rotary extenders and 90° rotary adapters. As the side radiator is not used, a channel is skipped by extending one radiator port with a 28mm extender. Another 28mm extender is used on the GPU side to make the tubing the same length on both sides of the GPU terminal. The top radiator uses 14mm extenders with a combination of 90°rotary adapters, but the same can be achieved with pre-bend tubing if desired. The bottom of the distro plate hides a drain valve, but those who choose to flip this build can add another one at the "top."
It's always the little details that count and make a difference.
And while we're in the "little details that make a difference" area, let's address this build's gorgeous red theme. The coolant, rings on fittings, and dampers on X3M Vardar fans are all red, giving this PC an enticing customization allure that you cannot resist even with all the D-RGB turned off. But we do encourage you to explore your imagination and play with this build's colors by simply getting those three elements in other colors. Do we even know if the dragon's blood is red? Don't hesitate to surprise us!
Hardware used in this example build:
PC Case: Lian Li O11 Dynamic EVO Harbor Grey
Motherboard: MSI MPG Z690 CARBON EK X
Graphics Card: Nvidia GeForce RTX 3090 (Reference design)
RAM: G.SKILL Trident Z5 RGB
Processor: Intel® Core™ i7 12700K
Cables: CableMod Carbon/Red
CAUTION:
| | |
| --- | --- |
| | Products in this Kit, the EK-Vardar X3M 120ER (500-2200 rpm) - White and EK-Vardar X3M Damper Pack - Red, are out of stock and have been replaced with the EK-Loop Fan FPT 120 D-RGB - Black (550-2300rpm). |
Dragon Blood Build Accessories