New EK-XLC Predator 140 and EK-XLC Predator 280 available for pre-order!
EK Water Blocks, Slovenia-based premium computer liquid cooling manufacturer, is releasing three new models of the EK-XLC Predator lineup. Existing family of 120mm models is being expanded by 140mm models. Predator 240 and Predator 360 will now be accompanied by the Predator 140 and Predator 280 models.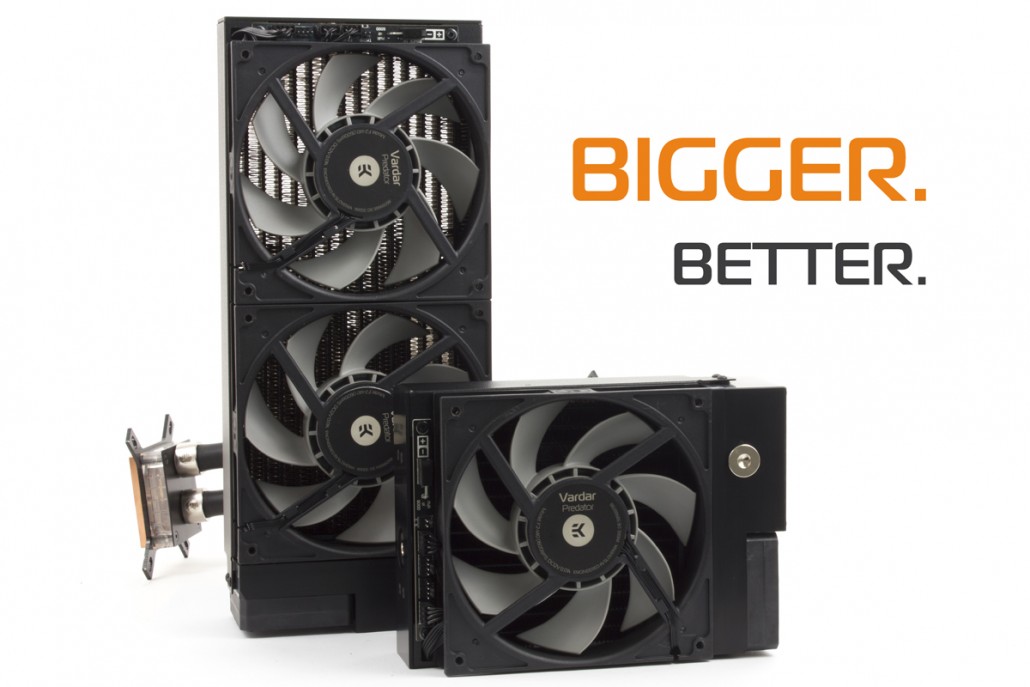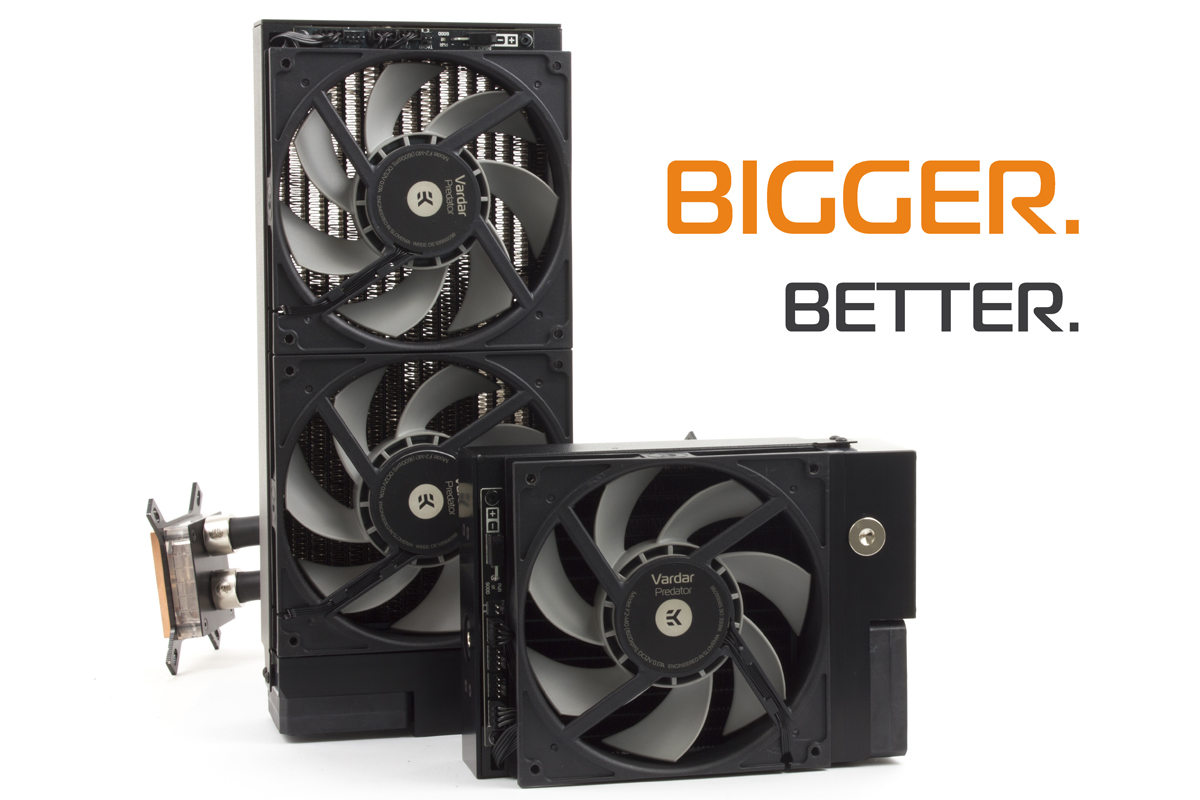 EK-XLC Predator 280
The new flagship model of the 140mm Predator family is the EK-XLC Predator 280 with two 140mm EK-Vardar fans and EK-CoolStream CE radiator. The body of the unit features Hovercore™, radiator de-coupling design technology, debuted with the 120mm Predator line-up, that effectively prevents the transfer of pump induced vibrations from the unit to the computer chassis itself, thus resulting in vibration-free and silent operation. With the inclusion of Hovercore™, the main body was further redesigned to hide all the cables and make the unit even more aesthetically clean. All the cables are attached to integrated fan splitter hub with only one PWM cable going into CPU Fan socket, while a single SATA Molex cable powers the complete unit.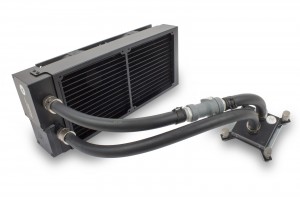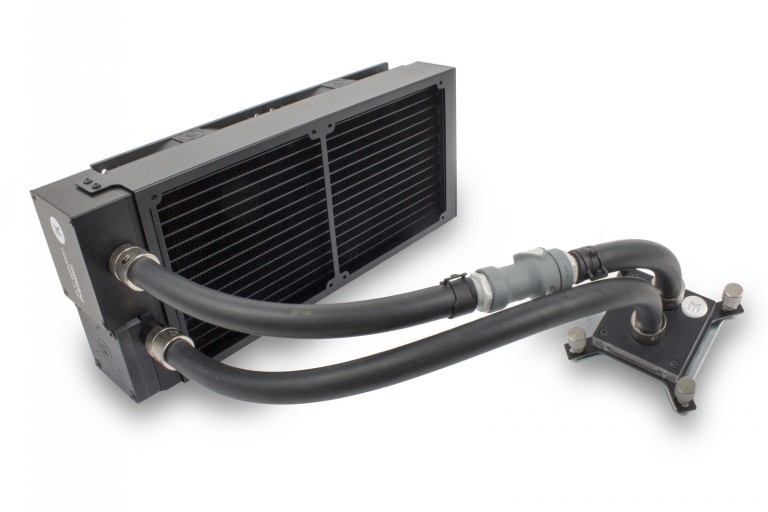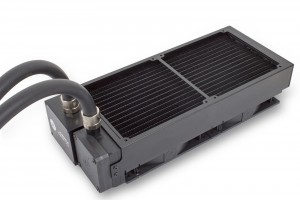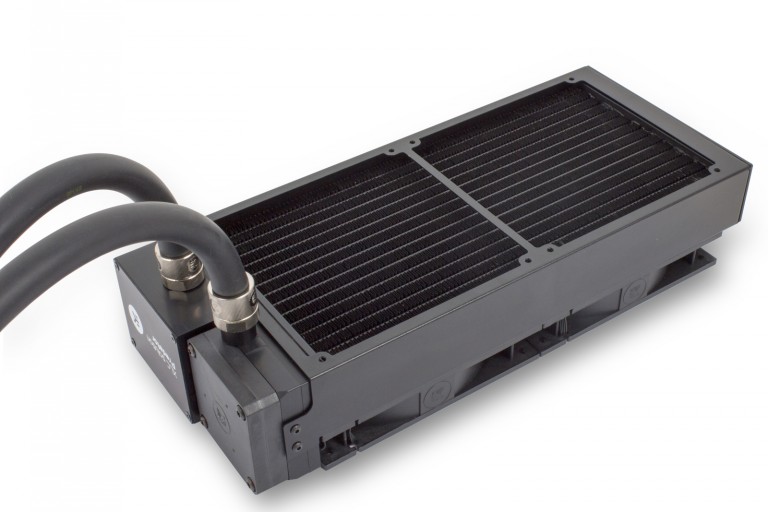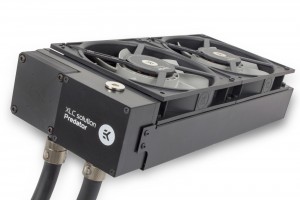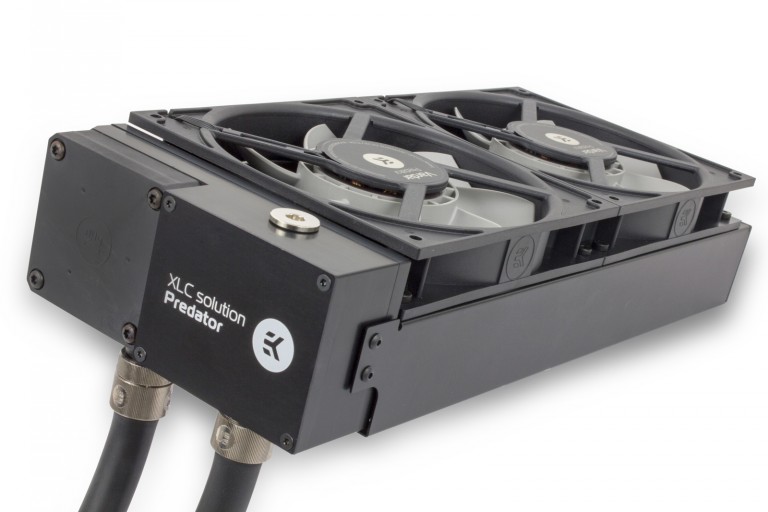 Like with existing 120mm models, 140mm Predator family features Supremacy MX CPU water block, top performer in enthusiast segment, which is specifically designed for Intel CPUs and offers great hydraulic and thermal performance. Carefully machined copper base is made from purest copper available and is further polished to absolute mirror finish. This alone greatly improves the cooling performance of the Predator. AMD Upgrade Kit is also available for separate purchase to enable AMD CPU compatibility.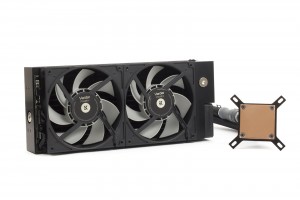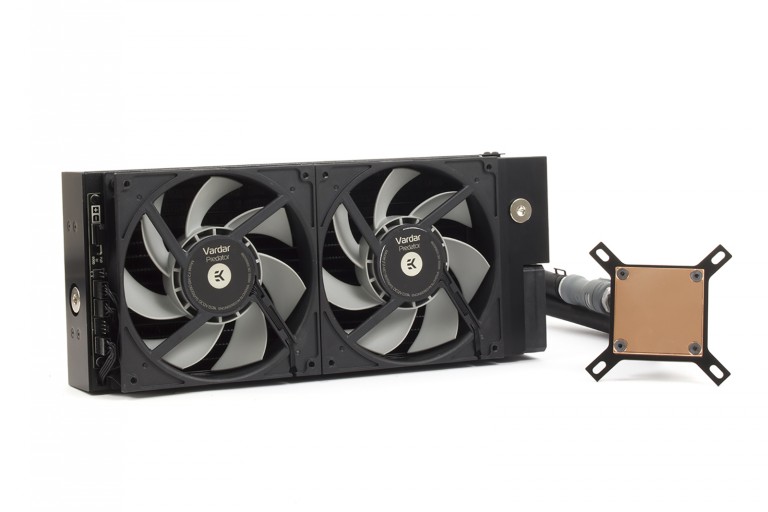 Upcoming new models also feature new EK-SPC liquid cooling pump, which is also available as a standalone pump in the EK portfolio. This truly shows that users get custom loop grade components with this AIO. PWM controlled, EK-SPC pump allows users to set automatic pump speed regulation depending on CPU temperature. Full performance on demand or whisper quiet operation in idle mode! With the maximum pressure head at 3.2m (10,5 ft) and maximum flow at 450 L/h, this pump provides enough power for expansion of the system, with the pre-filled GPU water blocks, using QDC!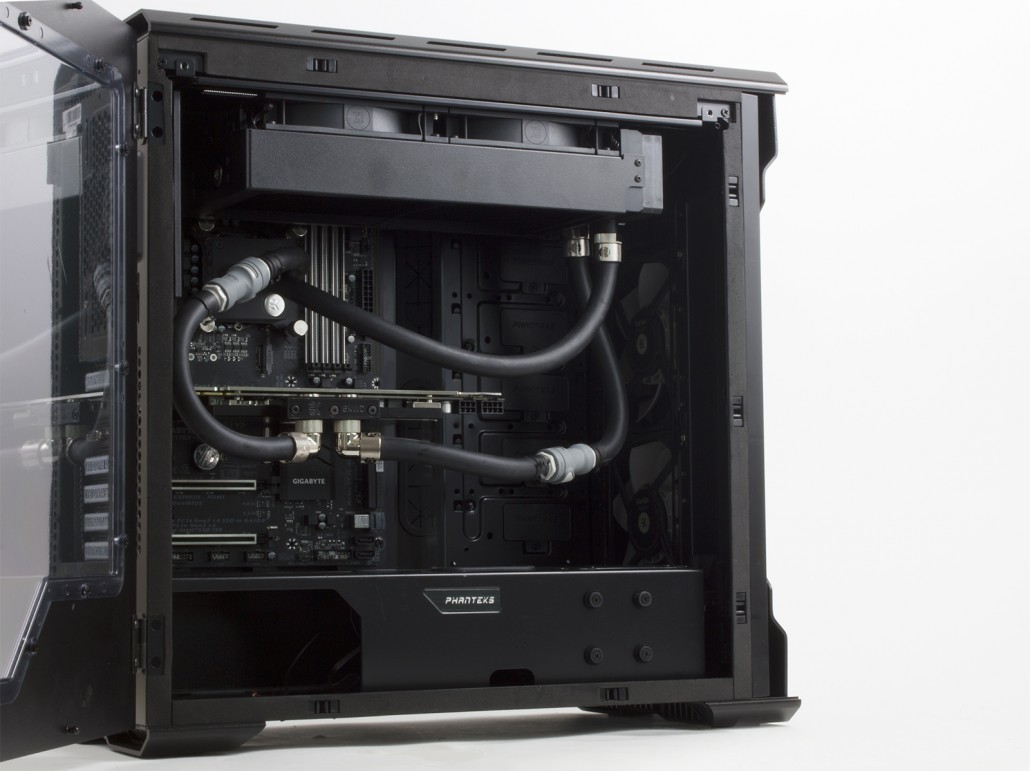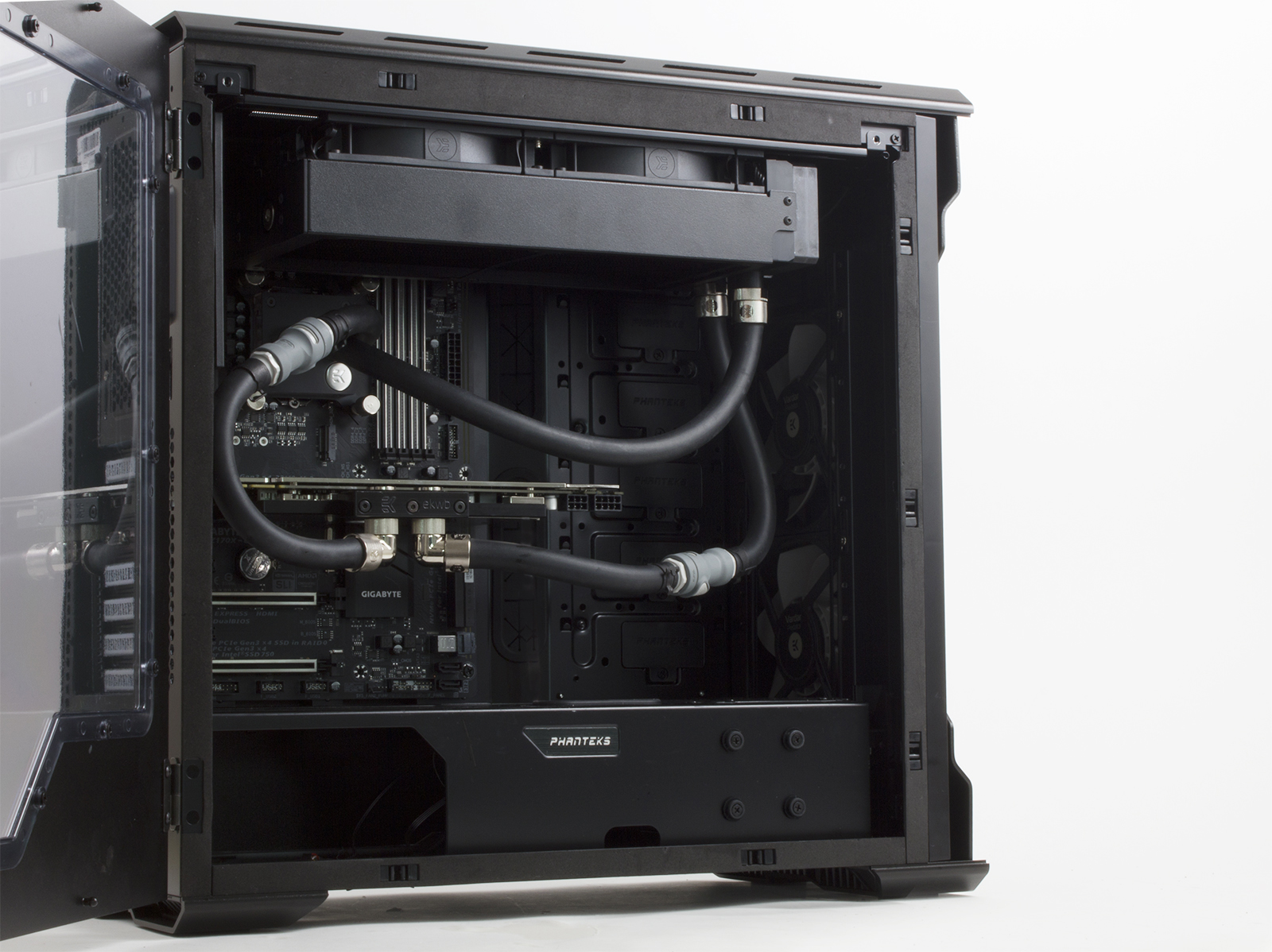 EK-XLC Predator 280 with pre-filled GPU water block with QDC.
EK-XLC Predator 140
EK-XLC Predator 140 have all the same characteristics as their bigger brother, only being smaller. Both 140mm versions feature EK-CoolStream CE 140 radiator and only one EK-Vardar 140mm fan. EK-XLC Predator 140 comes in two variants, one without QDC and one with QDC. Suitable for the mini-ITX builds, EK-XLC Predator 140 is the most powerful All-In-One liquid cooler in its class.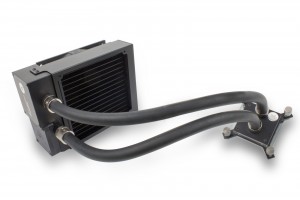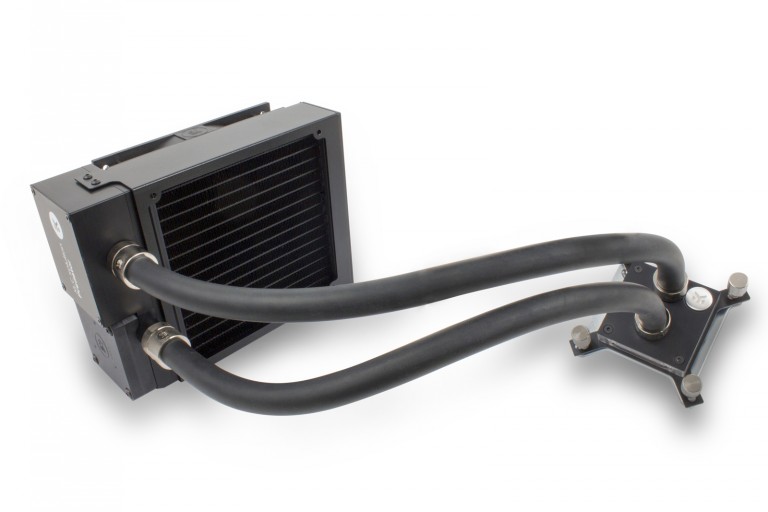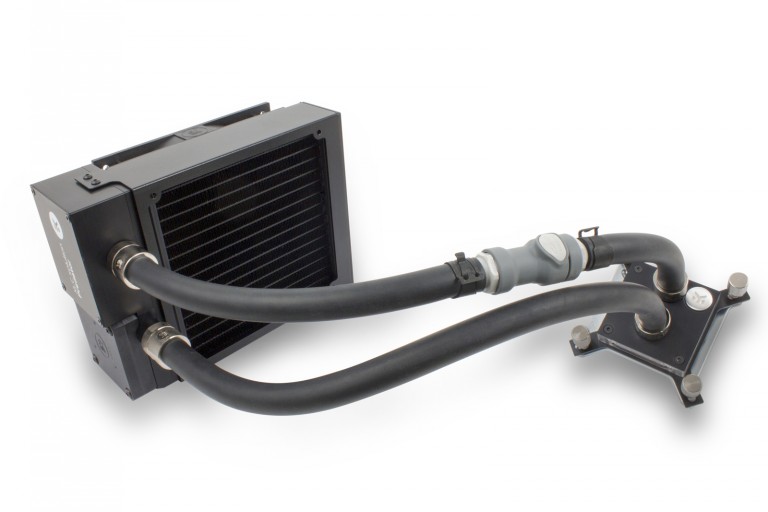 EK-XLC Predator 140 (left) and EK-XLC Predator 140 incl. QDC (right)
EK-XLC Predator 140 is the most powerful 140mm AIO on the market, capable of cooling down CPU and GPU at the same time.
Pre-filled GPU water blocks
All EK Full-Cover GPU water blocks are also available as pre-filled blocks, ready to be connected with any EK-XLC Predator unit with Quick Disconnect Coupling or QDC. Every GPU water block, selected for pre-fill service is filled with EK-Ekoolant EVO CLEAR cooling liquid, fitted with two EK-AF Angled 90° G1/4″ Nickel adapter fittings paired with two EK-ACF 10/16mm – Nickel fittings and with EK-Tube ZMT Matte Black 15,9/9,5mm tube.
Availability and pricing
Made in Slovenia, Europe, all units are readily available for pre-order through EK Webshop and Partner Reseller Network. Shipping for pre-orders starts on Friday, 30th of September 2016! In the table below you can find MSR prices with VAT included.
Price reduction for 120mm Predator family
With the release of new Predator 140mm models, we are reducing the prices of existing Predator 120mm models. In the table below you can find old and new MSR prices with VAT included.