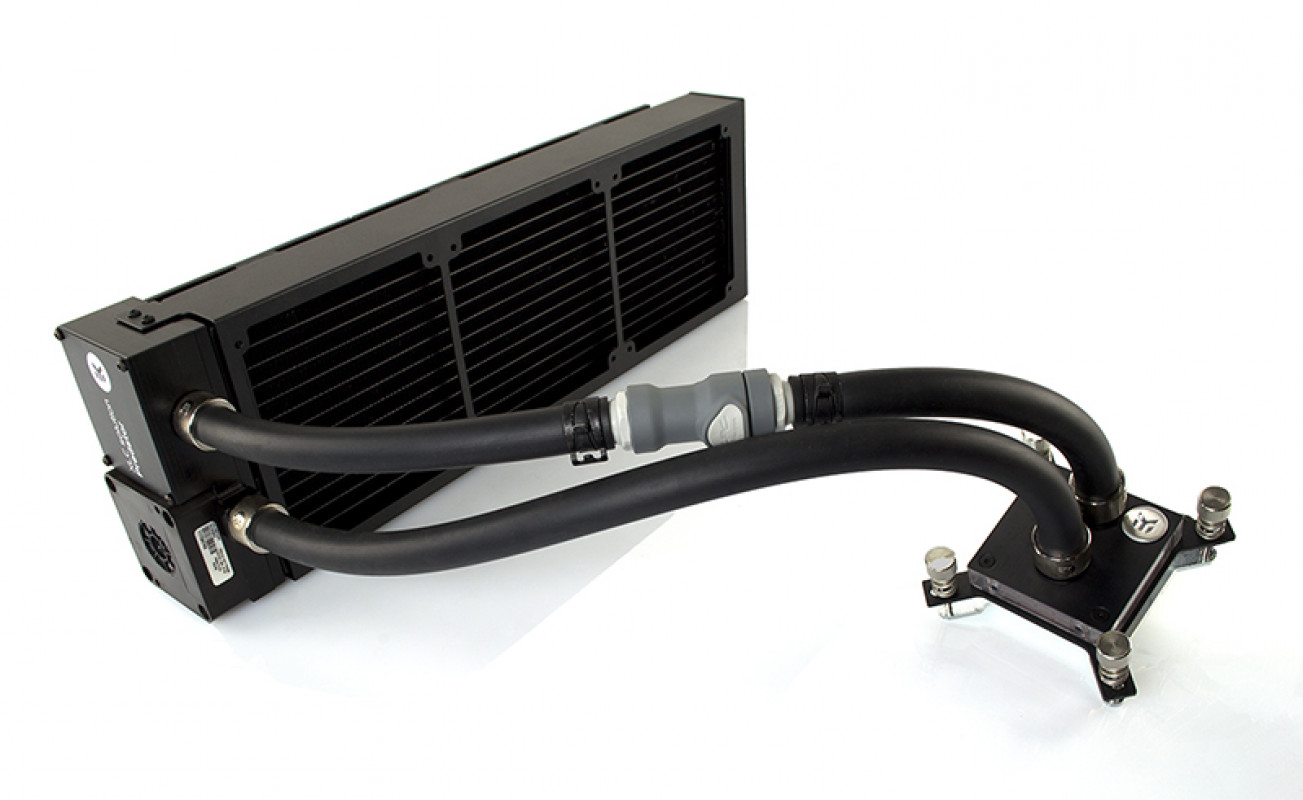 EK-XLC Predator 360 (incl. QDC)
Product EAN:
3831109863350
End of life
Financing Available
Split the purchase amount of 500 EUR/AUD/USD or more in up to 3 interest-free monthly payments with Splitit.
Details
EK-XLC Predator 360 is next-generation, premium grade pre-filled and pre-assembled all-in-one (AIO) CPU liquid cooling unit.
The unit provides extreme cooling performance and exceptional build quality unseen in the AIO (all-in-one) segment so far. The unit utilizes top-tier EK-Vardar high-static pressure fans and market-proven Laing DDC liquid cooling pump. All-around PWM control provides minimal noise profile and performance on demand.
Predator utilizes industry standard G1/4 threaded ports and 15,9/9,5mm (5/8" / 3/8") Zero Maintenance rubber tubing (EK-ZMT). It is fully expandable and customizable with all custom-loop liquid cooling gear available in our portfolio.
Predator 360 features integrated Quick Disconnect Connector (QDC), a special no-spill connector that allows quick and tool-less expansion of the system without the need for draining of the unit. This allows users to effortlessly add a pre-filled QDC-enabled GPU water block.
If you are more extreme user you can take the whole unit apart and rebuild it as you wish. Process of draining- and re-filling of the unit is easy and is thoroughly documented in the enclosed user guide.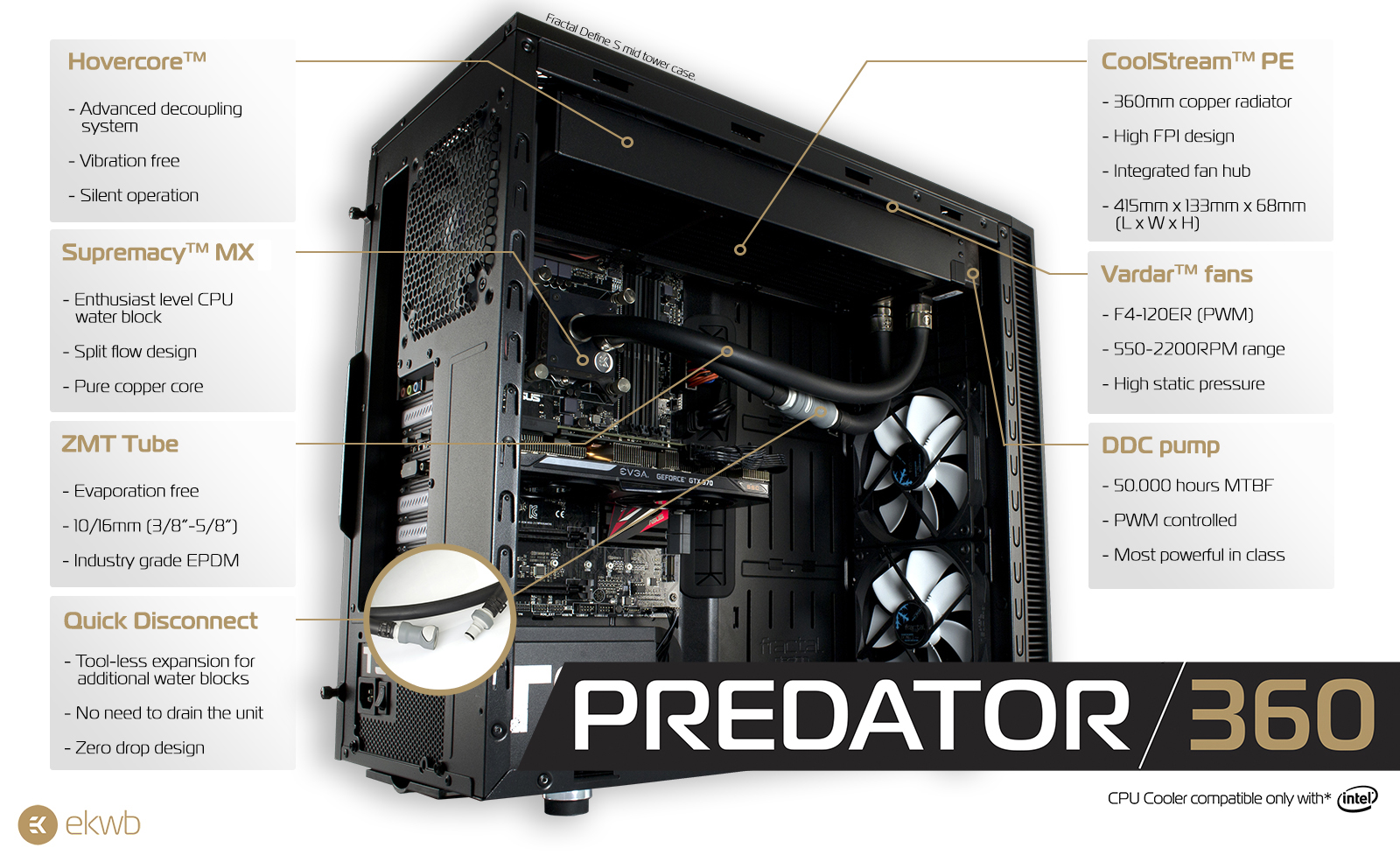 Technical highlights:
HovercoreTM is a new, revolutionary design of radiator de-couplering that effectively prevents transfer of pump induced vibrations from the unit to the computer chassis itself, thus resulting in vibration-free and silent operation.
SupremacyTM MX CPU water block, top performer in Enthusiast segment, is specifically designed for Intel CPUs and offers great hydraulic and thermal performance. Carefully machined copper base is made from purest copper available and is further polished to absolute mirror finish. This alone greatly improves the cooling performance of the Predator.
CoolStreamTM PE 360mm radiator, has a full copper core superior to aluminum alternatives in terms of heat dissipation. In conjunction with EK-Vardar fans the result is increased performance across an entire fan operational range, thus delivering results both at low- and high airflow operation.
VardarTM fans – three on Predator 360 – are high-static pressure fans developed in-house specifically for liquid cooling systems. With low noise profile and PWM technology built in, the system always controls the RPM and keeps the fans silent while maintaining excellent cooling performance.
DDC pump is a powerful 6W liquid cooling pump providing 2-3x higher flow rate compared to other AIOs on the market. It's also PWM controlled, allowing for automatic pump speed regulation depending on your CPU temperature. Full performance on demand or whisper quiet operation in idle mode!
Integrated Fan splitter hub reduces cable clutter and keeps the unit aesthetically clean. Predator pump and fans plug into the unit itself with only one PWM cable going into CPU Fan socket, while a single SATA molex cable powers the complete unit.
Technical specifications:
Dimensions: 415 x 133 x 68mm (L x W x H)
Fan type: EK-Vardar F4-120ER Predator Edition (550-2200rpm)
Tube length: ~400mm (15.75in)
Fitting type: EK-ACF Fitting 10/16mm
QDC type: 10mm barb fitting
Coolant type: EK-Ekoolant EVO Clear
Pump type: Laing DDC3.1 6W
Total liquid capacity: ~325mL

Nominal cooling performance (fans @ 1850rpm):
ΔT=10K: ~425W
ΔT=15K: ~637W
CPU socket compatibility:
- Intel LGA-1150/1151/1155/1156
- Intel LGA-2011(-3)
Optional AMD Socket Upgrade Kit add-on brings further compatibility for the following CPU sockets:
- AMD Sockets: 939, 754, 940
- AMD Sockets: AM2, AM2+, AM3, AM3+, FM1, FM2, FM2+
Enclosed:
- EK-XLC Predator 360 (incl. QDC) - Revision 1.1
- EK-TIM Ectotherm (1g syringe)
- Main Power and PWM signal cable
- CPU Mounting mechanism
- Installation manual (ENG)
PLEASE NOTE:
Narrow server type LGA-2011 is not supported by default – a Mounting plate Supremacy LGA-2011 Narrow ILM is mandatory to install this water block on narrow server type LGA-2011 motherboards. You will have to disassemble the water block, drain and refill the unit in order to install the block on a narrow server type LGA-2011.
EK-Supremacy MX Backplate is to be used only with Intel LGA-115x type motherboards.
This product can easily fit AMD socket processors via optional EK-XLC Predator AMD Upgrade Kit.
Additional Info
| | |
| --- | --- |
| Material / Design / Color option | Copper Plexi |
| Threads | G1/4 |
| Prepared for LED Diode | 3mm |
| Sockets | Intel |
| # of Fans | 3 |
Decided to buy this product?
You may also be interested in the following product(s)