Shop the Loop - All in
A stealth build made for strong superheroes who demand matching power from their machine. Carefully chosen components and some serious cooling solutions ensure that this build can handle it all while still looking sleek. An easy build for an easy win!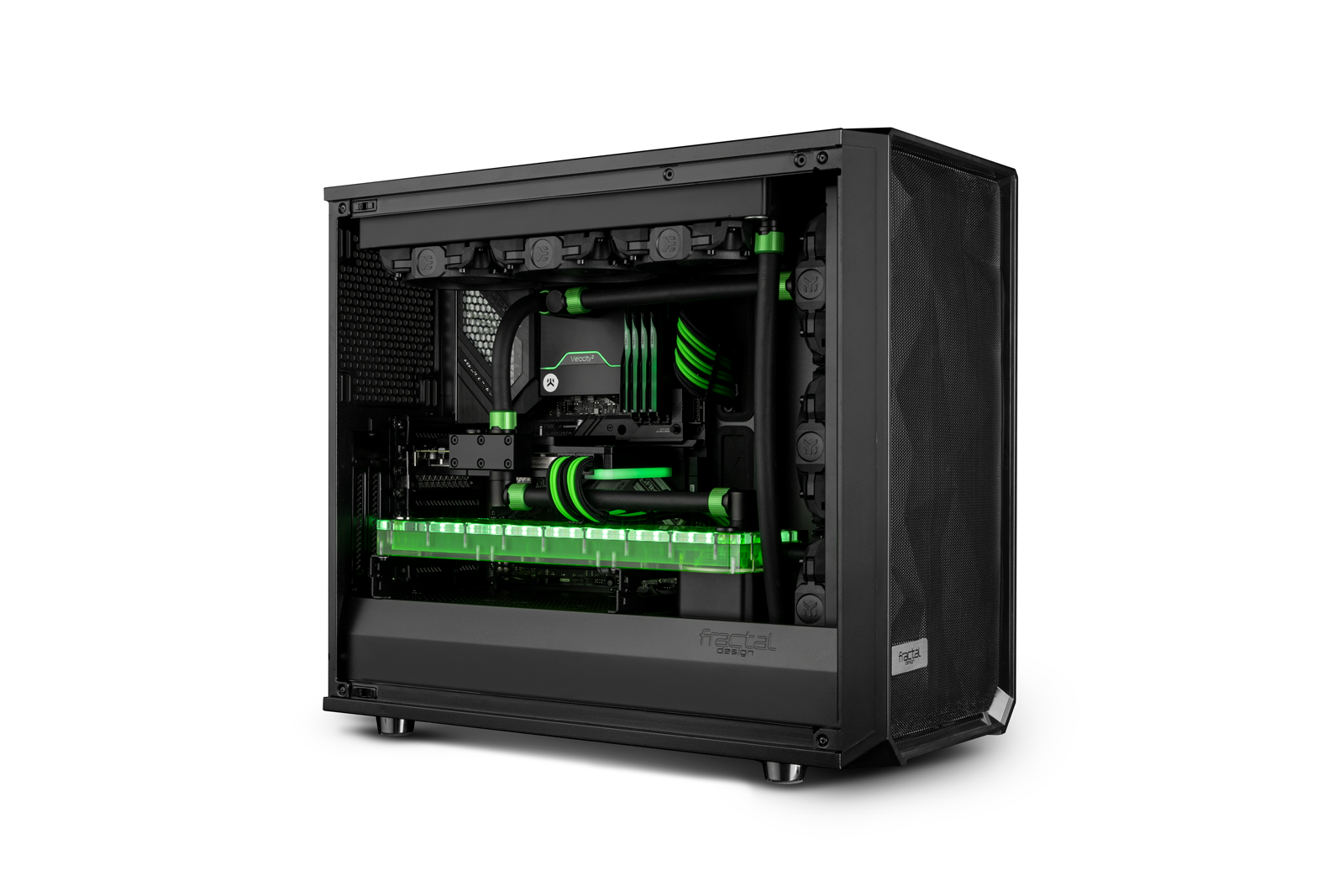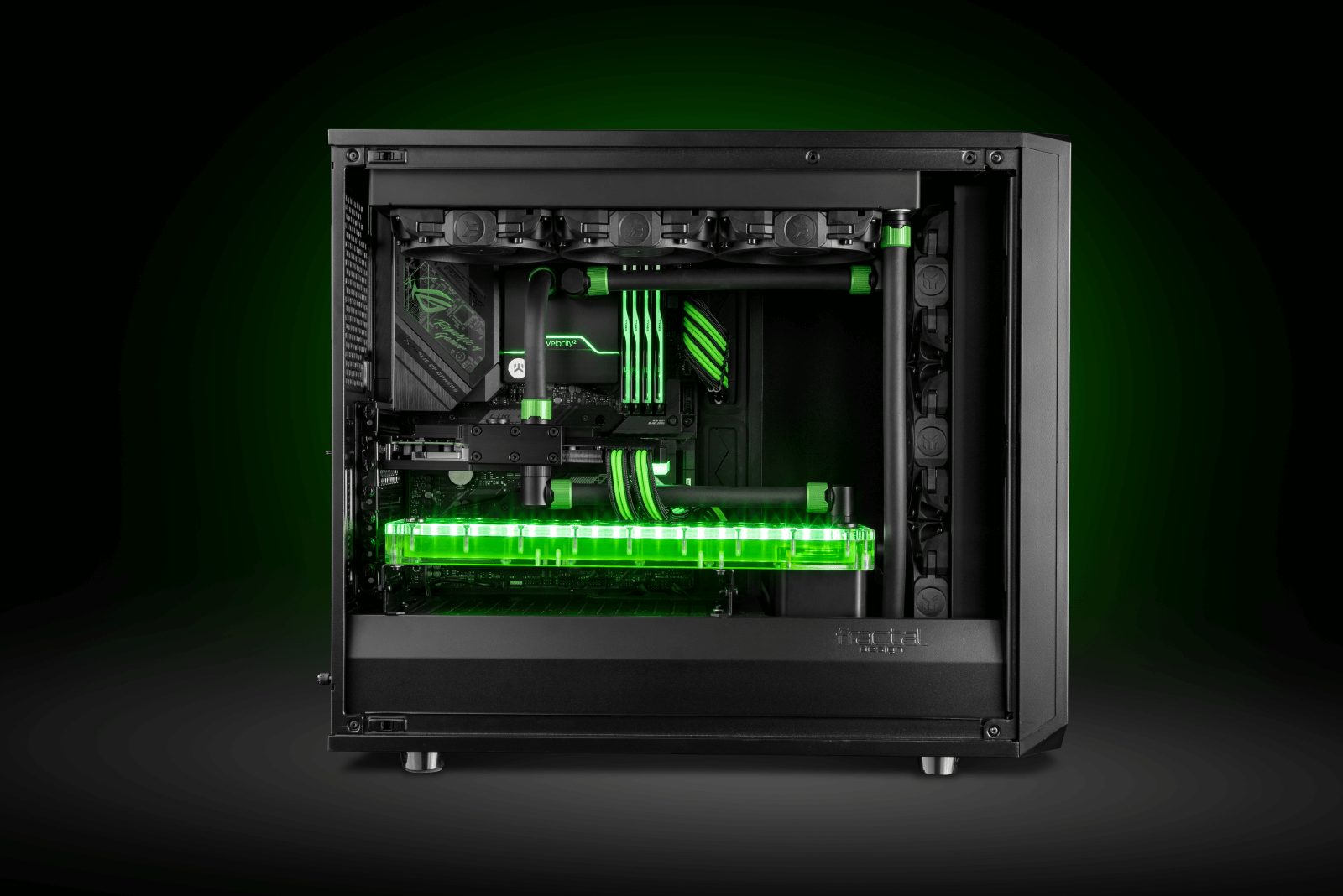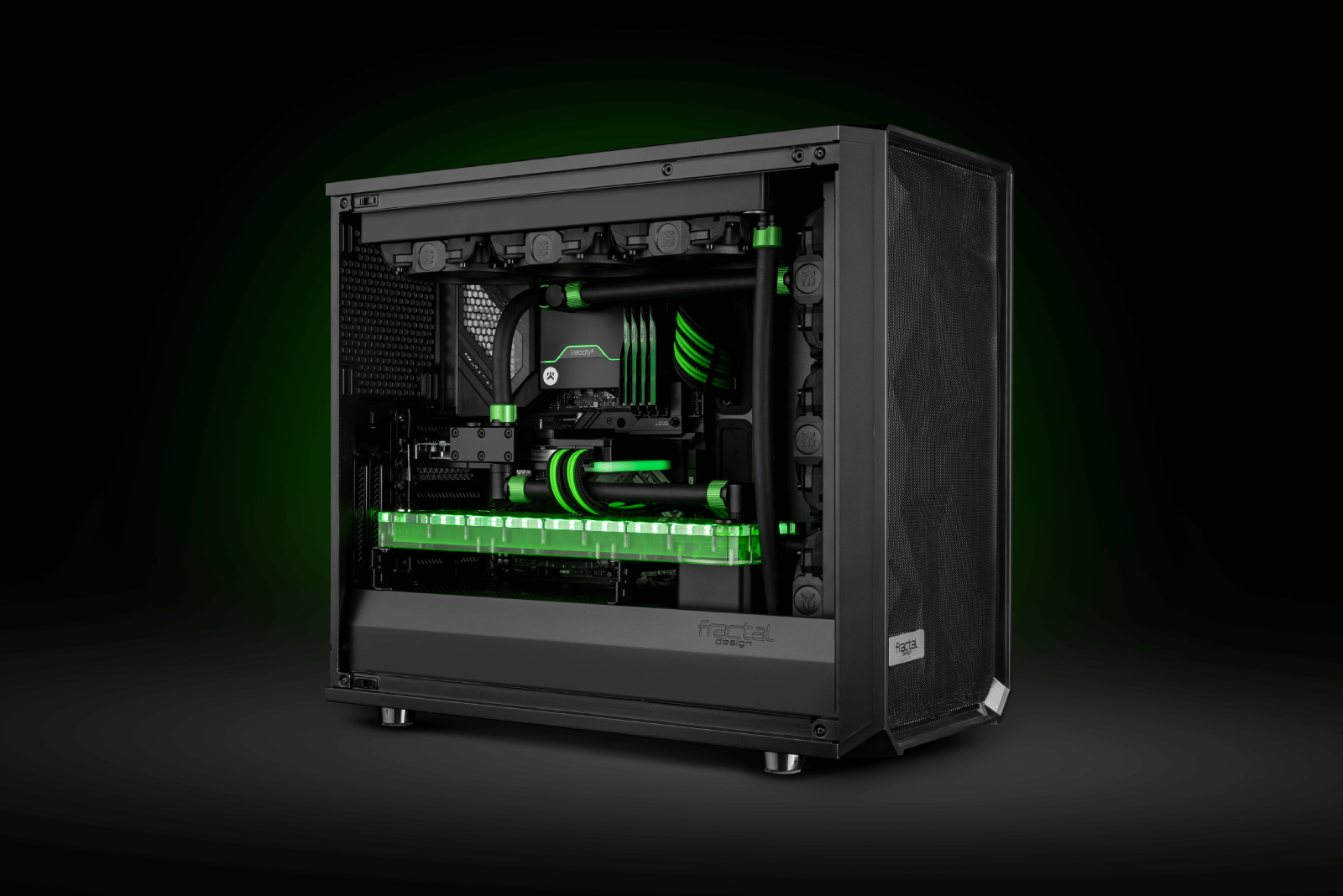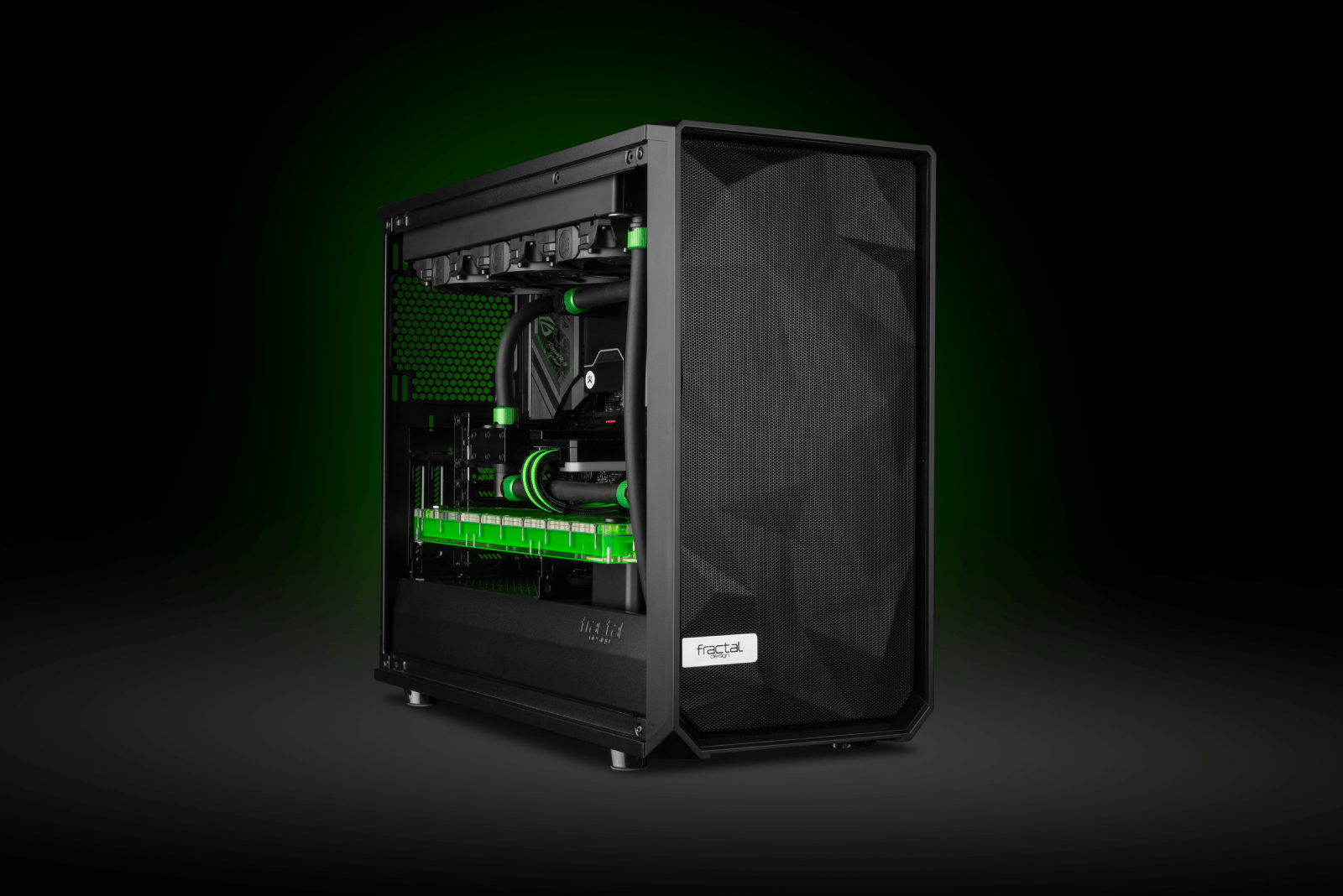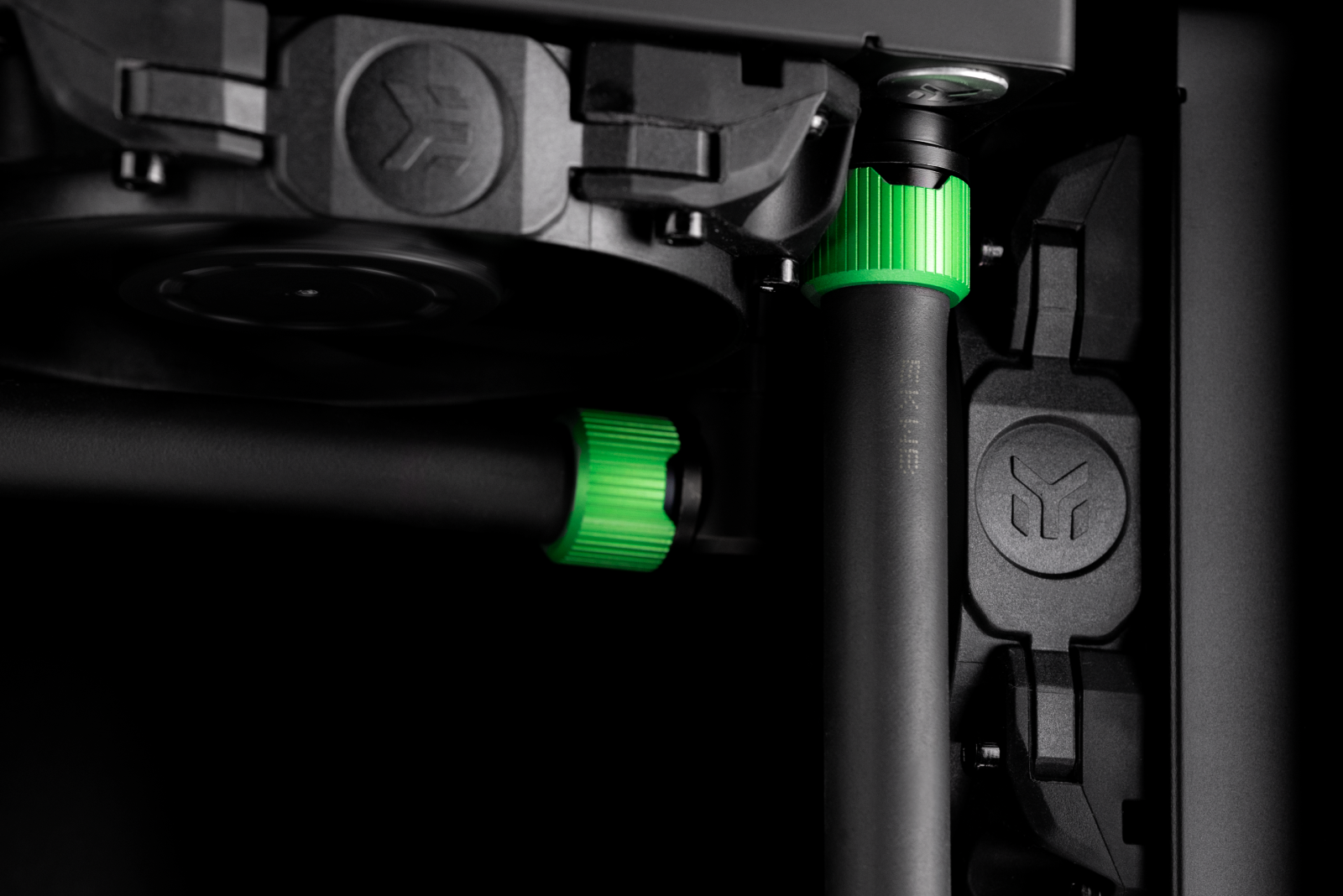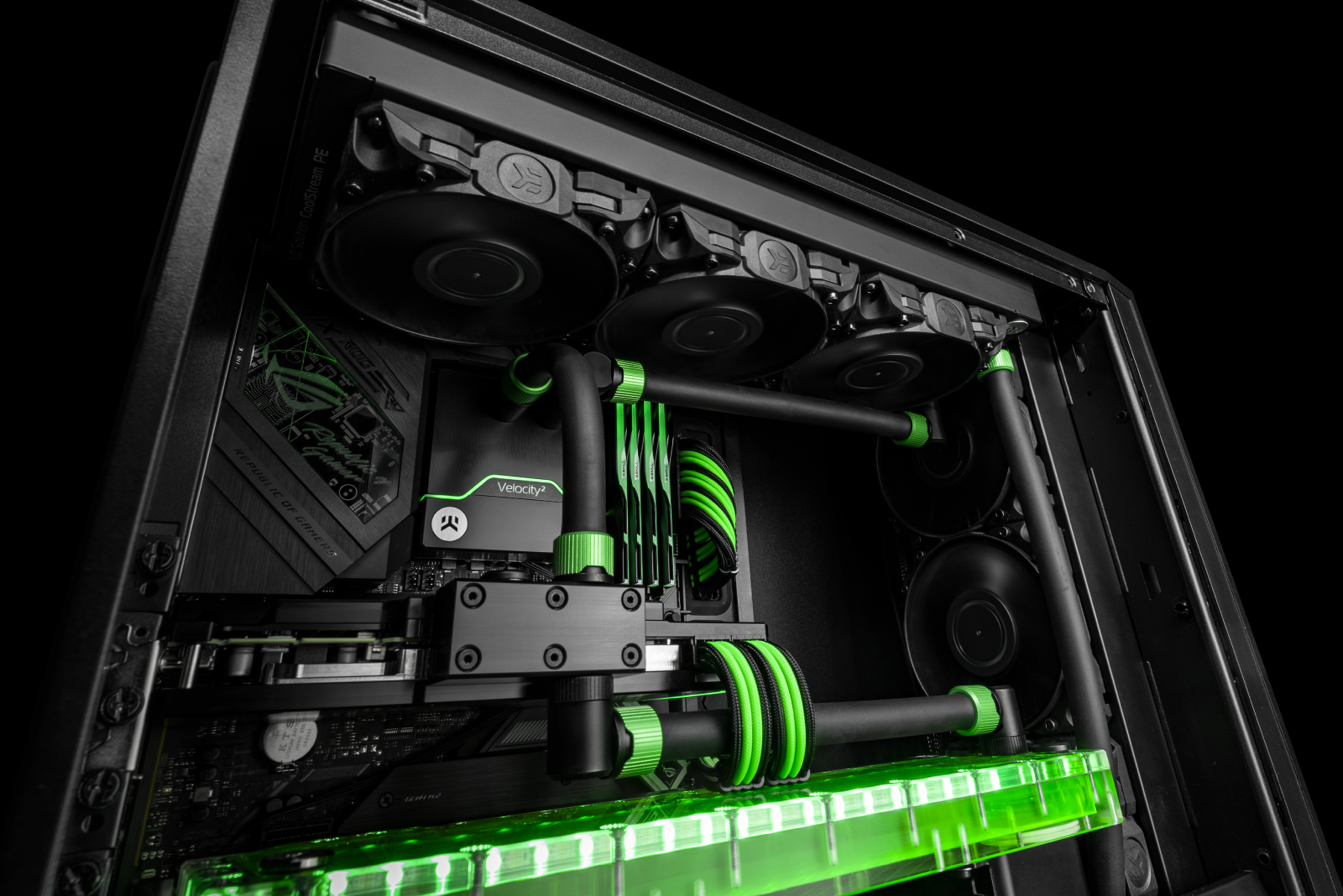 Understand the Build
Meshify S2 case from Fractal Design houses two massive EK-CoolStream PE 360 radiators coupled with all-black EK-Vardar X3M 120ER fans to provide massive cooling capacity. Vital if you want your system to run smoothly and quietly. Having the right blocks for the job is equally important. Two water blocks encase the GPU from both the front and back, while the GPU chosen for this particular build also features VRAMs at the back of the PCB. An active backplate is a must here, especially if you want to unleash peak GPU performance.
CPU Cooling
The all-new EK-Quantum Velocity² block is responsible for cooling the CPU. The block is specially designed to match a specific socket. This Intel platform has a square socket mounting enabling a 90° rotation of the CPU block. This setup allows the ports to match vertically and horizontally in a perfect manner while the tubing is still kept simple. For the stealthy look, all the chosen blocks are in the Acetal version with just a hint of D-RGB to spice things up.
Details
The EK-Quantum Torque STC fittings and green EK-Quantum Torque Compression Rings hold the black-matt-finish ZMT soft tubing in place. Acid green EK-CryoFuel running through the loop comes to life in the EK-Quantum Kinetic FLT 360 D5. It cannot be missed even with all the D-RGB turned off. The D5 pump on the FLT is covered with a black EK-Quantum Convection D5 premium aesthetic cover to keep the look clean and the D5 pump cool.
We carefully chose the FLT position to match the tubing route from the GPU and the front radiator port. It is held in place with clever use of two EK-Loop Angled Bracket sets to form an all-new height and angle-adjustable bracket.
Finishing Touches
The PSU cover hides the EK-Quantum Torque Drain Valve that is located at the very bottom and is attached to the front radiator port. The attachment job is handled using EK-Quantum Torque Splitter 3F T and the EK-Quantum Torque Extender Rotary MM 14 + EK-Quantum Torque Extender Static MF 7.
Hardware used in this example build:
PC Case: Meshify S2 by Fractal Design
Motherboard: ASUS ROG STRIX Z690-F GAMING WIFI
Graphics Card: Nvidia GeForce RTX 3090 (Reference design)
RAM: G.Skill Trident Z5
Processor: Intel® Core™ i9-12900K
Cables: CableMod Black/Green