Premium performance EK-Vardar series fans starts shipping
EK Water Blocks, Ljubljana based premium computer liquid cooling gear manufacturer, is proud to announce that EK-Vardar, company's first fully in-house engineered computer cooling fan, designed and built primarily for highest-performance computer liquid cooling systems, is now shipping.
This product is the result of one year worth of development, CFD analysis, careful motor selection and anechoic chamber testing.

Dubbed Vardar, this family of cooling fans carry the name of a type of the cold northwesterly wind blowing from the mountains down to the valleys of Macedonia. It is a type of ravine wind, enhanced by a channelling effect while blowing down through the Moravia-Vardar gap, bringing cold conditions from the north to the Thessaloniki area of Greece. Most frequent during winter, it is blowing in the rear of a depression when atmospheric pressure over eastern Europe is higher than over the Aegean Sea.
The key characteristics of EK-Vardar Fx-120 series fans are:
High-static pressure / low noise profile – unlike other general-purpose computer cooling fans, the EK-Vardar family of fans is built specifically for computer liquid cooling systems, namely radiator cooling. The 7-fin fan blade design is optimized for high pressure operation while maintaining the low noise profile throughout the whole operation range of the fan. Vardar's design and construction is also very suitable for high-performance heat-pipe air coolers.
High-quality motor and bearing assembly – Proven electrical design, actively cooled motor windings and Double Ball bearing with 50.000 hours lifespan (MTBF) ensures uninterrupted operation for years to come. Phase-width modulation (PWM) fan speed allows performance on demand.
Sealed-edge fan casing – The classic, yet effective square shape of the fan casing ensures optimal performance in either pull- (suction) or push (pressure) regime without hydraulic losses thus ensuring optimal cooling capacity of your liquid cooling radiators.
Timeless design – the EK-Vardar fan fits subtly into any liquid cooling computer without drawing too much attention. Single- and two-tone colour design with monochrome fan sticker. Less is more.


EK-Vardar 120mm cooling fan family currently consists of five models – four regular and one Furious Vardar with the latter built in distinctive all-black design. All fans come with four self-tapping screws and are pre-sleeved (F1-F4: black, FF5: red) for your convenience:
SKU




Fan Speed [rpm]

PWM Duty Cycle [%]




Loudness [dBA]

MSRP

(incl. VAT)



EK-Vardar F1-120 (1150rpm)
1150
60-100
23.7
14.95€
EK-Vardar F2-120 (1450rpm)
1450
50-100
25.6
14.95€
EK-Vardar F3-120 (1850rpm)
1850
50-100
29.5
14.95€
EK-Vardar F4-120 (2200rpm)
2200
40-100
33.5
14.95€
EK-Furious Vardar FF5-120 (3000rpm)
3000
40-100
42
16.95€
"The new EK Vardar fans seem to be carrying on from where the Gentle Typhoons stood, and take it that extra bit further", writes Varun Shenoy G., reviewer of Xtremerigs.net. "You can see that while the AP-45 and Vardar F4 are very identical in airflow through the radiator, the Vardar F4 is slightly quieter most of the time."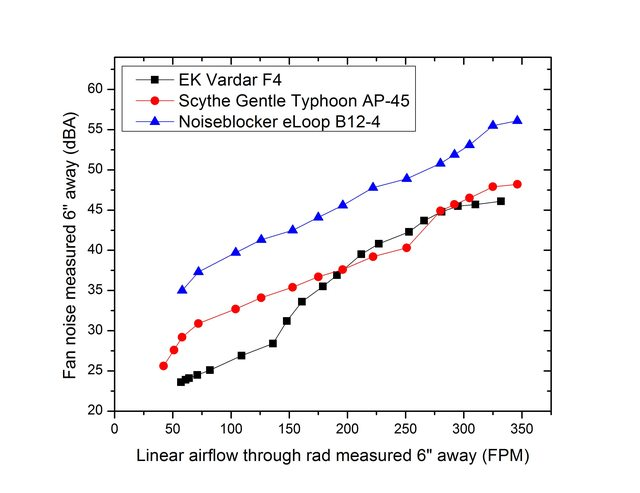 The new fans are readily available for purchase through EK Webshop and Partner Reseller Network. For customized and OEM parts please inquire for quotation.
Designed and Engineered in Slovenia, Europe.
Made in PRC.