Long awaited Vardar 140mm fans are finally here!
EK Water Blocks, Ljubljana based premium computer liquid cooling gear manufacturer, is proud to introduce the newest addition to the company's first fully in-house engineered computer cooling fan family, the EK-Vardar in 140mm variations. These fans are a perfect match for recently released EK-CoolStram CE series of radiators.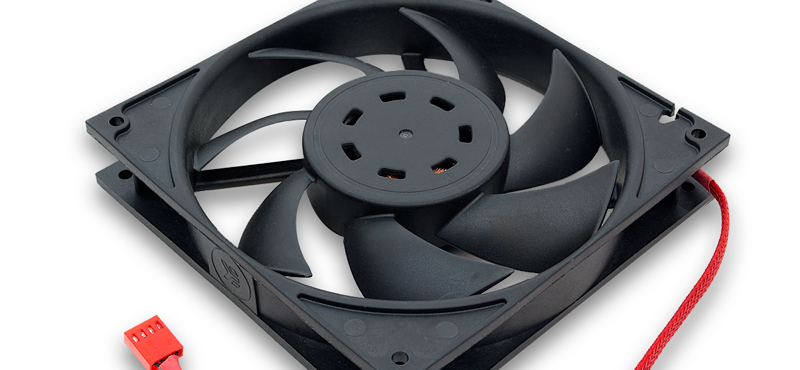 Vardar family is being extended with four new models ranging from 1150rpm F1 version thru F2 (1600rpm) and F3-ER (2000rpm) to the most powerful Furious Vardar FF4 version with 2500rpm performance! All variants, especially F3-ER and FF4, offer great PWM duty cycle thus allowing operation throughout the entire fan operating range. All models come with four self-tapping screws and are pre-sleeved for your convenience.
All Vardar fans are in-house engineered and carry the name of a type of the cold northwesterly wind blowing from the mountains down to the valleys of Macedonia. It is a type of ravine wind, enhanced by a channelling effect while blowing down through the Moravia-Vardar gap, bringing cold conditions from the north to the Thessaloniki area of Greece. Most frequent during winter, it is blowing in the rear of a depression when atmospheric pressure over eastern Europe is higher than over the Aegean Sea.
The key characteristics of EK-Vardar Fx-140 series fans are:
High-static pressure / low noise profile – unlike other general-purpose computer cooling fans, the EK-Vardar family of fans is built specifically for computer liquid cooling systems, namely radiator cooling. The 7-fin fan blade design is optimized for high pressure operation while maintaining the low noise profile throughout the whole operating range of the fan. Vardar's design and construction is also very suitable for high-performance heat-pipe air coolers.
High-quality motor and bearing assembly – Proven electrical design, actively cooled motor windings and Double Ball bearing with 50.000 hours lifespan (MTBF) ensures uninterrupted operation for years to come. Phase-width modulation (PWM) fan speed allows performance on demand.
Sealed-edge fan casing – The classic, yet effective square shape of the fan casing ensures optimal performance in either pull- (suction) or push (pressure) regime without hydraulic losses thus ensuring optimal cooling capacity of your liquid cooling radiators.
Timeless design – the EK-Vardar fan fits subtly into any liquid cooling computer without drawing too much attention.

"After seeing the success of the 120mm Vardarfans and getting incredible demand for 140mm versions, we were sure we can also fill the 140mm market gap", said Niko Tivadar, EK's Chief of R&D. "Following the design of 120mm Vardar fans, we succeeded in creating the best 140mm liquid cooling fan."

Name




Fan Speed [RPM]

PWM Duty Cycle [%]




Loudness [dBA]

MSRP 

(incl. VAT)



EK-Vardar F1-140
1150
40-100
26
18.95€
EK-Vardar F2-140
1600
30-100
31.6
18.95€
EK-Vardar F3-140ER
2000
25-100
40.7
20.95€
EK-Furious Vardar FF4-140
2500
25-100
48.4
20.95€
The new fans are readily available for purchase through EK Webshop and Partner Reseller Network. For customized and OEM parts please inquire for quotation.
Designed and Engineered in Slovenia, Europe.
Made in PRC.