EK Shows Off the New Generation of Premium Quantum Liquid Cooling Products
EK®, the premium liquid cooling gear manufacturer, is happy to announce that this year will be very exciting for hard-core PC enthusiasts, but also for those new to the world of custom loop liquid cooling. With EK-Matrix7 being the focal point of 2022, liquid cooling will be brought closer to everyone who is ready to dip their toes into DIY PC assembly. Matrix7 standardizes the dimensions of the products, including the port position and spacing, making liquid cooling loop assembly more intuitive and easier.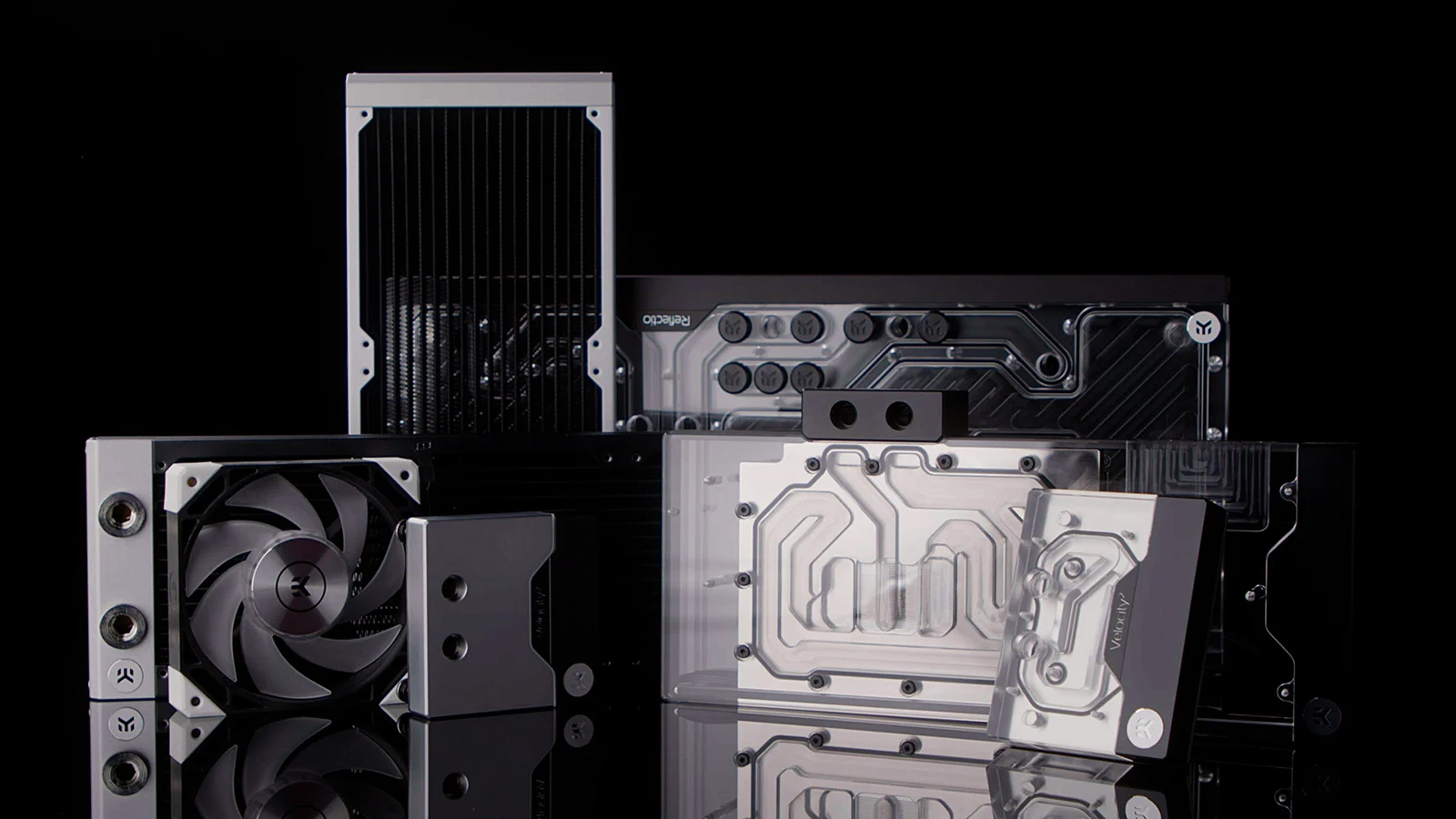 This is all supported by the next generation of EK-Quantum products like the Velocity² CPU water blocks that are already available, the upcoming Vector² GPU water blocks, the Reflection² distribution plates, and, of course, the vast portfolio of EK-Quantum Surface radiators.
EK-Quantum Vector² Series GPU Water Blocks
The Vector² GPU water blocks bring significant improvements, both visual and technical, especially for the Active Backplate models. While the first generation of active backplate cooling solutions were just adaptations of a standard backplate with a small water block, the EK-Quantum Vector² series features a full-length water block on the backside of the graphics card. Even the connectivity is taken to another level with the "Direct Link" terminals that implement a conventional 4-port  layout, that allows serial and parallel connections from adjacent or opposing sides of the block. This was made possible by the addition of a machined brass insert in the terminal itself that diagonally links the water block to the active backplate. These are only a few details, but more information can be found in the official Vector² press release.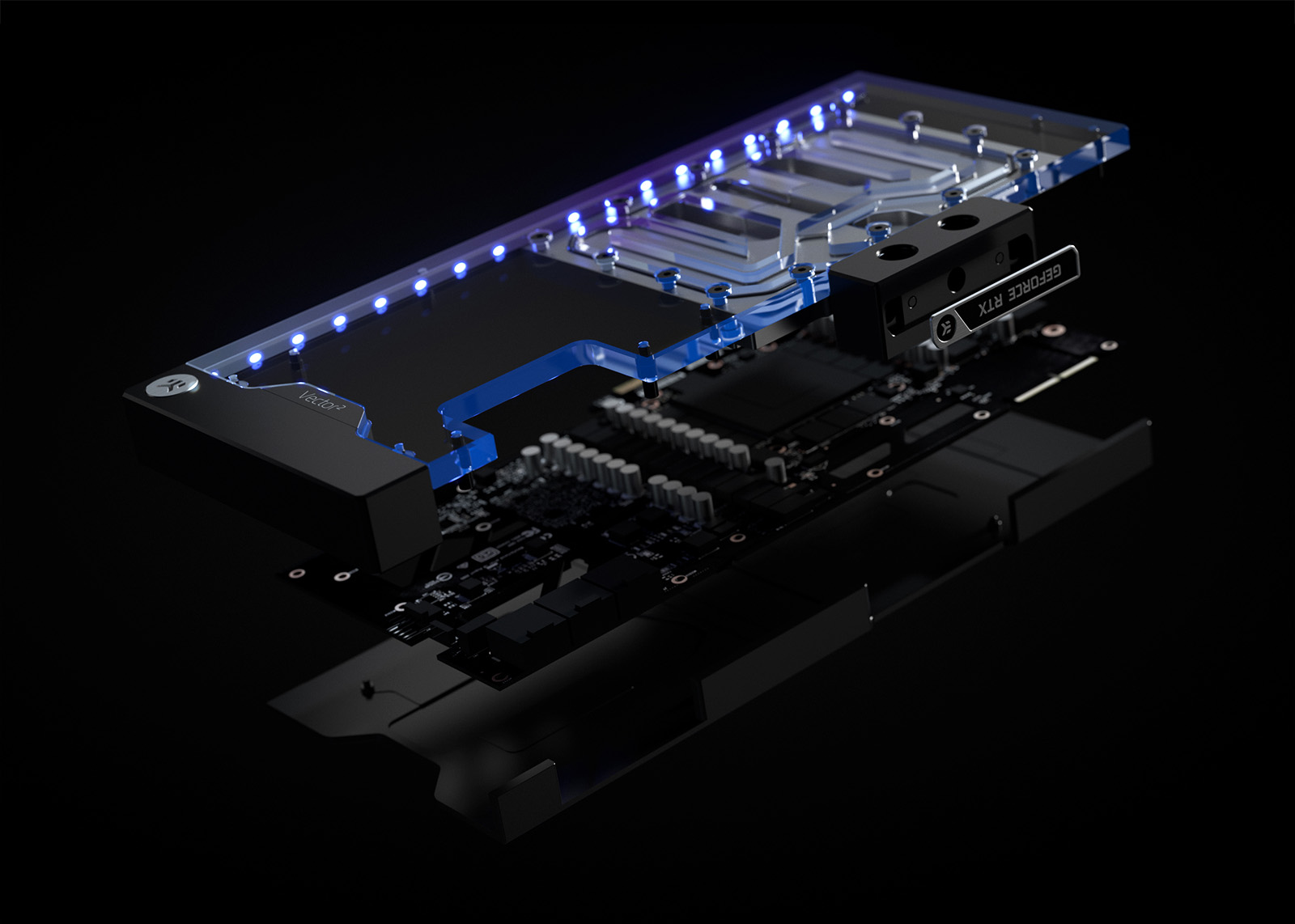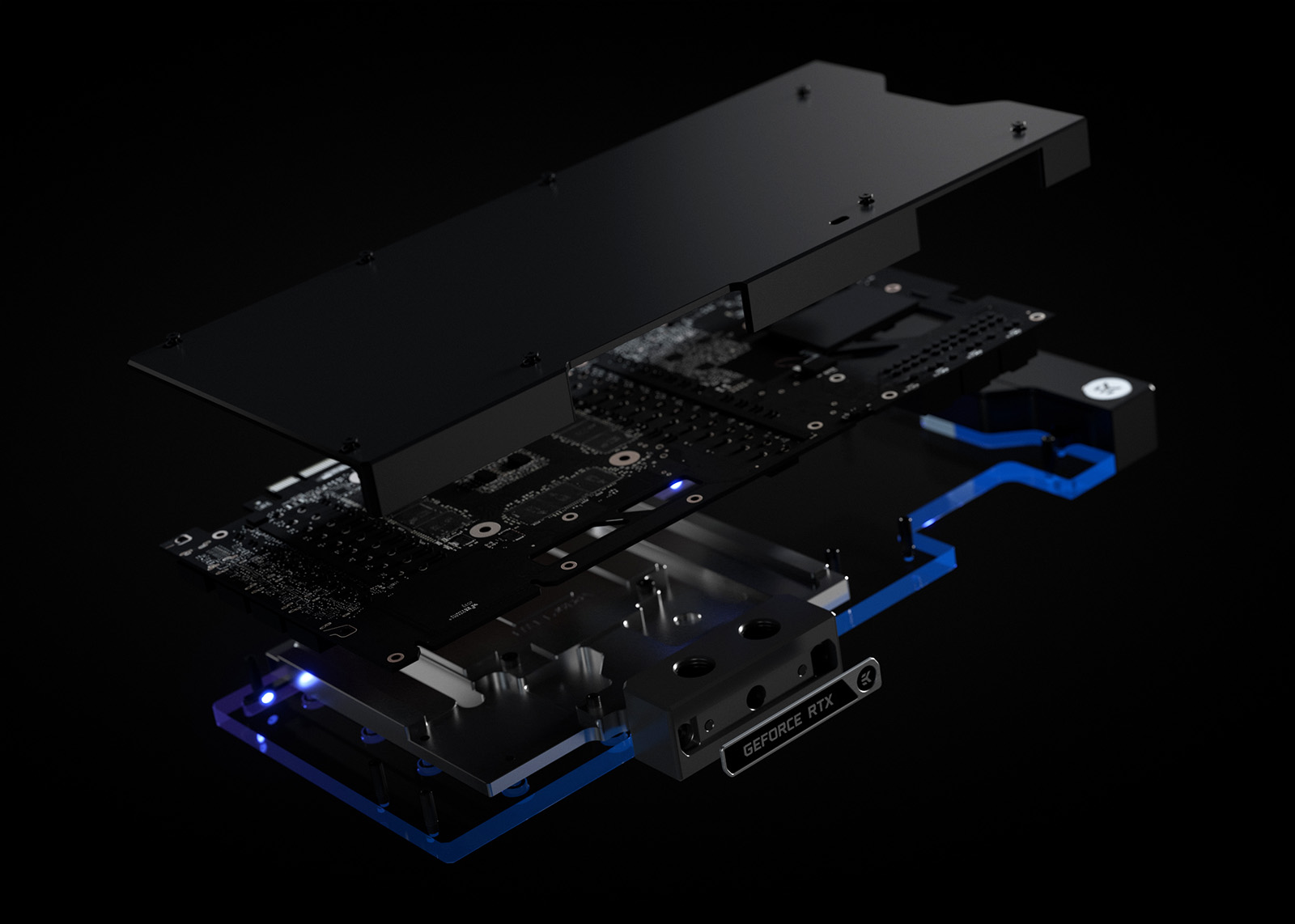 EK-Quantum Momentum² Series Monoblocks
2022 will also deliver enthusiasts more of the next generation of Momentum² monoblocks. It will start off with the EK-Quantum Momentum² ROG Strix X570-I Gaming, EK-Quantum Momentum² ROG Corsshair VIII Extreme, and the EK-Quantum Momentum² ROG Maximus Z690 Hero. Enthusiasts can look forward to some other surprises coming up in this product category that will be revealed at a later date.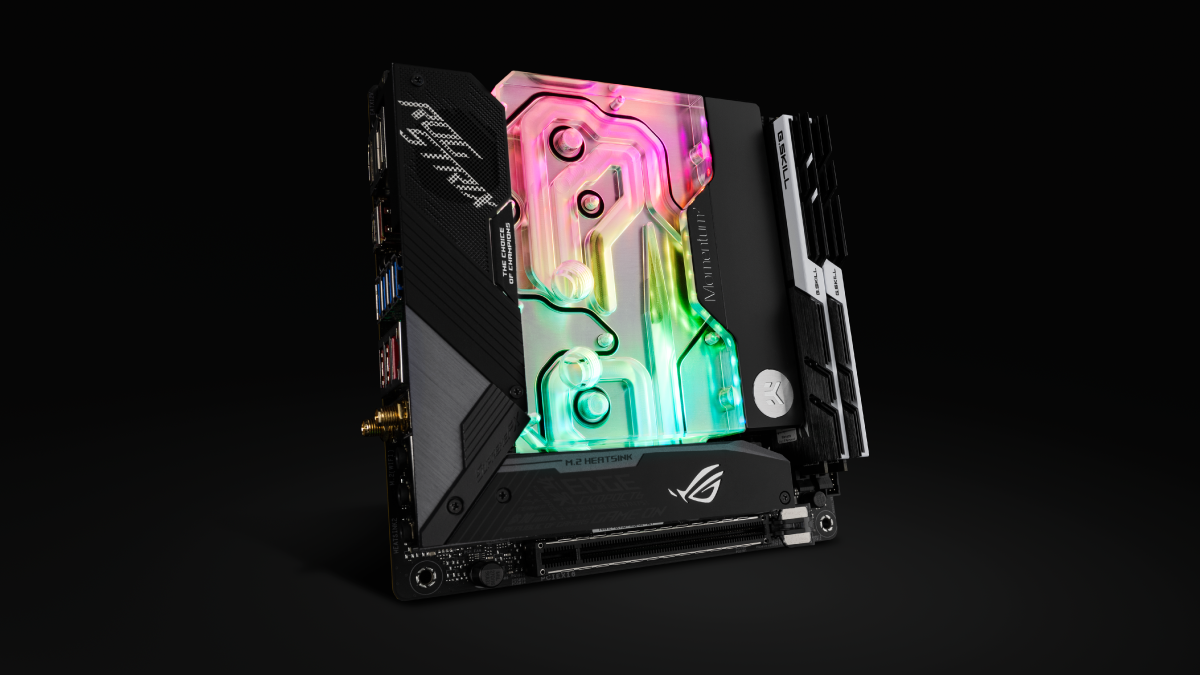 EK-Quantum Reflection² distribution plates will now support multiple GPU positions, orientations, and Active Backplate models with hassle-free, perfect tube alignment.
The long-awaited radiator refresh with the first Quantum series radiators is due in late February this year. This holds true for the entire EK-Quantum Surface lineup.
The EK-Matrix7 system makes one case with one distribution plate compatible with multiple build scenarios, even covering multiple product price ranges. As a result, hardware upgrades are easier and faster, even for fully liquid-cooled systems.
More exciting things are around the corner with two versions of a high-resolution 7″ universal screen. These are non-proprietary displays, using a standard HDMI connection and an even more standard USB connector to power them. This allows for full flexibility for the user to use it as a secondary display for hardware information, or just to run animations to make your PC more attractive and customized. In addition, it is very useful to have a screen to run quick boot checks before filling the loop to ensure all the hardware is performing as it should.
The Torque Micro family of fittings is also getting some new members. We are really pushing the limits with these, making the smallest rotary fittings, hard tube compression fittings, and extenders that can physically be made. Some really discreet, rotary 90° fittings are just about to be released. These fittings feature an installed height of just 21mm, compared to the standard Torque rotary 90° fitting. Close on its heels is a very special, tiny single o-ring 12mm compression fitting, developed for the Small Form Factor product segment.
The Cooperation with MSI
Further cooperation with MSI has also brought an exceptional motherboard to liquid cooling enthusiasts. Unlike other alternatives, this one is set to dominate the market with an incredible price tag. With an MSPR of just $369, the MSI MAG Z690 TORPEDO EK X is the most affordable liquid-cooled motherboard on the market. By eliminating parts from a standard monoblock design, production costs have been optimized to make this liquid-cooled motherboard more approachable for gamers and PC enthusiasts. Thanks to the tight collaboration of MSI and EK, the motherboard is out-of-the-box ready to fit the extended-sized EK-developed CPU water block, that overlaps the pre-installed VRM heatsink. Such a design provides sufficient active cooling to the VRM enabling this motherboard to compete easily with higher-class, more expensive models. 
You can find out more about the MSI MAG Z690 TORPEDO EK X HERE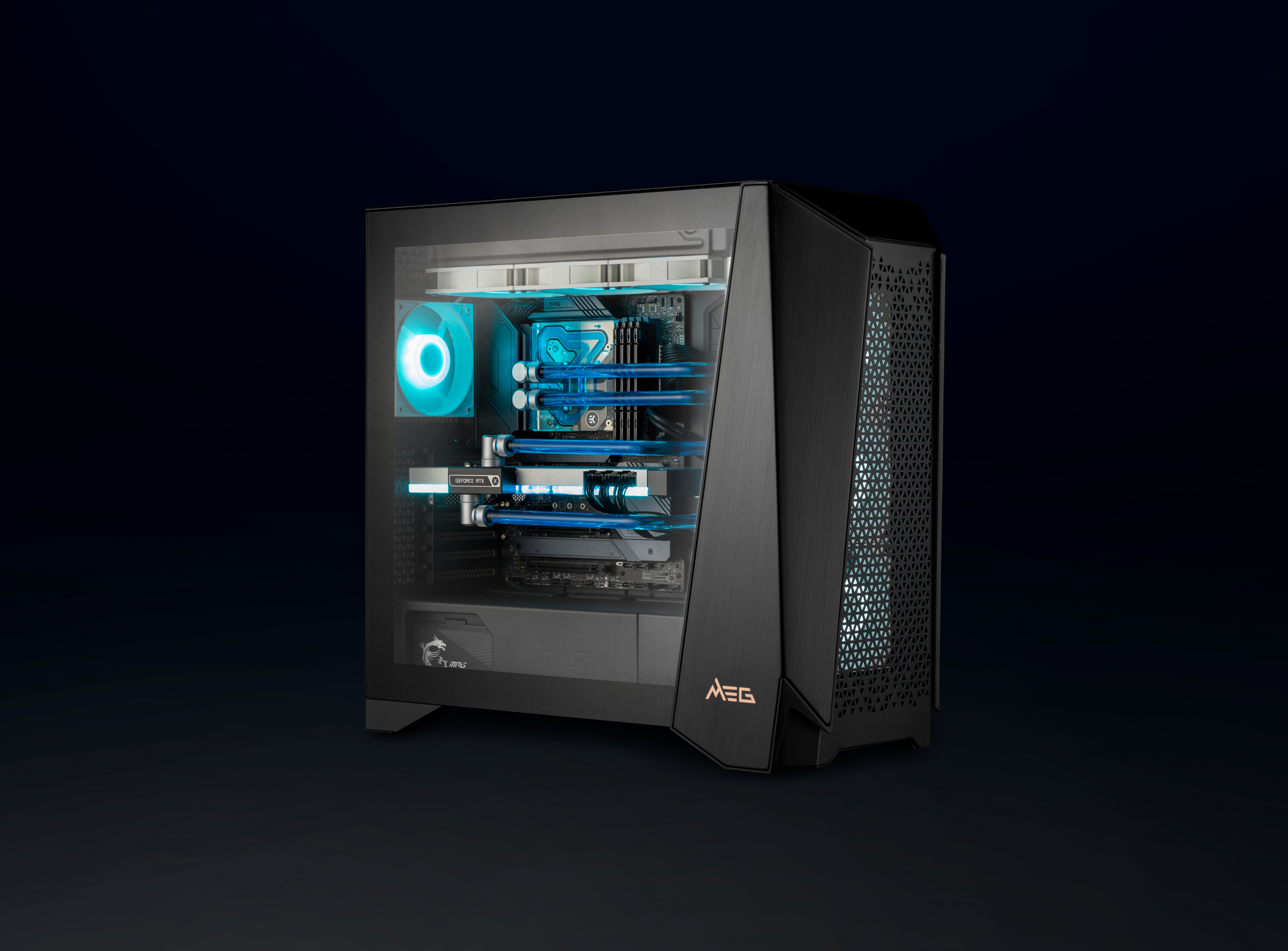 One more neat treat from MSI and EK is a custom-developed Matrix7 ready distribution plate for an upcoming advanced MSI case, the MEG PROSPECT 700.
We are happy to announce that most of the products mentioned will be hitting the shelves in a matter of months.
Strictly Quantum Show
For more details on the latest EK-Quantum products, stay tuned for the next Strictly Quantum show on the 8th of January at 19:00 CET.