EK releases single-slot 5.25″ drive bay DDC combo unit
EK Water Blocks, Ljubljana based premium water cooling gear manufacturer, is proud to introduce the latest 5.25″ drive bay pump / reservoir combo unit.
EK-SBAY DDC 3.2 is high-performance hydraulically improved pump top (volute) for DDC series water pump with integrated reservoir in a single-slot 5.25″ drive bay form factor. This type of design makes the use of now almost abandoned 5.25″ drive bay slot in order to provide more room for other components when facing limited space constraints. Made from a high quality POM Acetal this sturdy, monoblock design guarantees maximum reliability and rigidity!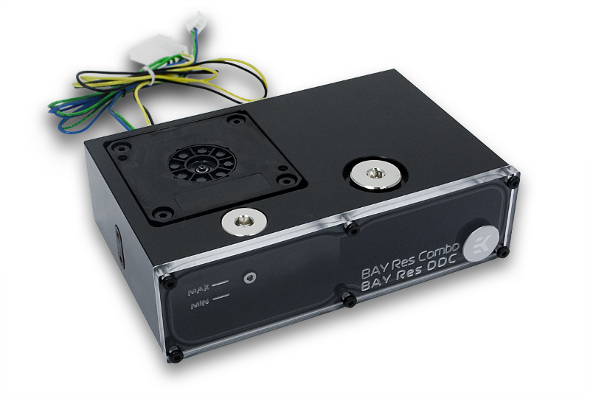 This unit is as straight forward as it can be – it provides two inlet- and one outlet port as well as a two filling ports on the top of unit. Integrated anti-cyclone made from acrylic glass effectively prevents excessive vortex formation when using in low hydraulic restriction loops. For easier filling a practical pouring cup is included.
EK-SBAY DDC is designed around anti-vibration rubber mounting system. This floating design effectively silents this pump / reservoir setup by de-coupling it from the rest of the computer chassis.
Product is available in a single variant and is readily available for purchase through EK Webshop and Partner Reseller Network:
SKU

Motor type


Unit type

MSRP


(incl. VAT)

EK-SBAY DDC 3.2 PWM (incl. pump)
DDC 3.2 PWM
Single 5.25″ Bay Pump with Res. (EK-SBAY)
139,95€
The unit itself is powered by a PWM version of the pump for best versatility. PWM control allows for automatic pump speed regulation depending on your CPU temperature. Full performance on demand or whisper quiet operation in idle mode! A similiar product is also available for dual pump setup.
This unit can be upgraded with EK-DDC Heatsink Housing, available in both Black as well as Nickel plated version. With the installed EK-DDC Heatsink Housing the unit occupies two 5.25″ slots as it portrudes over the single 5.25″ form factor height limitation.
Reservoir made in Slovenia – EU
Pump Motor made in Hungary – EU!
About EK branded Xylem products:
The core of the line-up are the EK branded Laing (now Xylem) D5 Vario and DDC 3.25 / 3.2 PWM pump motors. EK offers factory pre-installed performance enhanced DDC- and D5 water pumps with high performing EK-DDC- & EK-D5 X-TOP volutes, X-RES type pump / reservoir combo units as well as 5.25″ single bay Dual DDC pump / reservoir combo units. EK pump tops (volutes) are recognized as market's top performing products – combined with top performing Laing D5 or DDC type motor they form the best computer water cooling pump on the market, bar none. Read more…