EK releases water block for MSI® GeForce® GTX 1080 Ti graphics cards
EK Water Blocks, the Slovenia-based premium computer liquid cooling gear manufacturer, is proud to introduce a new Full-Cover water block designed and engineered to fit four MSI® GEFORCE® GTX 1080 Ti based graphics cards. This kind of efficient cooling will allow your high-end graphics card to reach higher boost clocks, thus providing more performance during gaming or other GPU intense tasks.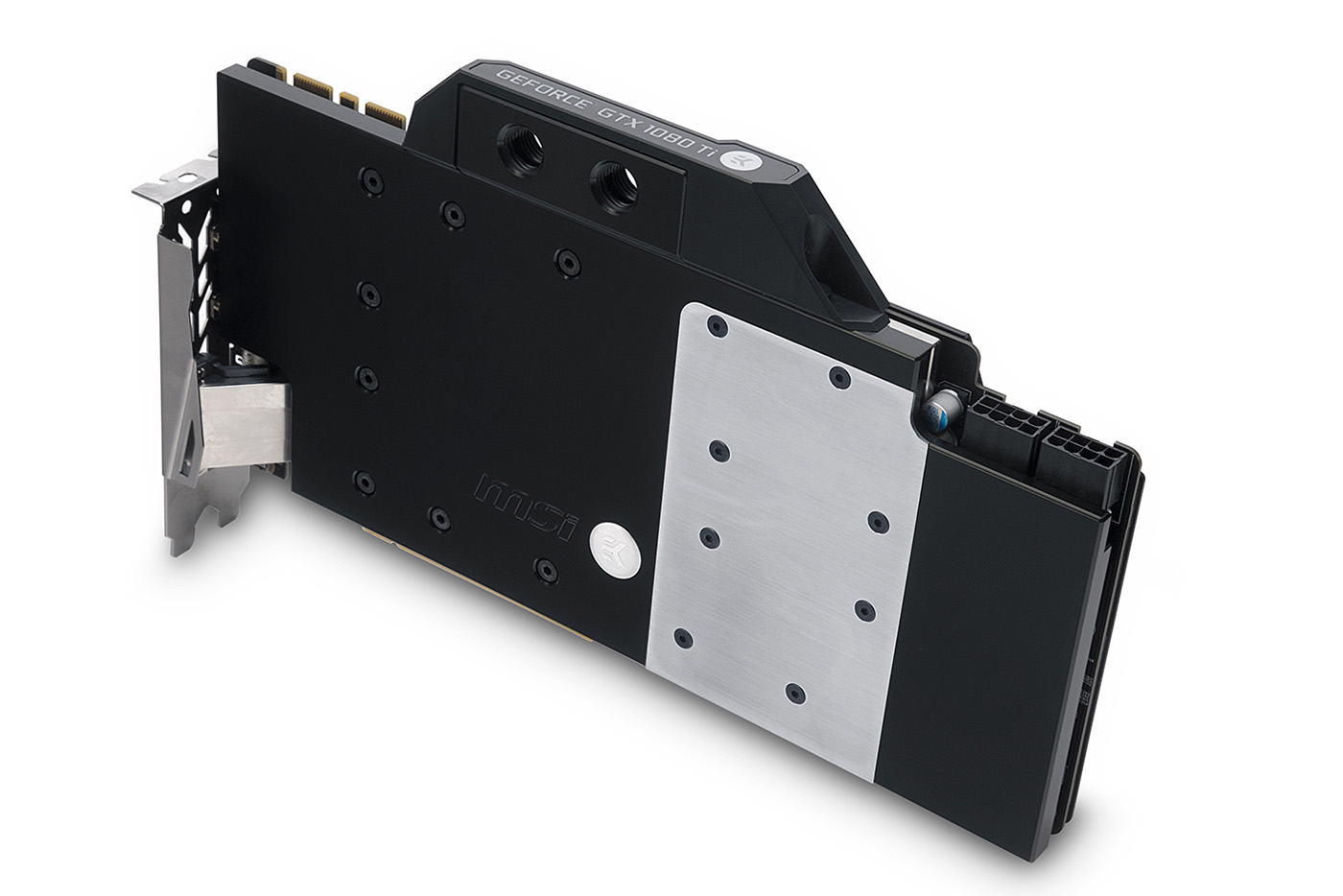 EK-FC1080 GTX Ti TF6
This water block directly cools the GPU, RAM as well as VRM (voltage regulation module) as water flows directly over these critical areas, thus allowing the graphics card and it's VRM to remain stable under full load and high overclocks. EK-FC1080 GTX Ti TF6 water block features a central inlet split-flow cooling engine design for best possible cooling performance, which also works flawlessly with reversed water flow without adversely affecting the cooling performance. Moreover, such design offers great hydraulic performance allowing this product to be used in liquid cooling systems using weaker water pumps.
The base of the block is made of nickel-plated electrolytic copper while the top is made of a high-quality POM Acetal material. This water block also features the recently introduced aesthetic terminal cover which is designed to reveal the graphics card model. The factory backplate of the MSI® GeForce® GTX 1080 Ti Gaming 11G and MSI® GeForce® GTX 1080 Ti Gaming X 11G graphics cards is compatible with this water block.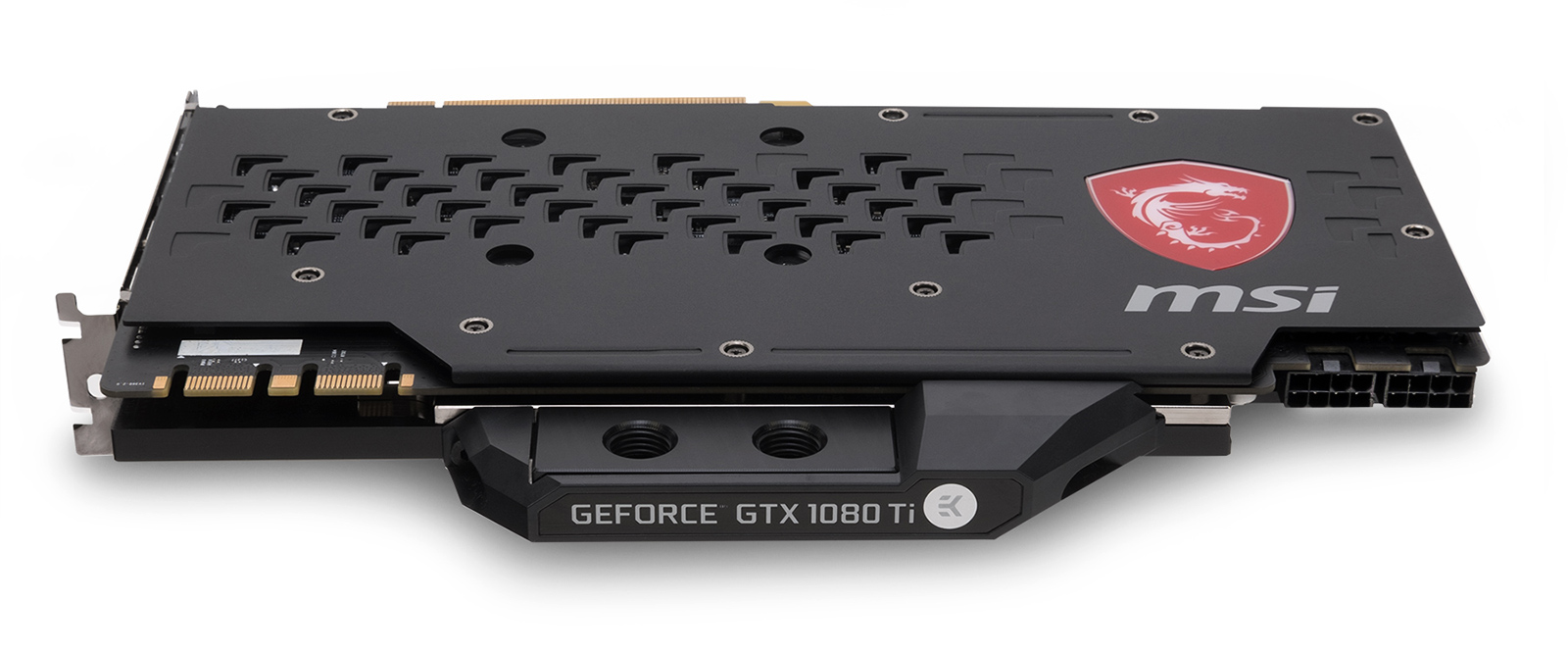 EK-FC1080 GTX Ti TF6 water block is compatible with multiple MSI® GEFORCE® GTX 1080 TI based graphics cards on the market (see the Compatibility list below). In order to simplify the search for suitable and compatible water block, EK is adding newly released graphics cards and motherboard from various manufacturers to EK Cooling Configurator database and compatible graphics cards are being added to the list on daily basis:

Availability and pricing
The EK-FC1080 GTX Ti TF6 water block will available for purchase on Friday, 16th of June, 2017 through EK Webshop and Partner Reseller Network. In the table below you can see manufacturer suggested retail price (MSRP) with VAT included.
Compatibility list
EK-FC1080 GTX Ti TF6 water blocks are compatible with the following graphics cards:
Model
MSI GeForce GTX 1080 Ti Armor 11G 11GB GDDR5X
MSI GeForce GTX 1080 Ti Armor 11G OC 11GB GDDR5X
MSI GeForce GTX 1080 Ti Gaming 11G 11GB GDDR5X
MSI GeForce GTX 1080 Ti Gaming X 11G 11GB GDDR5X
MSI AND EK OFFER DISCOUNT ON LIQUID COOLING COMPONENTS
Always wanted to build one of those awesome water-cooled systems you see on display for yourself? Here's your chance! From the 18th of May 2017, MSI and EK offer a 10% discount and free shipping on everything you need to complete your very own custom loop system. In 2016 MSI and EK teamed up to introduce the MSI SEA HAWK EK line based on NVIDIA's GeForce® GTX 10 series GPUs. The SEA HAWK EK graphics cards come with a full cover EK water block pre-installed and covered by warranty, saving you the hassle of doing it yourself and risking damaging your graphics card or voiding warranty in the process. Fitted with EK full cover water blocks, the SEA HAWK EK X graphics cards provide unmatched cooling and performance in games. In order to use one of these water-cooled graphics cards, however, the customer would need to have or create a custom loop liquid cooling setup in their system. "Customers who buy any MSI SEA HAWK EK X graphics card are now getting an exclusive opportunity to buy a full custom loop for their new graphics card with special discount and FREE shipping worldwide on EK's custom loop components!"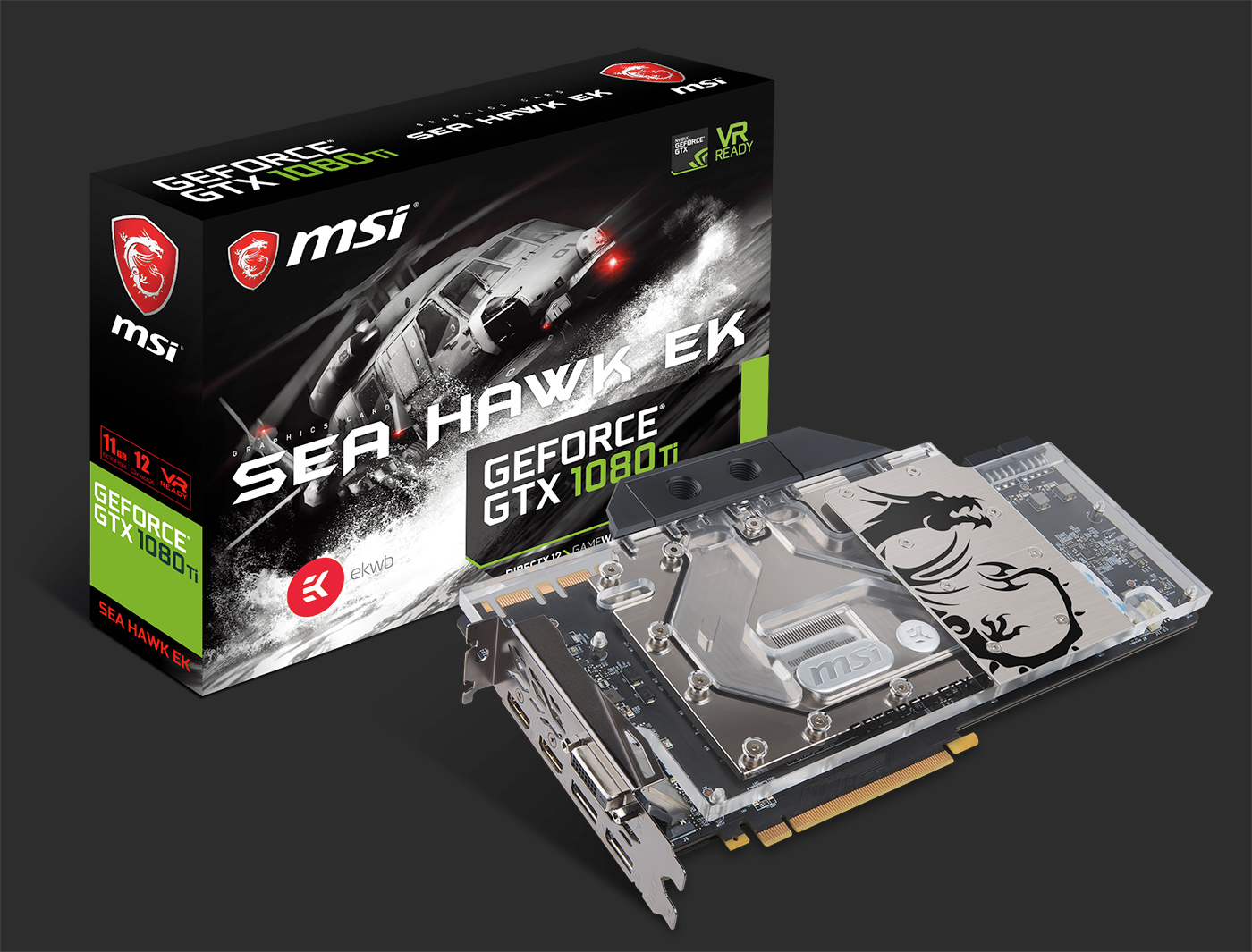 How to get the discount?
The discount only applies when you buy an eligible MSI SEA HAWK EK X graphics card from any official MSI retailer. After you receive the card, or if you already own one, go to the EK Custom Loop Configurator, a special online tool that helps you select the custom liquid cooling components for your gaming PC. This system will guide you through a few simple steps and at the end, you will be able to fully liquid cool your MSI SEA HAWK EK X graphics card. On the Checkout page, you will find the option to enter Discount Codes. When you enter the serial number of your MSI SEA HAWK EK X card, the 10% discount will be applied to your order and shipping will be free.
Eligible graphics cards:
GeForce® GTX 1080 Ti SEA HAWK EK X
GeForce® GTX 1080 SEA HAWK EK X
GeForce® GTX 1070 SEA HAWK EK X