MSI and EK Are Changing the Game With EK-Quantum MPG Z490 Carbon EK
EK®, the European premium liquid cooling gear manufacturer, and MSI®, a world-leading gaming brand, have partnered up to launch a Z490-based motherboard that comes with a monoblock and offers unparalleled cooling for the VRM section and Intel® 10th Gen Core™ series CPUs. MSI's world-class engineering team and EK's industry-leading thermal engineers worked together to apply the EK's technology and know-how to bring you the coolest gaming motherboard, starting at $399.99! The MPG Z490 Carbon EK X allows maximum performance without the noisy environment, providing you with countless hours of uninterrupted gameplay. And to top it all off, it looks awesome to boot!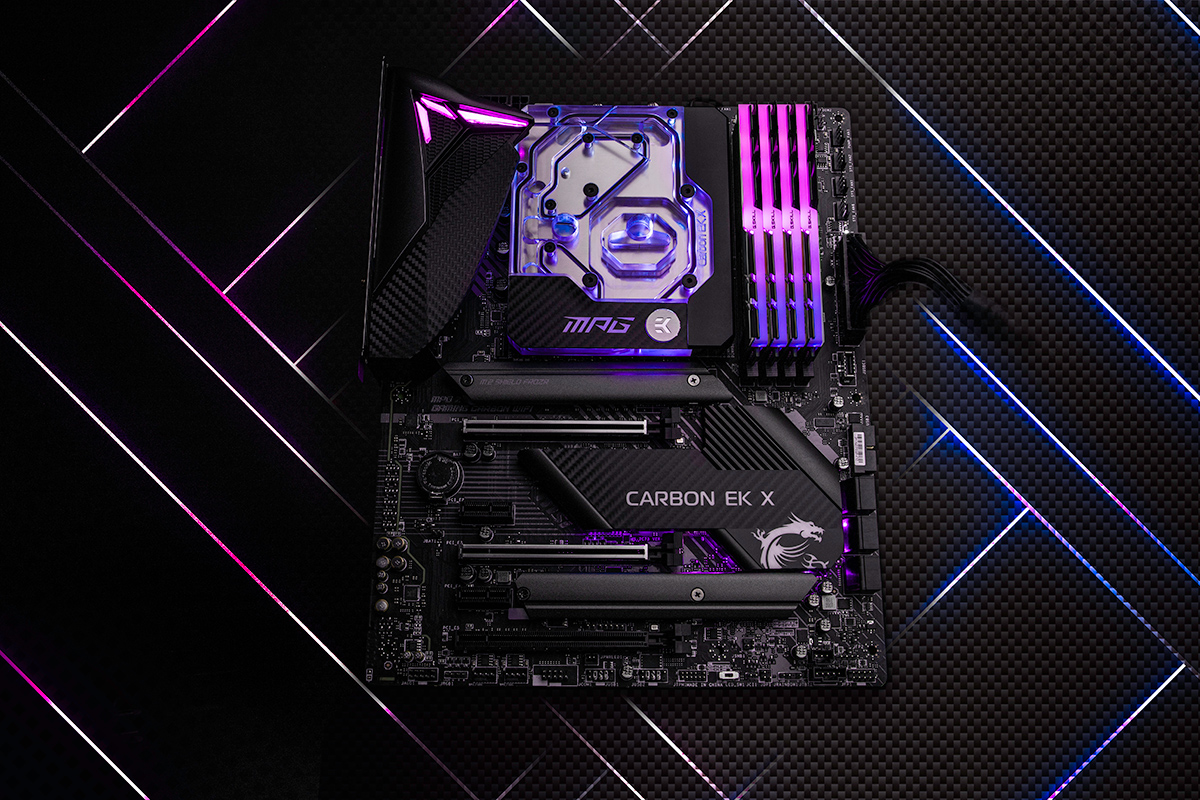 "MSI and EK have worked closely for four years now. Always trying to push the limits, to set the bar higher… Our first collaboration was a liquid-cooled GPU, Sea Hawk EK X. This time around, we have partnered up to bring a liquid-cooled gaming motherboard to the mainstream market and truly change the game," said Edvard König, Founder of EK.
Partnered up, MSI and EK are bringing you the technology that will improve your liquid-cooled PC and enhance its performance. This meticulously engineered hardware will now be available to everyone.
"It's a great and exciting moment for gamers seeking for the extreme performance with elegant and exquisite design," said Ted Hung, Vice President of MSI's CND Department. "We couldn't ask for a better opportunity than to partner with EK to co-launch the great combo product for gamers."
EK-Quantum MPG Z490 Carbon EK X D-RGB
Its unique design, together with a monoblock that aesthetically blends in with it, is what sets this motherboard apart from the rest. The carbon fiber pattern is there to remind all hard-core gamers that pushing the limits is what gaming is all about. A powerful 12+1+1 Duet Rail Power System provides stable power to the CPU, of which 12 are for the CPU core and two for the integrated GPU and System Agent. The massive power delivery system allows for high overclocks and, by proxy, a great boost in performance for which the only downside is increased heat generation. This is where the EK monoblock kicks in, to cool down not just the CPU, but the power delivery system as well.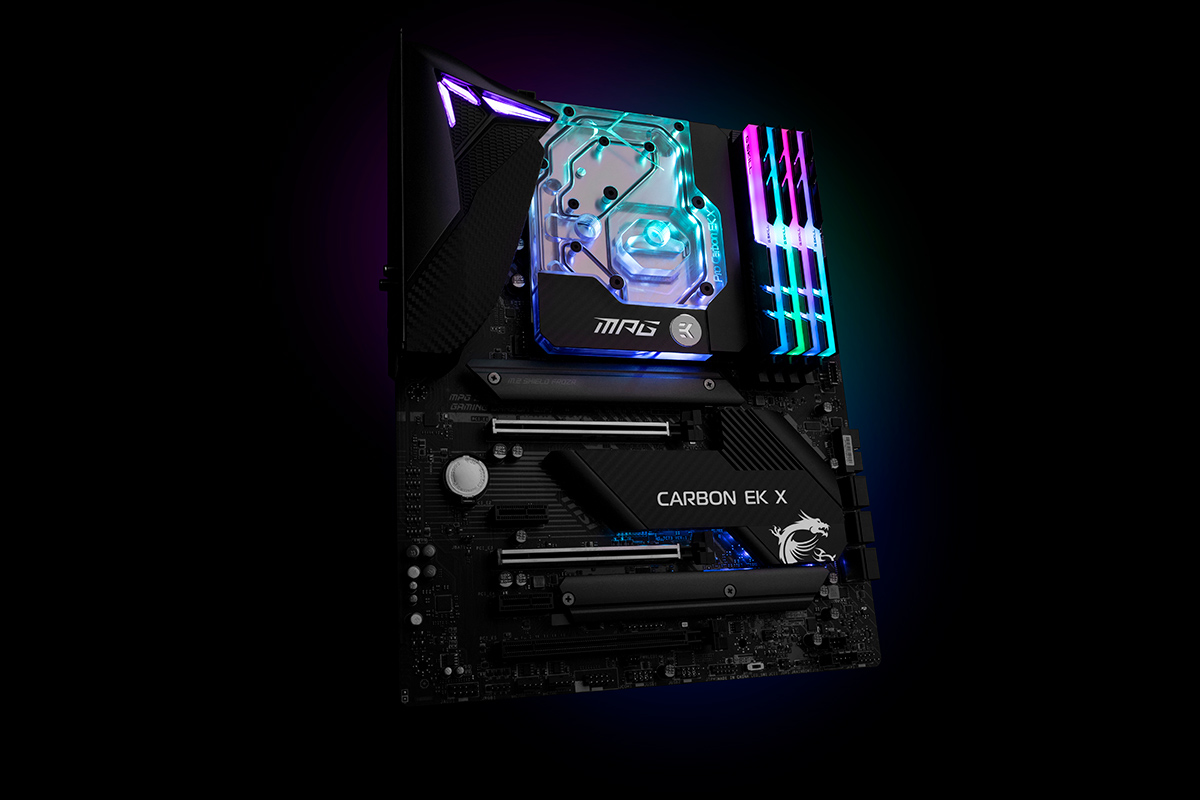 An Offer You Can't Refuse
In one box, you get a high-end gaming motherboard, a monoblock cooling solution, and EK Leak Tester (otherwise retailing for $39.99)! The cooling solution is tailor-made for the MPG Z490 CARBON EK X only – this bundle takes out all the guesswork from finding the right monoblock for your motherboard. The included Leak Tester will ensure you make no mistakes during the assembly of the cooling loop, even if you've never dealt with custom loop liquid cooling before!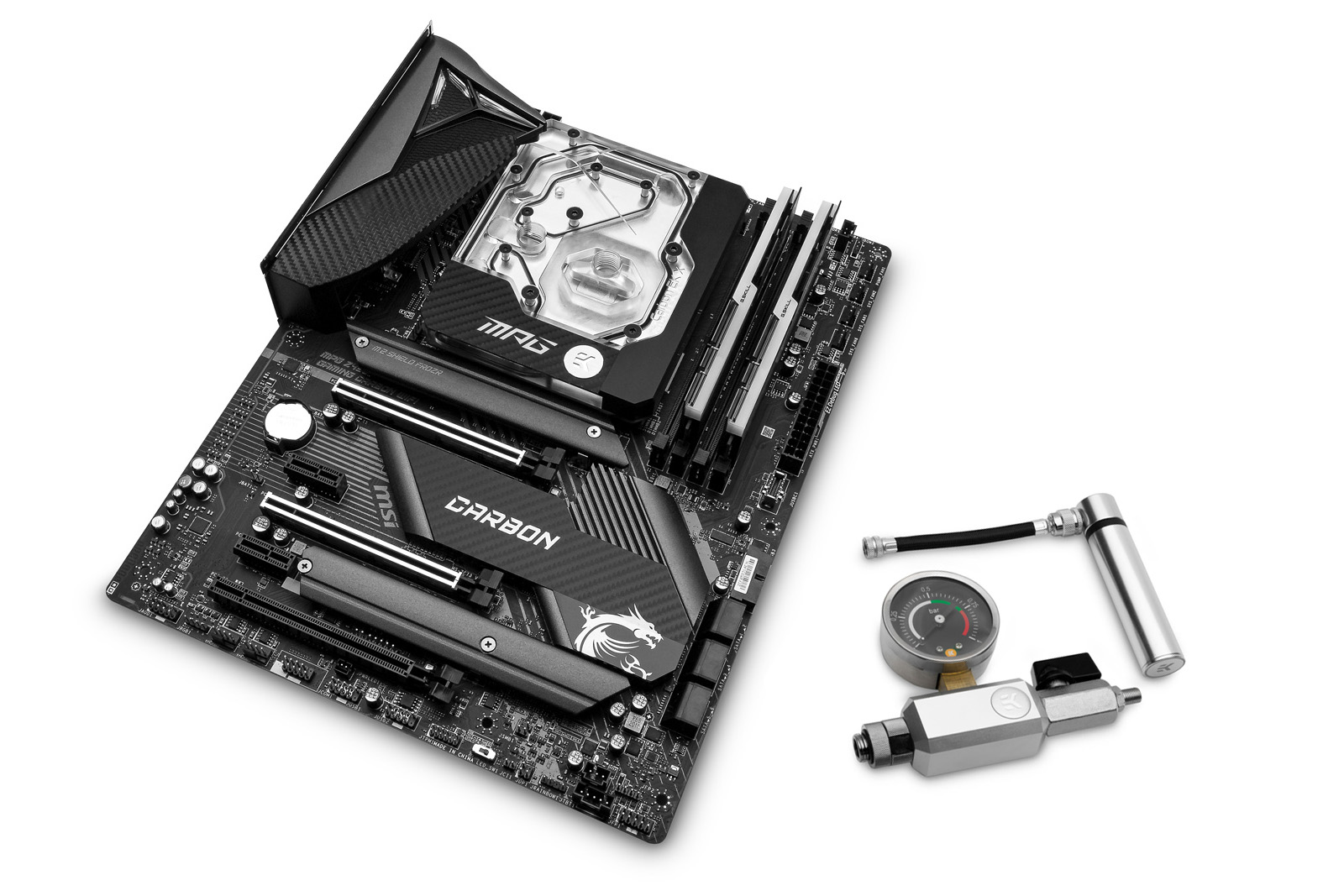 This is not the first time that MSI and EK have put their heads together to come up with something that will ripple throughout the entire market. It was only a matter of time when the successful recipe of 3 generations of the MSI Sea Hawk graphics cards would be used to create a motherboard. And that motherboard can only be better when equipped with a premium cooling solution.
All MPG Z490 CARBON EK X owners are entitled to a premium customer service that EK provides for all its customers worldwide. If you have any questions, problems, or just want to get in touch, reach out to us through our dedicated support channel. Even if you are just now getting into custom loop liquid cooling, our kind customer support will gladly help with your initial steps if there are any uncertainties.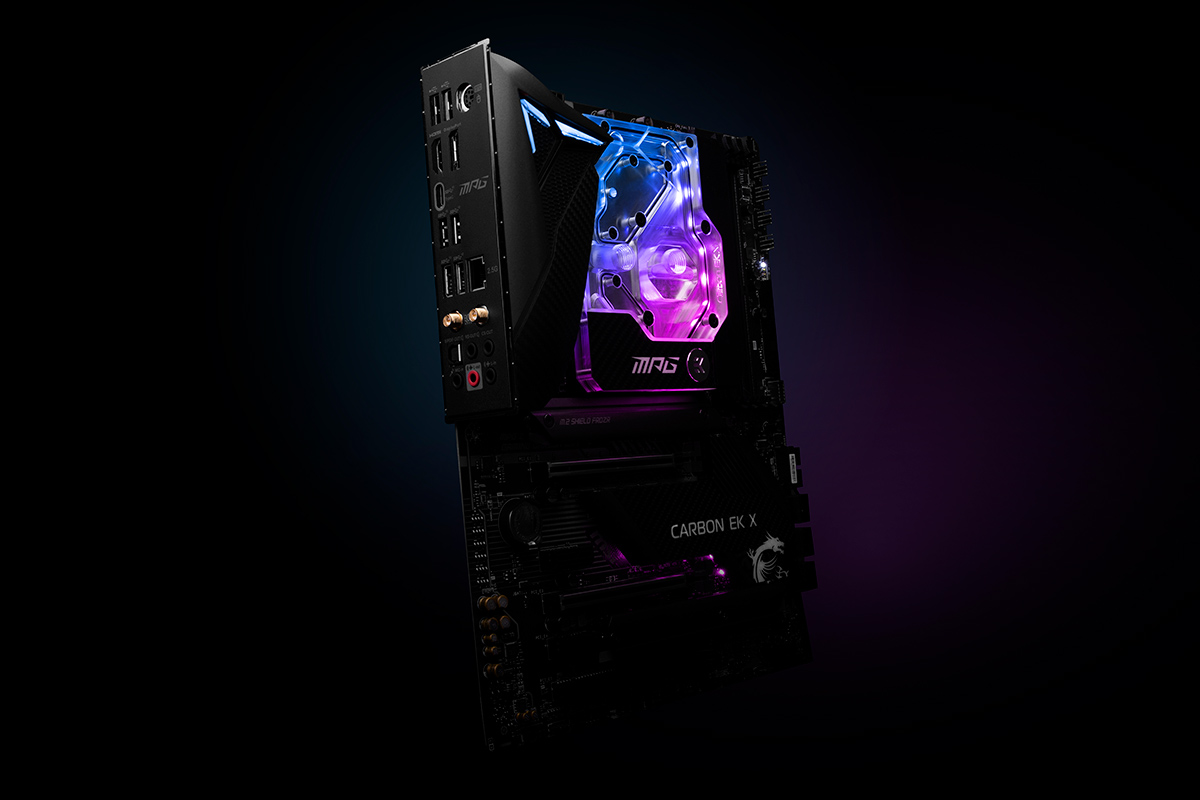 The base of the monoblock is made of nickel-plated electrolytic copper while the top is made of quality CNC-machined cast acrylic glass material, partially covered with a carbon fiber style pattern. The nickel-plated brass screw-in standoffs are pre-installed and allow for easy installation.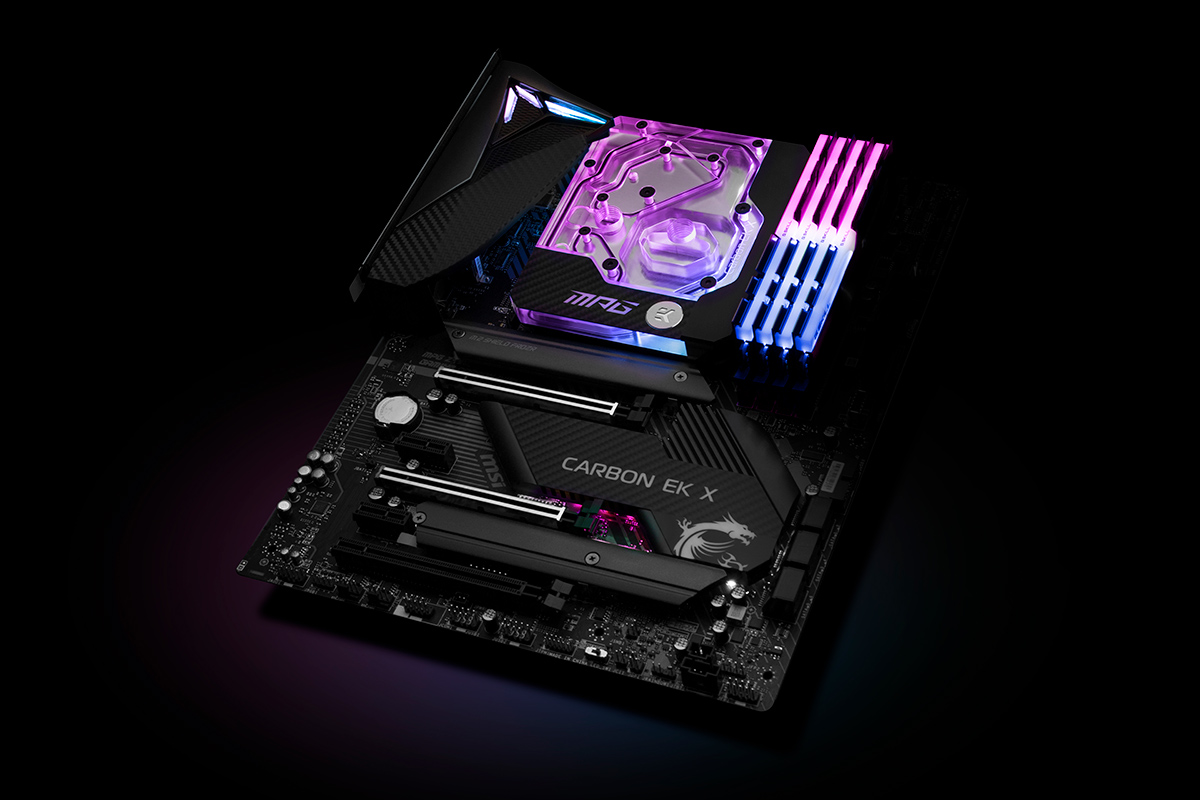 A black POM piece covers the lighting solution, removing any unwanted hotspots, and providing a more uniform lighting experience. The block is equipped with 3-pin 5V Addressable D-RGB LED strip that is compatible with the motherboard's 3-pin 5V Addressable D-RGB LED header. The arrow marking on the 3-pin LED connector is to be aligned with the +5V marking on the addressable D-RGB header.
Specifications
Supports 10th Gen Intel® Core™ / Pentium® Celeron® processors for LGA 1200 socket
Supports DDR4 Memory, up to 4800(OC) MHz
Ready 4 the Future: Support Lightning Gen 4 Solution for the future
Enhanced Power Design: 12+1+1 Duet Rail Power System, 8+4 pin CPU power connectors, Core Boost, DDR4 Boost
MYSTIC LIGHT: 16.8 million colors / 29 effects controlled in one click. MYSTIC LIGHT EXTENSION supports both RGB and RAINBOW LED strip
M.2 Shield Frozr: Both M.2 slots with Shield Frozr to built for high-performance system and non-stop gaming experience
Lightning USB 20G: Powered by ASmedia 3241 USB 3.2 Gen2x2 controller, offering never before seen USB speeds up to 20Gb/s with USB Type-C
AUDIO BOOST 4: Reward your ears with the studio-grade sound quality for the most immersive gaming experience
2.5G LAN with LAN Manager and Intel Wi-Fi 6 AX Solution: Upgraded network solution for professional and multimedia use; delivers a secure, stable and fast network connection
Pre-installed I/O Shielding: Better EMI protection and more convenience for installation
Availability and Pricing
While other liquid-cooled motherboards will burn through your pocket, this motherboard and monoblock combo solution starts at a reasonable $399.99. The EK-Quantum MSI MPG Z490 Carbon EK X motherboard is available for pre-order through the EK Webshop and worldwide retailers. This product is estimated to ship out on June 22, 2020. In the table below, you can see the manufacturer suggested retail price (MSRP).