EK has new strategic partner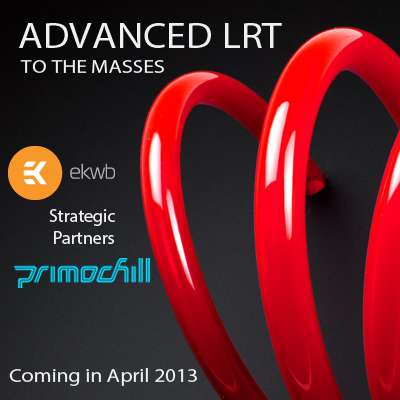 Slovenia/USA, March 14th, 2013 – New Strategic Partner
PrimoChill has made a strategic partnership with EKWB, one of the top computer liquid cooling specialists. EKWB will not just use Primochill tubing in its products, but will also be its new distribution partner for Europe and Asia. PrimoChill's products such as the new Advanced LRT Tubing will finally be more readily available via EKWB's extensive sales network.
"We are delighted that EKWB decided to use and distribute our products. Also, the demand for our products in Europe has increased dramatically and we are excited to finally be able to meet this demand through EKWB." (Brian Farrell, CEO ofPrimoChill.com). Edvard König, CEO of EKWB d.o.o. added that the company was testing different products in the last year with a goal to find the best one. Primochill tubing fit the bill perfectly.
PrimoFlex Advanced LRT has been carefully formulated to enable it to perform in a wider range of closed loop cooling systems, making it the most compatible water cooling tubing ever created.
Low Radius Technology: PrimoChill's proprietary blend of extremely low durometer PVC and a more rigid polymer resin gives PrimoFlex Advanced LRT its unbeatable bend ratio and durability. Even under exacting laboratory set-ups with abrupt small radius bends and multiple direction changes, Advanced LRT tubing resists twisting and collapse allowing for tighter bends without the kinking that can cause cooling failures or a reduction in system performance (A common problem when using other lesser brands).
Clarity in Sight and Mind: Smooth inner walls improve closed loop sanitation. Advanced LRT smooth surface inhibits particulate gathering or entrapment onto the tubing wall, thus reducing the potential of bacterial growth and contamination. With its new "resistant" inner walls, Advanced LRT will keep your system looking and feeling as clean as the day it was installed.
The new technology used in PrimoFlex ADVANCED LRT has removed the need for the antimicrobial formerly impregnated in the Pro LRT tubing. The results are a noticeable improvement of clarity over PRO LRT.
Features:
Trusted/Experienced Brand (PrimoFlex LRT)
Glass-like transparency (Clear LRT)
Inner Wall resilience
Logo Free (no print on tube)
Environmentally responsible, safe and non toxic product
DEHP Free, Phthalate Free
FDA Approved ingredients,ROHS Compliant PVC
Look for Advanced LRT Tubing at EKWB and their list of E-tailers starting in April 2013!
About PrimoChill
PrimoChill has been providing innovative cooling solutions and modifications to the masses since 2001. A family owned and operated company based in Rio Rancho, NM USA takes pride in continuous development and correspondence with the community to keep up with the ever changing world of computer modifications. Whether it be tubing, fluids, dyes, or reservoirs, trust in the PrimoChill name sold all over the planet.
About EKWB
Since 2003 EKWB goals have been to excel in a niche market of performance upgrades for computers. With continuous research and development, EKWB has established a portfolio of top liquid cooling solutions. With extensive distribution network all over the world it is the one of the most popular brands in liquid cooling. Quality and breathtaking design on the technological edge has been their philosophy.