EK-FC7970 will be a superb perfomer!
We have just tested our newest EK-FC7970 water block which we have been constantly improving during the previous past weeks. We are proud to say this is our best performing FC (full cover) water block to date.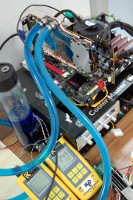 The test has been conducted using the following water cooling components and measuring equipment:
– EK-FC7970 prototype block
– EK-RAD CoolStream XT 360
– 3x Yate Loon D12SH-12 120mm 2200rpm fans
– 2m 12mm ID tubing (1/2" ID)
– D5 Vario water pump + EK-D5 X-TOP V2
– EK-RES X2 Multioption 250 Advanced
– EK-12mm High Flow fittings
Measuring equipment:
– Greisinger GTH 175/Pt J-type thermometer, calibrated
– Voltcraft IR-800 20D IR thermometer
– Digmessa digital flow meter FKHU series
Furmark torture benchmark which stresses the graphics card to the maximum was ran for almost five hours! Graphics card Radeon HD 7970, running at factory set frequencies and voltage yielded the following results:
Tgpumax = 41°C
Th2omax = 30.7°C
—
dTmax = 10.3°C = ~ 10°C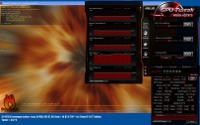 Overclocking the graphics card from factory set 925/1375MHz to 1125/1500MHz (GPU/RAM respectively) and Vgpu set at 1.250V – the limit of our overclocking software – yielded similiar result:
Tgpumax = 42°C
Th2omax = 31.1°C
—
dTmax = 9.9°C = ~ 10°C
Where Tgpumax is the highest temperature of the GPU core, logged by software; Th2omax is the highest temperature of the coolant measured by thermometer; dTmax is the highest delta (difference) between the GPU core temperature and the coolant temperature – lower is better.
Please note that the smallest resolution for Tgpu probe is 1°C therefore a rounding error is present. Considering this fact we can see that dT does not increase even at overclocked conditions. Also the VRM (voltage regulation module) is noticably cooler than we are used to. The hottest measured temperature was ~ 49°C (behind the MOSFETs, on the back side of the PCB), highest logged temperature was 50°C after almost 5 hours of Furmark.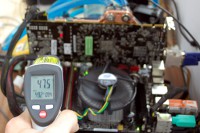 The best thing about the block is certainly the extremelly low flow resistance with it's figure much closer to those of radiators than high performance water blocks. It surpases our flagship CPU waterblock EK-Supreme HF by a large margin. You can easily run four of these cards on one medium performance water pump! Picture below shows the hydraulic curve: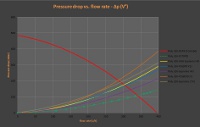 The EK-FC7970 water block – which will come in all four versions (Copper Plexi, Copper Acetal, EN Nickel Plexi, EN Nickel Acetal) will be available for purchase through EK Webshop by the end of next week. The matching FC Backplate is also in the works and will be available in the following weeks.
Your EK Team