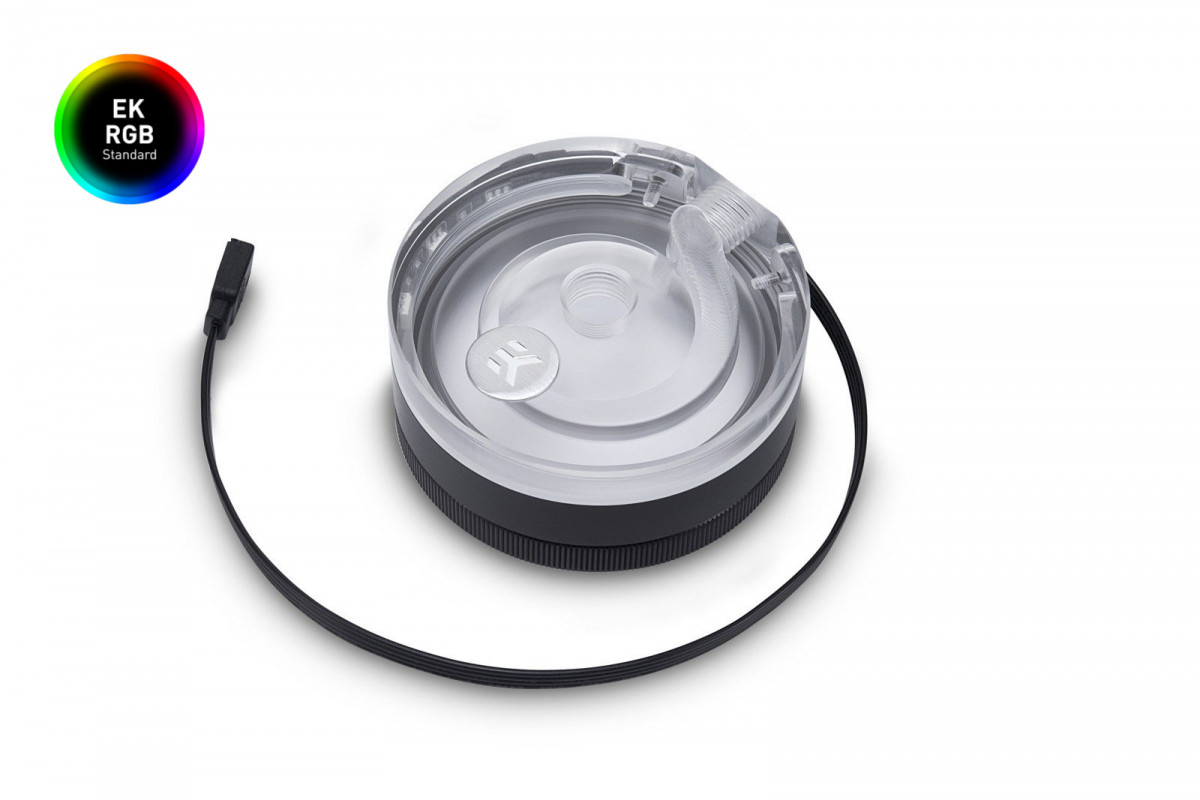 EK-XTOP Revo D5 RGB - Plexi (stand-alone)
Product EAN:
3830046995711
End of life
Financing Available
Split the purchase amount of 500 EUR/AUD/USD or more in up to 3 interest-free monthly payments with Splitit.
Details
EK-XTOP Revo D5 RGB is a high-performance aftermarket pump volute/body with a vibration-reducing mounting clamp for Xylem D5 series water pumps. This unit offers increased hydraulic performance (up to 15 %) compared to original factory top.

The D5 Revo pump volute/body system features a fully rounded design thus offering greater usability, allowing installation at any angle within 360° of rotation. Special rubber shock absorber is used to de-couple the main pump body from the mounting clip for silent operation, free of vibration induced noise. Additionally, horizontal and vertical positioning is supported for easier tube routing possibilities.This pump top features a single inlet- (suction) and outlet port (pressure) for installation of two standard G1/4 threaded fittings.

This product is compatible with popular RGB sync technologies from all major motherboard manufacturers. The arrow marking on the 4-pin LED connector is to be aligned with the +12V marking on the RGB header. You can easily remove the LED strip cover which is mounted with two screws to replace the LED strip with some other type LED strip.
The top is made of a quality Acrylic material, while the tightening nut is made from CNC machined aluminum. Mounting clamp is made from injection molded ABS. Mounting mechanism and easy-to-follow installation guide are enclosed.
Technical specifications:
- RGB cable length: 30cm
- RGB connector classic 4-pin (12+ R G B)
Enclosed:
- EK-XTOP Revo D5 RGB - Plexi (stand-alone)
- EK-Revo D5 Pump Mount
- Additional decoupler rubber insert
- Self-adhesive mounting hole pattern sticker
- Mounting mechanism (incl. required Allen keys)
- Installation manual
Made in Slovenia - EU!
PLEASE NOTE:
The pump is

not

included!
Compatible with any D5 pump motor.
The installed 4-pin RGB LED stripe is compatible with every major motherboard manufacturer and mainstream RGB controller.
Decided to buy this product?
You may also be interested in the following product(s)