Details
This cooling solution is built with absolutely no compromises for maximum performance, reliability, and rigidity. EK-Velocity WS - Narrow ILM is a premium, full-metal dedicated server grade water block which was specifically developed for LGA 3647 (Socket P) Intel® processors. The cooling core of the new CPU water block was refined to manage the heat dissipation of the latest lineup of Xeon® desktop and server processors.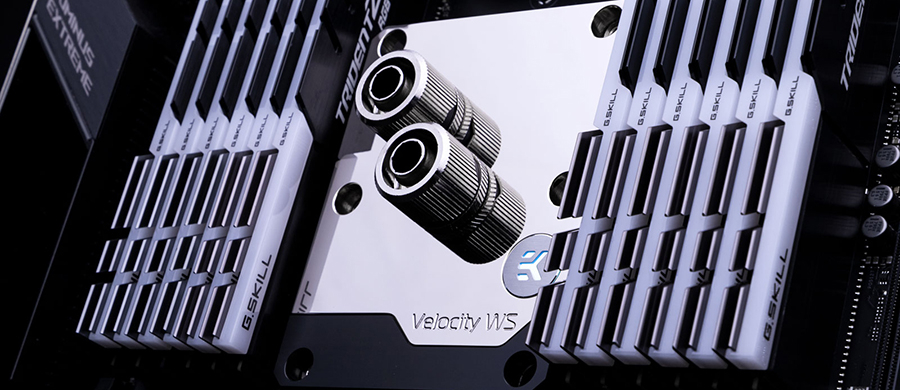 EK-Velocity WS - Narrow ILM premium water block features two G1/4" threaded ports, in standard industry size, compatible with all mainstream liquid cooling equipment. This CPU water block is equipped with Narrow ILM mounting hold down.
The EK-Velocity WS - Narrow ILM water block's precisely machined copper base ('cold plate') is made from purest copper available on the market and is treated with nickel electroplating. The top is full metal, made from quality nickel plated brass. This means the block is incredibly sturdy and will last as long as you're using the platform.
The EK badge is RGB LED illuminated, and compatible with all popular RGB sync technologies from all major motherboard manufacturers. The arrow marking on the 4-pin LED connector is to be aligned with the +12V marking on the RGB header.

Intel® CPU socket compatibility:
- LGA 3647 (Socket P) Narrow ILM
Enclosed:
- EK-Velocity WS - Narrow ILM CPU Water Block
- Necessary mounting screws, nuts, and washers
- Thermal grease (1g)
Made in Slovenia - Europe!

PLEASE NOTE:
The CPU block is equipped only with Narrow ILM mounting hold down.

This product should NOT be installed with any aluminum Fluid Gaming parts!
The use of specifically engineered coolants that contain corrosion, scale, and biological inhibitors is mandatory to prevent damage to your nickel plated water block! EK is offering a selection of such products in the coolants section.
Additional Info
| | |
| --- | --- |
| Material / Design / Color option | Full Nickel |
| Threads | G1/4 |
| Sockets | Intel |
Decided to buy this product?
Starts shipping on Friday, 5th of April 2019.!