Details
EK-Quantum Torque Micro HDP 12 fittings are EK's new push-in hard-tube fittings designed for use with 12mm solid tubing such as Acrylic and PETG. They are stealthy and made to be as small as possible, and with NO added branding at all. They are engineered specifically for captive tubing - like runs between two GPU water blocks, or from a GPU to the distro plate. Most importantly, the tube should not be able to move when using these fittings.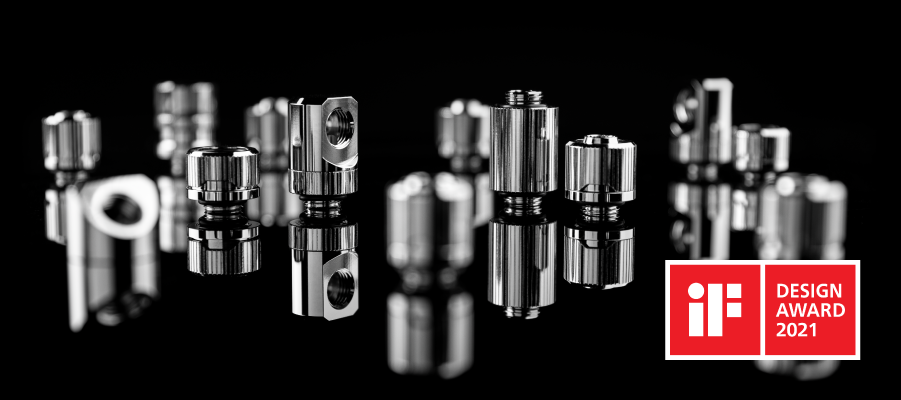 EK-Quantum Torque series products received the prestigious iF Design Award. A robust and industrial aesthetic sets the Torque family apart by highlighting the precise manufacturing processes used to create them. In addition, enthusiasts can add a unique color ring to give a personal accent to the fitting line. The Torque family of fittings offers a secure and modular system of connections between liquid cooling components and tubing within a PC. Quantum Torque series products cover angled adapters, rotary and static extenders, splitters, G1/4" plugs, drain valves, fittings, and much more.
The solid tube is gripped by the high-quality EPDM rubber gasket inside the Torque Micro HDP fitting.
The fitting is made of nickel-plated CNC-machined brass.

The fitting surface is smooth and has no adequate gripping surface, but the inside of the barb is socketed with a 9mm hex Allen key pattern. It's highly recommended to use an EK-Loop Multi Allen Key or Allen Key 9mm (both are purchased separately) to prevent skin damage to the fingertips while installing the fitting. Please, be advised not to use excessive force when attaching fitting barbs using Allen Key 9mm in order to prevent damage to other liquid cooling products!
These fittings are guaranteed to be compatible with all other EK Water Blocks liquid cooling products.
Technical data:
- Finish: Nickel
- Material: Brass
- Thread: G1/4" BSP; 4.5mm male thread length
- Supported tube: 12mm OD
- The outer diameter of a fitting: 16.5mm
- Installed height: 10mm
- Compatible solid tubing: Acrylic, PETG, Copper, Brass, Stainless Steel
Made in Europe - Slovenia!
PLEASE NOTE:
Please wet the gasket (o-ring) using drops of water prior to installing the solid tube.
Do not use excessive force when inserting solid tube!
Do not use excessive force when attaching fitting barbs using Allen Key 9mm in order to prevent damage!
It is mandatory to use a chamfer tool on the edges of the freshly cut solid tube in order to prevent gasket (o-ring) damage.
This product should

NOT

be installed with any aluminum

Fluid Gaming

parts!
EK strongly recommends the use of PETG inserts with the use of PETG tubes.
Additional Info
| | |
| --- | --- |
| Material / Design / Color option | Nickel |
| Threads | G1/4 |
Decided to buy this product?
You may also be interested in the following product(s)