Details
Supremacy EVO 10th Anniversary is a special Limited Edition package made to commemorate 10 years of EK Water Blocks. For this special occasion, we have designed a special EK-Supremacy EVO 10th Anniversary water block! It features a gold plated cold plate and an overall gold styled theme with a low polygon mesh covering the front face of the block, symbolizing our never-ending pursuit to optimize performance. To make this a genuine collectible package, we have included a replica EK-Wave CPU water block which was our flagship model in 2006. and it also features a gold plated bottom.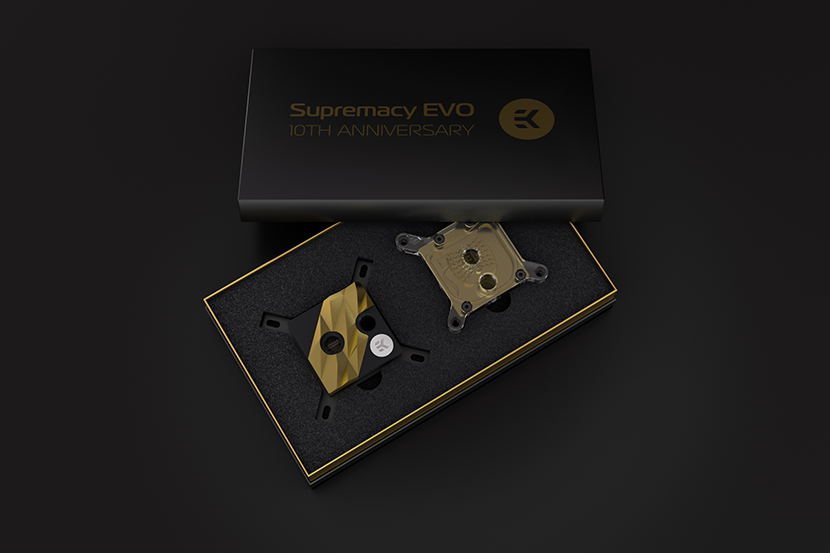 Only 100 Supremacy EVO 10th Anniversary packages are being sold and every piece has a unique production number engraved on the side of the water block top! Because of the special top that the Supremacy EVO 10th Anniversary water block has, it supports only EK-ACF 10/13mm compression fittings for soft tubing and EK-HDC 12mm G1/4 fittings for hard tubing. For all other fittings, there are two enclosed gold plated riser adapters (extender fittings) that will make the Supremacy EVO 10th Anniversary water block compatible with any other fitting.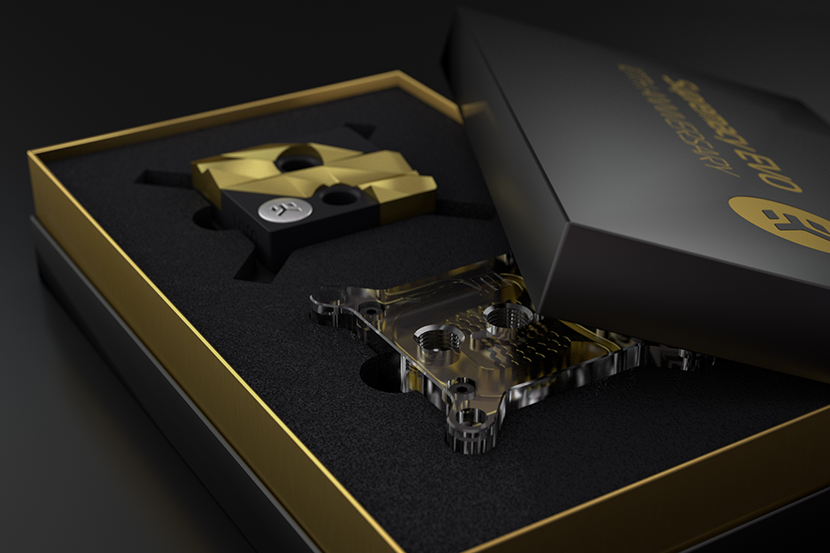 Supremacy EVO product details:
EK-Supremacy EVO 10th Anniversary is a universal CPU water block that out of the box fits all modern Intel CPU sockets with a universal mounting mechanism that offers error-preventing, tool-less installation. LGA-115x and LGA-2011(-3) sockets are supported out of the box and additional sockets support is available by request free of charge. The result is a perfect installation which results in optimal performance every time. EK-Supremacy EVO 10th Anniversary is a special product for performance seeking enthusiasts. The key features are:
Unmatched thermal performance - more than 2.2°C better performance on most popular LGA-1150 & LGA-2011 processors.
Very high-flow design - low hydraulic restriction allows this product to be used in setups using weaker water pumps.
Modular design - using various inserts and jets the performance can be further fine-tuned to unleash maximum performance by ensuring the optimal contact with the CPU integrated heat spreader (IHS).
The EK-Supremacy EVO 10th Anniversary high performance comes from cooling liquid accelerating through jet plate's nozzle, where turbulently continues its path through numerous very thin channels, which provide extreme heat dissipating surface area. Specifically designed and carefully machined copper base (sometimes referred to as 'coldplate') is made from purest copper available on the market, gold plated and its further polished to an absolute mirror finish. This alone greatly improves the cooling performance of EK-Supremacy EVO.
CPU socket compatibility:
- Intel LGA-1150/1151/1155/1156
- Intel LGA-2011(-3)
Enclosed:
- EK-Supremacy EVO 10th Anniversary Limited Edition water block
- Collectible EK-Wave CPU water block
- EK-Supremacy EVO PreciseMount mounting mechanism
- EK-Supremacy Backplate system (Intel LGA-115x Backplate; rubber gasket)
- 2x Gold plated EK-Extender G1/4
- TIM / thermal grease: Thermal Grizzly Hydronaut (EKWB 1.0g)
PLEASE NOTE:
Narrow server type LGA-2011 is not supported by default – a Mounting plate Supremacy LGA-2011 Narrow ILM is mandatory to install this water block on narrow server type LGA-2011 motherboards.
AMD mounting plate is not included in the box. The aforementioned part is available free of charge from EK Webshop and Partner Reseller Network.

Supports only

EK-ACF 10/13mm

soft tubing fittings and

EK-HDC 12mm G1/4 hard tubing fittings. For all other fittings use the enclosed extenders!
Additional Info
| | |
| --- | --- |
| Material / Design / Color option | Copper Plexi |
| Threads | G1/4 |
| Prepared for LED Diode | 3mm |
| Sockets | Intel, AMD |
Decided to buy this product?