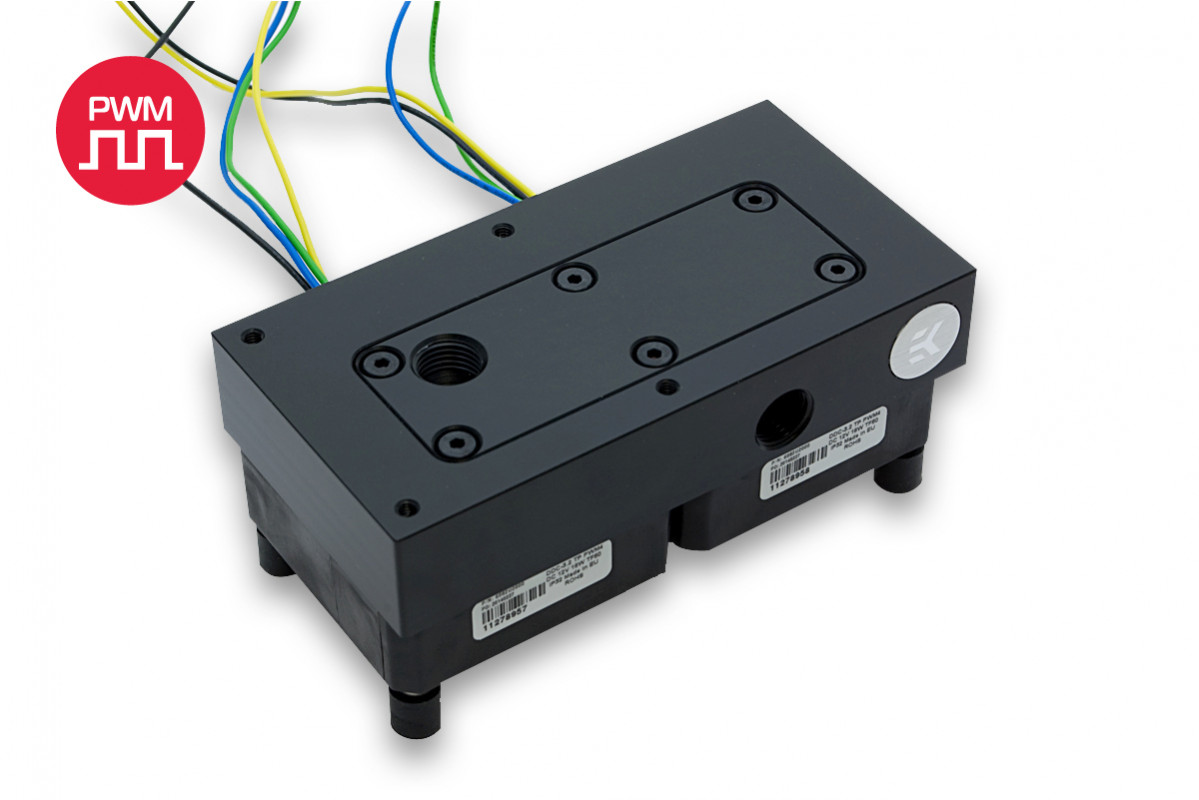 EK-XTOP Dual DDC 3.2 PWM (incl. 2x pump)
Product EAN:
3831109842980
End of life
Financing Available
Split the purchase amount of 500 EUR/AUD/USD or more in up to 3 interest-free monthly payments with Splitit.
Details
EK-XTOP Dual DDC 3.2 PWM (incl. 2x pump) is a third generation high-performance aftermarket DUAL pump top (volute) for DDC type water pumps. The XTOP Dual DDC comes pre-installed with two (2) EK-DDC 3.2 PWM water pumps operating in series.
Using two water pumps in series provides almost twice the head pressure of a single water pump and also guarantees top safety measure - in case of one pump fails the remaining one will provide sufficient liquid flow to prevent any hardware damage due to overheating. Additionaly there is no downtime until next scheduled maintainance.
PWM control allows for automatic pump speed regulation depending on your CPU temperature. Full performance on demand or whisper quiet operation in idle mode!
This product features two G1/4 threaded ports which allow for installation of virtually any G1/4 thread fitting / barb. EK recommends EK-ACF series Compression fttings / adapters.
This product also features anti-vibration rubber mounting system which effectively silents this dual pump setup by de-coupling it from the rest of the computer chassis.
Product is made of high quality POM Acetal. Mounting mechanism and easy to follow installation guide are enclosed.
This unit can be upgraded with EK-DDC Heatsink Housing, available in both Black as well as Nickel plated version. It is also possible to upgrade this product with EK-XTOP Dual DDC XRES Upgrade Link, which allows for RES X3 reservoir parts to be used in order to make this product a combined pump / reservoir unit.
Enclosed:
- EK-XTOP Dual DDC 3.2 PWM unit with two pre-installed water pumps (DDC 3.2 PWM)
- 5.25" drive bay mounting bracket
- mounting screws
- installation manual
Made in Slovenia - EU!
Pump motor made in Hungary - EU!

PLEASE NOTE:
This product should NOT be installed with any aluminum Fluid Gaming parts!
If no PWM signal is present, DDC pump runs at 100% RPM.
Decided to buy this product?
You may also be interested in the following product(s)