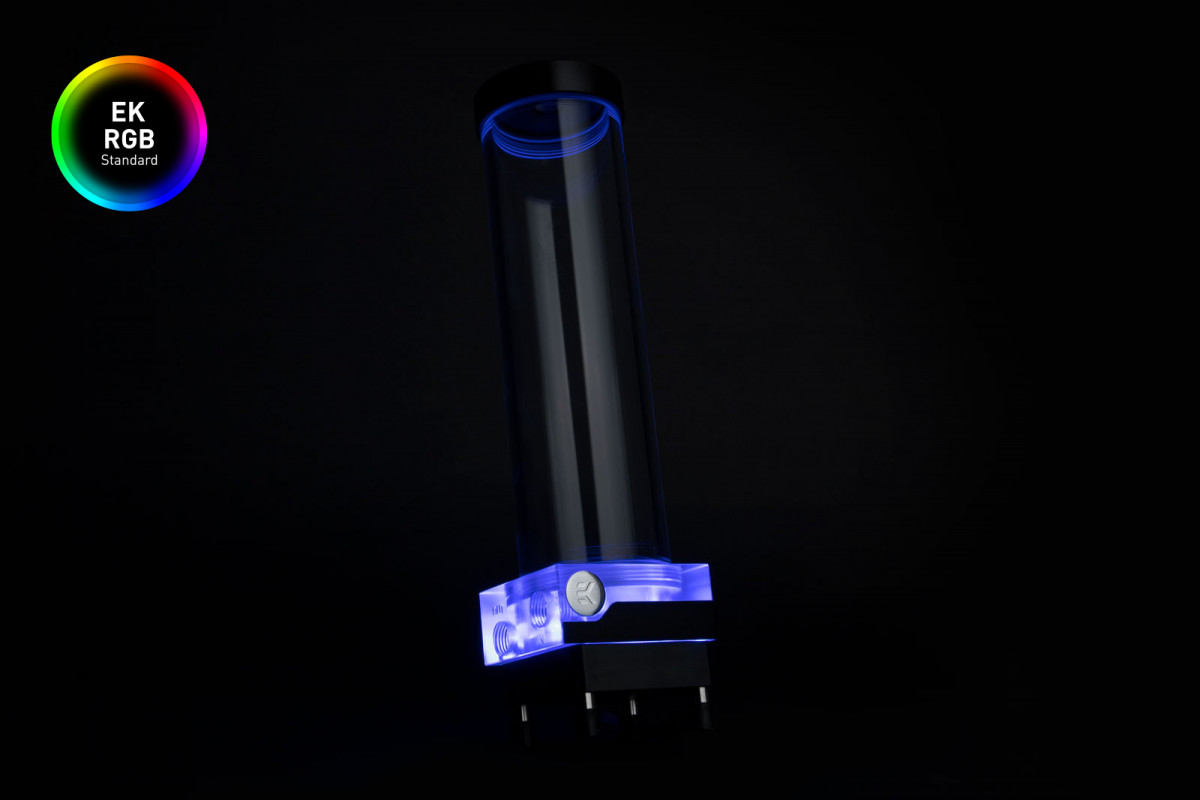 EK-XRES 250 SPC PWM Classic RGB - Plexi (incl. pump)
Product EAN:
3831109817421
End of life
Financing Available
Split the purchase amount of 500 EUR/AUD/USD or more in up to 3 interest-free monthly payments with Splitit.
Details
EK-XRES 250 SPC PWM Classic RGB – Plexi (incl. pump) is a value-oriented water cooling pump-reservoir combo. It has been designed to be an entry-class combo solution that is able to offer great hydraulic performance complemented with RGB LEDs for modern aesthetics. The combo unit comes with a 120mm fan mount holder included.

The core of the unit is the EK-SPC 60 water pump that uses only a 4-pin PWM FAN header for operation. No other additional connector is required! Full PWM support will allow you to set automatic pump speed regulation depending on your temperatures. Full performance on demand or whisper-quiet operation in idle mode! With a maximum head pressure of 2.2m (7.2ft), and a maximum flow of 250L/h and a very compact form.
The EK-XRES 250 SPC PWM Classic RGB – Plexi (incl. pump) series pump-reservoir combo comes with a pre-installed anti-cyclone insert.
The main body features two G1/4" threaded ports of which one is an inlet (in the reservoir) and one is an outlet (from the pump). The reservoir tube is made of quality acrylic material.
Pump electrical and mechanical properties:
- Motor: Electronically commuted motor
- Rated voltage: 12V DC
- Power consumption: 6W
- Maximum pressure head: 2.2m
- Maximum flow: 250 L/h
- Maximum system temperature: 50°C
- Materials: PPS-GF30, EPDM O-rings, Aluminium oxide, graphite
- Power connector: 4-Pin PWM FAN connector
- RGB connector - 4-pin 12V ( G R B )
Operational regime:
- PWM duty cycle: ~ 20-100%
- Default behavior: Runs at 100% duty cycle when no PWM feedback signal is present
Enclosed:
- Pump reservoir combo unit
- 120mm fan hole pattern mounting frame
- Mounting mechanism and all required screws and washers
PLEASE NOTE:
The SPC pump is water lubricated, in other words, it uses a wet rotor design. Therefore, it is strongly recommended not to run the pump dry.
This product is NOT compatible with DDC Heatsink Housing!
Decided to buy this product?
You may also be interested in the following product(s)