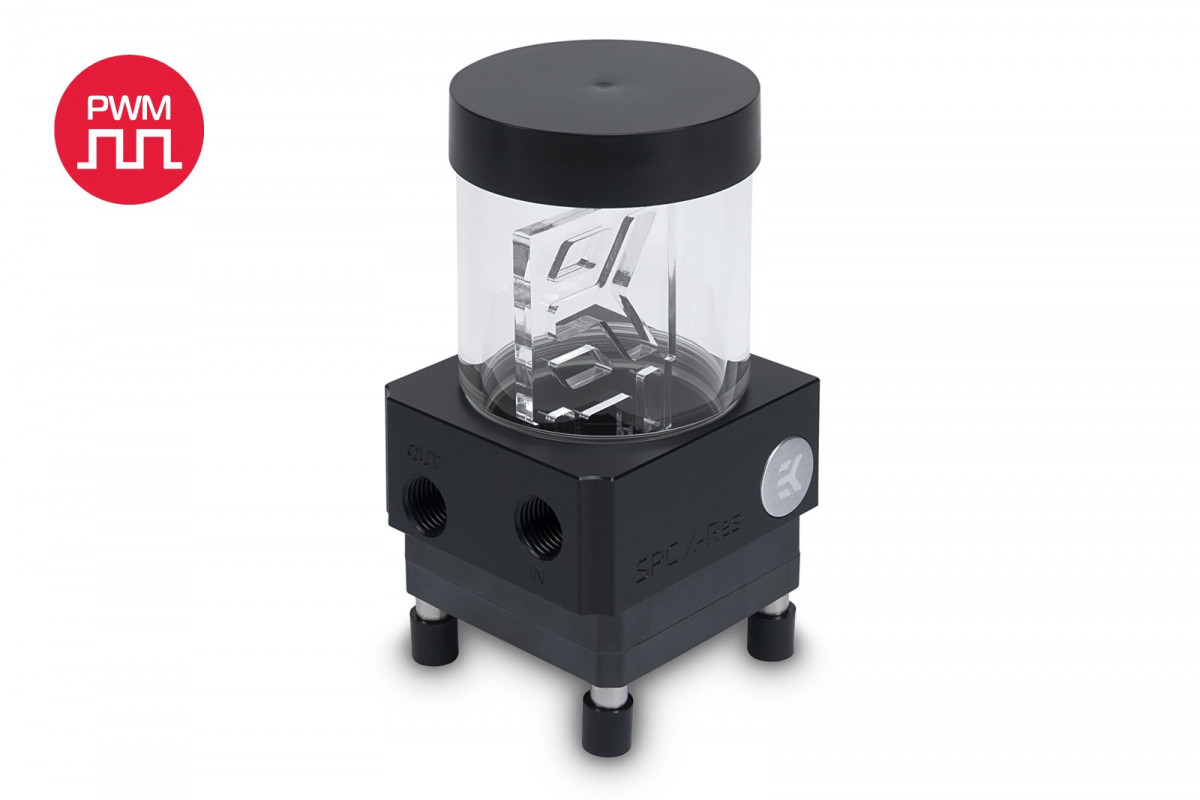 EK-XRES 100 SPC-60 MX PWM (incl. pump)
Product EAN:
3831109843246
End of life
Financing Available
Split the purchase amount of 500 EUR/AUD/USD or more in up to 3 interest-free monthly payments with Splitit.
Details
EK-XRES 100 SPC-60 MX PWM (incl. pump) is a value-oriented water cooling pump reservoir combo. It has been designed to lower the production costs yet still offer great hydraulic performance at the best price.
The core of the unit is EK-SPC 60 water pump that uses only a 4-pin PWM FAN header for operation; no MOLEX connector is required! PWM control will allow you to set automatic pump speed regulation depending on your CPU temperature. Full performance on demand or whisper quiet operation in idle mode! With the maximum pressure head at 2.2m (7.2 ft), maximum flow at 250 L/h and a very compact form, we recommend this pump reservoir combo for smaller builds, particularly if you are assembling your custom loop in a mini ITX case.
EK-XRES 100 SPC-60 MX PWM series reservoir comes preinstalled with anti-cyclone insert. Additionally, a PU anti-vortex foam is enclosed.
The main body features two G1/4 threaded ports of which one is an inlet (in the reservoir) and one is an outlet (from the pump). EK recommends the use of EK-ACF series compression fittings.
Reservoir tube is made of a quality acrylic material, while the rest of the pump/reservoir body is made from injection molded quality ABS material.
This reservoir can be easily upgraded with longer acrylic tubes used by EK-RES X3 series reservoirs.
The top of this combo unit can be used as an inlet by adding the EK-RES X3 - Multiport TOP and an EK-RES X3 - Internal Tube with the corresponding length to your reservoir size. The Internal Tube is important to prevent the splashing sound of the coolant inside the reservoir and to prevent coolant foaming. It is recommended that the end of the internal inlet tube is submerged in coolant.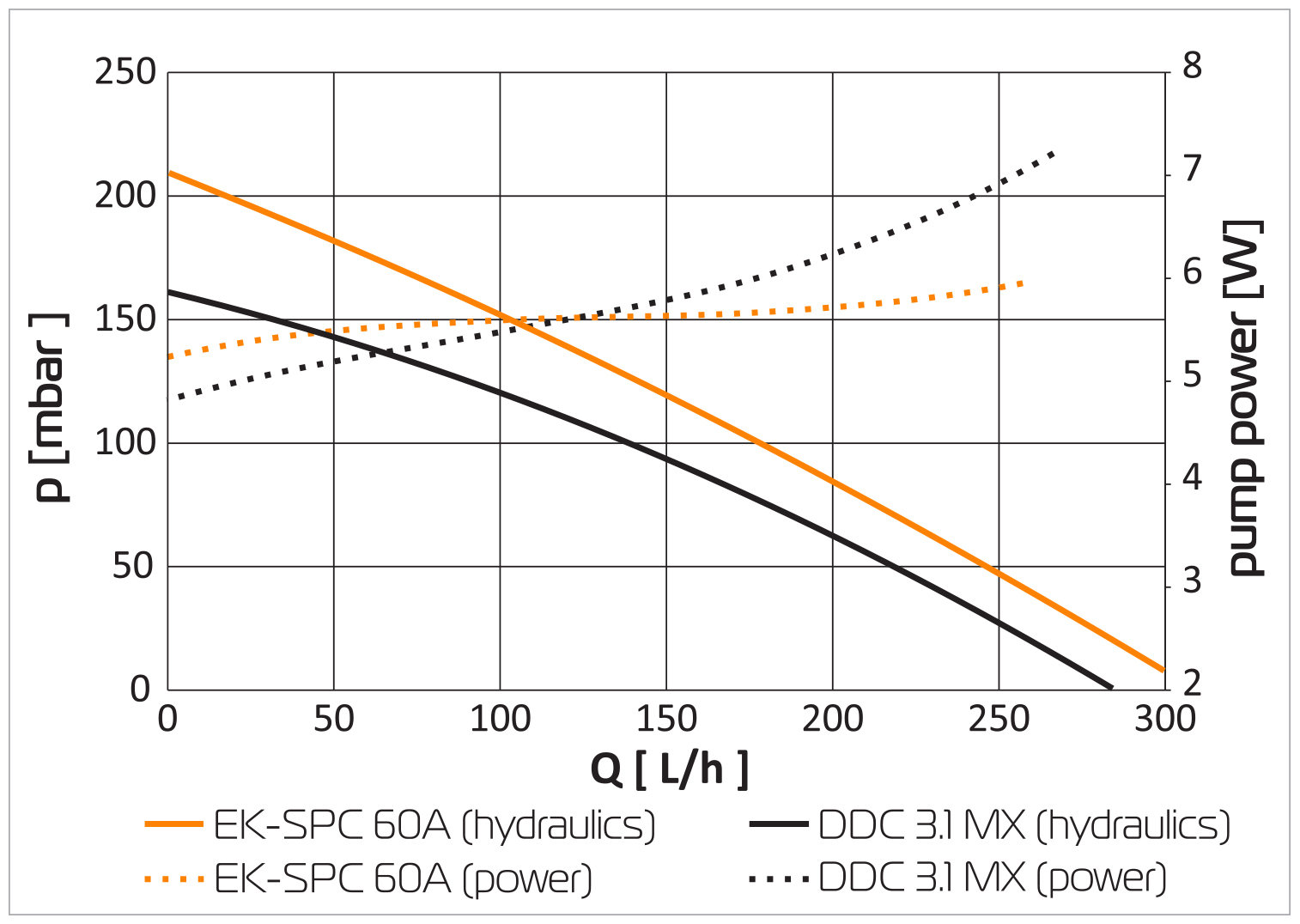 EK-Cable Pump testing adapter is recommended to be used for testing purposes while leak-testing your loop and is intended to be connected directly to PSU, without the need for powering up the entire system.
EK-XRES 100 SPC-60 MX PWM can also be upgraded with either:

Pump electrical and mechanical properties:
- Motor: Electronically commuted motor
- Rated voltage: 12V DC
- Power consumption: 6W
- Maximum pressure head: 2.2m
- Maximum flow: 250 L/h
- Maximum system temperature: 50°C
- Materials: PPS-GF30, EPDM O-rings, Aluminium oxide, graphite
- Power connector: 4-Pin PWM FAN connector
Technical specifications:
- Reservoir diameter: 60mm
- Reservoir free volume: ~ 125mL
- Unit measurements: 68x67x117mm
- Mounting hole pattern: 50x50mm
Operational regime:
- PWM duty cycle: ~ 20-100%
- Default behavior: Runs at 100% duty cycle when no PWM feedback signal is present

Enclosed:
- Pump reservoir combo unit
- Mounting material
- Allen key
- Anti-vortex polyether black foam
- Installation manual
Made in Slovenia!
Pump made in China!
PLEASE NOTE:
The SPC pump is water lubricated, in other words, it uses a wet rotor design. Therefore, it is strongly recommended not to run the pump dry.
This product is NOT compatible with DDC Heatsink Housing!
The EK-UNI Pump Bracket bracket is just for showcase and it is not included with the unit.
Decided to buy this product?
You may also be interested in the following product(s)