Details
EK-Vardar F2-140 Grey BB (400-1600rpm) Refurbished is a high-performance fan with great performance throughout its entire operating range. These fans were mounted as part of EK-Predator AIO but never used and powered on. There are possible screw markings on the mounting locations. For every 2 fans you put in the cart, one will be FREE of charge.
| Put in cart | Pay for | Money saved |
| --- | --- | --- |
| 2 | 1 | US$8.99 |
| 4 | 2 | US$17.98 |
| 6 | 3 | US$26.97 |
| 8 | 4 | US$35.96 |
| 10 | 5 | US$44.95 |
Developed in-house, EK-Vardar fans are a great choice for computer radiator cooling with their high static pressure.
The Vardar family of cooling fans carries the name of a type of cold northwesterly wind blowing from the mountains down to the valleys of Macedonia. It is a type of ravine wind, enhanced by a channeling effect while blowing down through the Moravia-Vardar gap, bringing cold conditions from the north to the Thessaloniki area of Greece. Most frequent during winter, it is blowing in the rear of a depression when atmospheric pressure over eastern Europe is higher than over the Aegean Sea.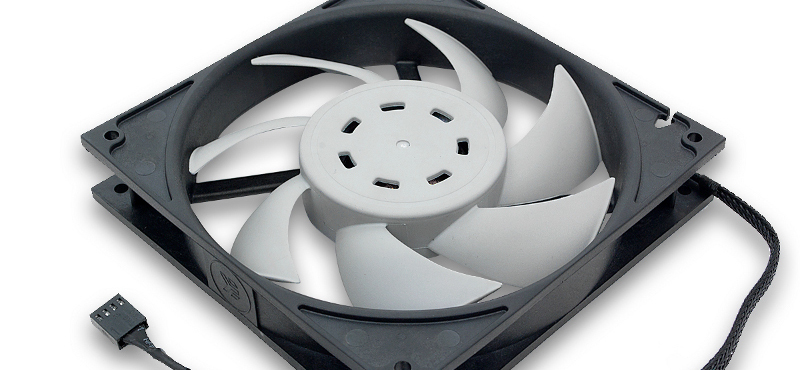 The key characteristics of EK-Vardar fans are:
High-static pressure / low noise profile - Unlike other general-purpose computer cooling fans, the EK-Vardar family of fans is built specifically for computer liquid cooling systems, namely radiator cooling. The 7 fan blade design is optimized for high-pressure operation while maintaining the low noise profile throughout the whole operation range of the fan. Vardar's design and construction are also very suitable for high-performance air coolers or as case fans for restrictive cases with dust filters.
High-quality motor and bearing assembly - Actively cooled motor windings and the Dual-Ball bearing with 50.000 hours of lifespan (MTBF) ensures uninterrupted operation for years to come. Precise Pulse Width Modulation (PWM) for fan speed adjustment allows performance on demand.
Sealed-edge fan casing - The classic, yet effective, square shape of the fan casing provides optimal performance in either pull- (suction) or push (pressure) regime without hydraulic losses thus ensuring the optimal cooling capacity of your liquid cooling radiators. The classic shape of the fan frame also allows easy cable routing while grouping more fans on one radiator.
Timeless design - The EK-Vardar EVO fan fits subtly into any liquid cooling computer without drawing too much attention. Delivered in an industrial black and grey color scheme it blends perfectly with a sleek and minimalist looking EK-CoolStream liquid cooling radiator.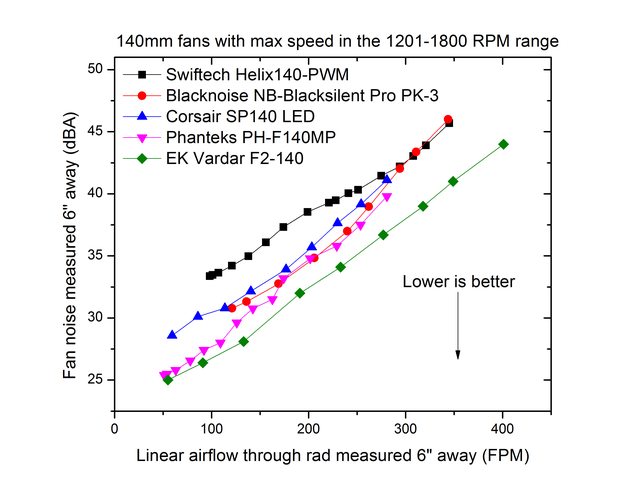 Mechanical and electrical specifications:
- Speed: 1600 rpm (+/- 10%)
- Rated Voltage: 12V DC
- Power Draw: 1.57W
- PWM Duty Cycle: 30-100%
- Connector: 4-pin PWM header
- Shaft Bearing: Double-ball bearing
- Bearing Durability: 50.000 hrs @ 40°C (MTBF)
- Dimensions: 140 x 140 x 25 mm
- Fan Cable Length: 380mm
Performance characteristics:
- Max Air Flow: 84 CFM = 143 m³/h
- Static Pressure: 1.90mm H2O = 18.6 Pa
- Sleeved cable length: 230 mm
- Noise Level: 31.6 dBA

The scope of delivery:
- 1x EK-Vardar 140mm series fan
Designed and engineered by EK Water Blocks in Slovenia - Europe
Made in China
PLEASE NOTE:
For every 2 fans you put in the cart, one will be

FREE of charge.

Price will be properly shown in the checkout page, with every second fan added as a discount.
Decided to buy this product?